First the recent news. Night Shade Books has begun publishing a series of ten matching editions of my novels, starting with Mathematicians in Love and Turing & Burroughs.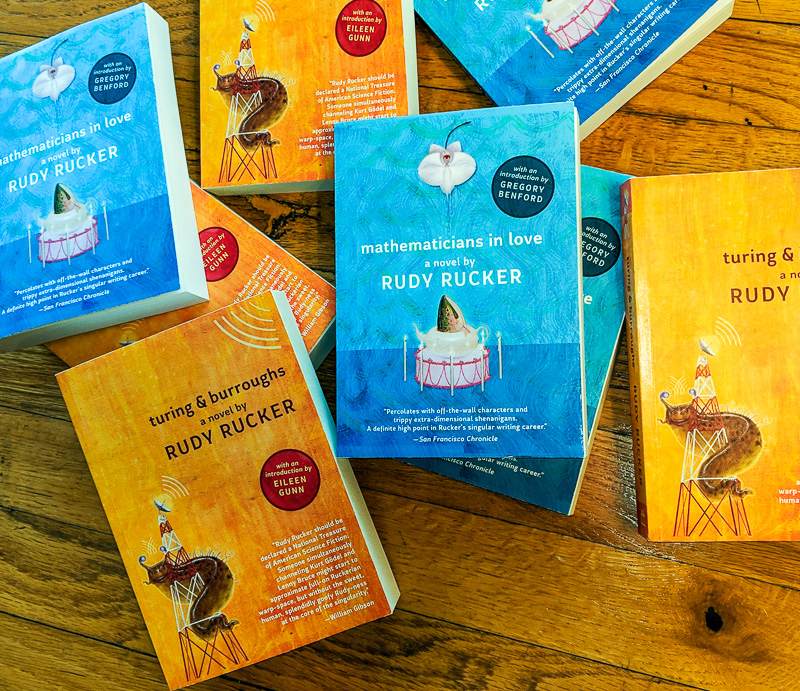 Yah, mon! I've made a web page summarizing the series.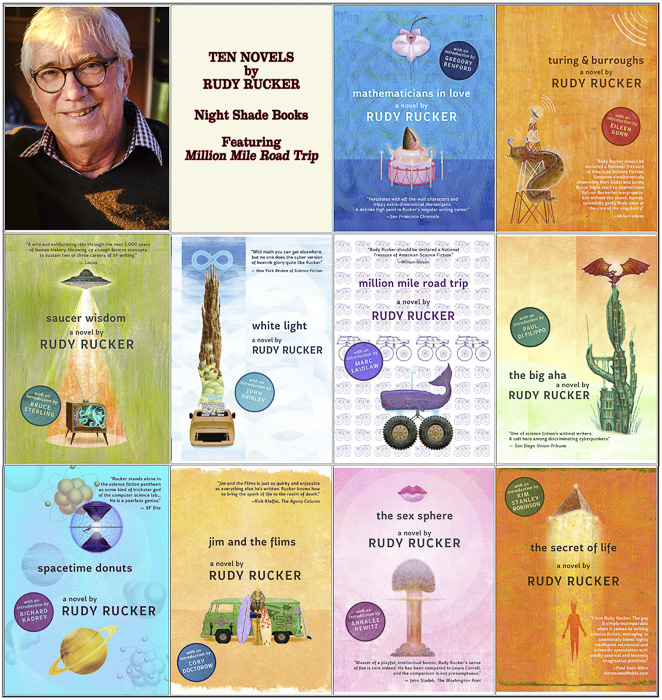 I'm really excited about this. The books look good, and I have renewed hope of being better-known as a modern literary author. So many new writers are getting on the "speculative fiction" bandwagon these days.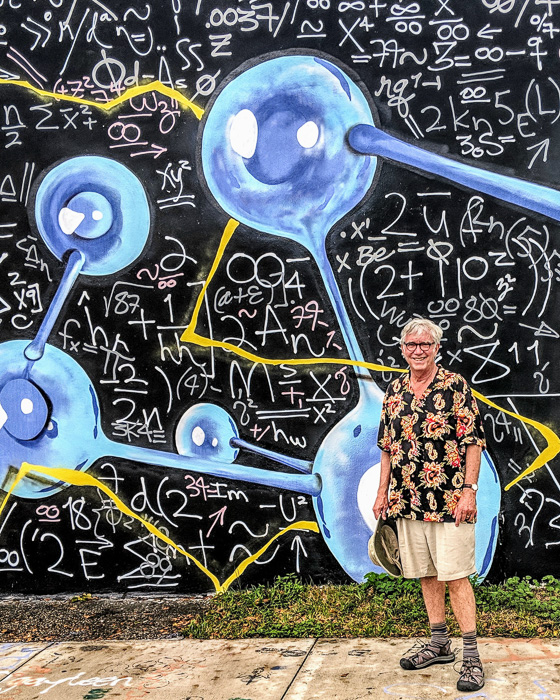 And I'd like to be in on it, after forty years in the filthy SF ghetto, writing what the high mandarins have considered to be lowly subliterature. When all along I've been crafting cutting-edge, ahead-of-its-time, visionary and futuristic high lit! It's like my entire career has been what philosphers call a "category mistake." I was doing one thing, but it was consistently pigeonholed as being something else.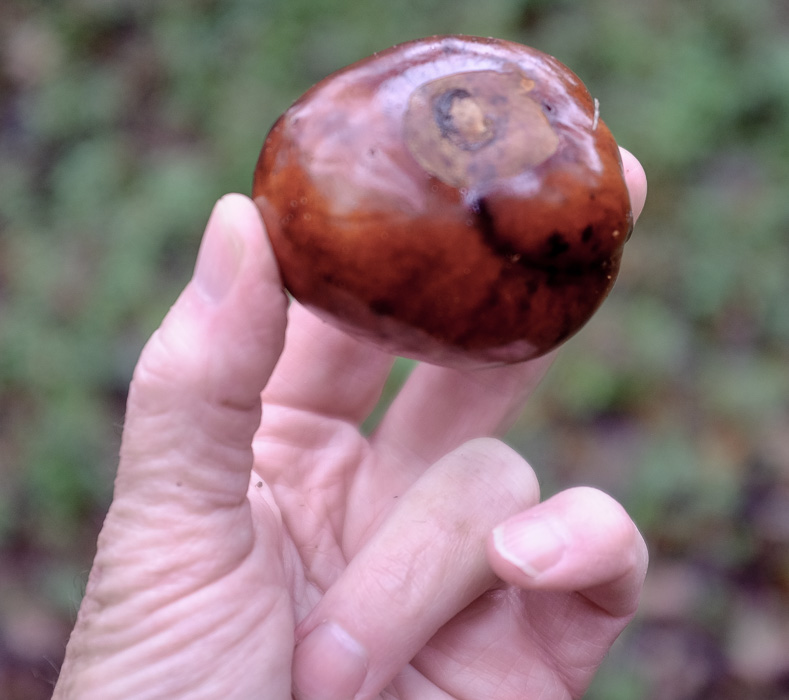 Each book a treasure, a pearl of great price, a blend of logic and surreal gnarl.
We went to Wyoming for Christmas, visiting daughter Isabel in Pinedale. We met up with son Rudy and his family there as well. We all spent the first few days in Jackson, where Isabel had a show of her latest paintings, very large watercolors.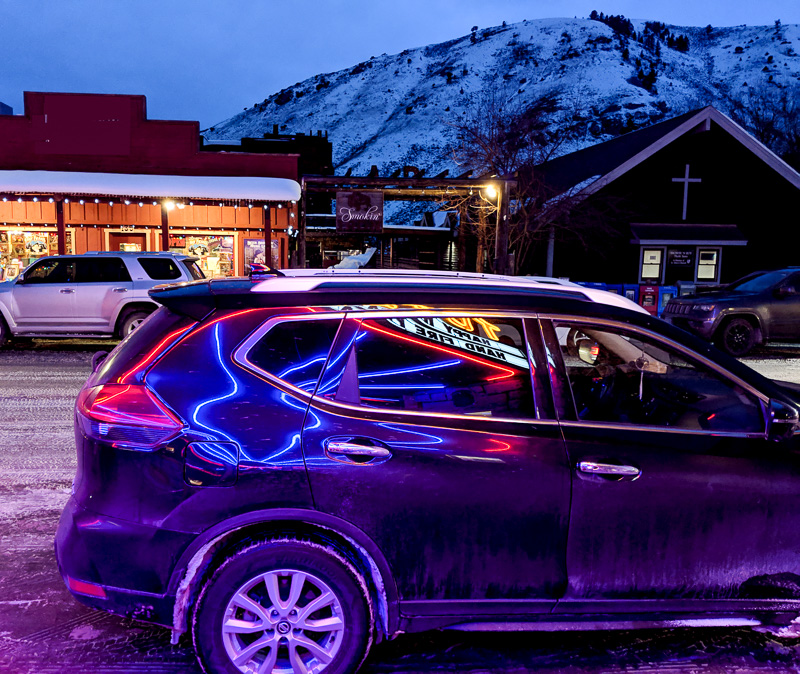 Jackson is livelier than Pinedale. Dig the neon lights on this car outside a fancy pizza place.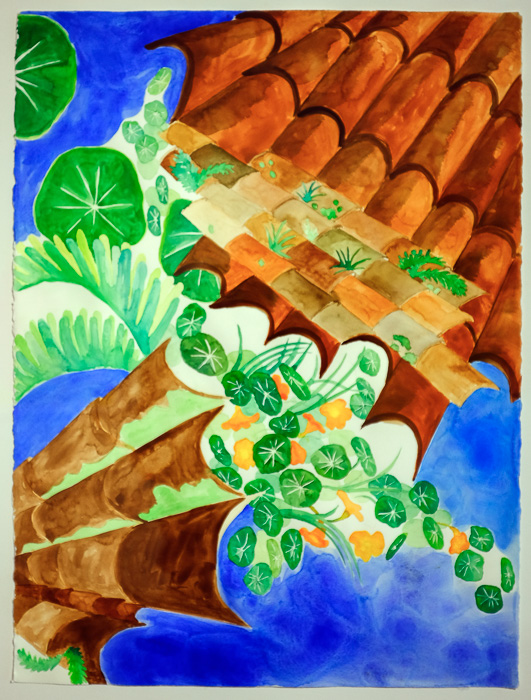 I like this painting by Isabel, inspired by a visit to the Azores Islands. Her show, still going on, is called "Seeking the Light," and it's in the Jackson Center for the Arts. There's a good interview with her that you can stream online.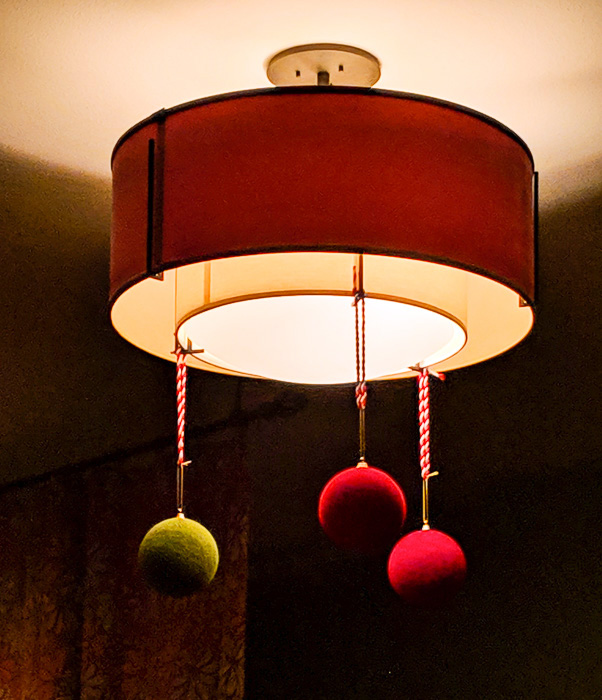 We went out for big dinners in Jackson, looked around down and went out in the snowy woods. I liked this Christmas-decorated lamp in this one place, the Cafe Genevieve.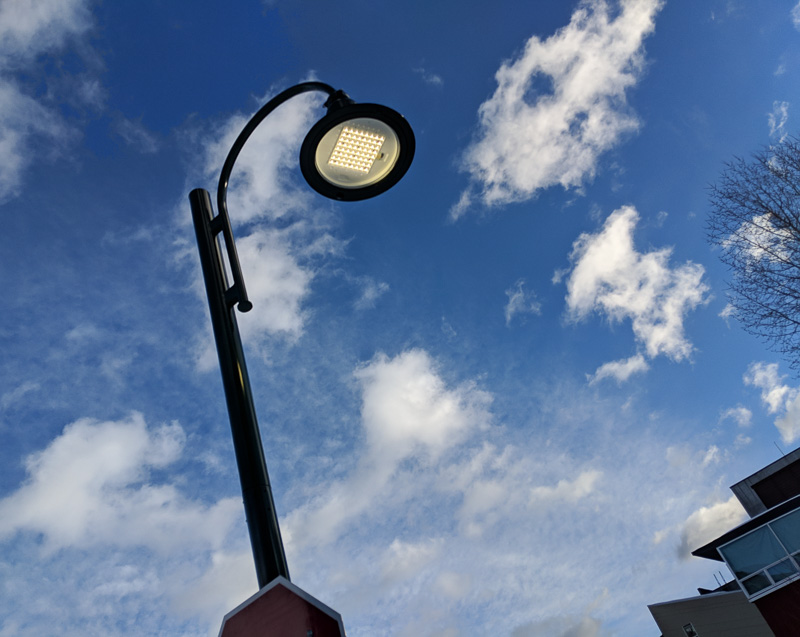 Saw a weird digital street light. Funny how peoples notion of "light bulb" keeps thrashing around. We had those twisty bulbs and then it turned out they weren't nearly as good as the hype had said. And now, tiny blinding dots.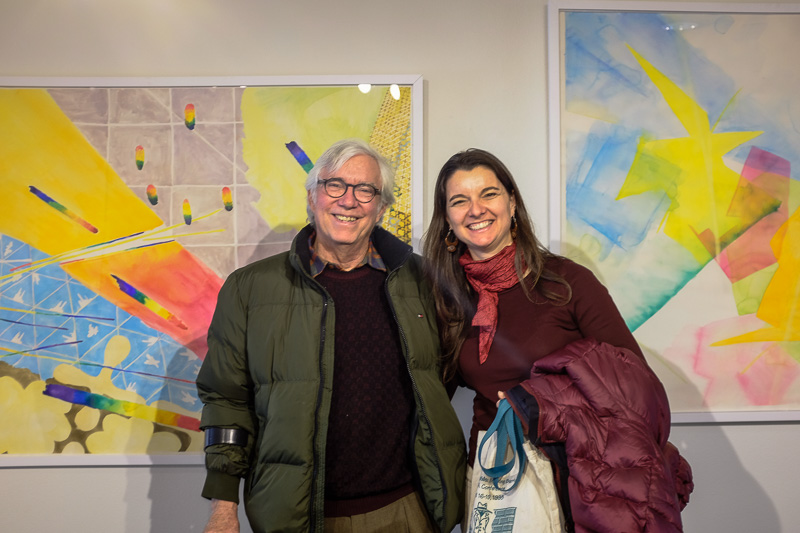 Here's me with Isabel by one of her paintings that is, in a roundabout way, based on the kitchen in her house.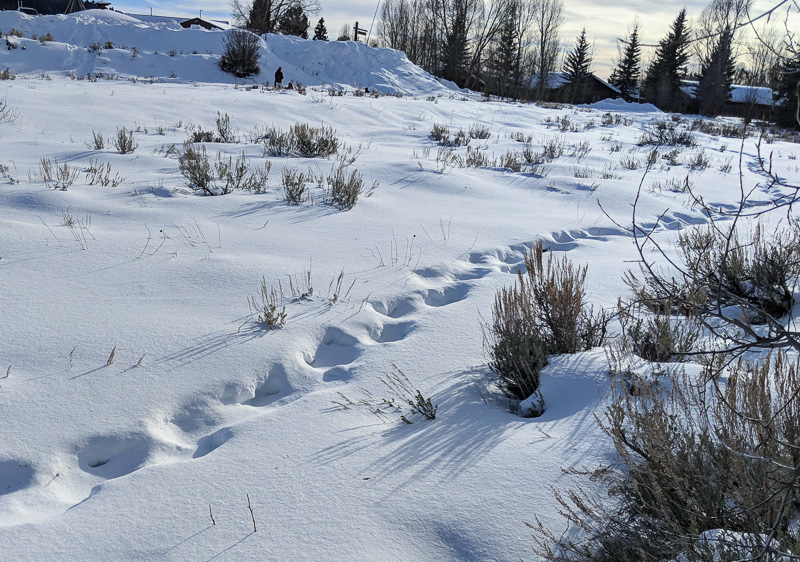 It was so nice to see real snow. Hoof prints. Or maybe feet. We're at the base of the Tetons here. A scary, dark, rapid-flowing river was just down the hill, the Snake, I guess, very narrow and deep. Hard to keep the grandkids away from it. They don't always listen to me. I mean, hey, I'm 72, and even they can tell I don't have much authority anymore..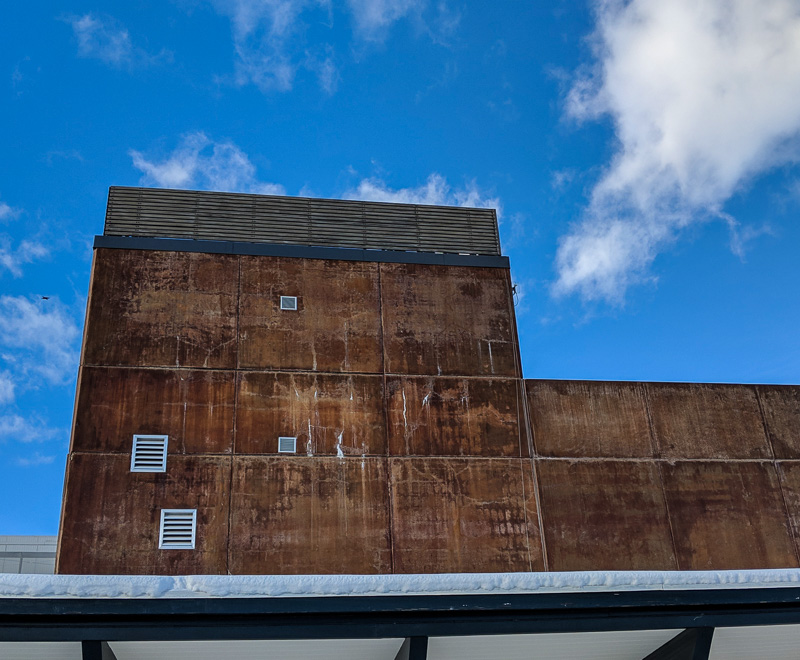 The Jackson parking garage looked rusty even though it was made of cement. I guess the rebar inside the cement rusts away and seeps out. Looked cool.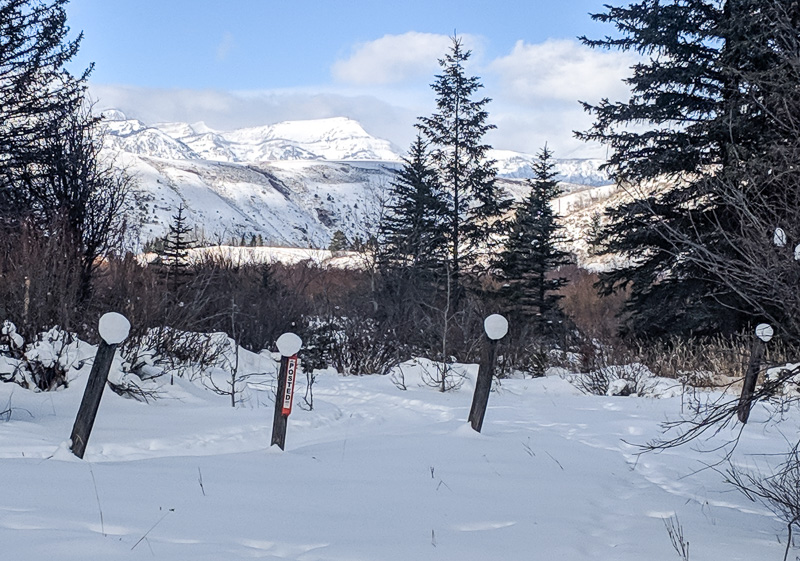 One day we walked along Cache Creek near Jackson. The snow had accumulated in a nice way, making lollipop bolls atop the fenceposts.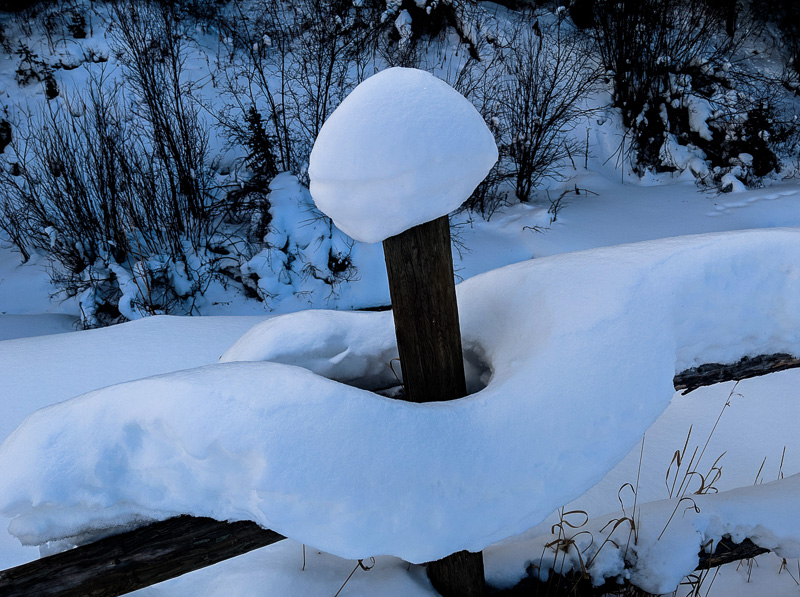 I just love the way the snow accumulates into these toothpaste-like forms, so elegantly curved.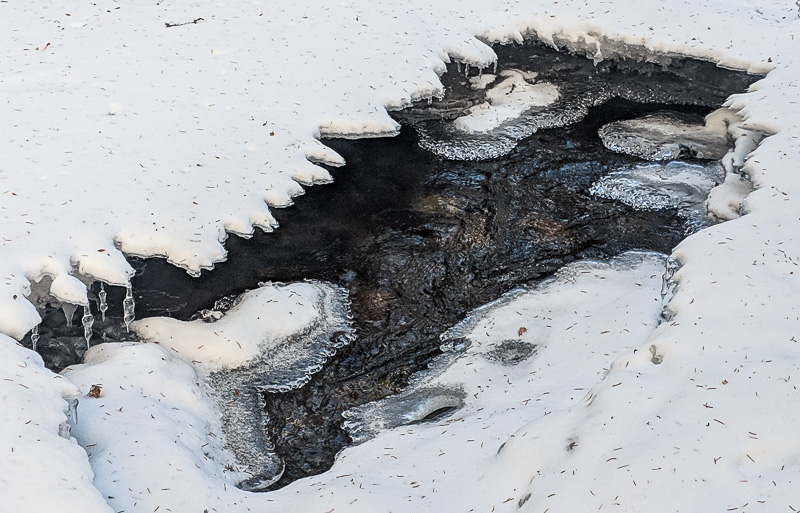 And the holes in the ice on the creek, wow. Deeply creepy. An entrance to the underworld.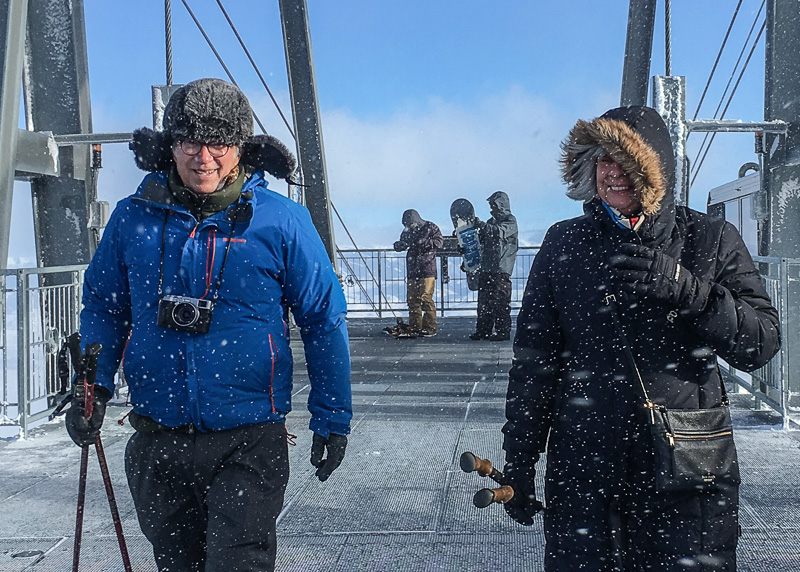 One day we went to the Teton Village Ski Resort near Jackson, not that Sylvia and I were going to slide on the slopes. We rode in a teléferique, or airborne "tram" to the top of Mr. Rendezvous, a minor Teton, 10,500 feet high. And here we are. I bought that hat on the street in Manhattan one time. "Da, komrad."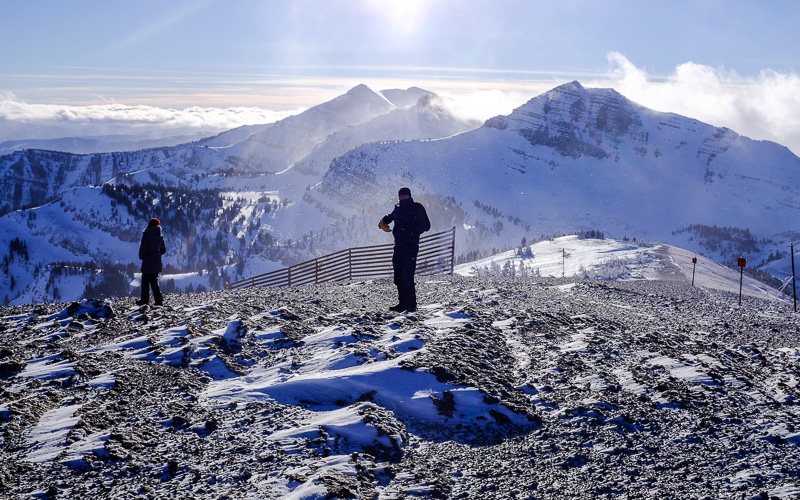 It was 2 degrees Fahrenheit, and the wind at 20 mph. Crazy. With a little effort we managed to hike about a hundred yards from the tram station to the actual peak.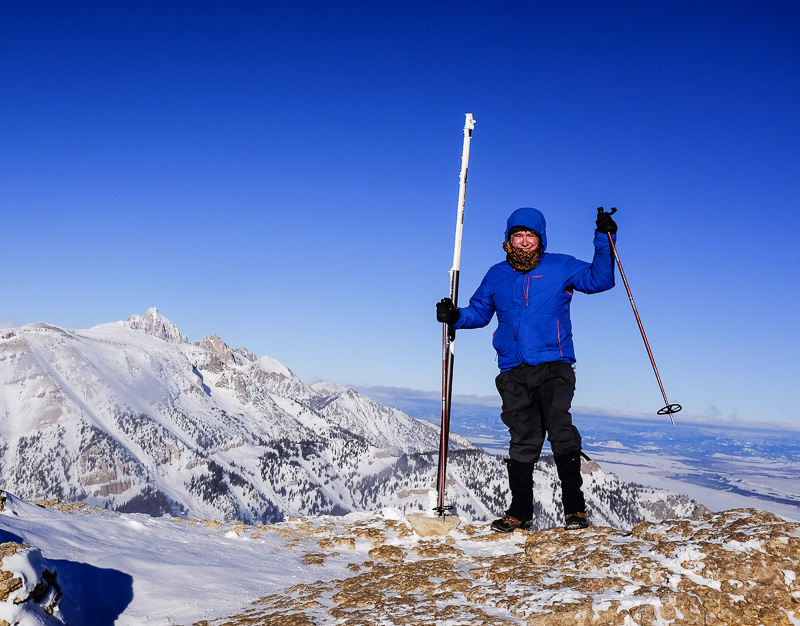 And I stood on the top beside the official top-of-a-real-mountain-peak-rod. I never thought I'd make it to a spot like that. A thrill.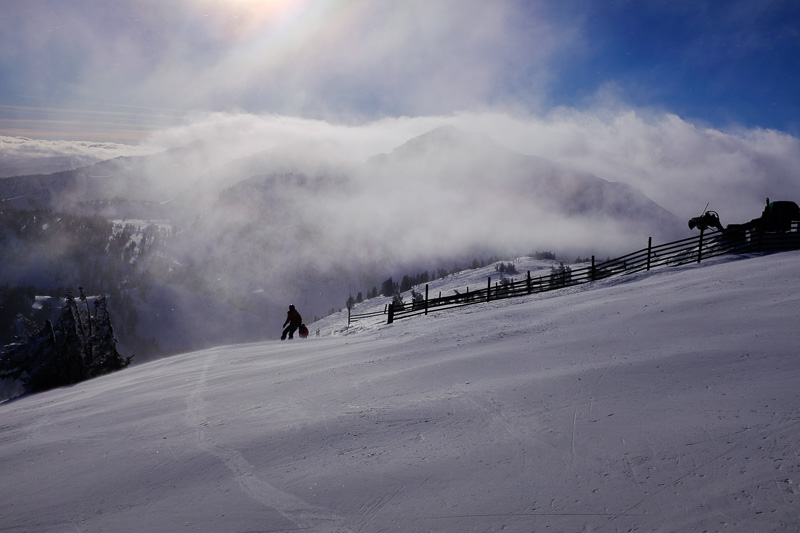 Meanwhile the skiers were whooshing off down the insanely steep slope. I've never been in a group of people that seemed as happy and gung-ho and upbeat as the skiers and snowboarders in that tram. Kind of the same vibe as on a SCUBA boat. Eager, let's-get-down-to-it vibes. And the resort was playing super-hard-driving heavy-metal music in the tram the whole way up. Everyone getting amped.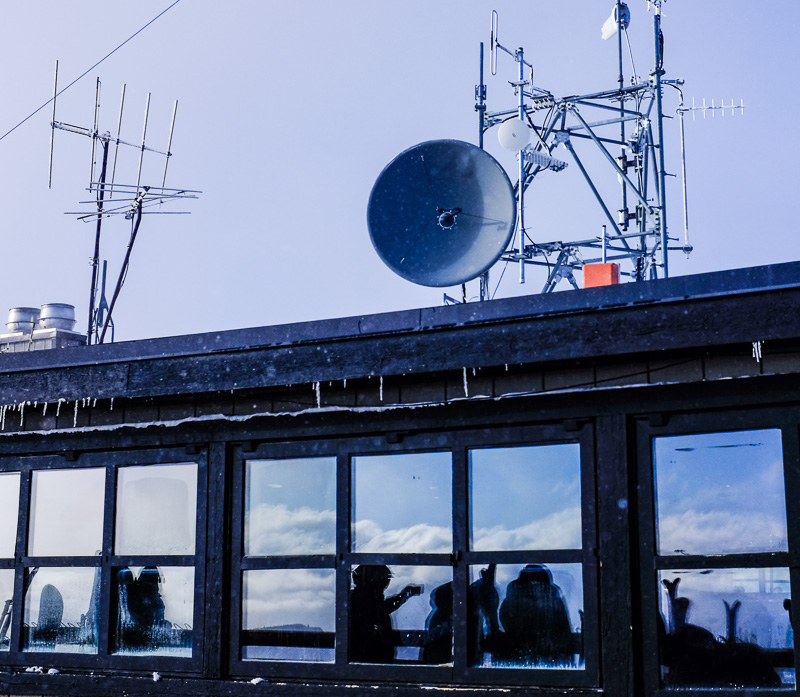 They had a little shack up there where they sold waffles. Oh, that's not a sound speaker on top of the hut, that's an antenna. The only sound was the wind, and, the joyful babble of the waves of skiers. Loved being up there, we stayed about an hour.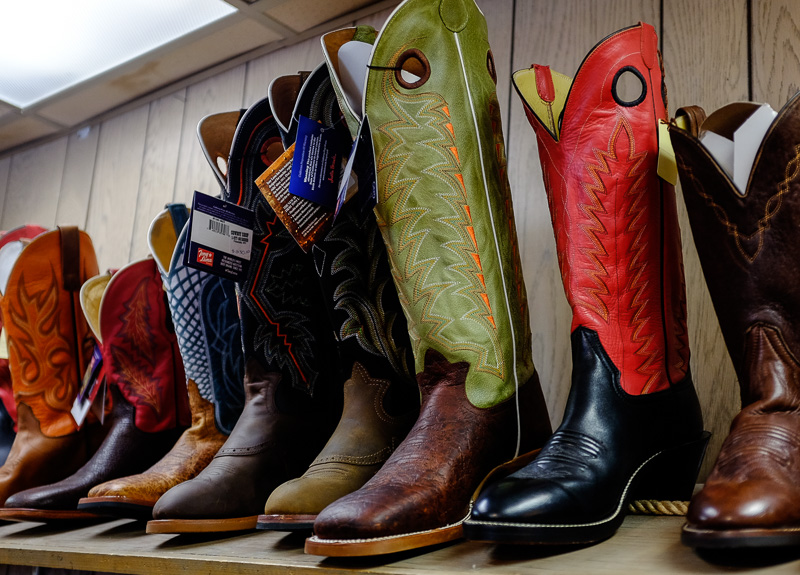 So then we went down to Pinedale, sixty miles south of Jackson. There's one shop we always go into, the Cowboy Shop, they in fact have a display-case of Isabel Jewelry on sale, and they have an amazing selection of cowboy boots.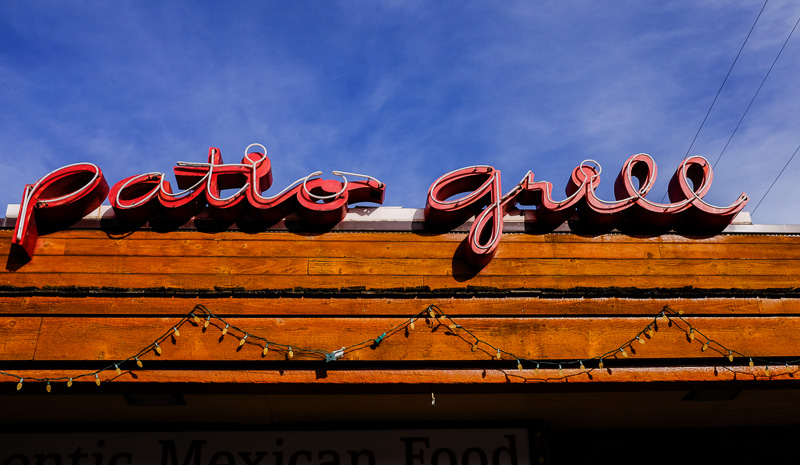 I like the font on this place.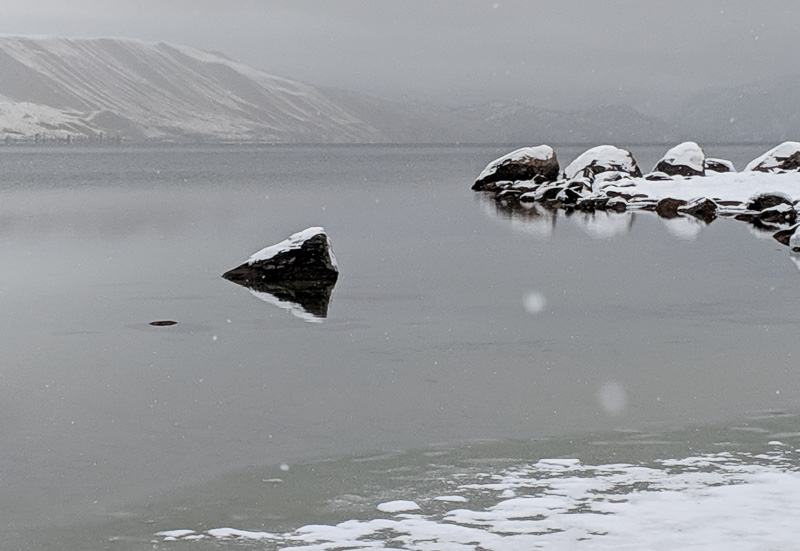 Isabel took us out walking along Fremont Lake. She and her husband Gus got married there a few years back. The water exceedingly chilly this time of year. It wasn't frozen quite yet, but the lake snapped over into a solid sheet a couple of weeks later.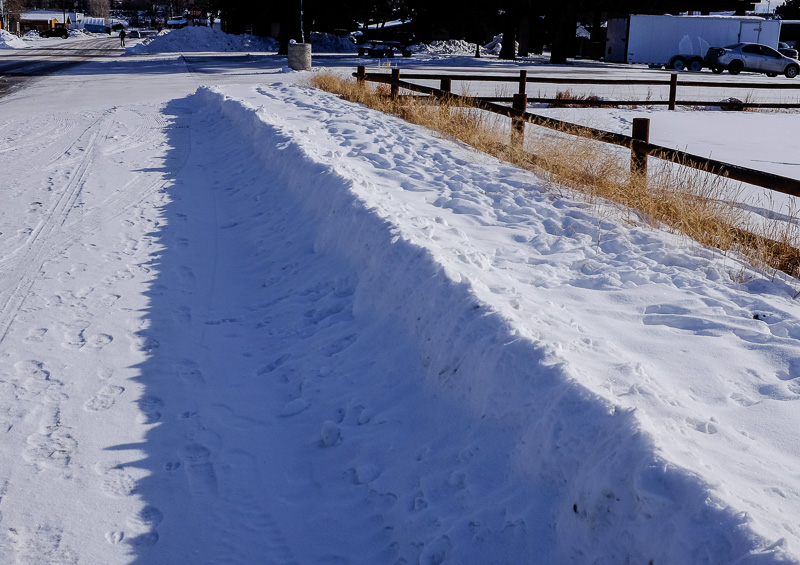 Always fascinating for me, as a coastal Californian, to see snowy scenes of winter again. The bluish quality of the shadows.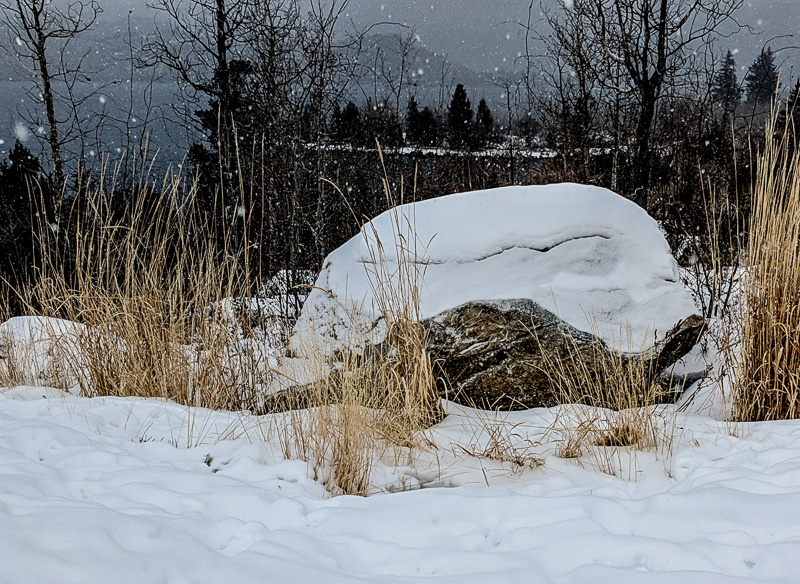 A boulder with a snow cap. Gorgeous.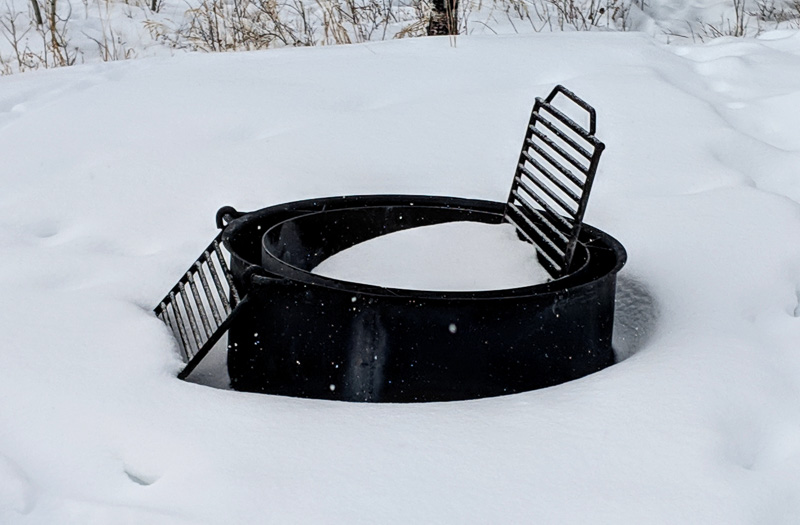 We spotted a UFO of course.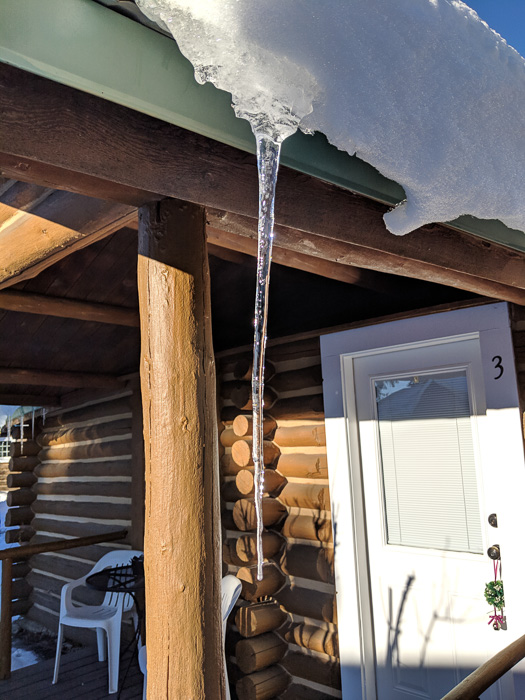 And a big ass icicle.
Lumpy snow.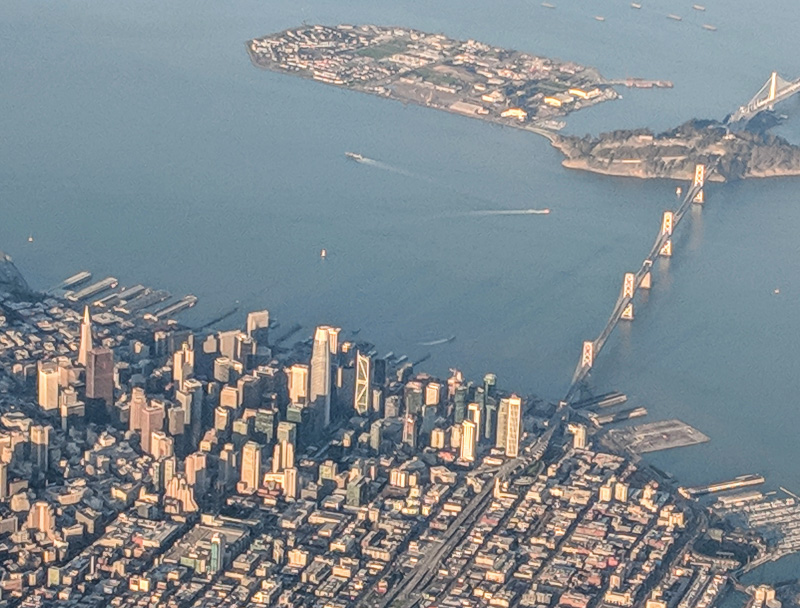 Good view of San Francisco on the way home.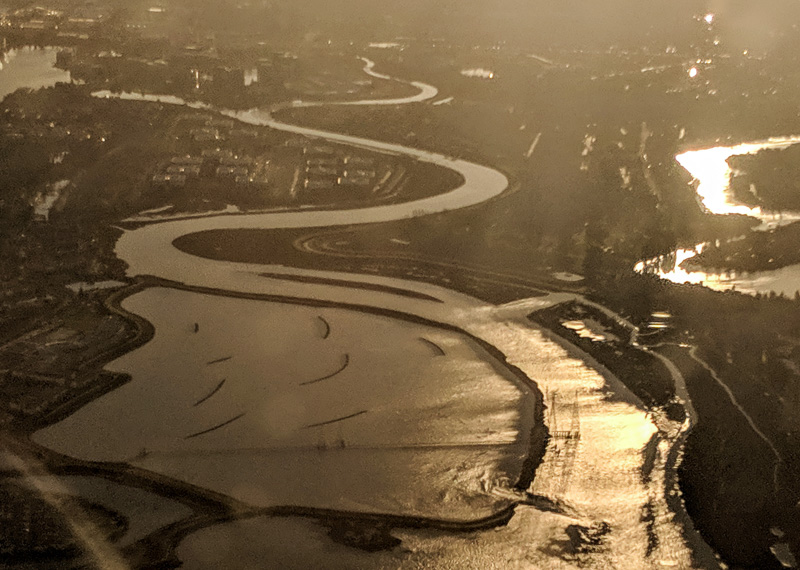 And as we landed, a golden, hazy, intricate view of mythical-seeming buildings and rivers. The Western lands.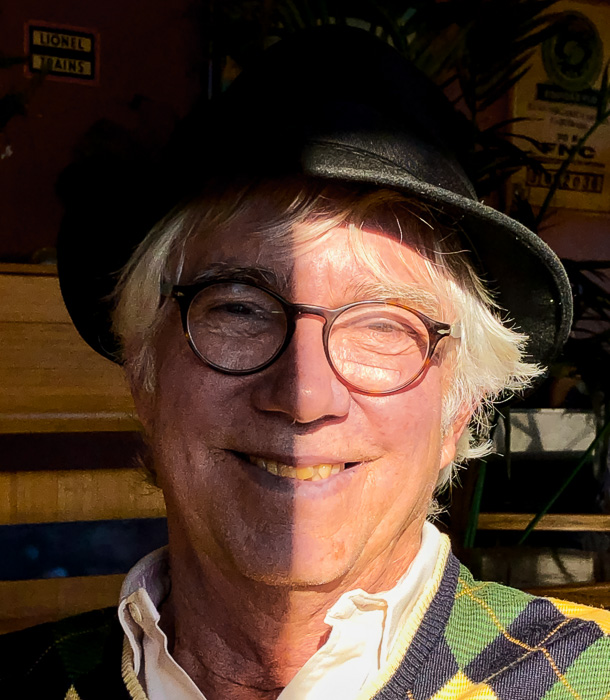 And, lo, he returns from the heights, dark with light
Greeted by his trusty alligator-log!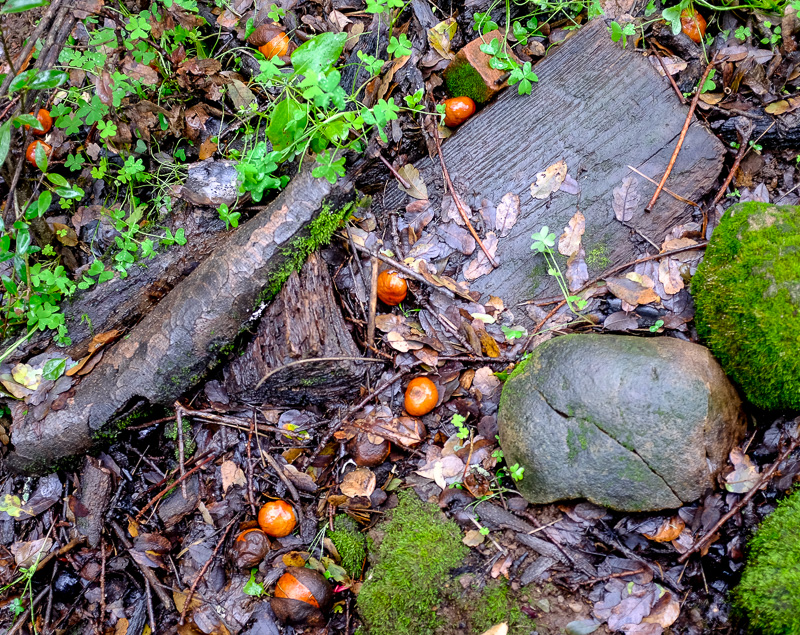 With books scattered about like fall chestnuts in the spring grass.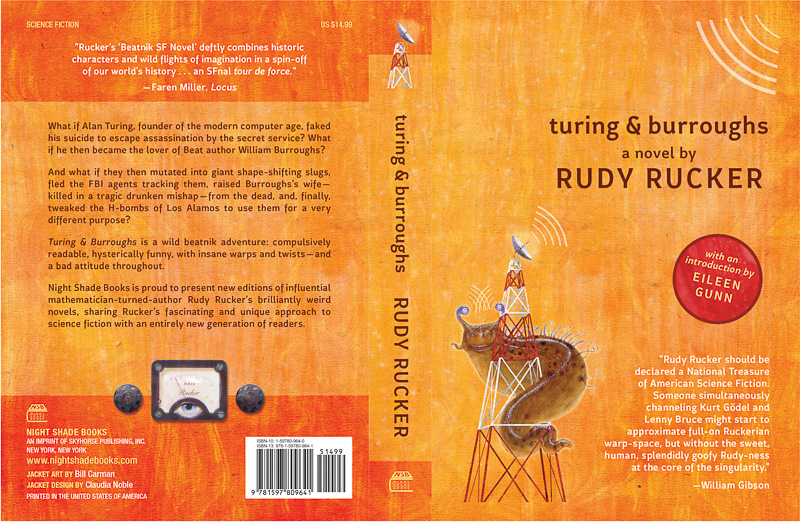 Hello, Turing & Burroughs!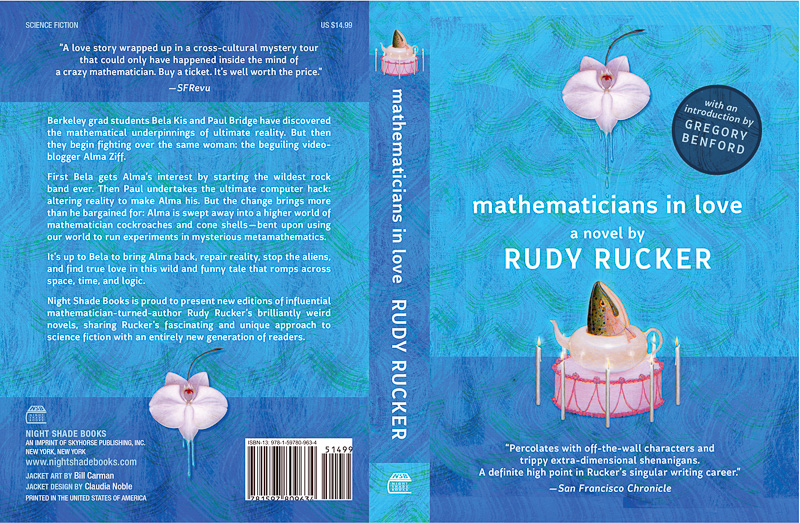 Hello Mathematicians in Love!