It's been about six weeks since my last post. With Return to the Hollow Earth published, I'm kind of drifting. I did two new paintings last month, we had Thanksgiving here, and before that I did a trip to Miami and Key West. I'll start with the paintings, then do Santa Cruz, then Miami, and then Key West. Going backwards in time, more or less.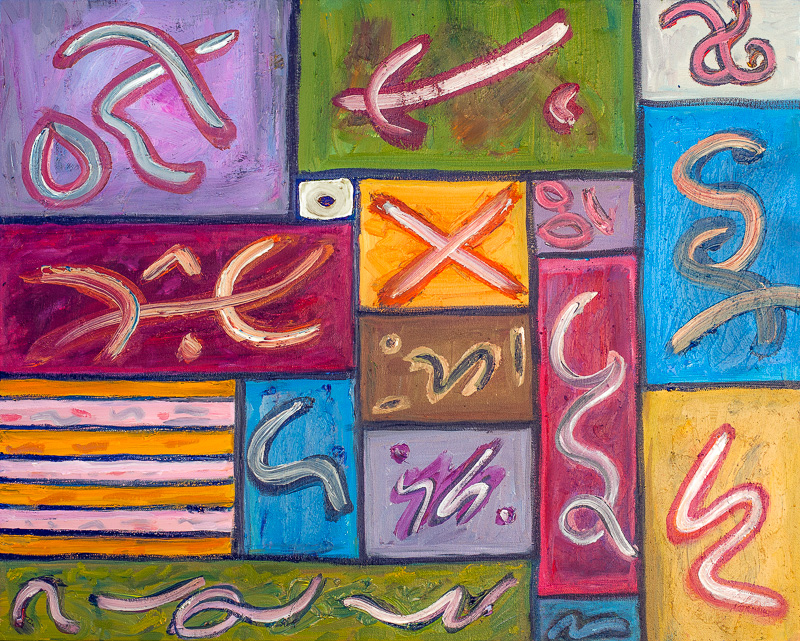 "Dot the Eye" oil on canvas, October, 2018, 30" x 24". Click for a larger version of the painting.
Here I just wanted to paint, with no content. I went for a puzzle grid of rectangles with scumbled messy colors in each one. I put a squiggle in most of the boxes, kind of like Sanskrit or, more fancifully, like High Martian. If I didn't like a squiggle, I rubbed it off, leaving colorful debris, and then I'd do a new squiggle. I called the painting Dot the Eye because I put a pupil in that small white patch. What does the painting mean? Well, can't you read High Martian? It says "I like squiggles and colors."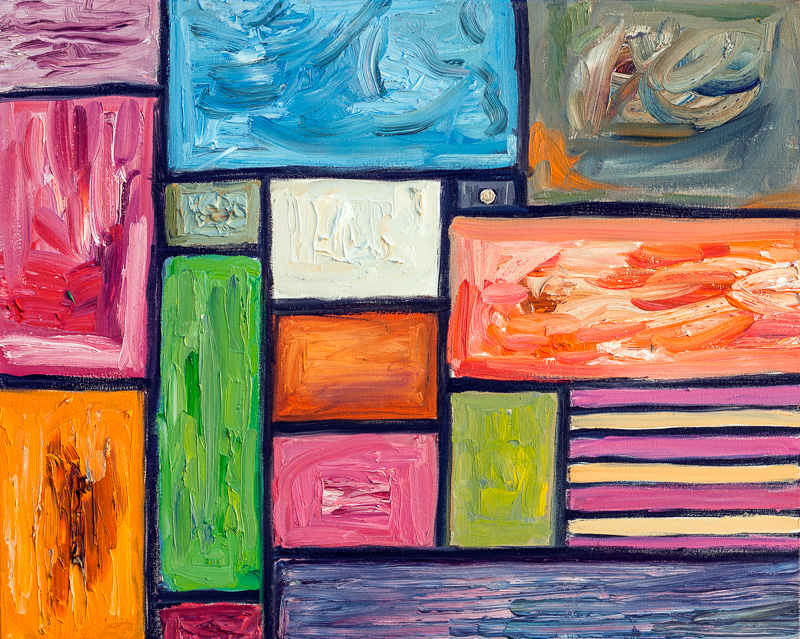 "My Flag" oil on canvas, November, 2018, 30" x 24". Click for a larger version of the painting.
This was a follow-up to "Dot The Eye." I took the grid pattern from "Dot the Eye" and flipped it over. So "My Flag" is kind of a mirror image. I painted it on Election Day, thus the title. Regarding the imagery, this time I was using really thick and heavy amounts of paint, extreme impasto, and I held myself back from smoothing the paint over. I deliberately left it rough, and with the colors not mixed within each rectangle, leaving a spontaneous ab-ex paint pattern in place.
Okay, now let's move on to Santa Cruz, Miami, and Key West!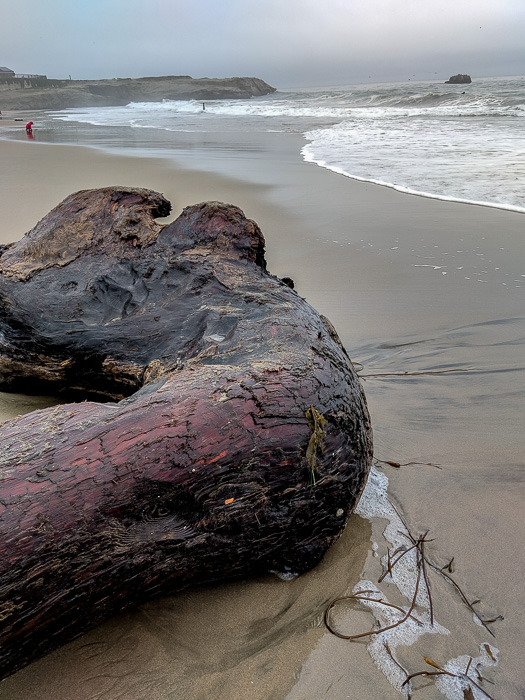 Rudy Jr. Georgia, and their families were here for Thanksgiving. A big time. We went down to Cruz on the rainy day after Thanksgiving, it was soft and mellow in the damp air. Some nice big logs on the beach.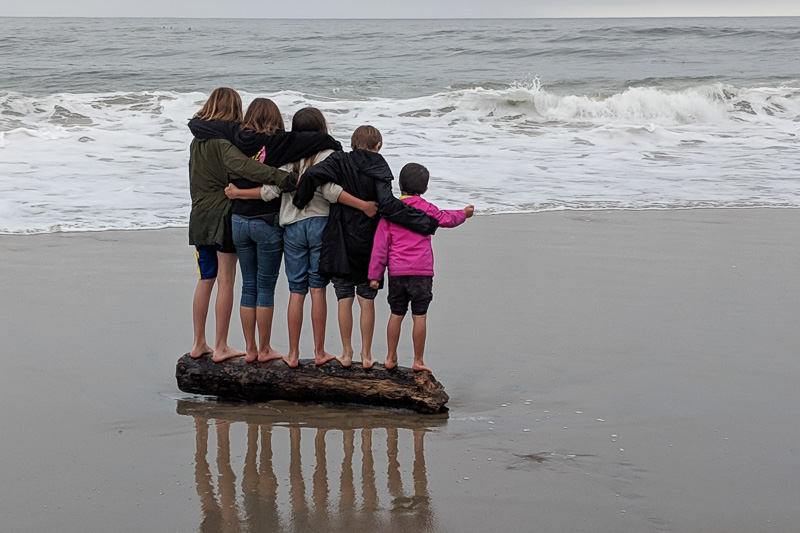 Rudy Jr. and I rolled a log stub down to the edge of the surf, and the five grandkids stood on it. What a sight. I'm lucky.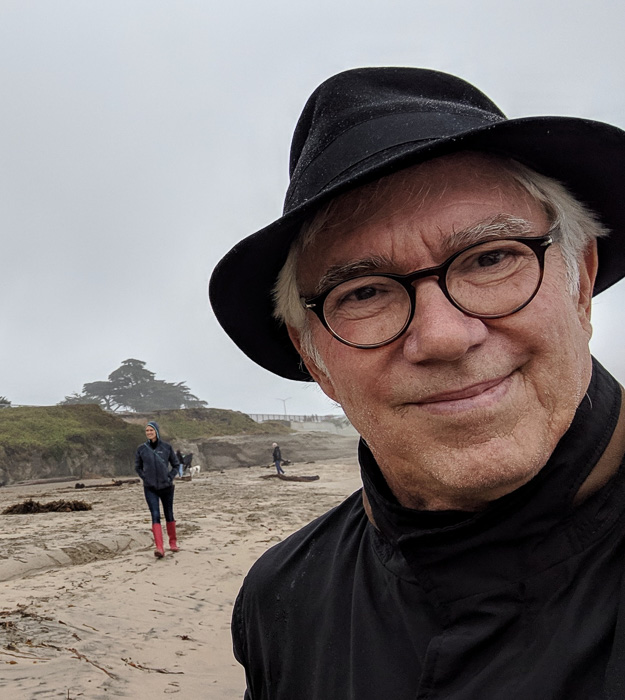 Here's Grandpa.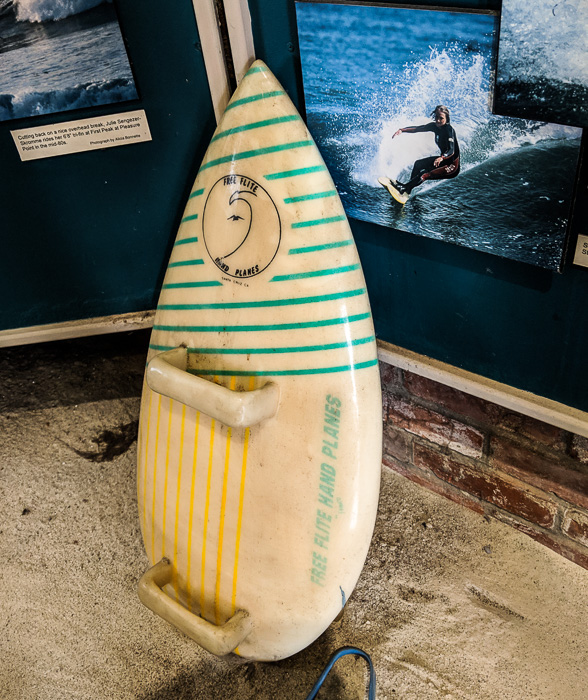 We stopped by the tiny Surfing Museum in the little lighthouse on the point by Steamers Lane. There's a particular handboard there that intrigues me, I've looked at it many time. The one writing project I've been into of late is a story called "Surfers at the End of Time," which I'm writing with my old partner in gnarl, Marc Laidlaw, who currently resides by the beach in Kauai. We wanted to our characters Zep and Del to be able to surf through time (whatever the eff that means, but never mind, it's science fiction). And I fixated on this particular teardrop-like handboard. It's a time machine!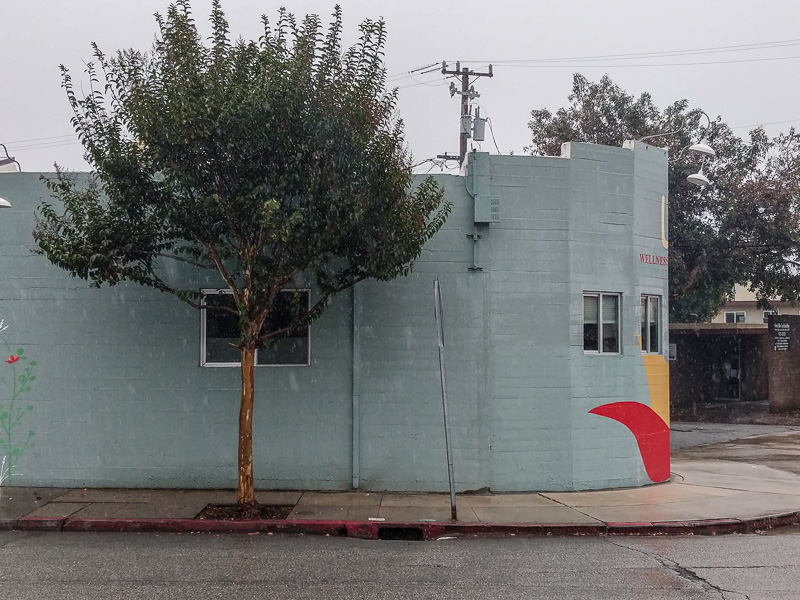 We're so happy for rainy days in California just now. The first rain since last year.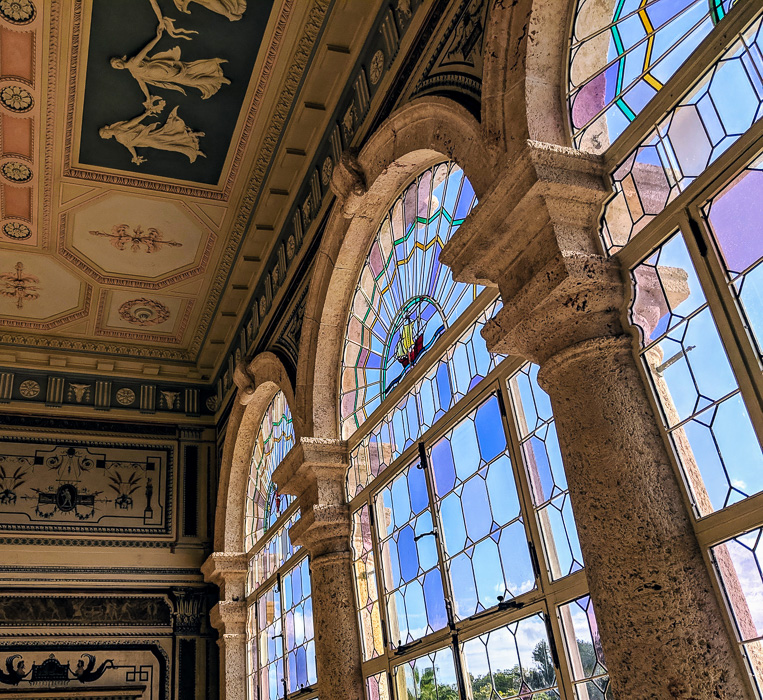 Here's the Vizcaya mansion in Miami. Love the light. Why were we in Miami?
Well, Sylvia and I flew to Florida for the Miami Book Fair. A random invite, via my 4D scholar friend Christopher White, author of Other Worlds, about 4D space and the spiritual impulse.
I presented about Return to the Hollow Earth. Underwhleming. I'd prepared slides, but didn't have a really smooth talk, and I only had ten or fifteen minutes to talk in. I did manage to get a few laughs. Sadly, the fair organizers had failed to get any of my Return to the Hollow Earth books to sell on the spot. But I handed out bookmarks with the the URL for the book's page. I'll podcast the talk later this week.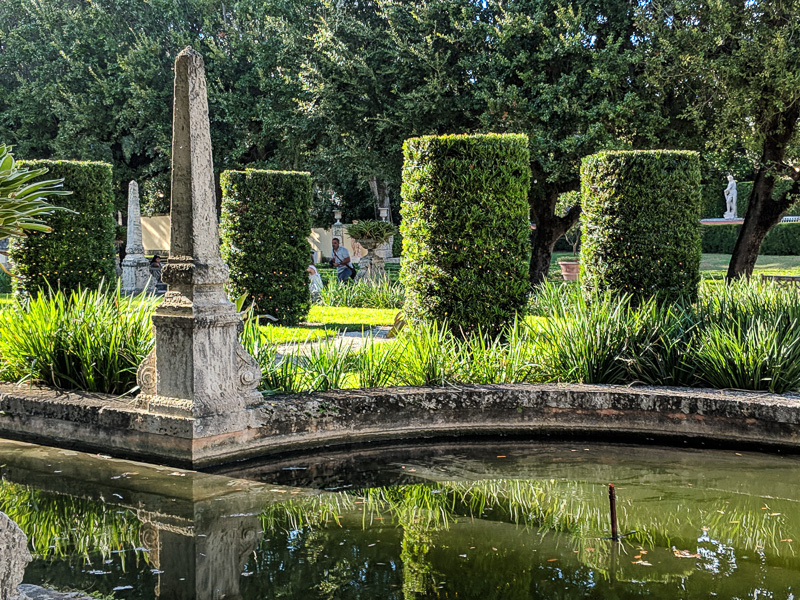 As I was saying, one of the sights S & I checked out was this Italianate mansion Vizcaya by Coconut Grove, south of Miami. Great garden. This particular spot here, with the boxy shrubs, I'd like to be buried there. With alligators and technicolor lizards nosing up my remains. But not yet. Who knows, I may yet sell some books.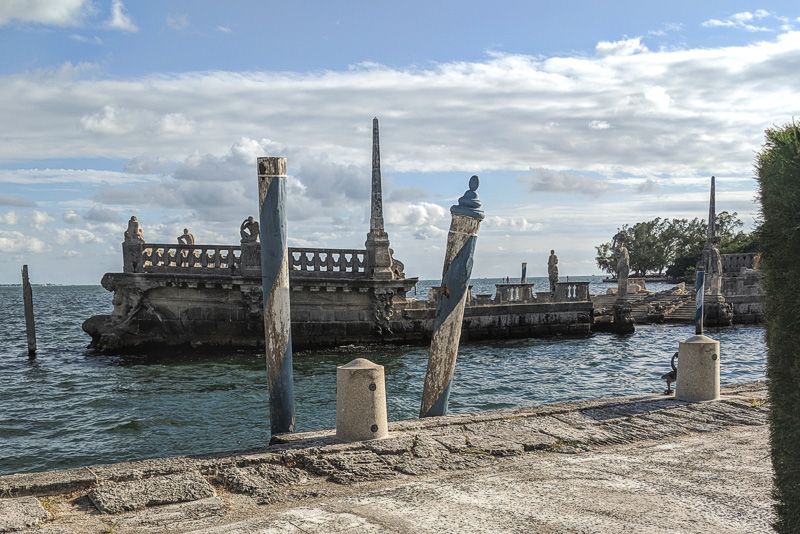 The guy who built this mansion was a lifelong bachelor called Deere—of harvesting machine fame. Kind of a Citizen Kane routine, get a bunch of European stuff and load on the class! He had a stone gondola installed at his waterfront, I guess you could lounge on it while bathing, really cool. Dig the striped poles, just like in Venice.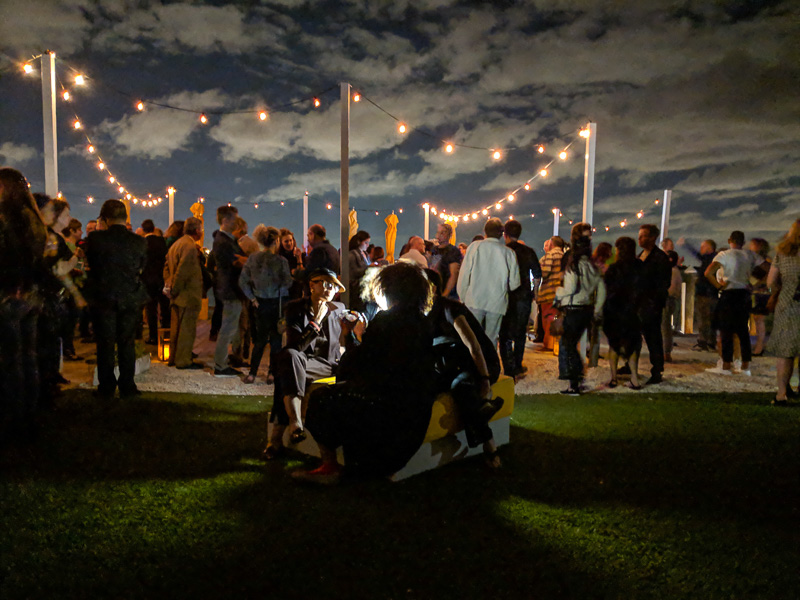 The Miami Book Fair organized a party for the authors at this super deluxe spot called the Standard Spa Hotel, across the bay from Miami on the island that is Miami Beach. It felt a scene in Antonioni's movies "La Notte" or "L'Eclisse". S & I haven't been to nearly enough parties like this in our lives.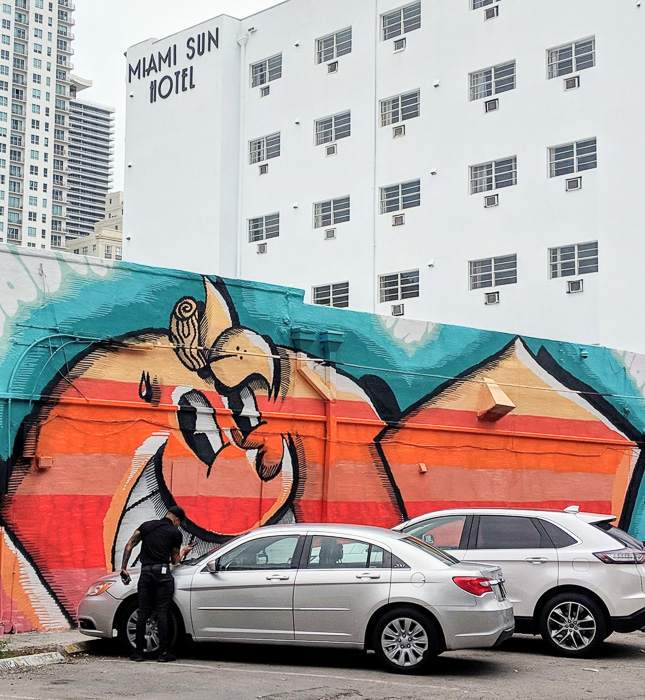 We never could seem to find an SF Union Square type or an NYC Fifth Avenue type "downtown" in Miami. Did catch a good meal and some music in Little Havana. And Miami is a great graffiti town. This pumpkin appeared in lots of places. Hard to see the detail here, but it's kind of about to eat a cop who's giving a ticket beneath the Miami Sun Hotel.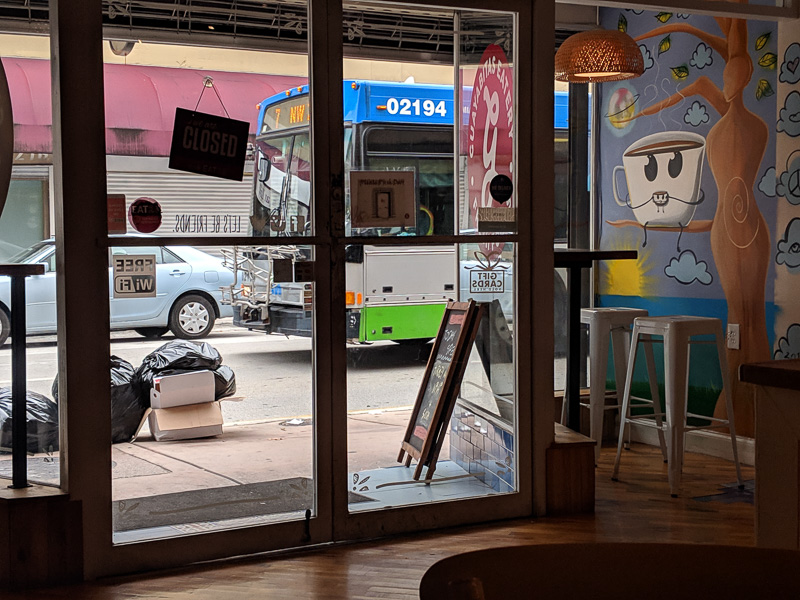 We wandered into a Cuban diner and I had a very good "Cuban sandwich," which includes pork and ham. Culinary genius. I like the dead, small city look of the street outside. Reminds me of Louisville in the 50s & 60s.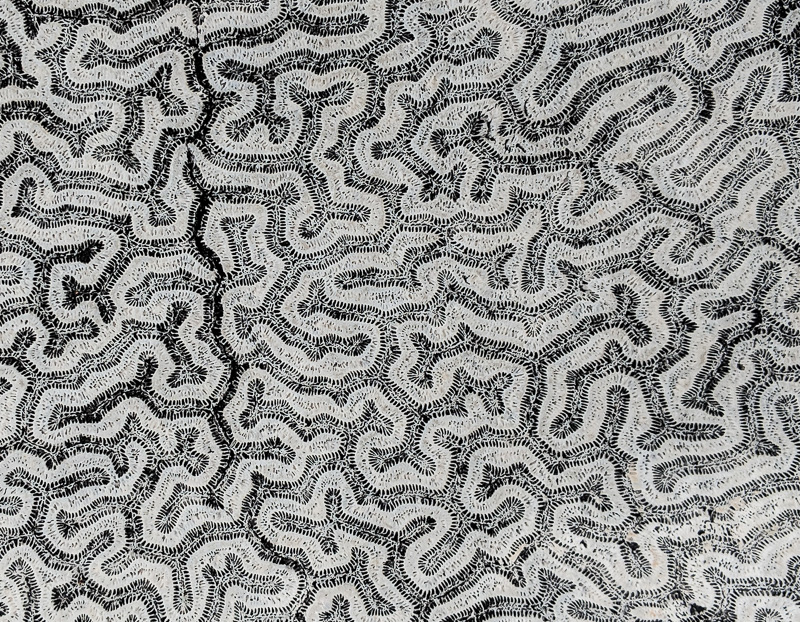 They blast up or quarry out "coral stone," maybe from blocks by the beach. With these designs that we biomimetic computer graphics types called Turing patterns. Activator inhibitor algorithms. Nice to see some out there in the world "on the hoof."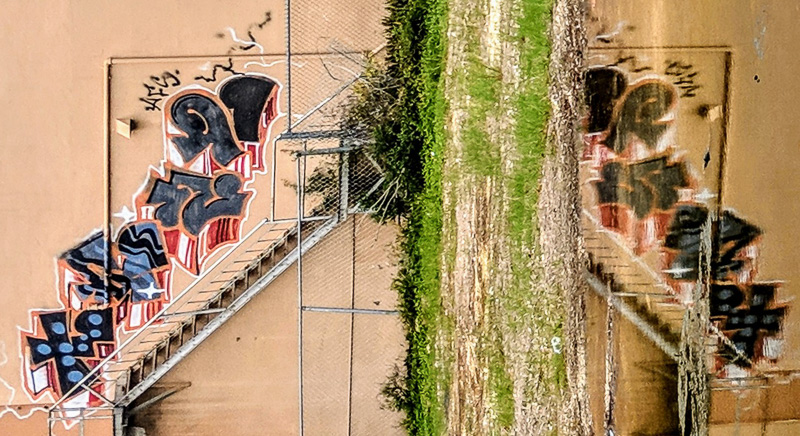 This is a cool illusion-type photo. It's rotated 90 degrees, and what it "really" is a graffiti design over some stairs, reflected in a puddle. But when it's rotated the stairs still look like stairs, which kind of hides the fact that its rotated, but then the reflection part looks like…whoah!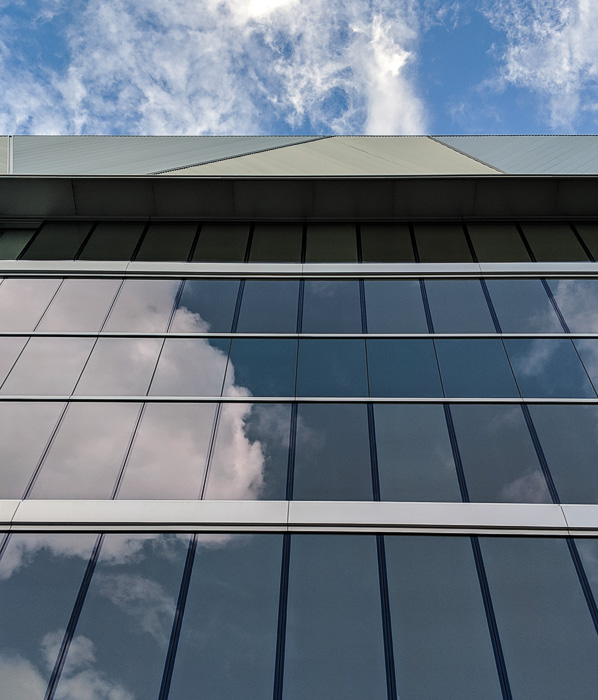 We checked out the Design District area of Miami, kind of a Rodeo Drive thing, with boring ultra deluxe standard brand stores. But the architecture was very cool. The best thing was parking garage for the Institute for Contemporary Art museum, four stories high, covered with something like a Jim Woodring mural, made of embossed 3D parts, heavy pasted-on glyphs, and with huge rococo pillars at the bottom—not exactly pillars, more like the figures on ships. Insane. Very 22nd Century. I didn't get a picture of it. The Institute for Contemporary Art itself didn't have much in it. But in their garden I got a nice shot of the glass wall and the cloud-live sky.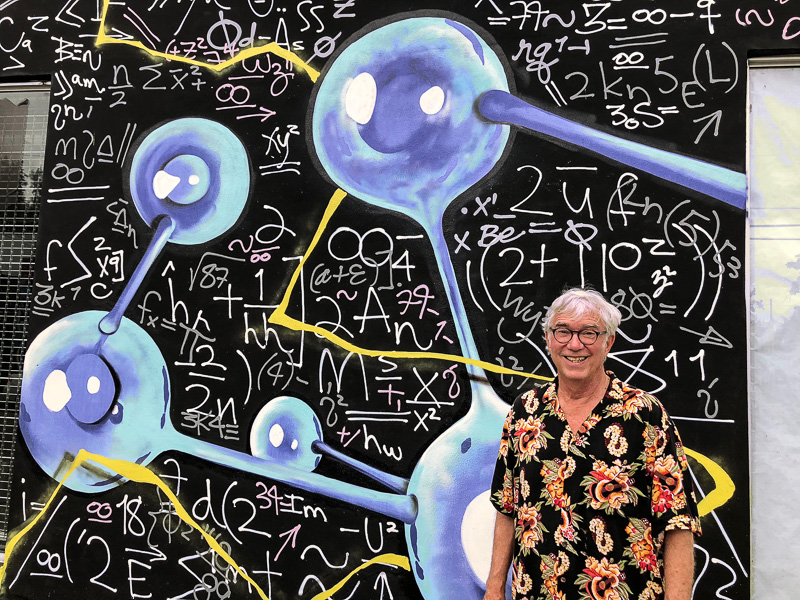 Professor Rucker, wobbly on his pins, happy with a giant mural of math, in a super-graffitistic neighborhood called Wynwood.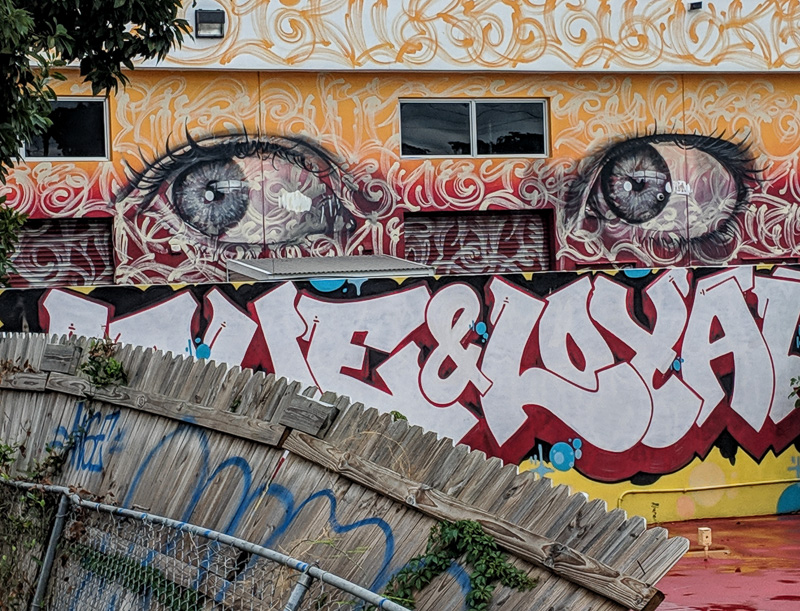 Crazy, crazy shit in Wynwood. These eyes, so wild with, like Arabic writing on them and the collapsed fence.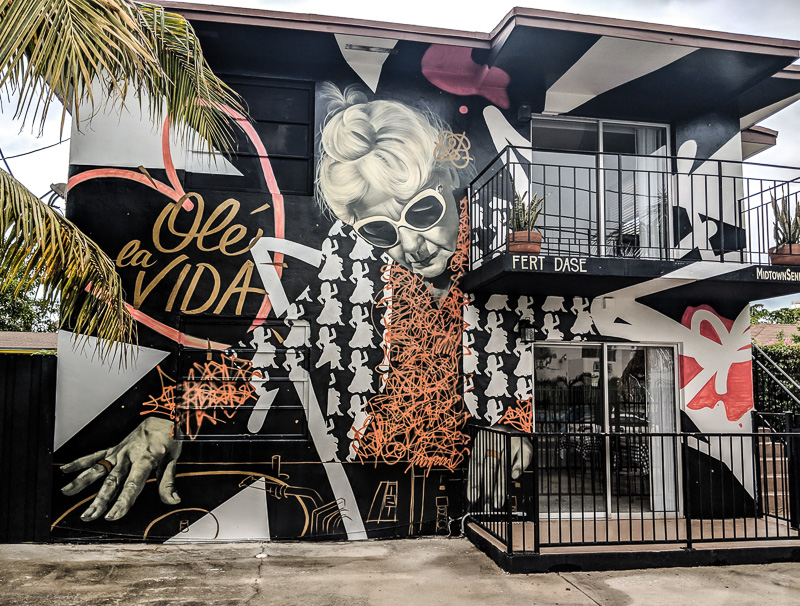 An dig this graffitized Senior Center. The old lady still kickin' it, and the checks on her coat are…Cuban dancers. And her blouse is just spray can squiggles. I've never seen a graffiti this strong.

A special selection of the Wynwood graffiti are set off in an area called Wynwood Walls, kind of like a gallery, although deep down there's a really violent self-contradiction in gallerizing graffiti. But, anyway, they had some good stuff. I like the *duh*-type whale wearing pants.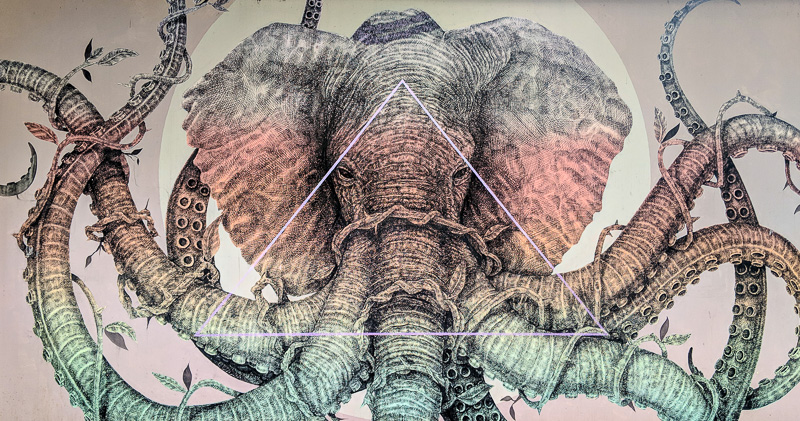 And this piece, a cross between Cthulhu and and elefump, I mean heffalump, I mean ole Jumbo. Reminded me of Charlie Stross's new novel The Labyrinth Index which I was reading with huge enjoyment as an ebook in FLA. Stross actually has Cthulhu taking over the Republican party, and he's not far wrong…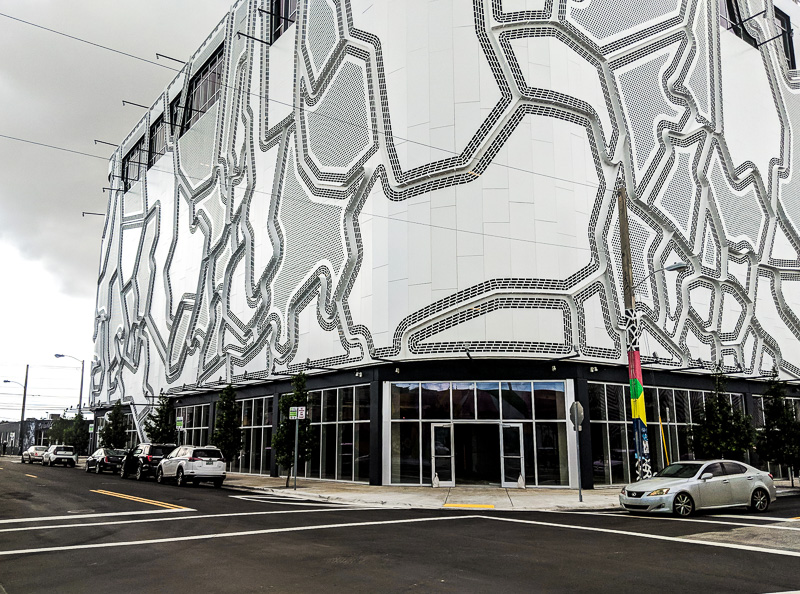 And here's a whole effin building covered with the urban blight of graffiti. Mother far effin out.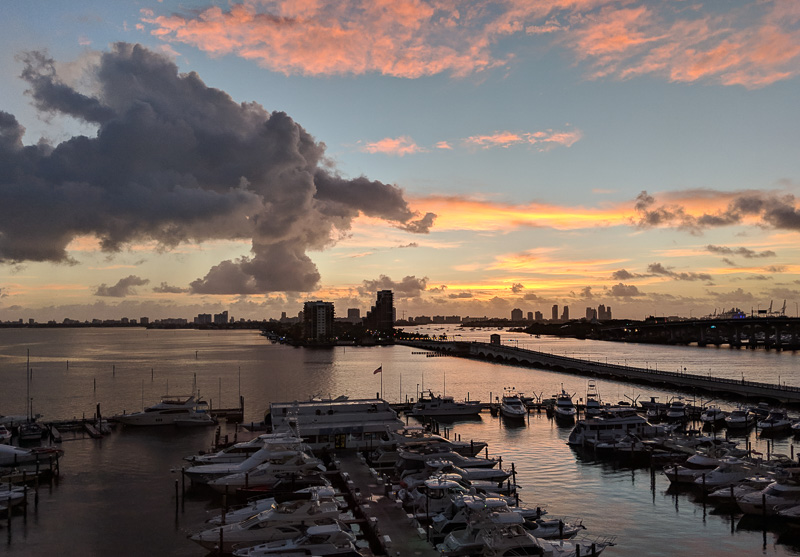 Dawn over Miami Beach. SUCH lovely clouds in Florida, so big and meaty, towering up, big old anvils, the rain comes and goes, my heart skips a beat.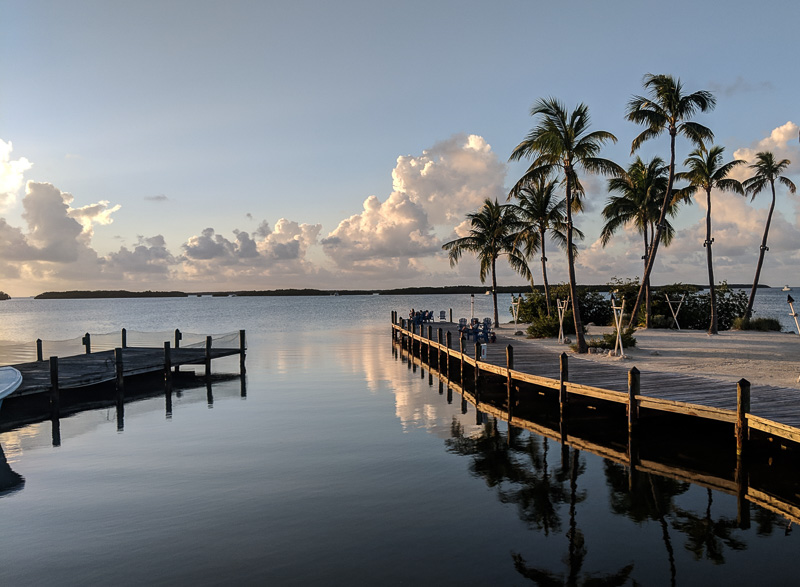 I flew out a little early and drove down to Key West on my own. I kept not finding a place to snorkel, so on my way back to Miami from Key West, I did a snorkel outing off Islamorada Key, the second big key down from the top. I paid a guy a couple of hundred bucks to boat me three miles out and essentially throw me overboard near a rusty, steel frame structure on a six foot deep shoal, the tower is called Alligator Lighthouse. Like a gangland hit, it was, being put in the water there. All that was missing was the cement overshoes.
I'd only wanted to go one mile out, to the Cheeca Rocks, but the water was turbid, so the boatman points out to this thing like a little oil derrick, or Eiffel Tower, on the horizon, and we plow out there. Saw stacks and stacks of fish, yaar. I was having trouble keeping it together in the water, as the sea was rough—three foot waves. I was ready to puke from the ride out, and my heart was pounding really hard…I kind of thought I might die. But it was worth it, in a somewhat sad and lonely way. By then I'd been in the Keys four days, and I was missing having Sylvia with me.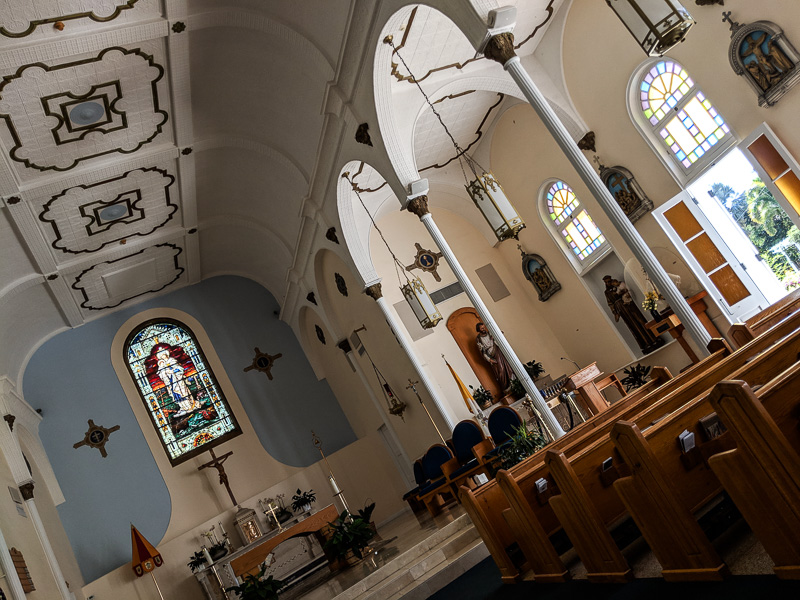 On the way out of Key West I stopped at this Episcopal church, kind of a cathedral, called Santa Maria maybe. The whole time in Key West, I'd been thinking about my father, who, when he was about sixty, left my mother and took off on a road trip with a woman and spent some time in Key West. He really liked it there. He was drinking a lot, and Key West is a drinkers' town. I lit a candle for him here.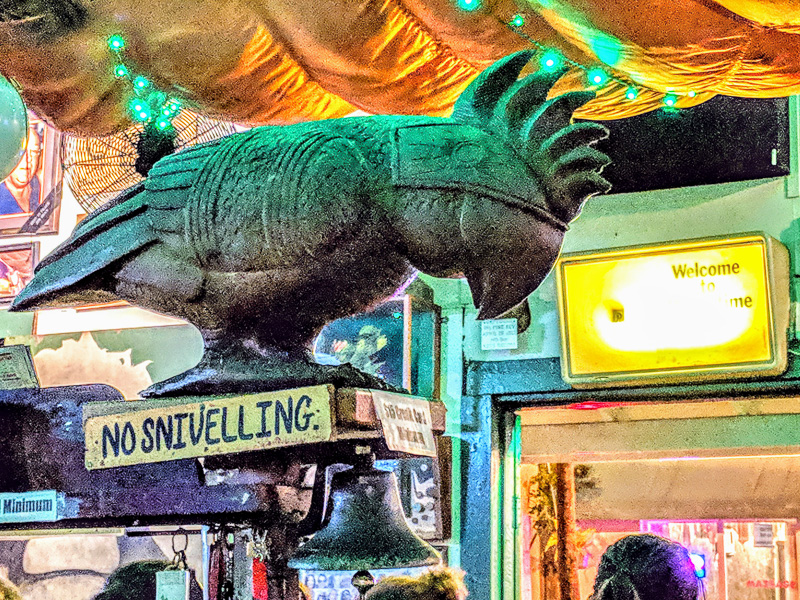 I myself don't drink anymore, but I stopped in at the Green Parrot, one of the older bars in Key West, if not all of Florida. Such a companionable hubbub in there. Went wild and had a no-alcohol beer.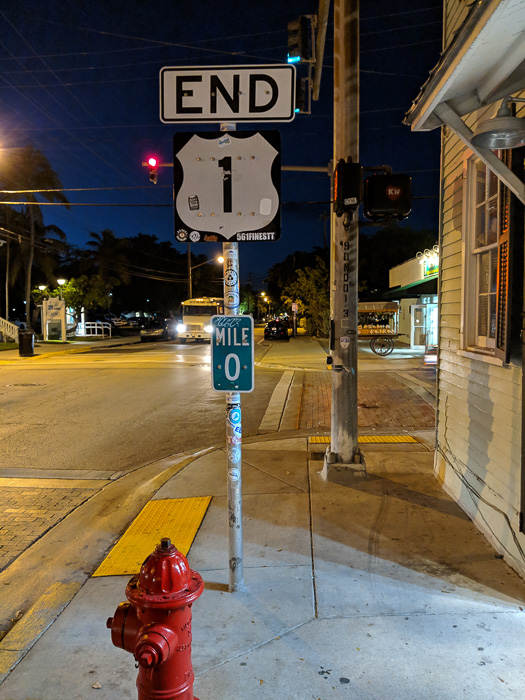 The Green Parrot is right by the end of Route 1, kind of an amazing thing. The road runs from Key West all the way up into Maine. And here's the zero, with a red fire hydrant, and the lovely yellow light of night. Mellow.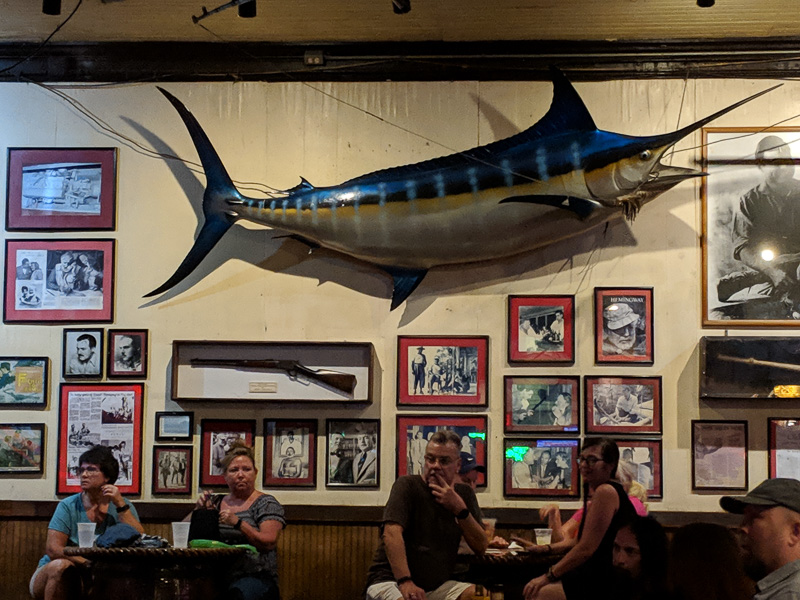 The better known Key West bar is Sloppy Joe's a place my Pop liked a lot. And so did Ernest Hemingway. When Pop was there he'd grown a white beard like Hem's, although sometimes people would compare Pop to Kenny Rogers, but he liked that too. Had an 8-track stereo in his on-the-road Cadillac, and, like two tapes, and one of them was Kenny's hits.
There's a wall of Hem memorabilia in Sloppy Joe's, with a giant marlin and a photo of Hem with Castro and eeeeek a boxed shotgun, presaging our man's sad demise.
I really admired Hemingway's writing in high-school and even in college, although later, you know, his attitudes no longer rang true. Even so, he was a great stylist. I like that economy of phrasing thing. Classic example is the first page of his first novel, Farewell to Arms. A lot of later writers come out of that style, I often use it myself. Paring down, making the prose like haiku poetry.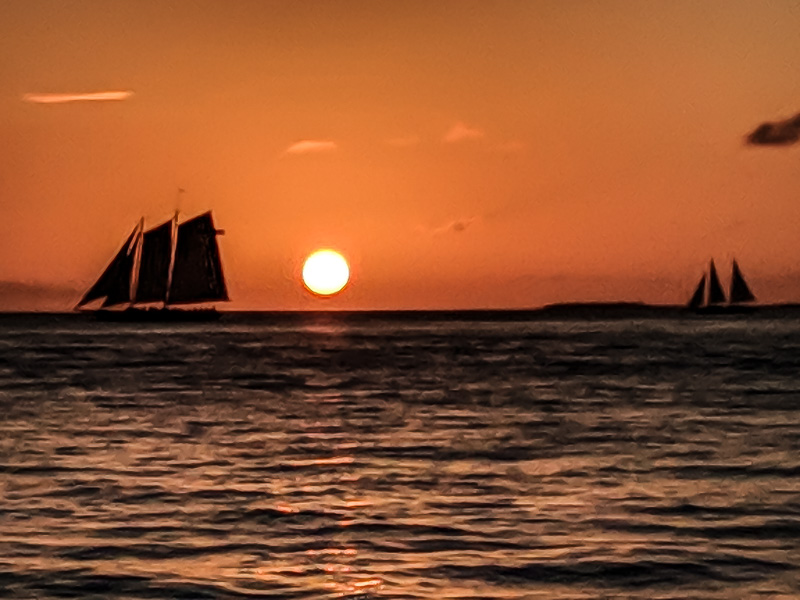 There's this big open spot Mallory Square in Key West, and poeple go there to see the sunset, with buskers and jugglers and a few cruise ships tied up. And out on the horizon, a pleasure-trip schooner plies its way back and forth, posing with the sun, quite lovely.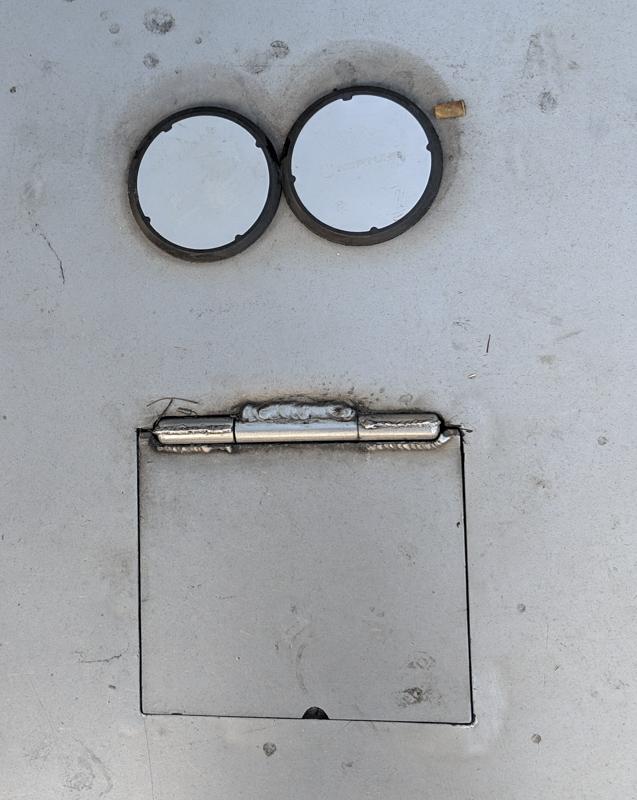 When you don't see anything to photograph, you can take a picture of the faces on the ground. I think when I took this I was looking for my rental bike, which had disappeared, or been stolen, or I'd forgotten where I put it, somewhere near Sloppy Joe's, and I have a sore leg these days and hated to have to walk all the way back to my hotel via "shanks mare" as some call walking. I never did find it, but the rental guys are used to that, befuddled tourists a plenty, and found it within an hour while I lounged by the tiny pool of my nice hotel, staring up at the fading sky.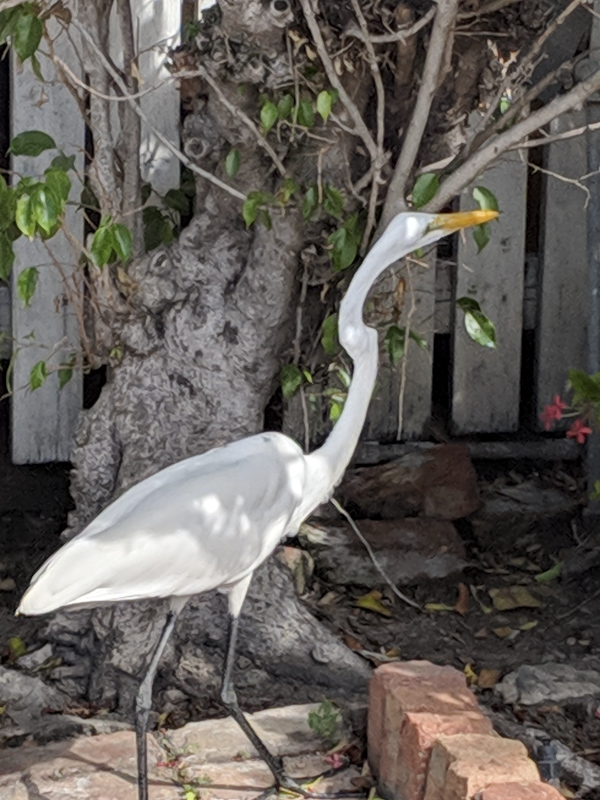 Egrets all over Key West. At first I didn't get what this guy was doing, but then I realized he was waiting for a lizard to crawl along. That beak! Dart! You meet your doom!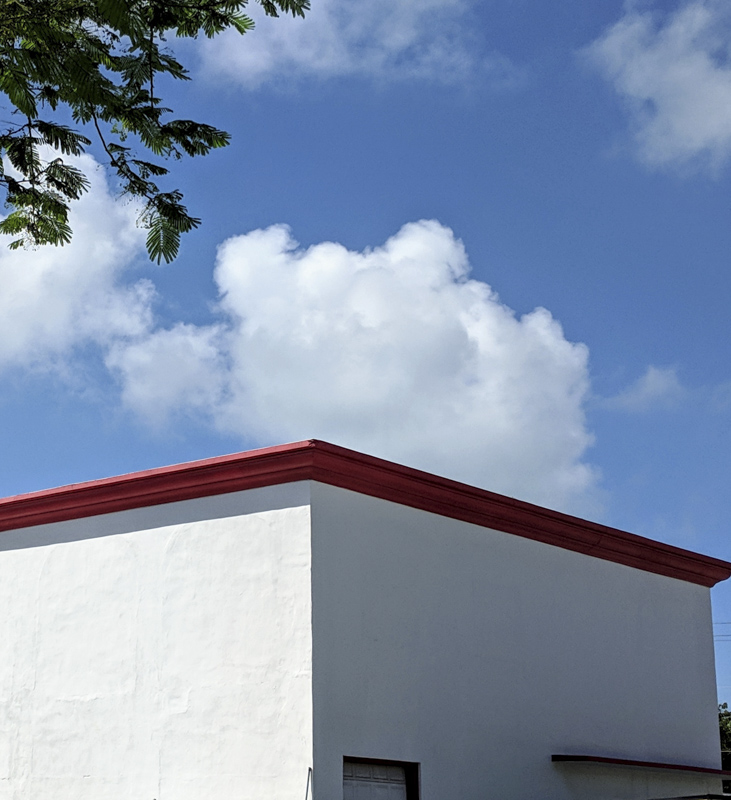 Just wanted to photograph clouds all the time down there…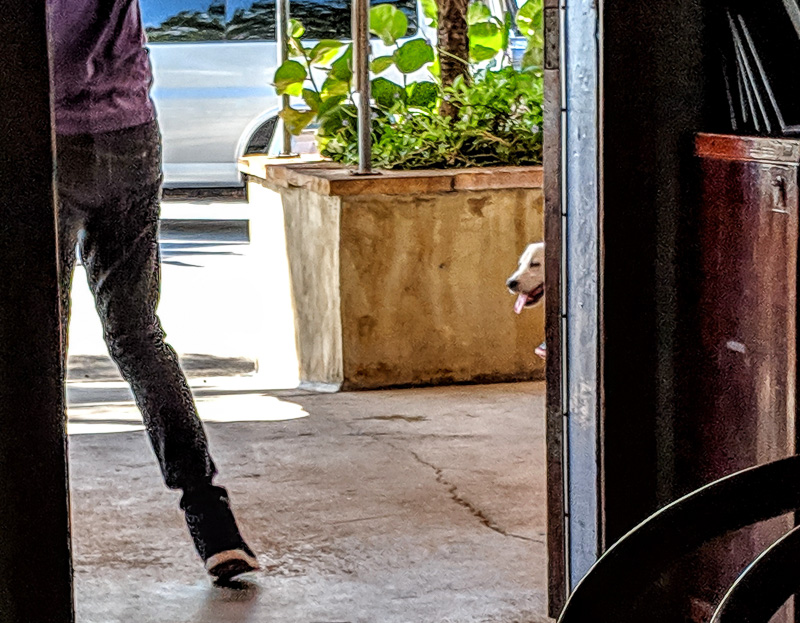 The peak relaxation moment of my Key West visit was when I still had my rental bike, and I stopped in at a random cafe by the beach at the south end. The beaches themselves not super inviting…no coral and no fish, the sand very fine, the weather not quite warm enough to swim, and the sun just insanely strong, like sunlight on the Moon, drilling down into me with those ultraviolet rays, and I'd lost my sunglasses right before the trip, but at least I had a brimmy hat.
Anyway stopped in this cafe and had an ice tea, sitting at a table inside, with a guy my age doing maitre'd to let people go through the inside and onto a relatively chic patio. He said I could sit where I was as long as I wanted, we were twins, basically, 70ish men killing time in Hawaiian shirts. Looking out the door I saw a very animated little dog. This isn't the real photo I took of him—I took the real photo in my head before I got my camera up to my face—but this one will do.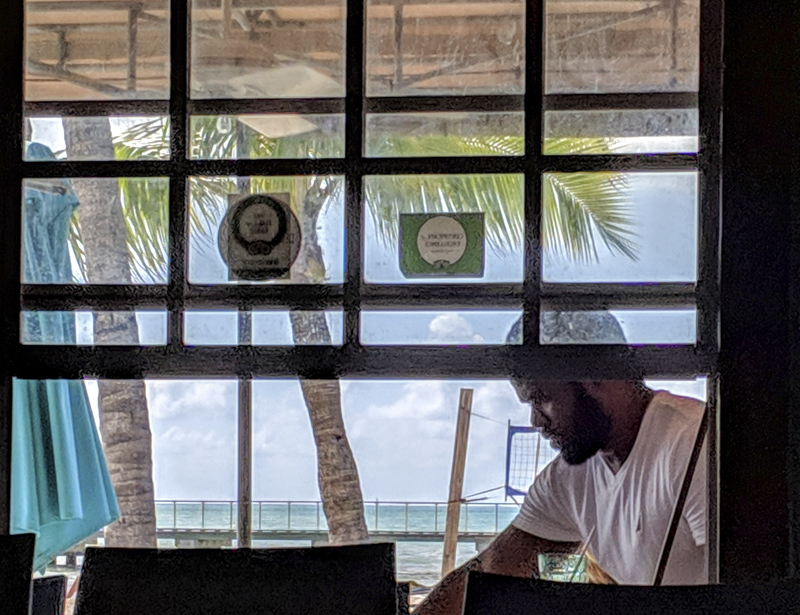 Liked this shot of the busboy out through the window too. Nobody rushing too hard in Key West.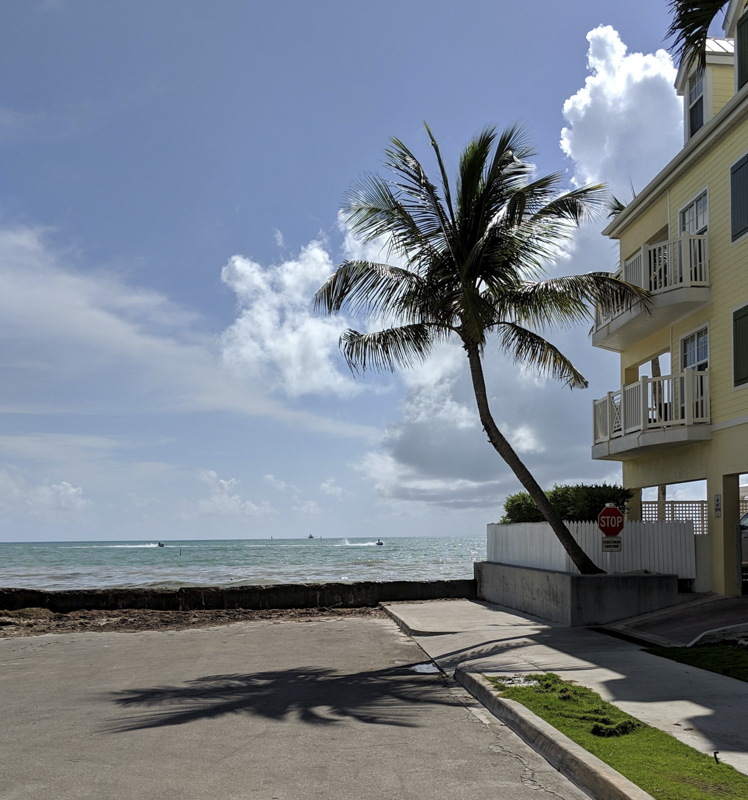 And nearby was the tip-ass southmost point of the continental US. Like this condo and that amazing wavy-trunk palm, and always the CLOUDS.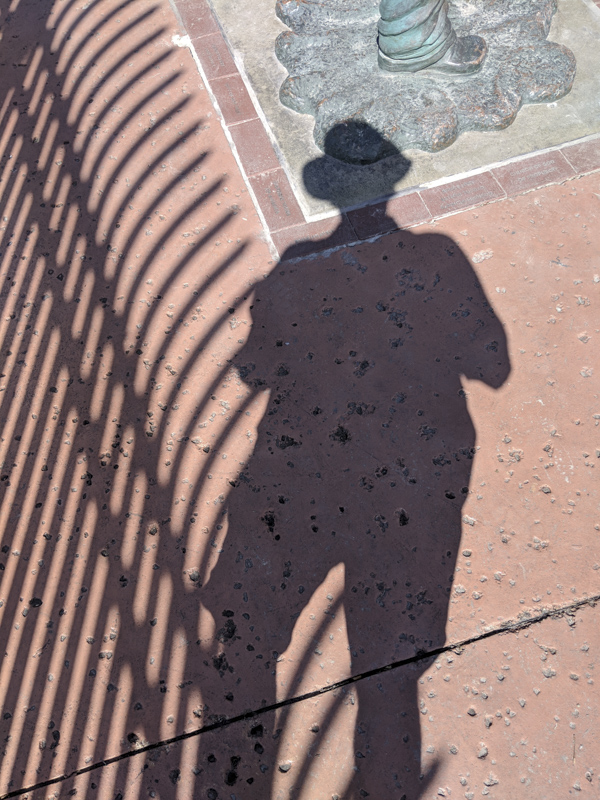 Self portrait as a rotated pig on a grill.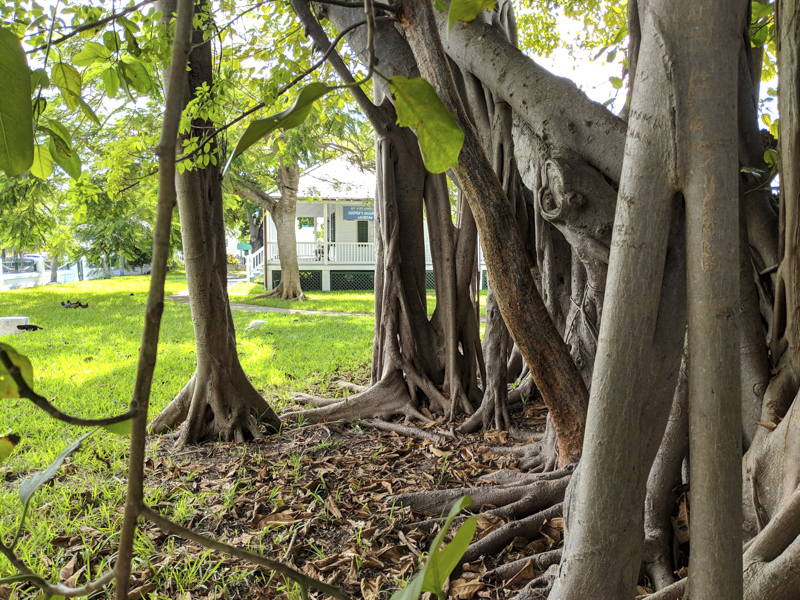 Always so glad to see my friend the banyan tree. Grow up grow down grow all around. This was right by the Key West Lighthouse which was right by…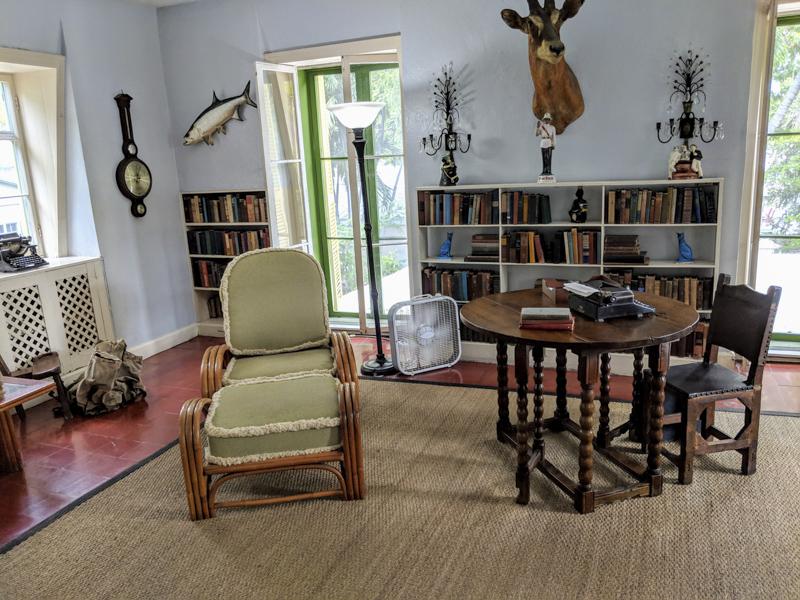 Hemingway's house! Hem's office very inviting, the nice chair and lounge chair. He'd knock off for the day once he'd written about 700 words. Then off to Sloppy Joe's! Or maybe go out deep sea fishing. He lived in Key West about seven years. It was fun looking at his stuff.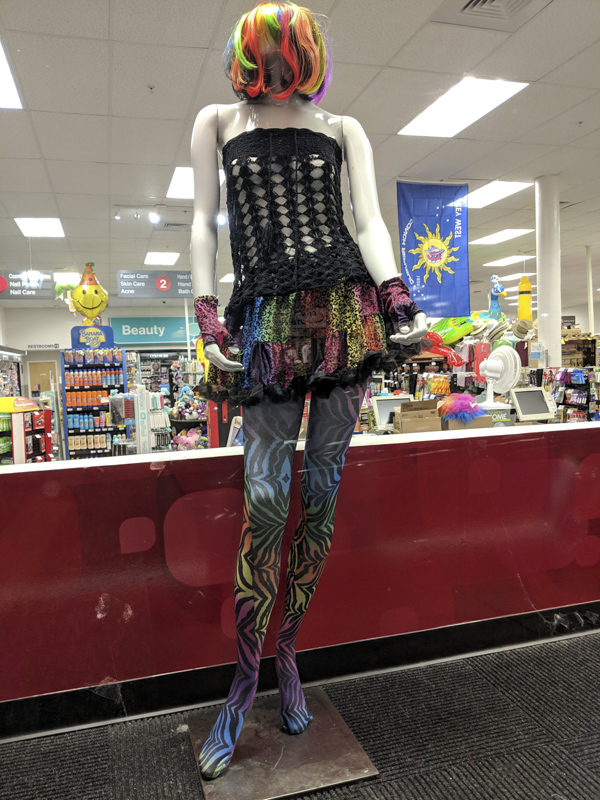 The main drag of Key West is kind of blah, although varied, with tourist shops, eateries, drag bars, rave bars, and this eye-catching post-Halloween display in the CVS drugstore window.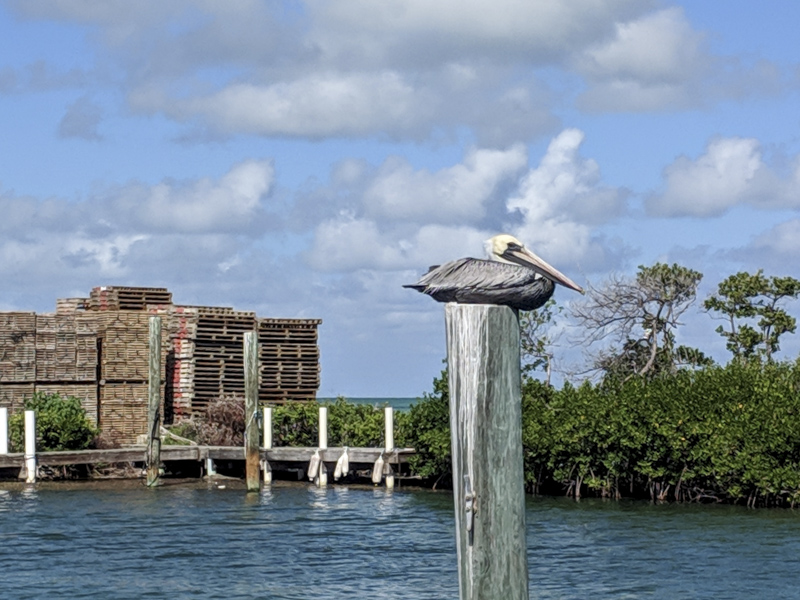 Driving down to Key West from Miami took longer than I expected. This one tiny place I stopped at, Conch Key, really appealed to me. Five pilings in the water, and a pelican sitting on each, with various poses. Liked this guy the best.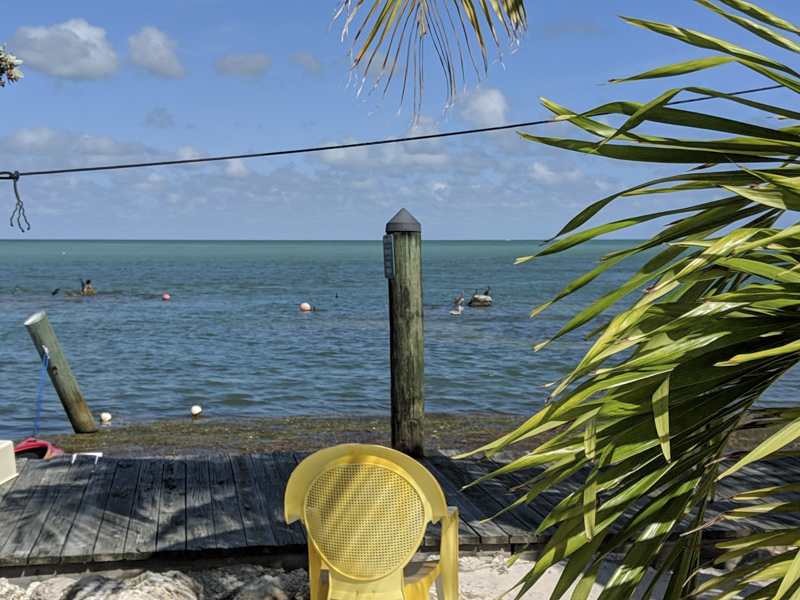 Most of the houses on Conch Key were trailers. End of the line. Complete silence. Reminded me of the Turks and Caicos Islands where brother Embry used to live.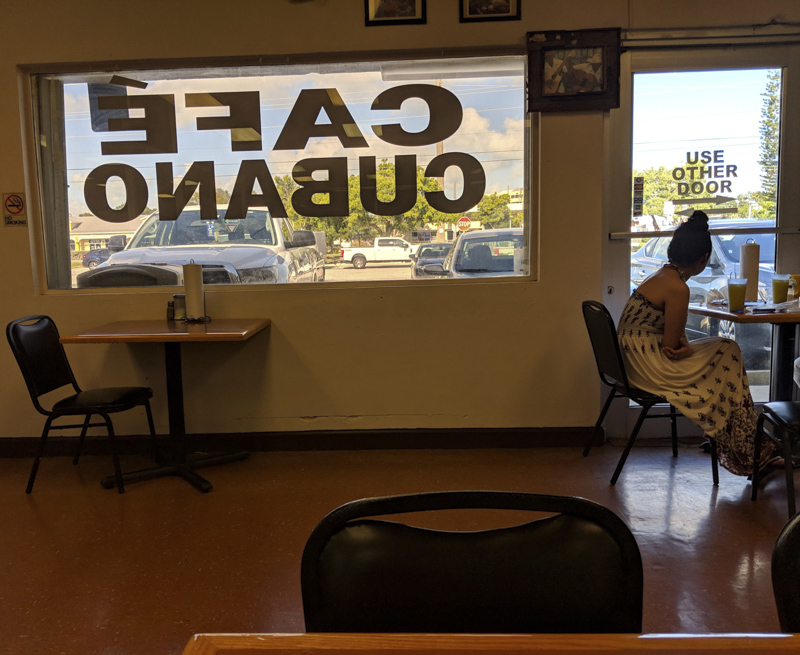 When I few into Miami, it was too late to drive all the way down the keys, so I spent the first night on Key Largo. I had fairly terrible but nonetheless exciting and memorable breakfast at the Café Cubano there.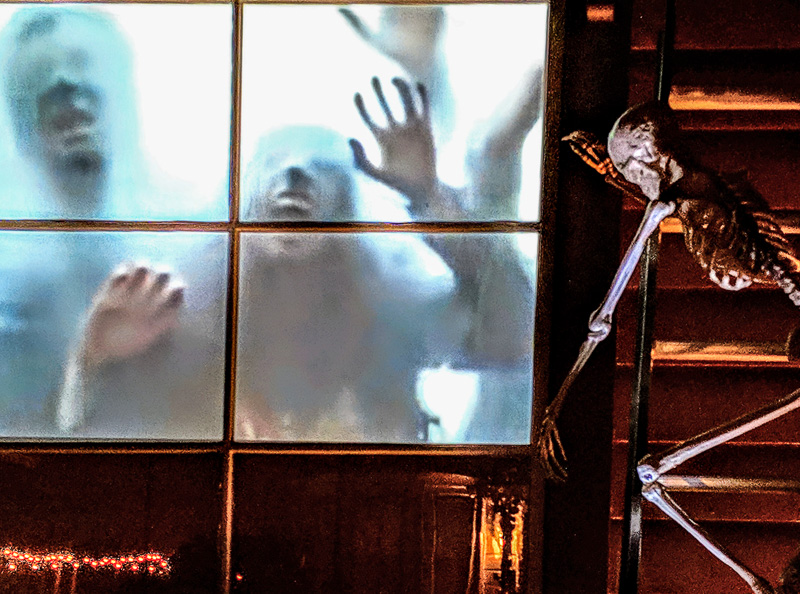 And now, eeek! It's back to the prison camp of the Silicon Valley yuppies!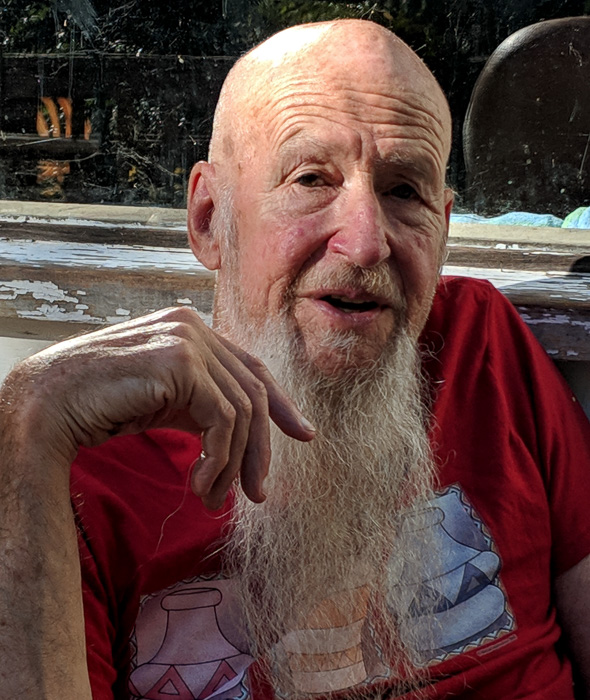 And the home of sage among sages, Nick Herbert. I had a funny conversation with Nick before Thanksgiving. I was feeling a little bummed when I got to his house, and I had this classic koan-type exchange with him.
Rudy: "I wish I could stop being an effing asshole."
Nick: "What would happen then? What would be different?"
Rudy: (pause) "Nothing."
Nick: (laughs for a long time)
And in that moment, the monk received enlightenment.