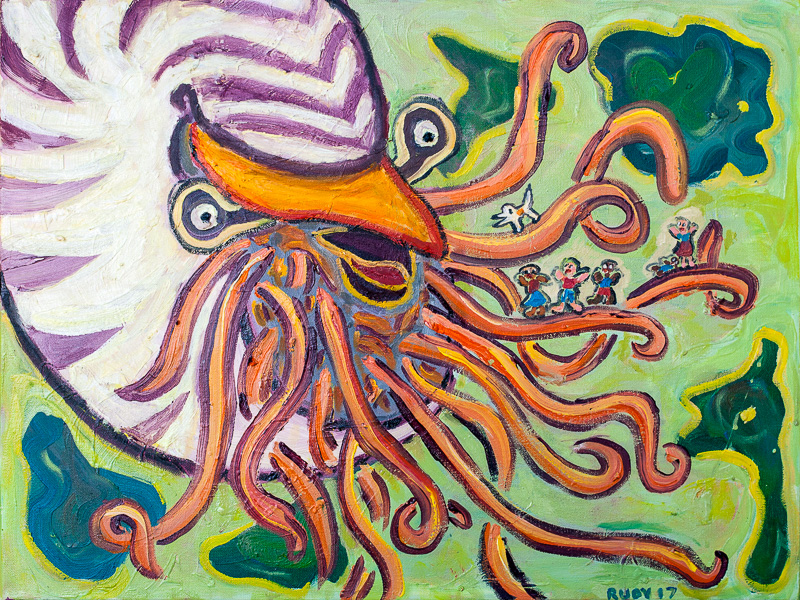 "Riding a Ballula" oil on canvas, October, 2017, 24" x 20". Click for a larger version of the painting.
I've been working on my next novel, Return to the Hollow Earth. I have these giant flying nautilus creatures in the book—they were also in my prequel The Hollow Earth. Their shells are filled with hydrogen, and you can ride in them like on a hot air balloon. The catch is that the ballula are man-eaters, with a giant beaks. But my characters have magical rumby gem stones that give them control over this particular ballula, whose name is, by the way, Cytherea. They plan to ride her down through the giant maelstrom called the North Hole, and thus return to the Hollow Earth. There could be some problems along the way… More info, as always on my paintings page.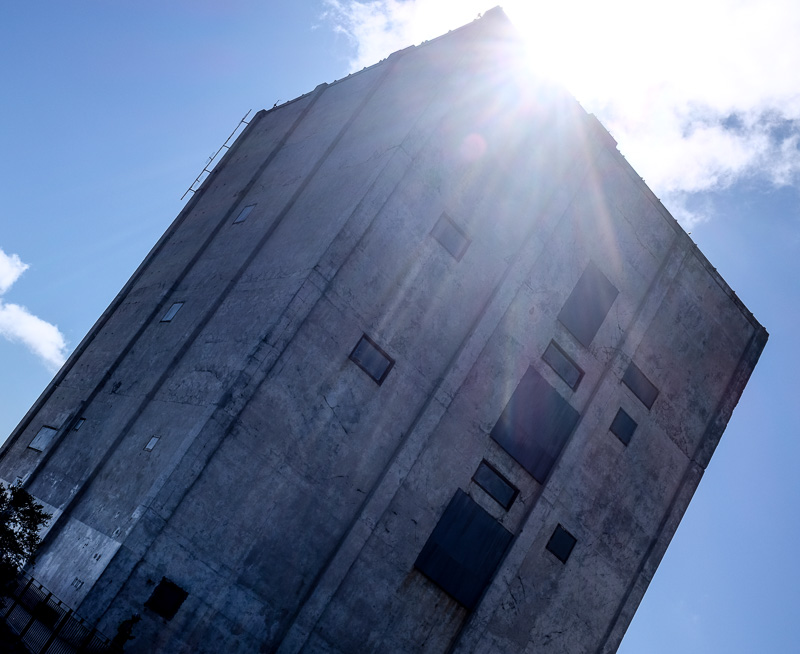 A few weeks back, Sylvia and I drove up to the "cube" atop Mount Umunhum south of San Jose. You can see the cube from all over the valley. It used to be a radar installation in the 60s, but it's been abandoned for years. The site was polluted and closed to visitors ever since we came here over 30 years ago, but now at last it's open.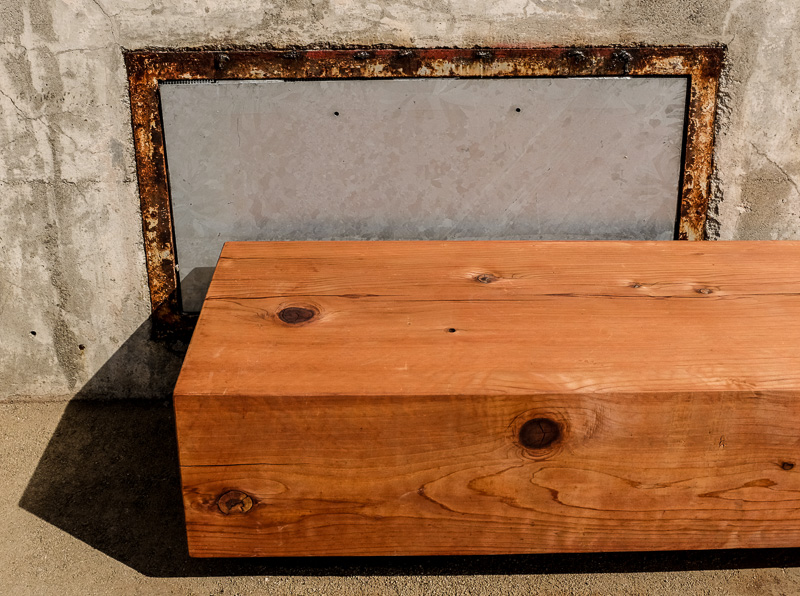 They did a great job on the park, everything really solid. Dig this three-trunk bench.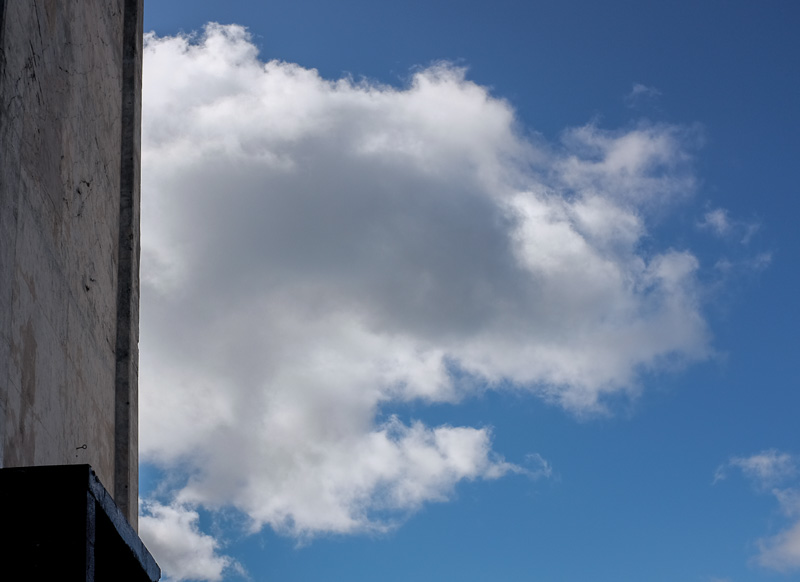 So high above Silicon Valley. With a cloud. Always rocks me how quickly you can get to the wilderness from crowded old San Ho.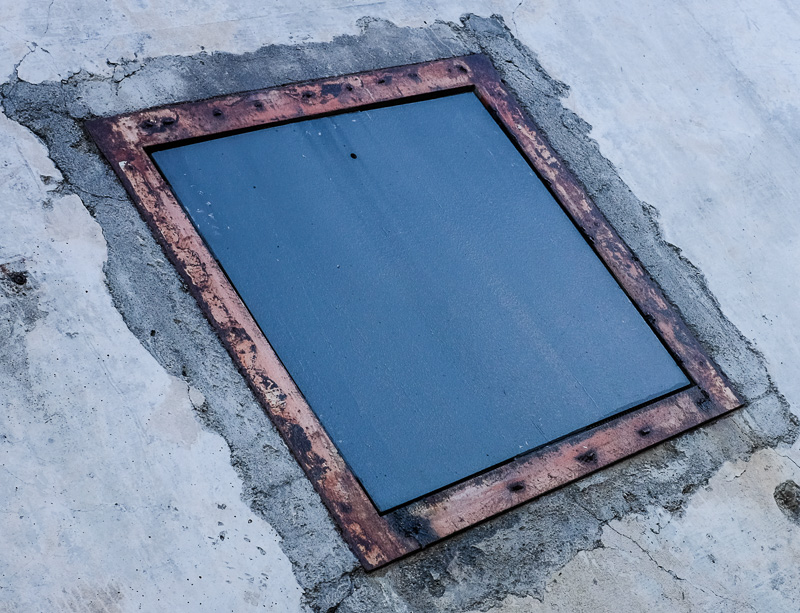 Mysterious hatches on the sealed-up building. Mutant monsters within.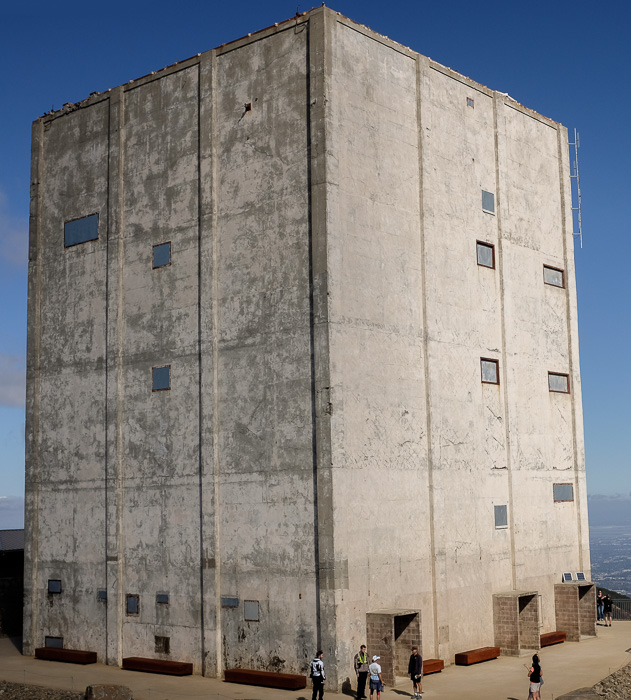 The cube's bigger than I realized. Like ten stories high.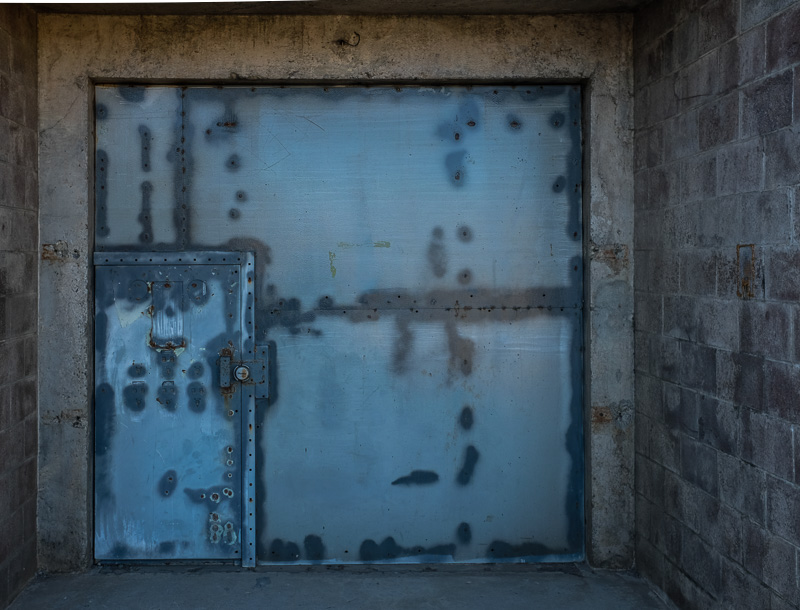 They painted the whole thing with varnish, just sealing it over.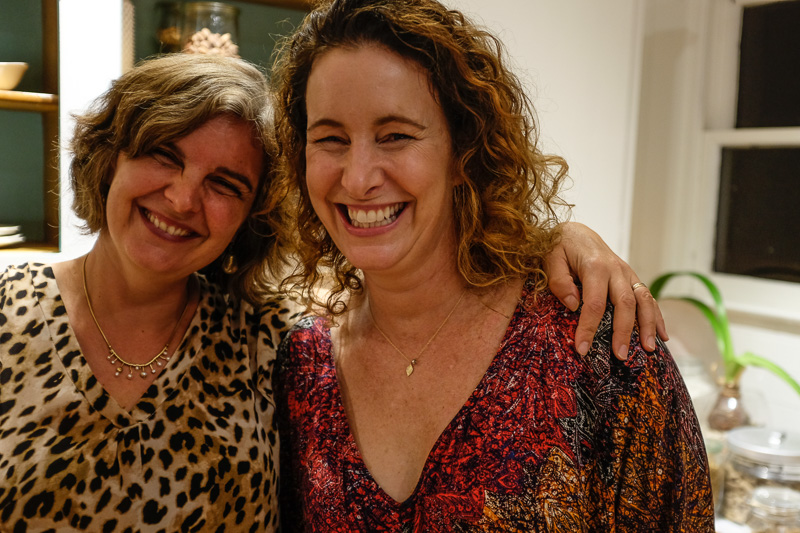 We were in Louisville last week, I was there to give a talk on Cyberpunk at a conference. Sylvia, daughter Georgia, niece Siofra and I had fun walking around downtown Louisville, they have a neighborhood called NuLu, for "new Louisville."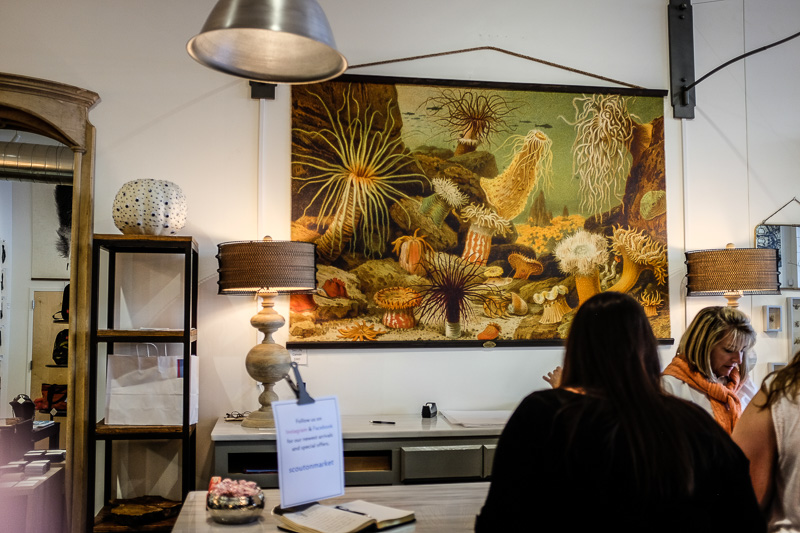 Hipster home store. Love this poster of invertebrates. My perennial pals.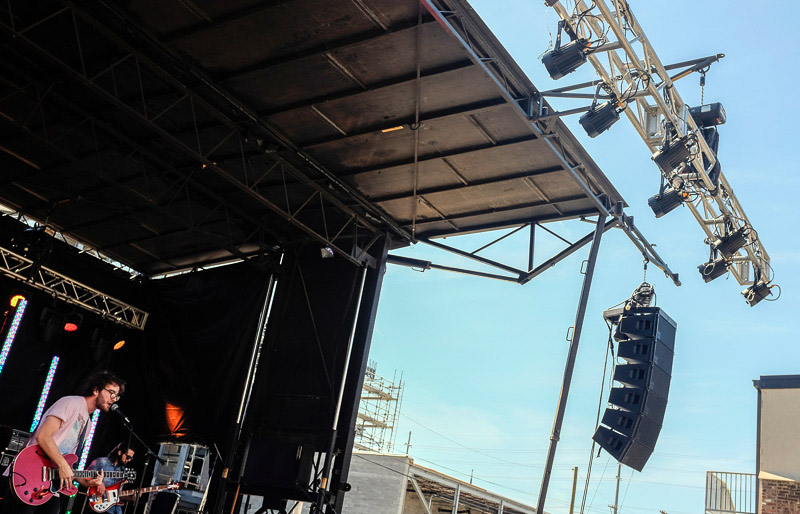 A band was playing in a street fair. Dig the speaker and the musician.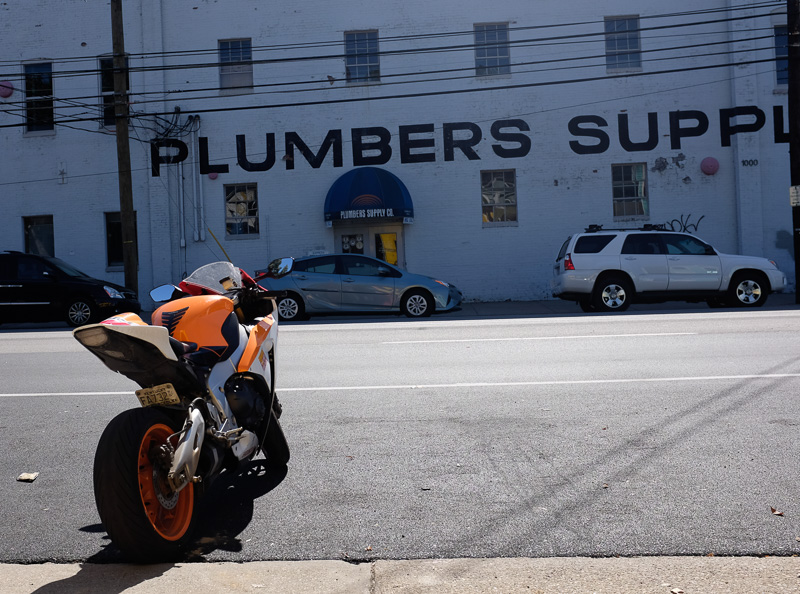 We had a great Vietnamese Pho soup at Pho Ba Luu, a touch of San Jose.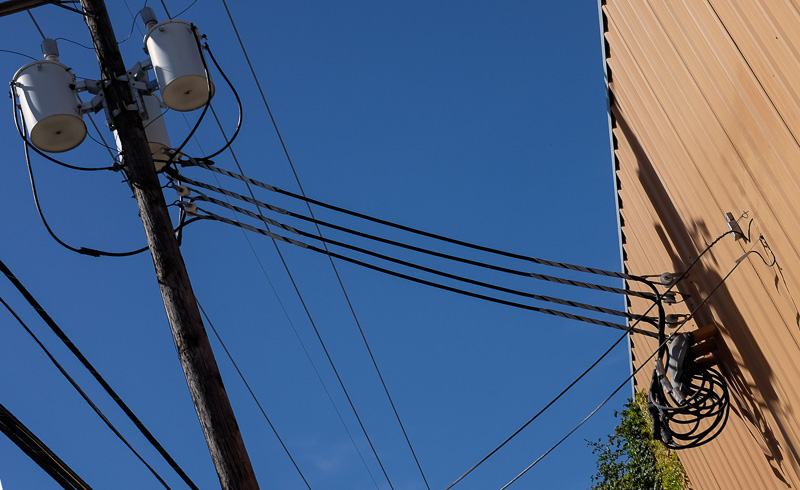 If you follow this blog, you know how much I love colored walls, especially with telephone wires.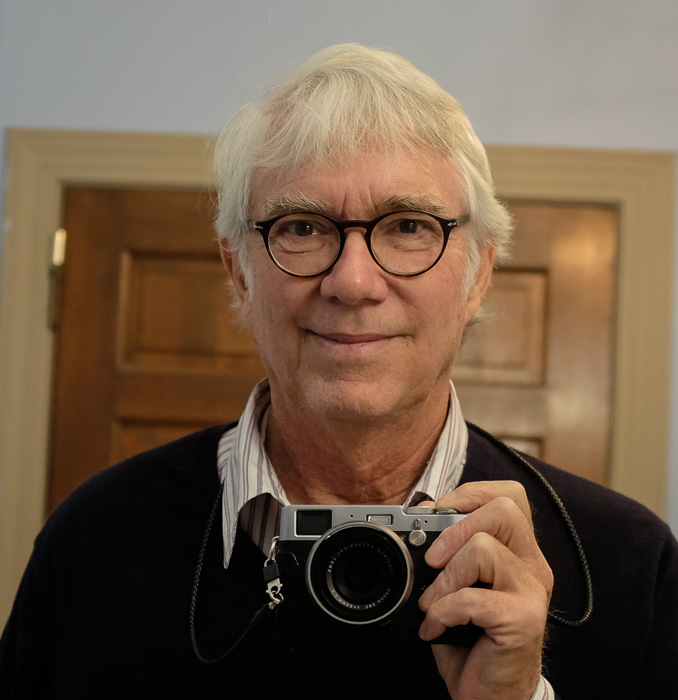 Me in a mirror.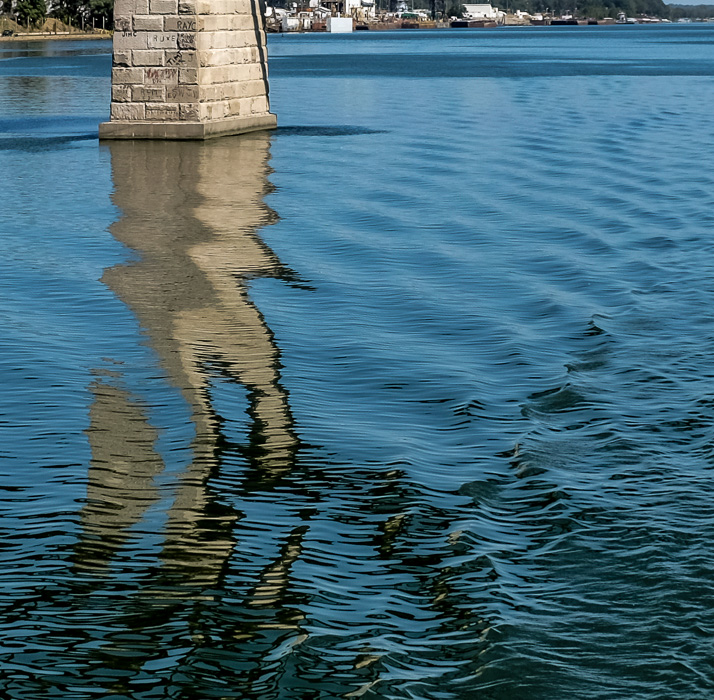 Sylvia, Georgia and I went out for a ride in a riverboat on the Ohio, for old times sake, we did that once when the kids were young. I have a scene about the paddle boat, "The Belle of Louisville" in my novel Wetware.
As always I was digging the analog blobs of light on water.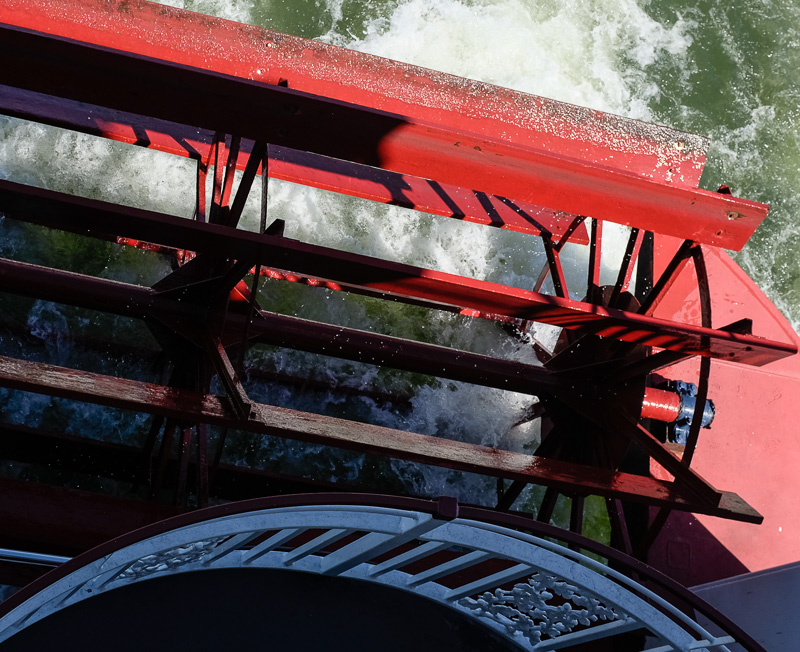 And the big red paddle wheel on the boat. Secretly this boat (not the Belle of Louisville, but her sister) had meaty propeller screws and this paddle is just a-freewheelin'.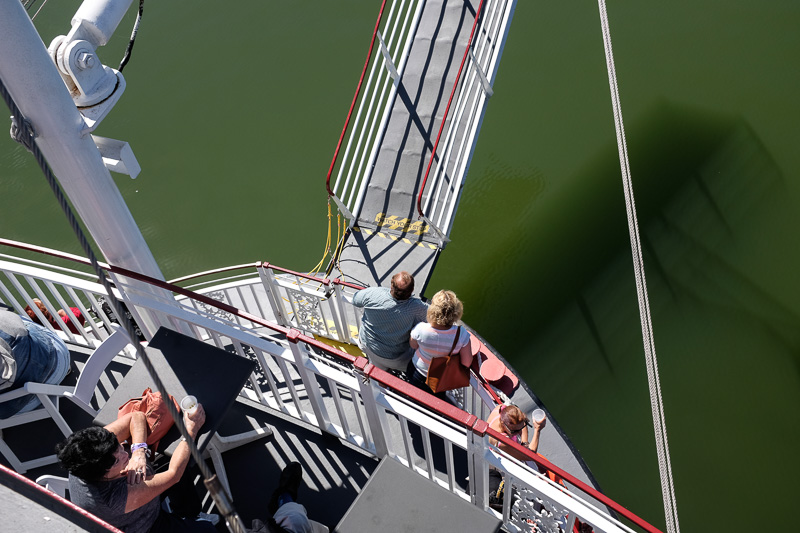 The taffrail. If that's the word.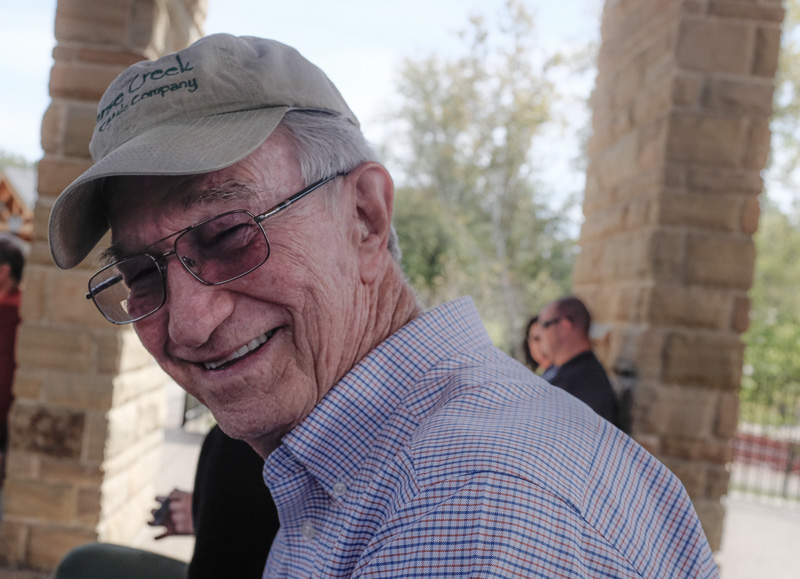 One of the natural wonders near Louisville is the famous Mammoth Cave, about a hundred miles south, near Glasgow, Kentucky. My badass big brother Embry drove the two of us down there in his Porsche, past Elizabethtown, near Glasgow, an hour and a half on the freeway—when I was a kid it took more like three hours. Later we drove back partly on a two-lane back road, balm to my soul, those rolling green Kentucky fields, little ponds, beautiful horses in the fields, little white-painted clapboard houses and churches, creaky old wooden tobacco barns for drying the harvest, some of it visible right now, five-foot-long sheaves hanging upside down. Tobacco is slipping in value as a crop—I look forward to seeing Kentucky get into growing pot.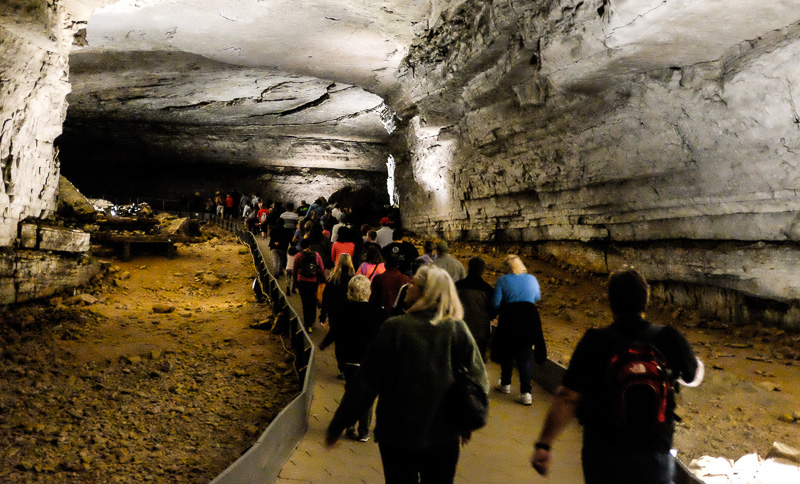 I had only the faintest of memories of Mammoth Cave, of the entrance, it's a portal in the side of a gully, twenty or thirty feet high, and inside the ceiling arches higher, up to fifty or even a hundred feet at times, with gray rocks and cave dirt all around, the path with railings, the path itself hardpacked dirt or stone, and, surprisingly, no dripstone or stalactites in view. Turns out the cave is the path of a former underground river, the Green River, which by now is running along a fresh tunnel that lies several strata lower—it keeps burrowing deeper, with the slightly acidic water eating through the limestone.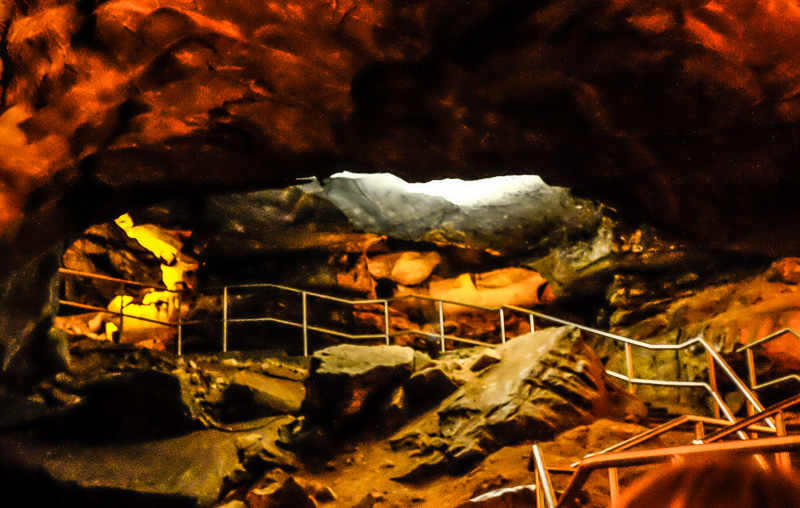 The channel we walked in was like a big subway tunnel, with electric lights illuminating the yellow/orange bands of stone. Kind of boring, actually. We were in a crowd of about 120 people, walking very fast, Embry and I trying to stay near the head of the pack to be near Ranger Ashley, a talkative young lady. At one point, beside a large rectangular formation called the Giant's Coffin, she turned out the electric lights, and then she extinguished the candle of her single lantern, and it was amazingly dark. Not one photon coming in, and deeply silent. Like being totally blind. You'd have a really hard time trying to walk out of there alone—particularly in the old days when the cave didn't have paths and railings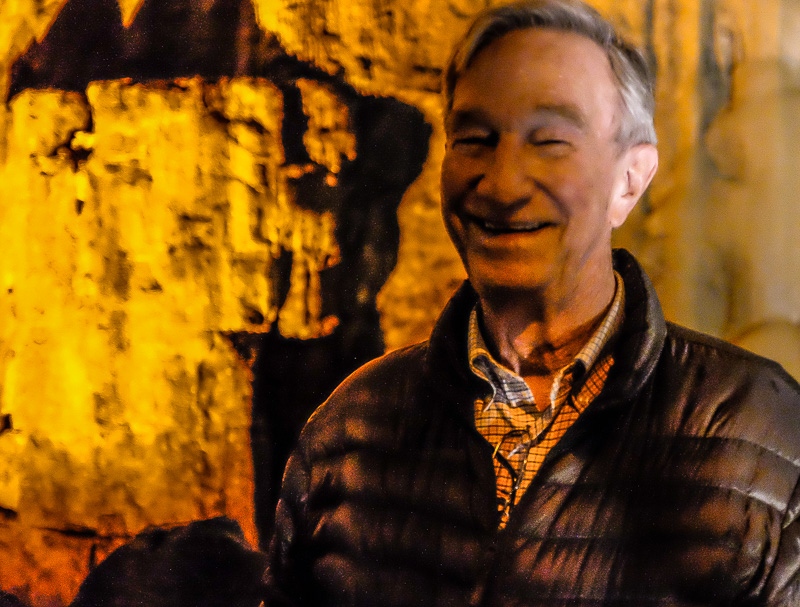 Here's Embry in the cave. So many years gone, and we're still kids. Ranger Ashley told us a great story about a guy in the old days who was lost, and he blew out his candle, expecting to see the light of some other candle not too far away—but it was all black and, oh-oh, he didn't have a match to light his candle and he was alone in the dark for 39 hours. He thought he heard footsteps—which was in fact the sound of his hammering pulse in his inner ear. To drown out the sound he began banging two rocks together, and he was still banging them when they found him.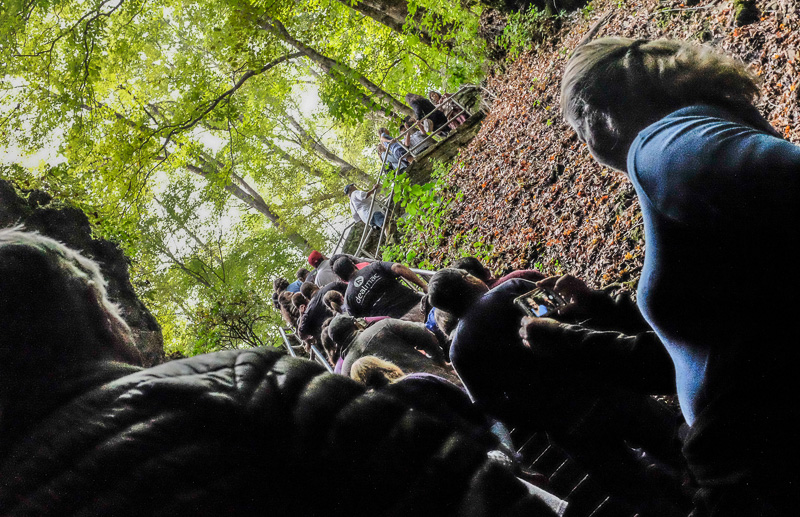 We wriggled through a narrow spot called "Fat Man's Misery," and that was kind of fun, although I worried about my weak left leg giving way, and me falling down and popping out my hip or being unable to get up. I brought along a hiking stick of Embry's and was glad for it. The hike was really quite taxing, and eventually were 300 feet below the surface, so low that we were in a zone that fills with water when the yet-further-underground river when it's running high in the spring. Then we had to climb a seven-story-high staircase, like the "fire stairs" in the corner of an office building, exhausting, I was drenched in sweat.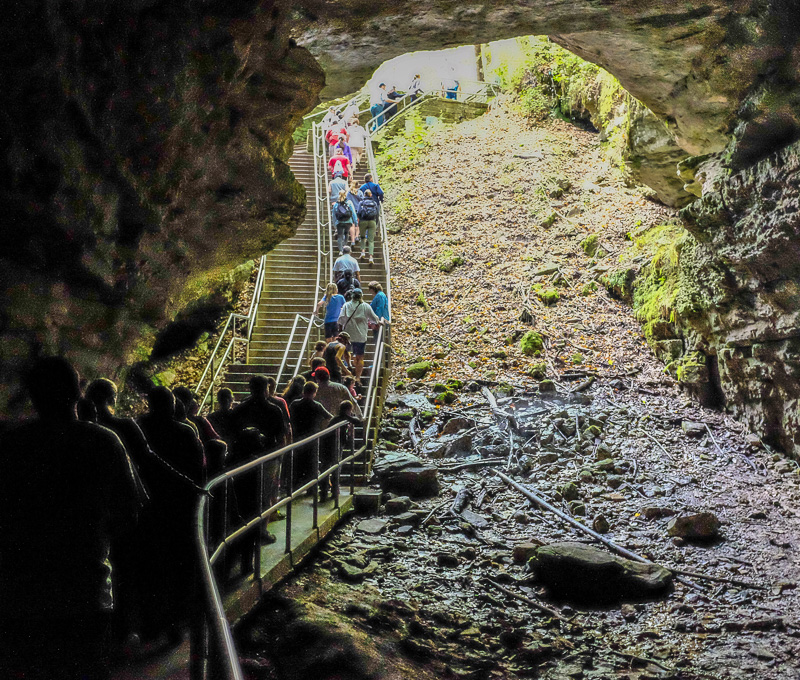 What a joy, then, to enter the "twilight zone" where we could see faint light from the land of the living, and even greater joy, to see the green leaves of the trees, and the faint blue Kentucky sky, the breezy, living free world up there. Like how it feels whenever I get out of the hospital after some geezer crisis.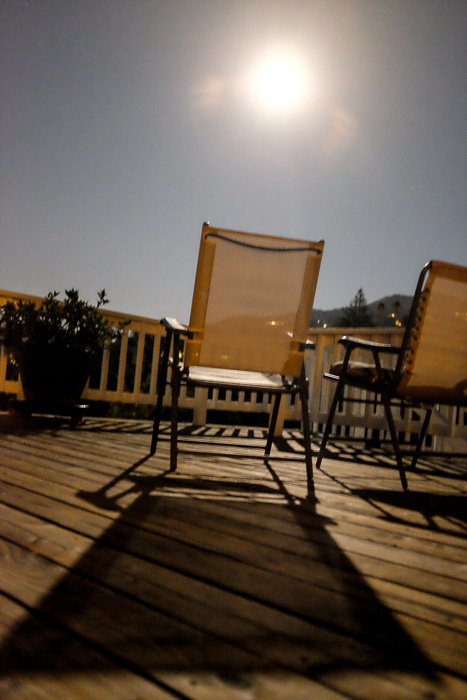 Back home I got this shot of the full moon's shadow on our deck. Sylvia and I love watching the moon's cycle every month.