As I've been doing in posts of late, I'll work my way backwards through some recent photos.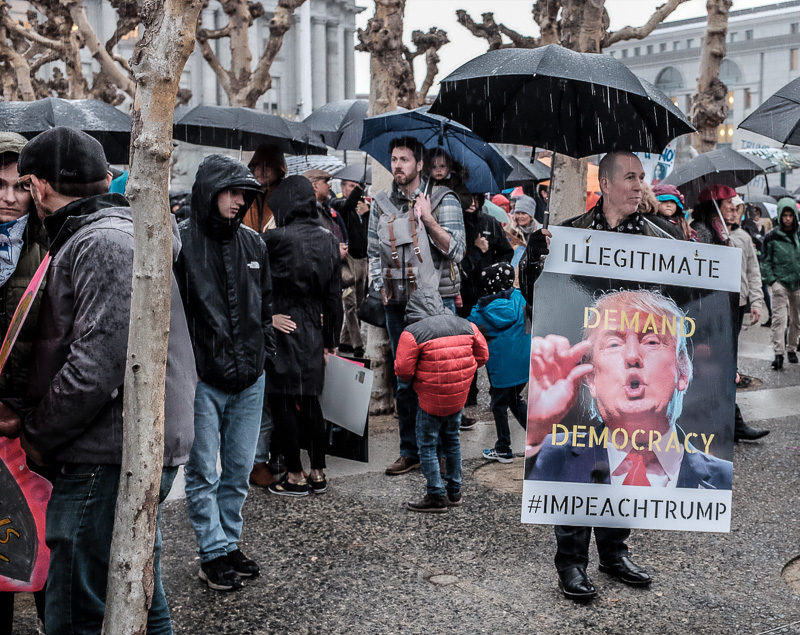 Sylvia and I went to the Women's March in San Francisco the day after the Inauguration. A rainy day with a big crowd. It had some of that old Vietnam war protest march vibe. Reassuring to see so many like-minded people.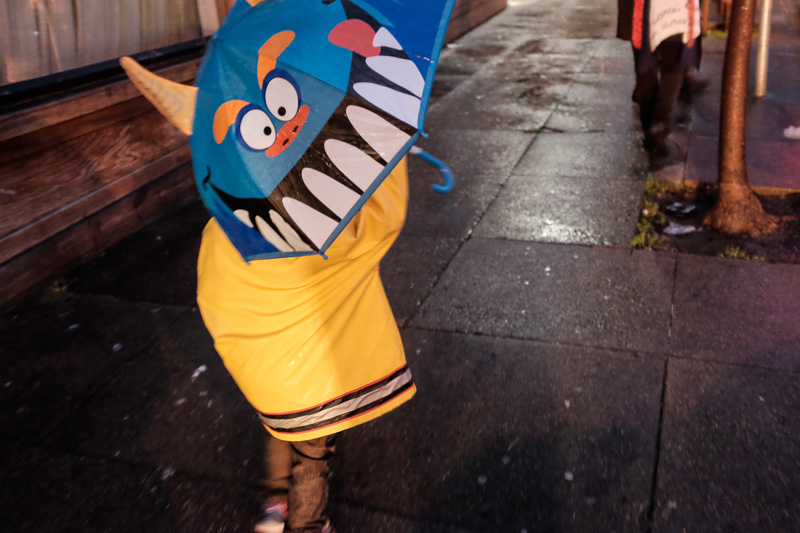 My son Rudy plus his wife and three kids were along as well. I like my grandson's cheerful "Where the wild things are" type umbrella on the dim city street.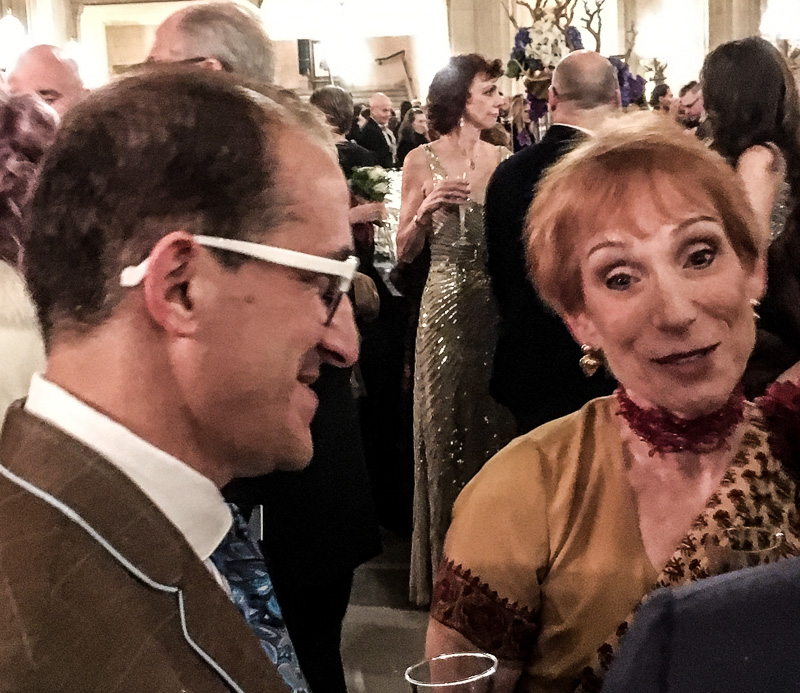 In a completely different vein, the day before the Inauguration, Sylvia and I were in town for the SF Ballet's annual gala. Such a stark contrast with the homeless people sleeping on cardboard on the sidewalk outside. I don't recall the social split ever being this extreme. Like one imagines the Middle Ages to have been. Terrific photo ops in the lobby crowd at the gala. I dug this guys white glasses frames, and the alert woman with him.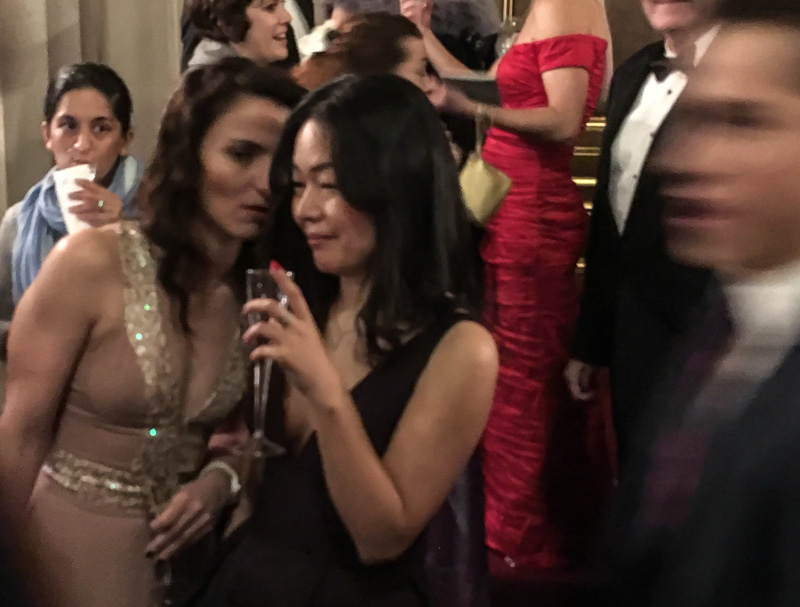 These two women were great, talking very intensely amid the swirling crowd. It's good sometimes to have a blurred figure in a photo. This shot and the one before are made with my grainy iPhone…but, as they say, the best camera is the one you have with you at any given time.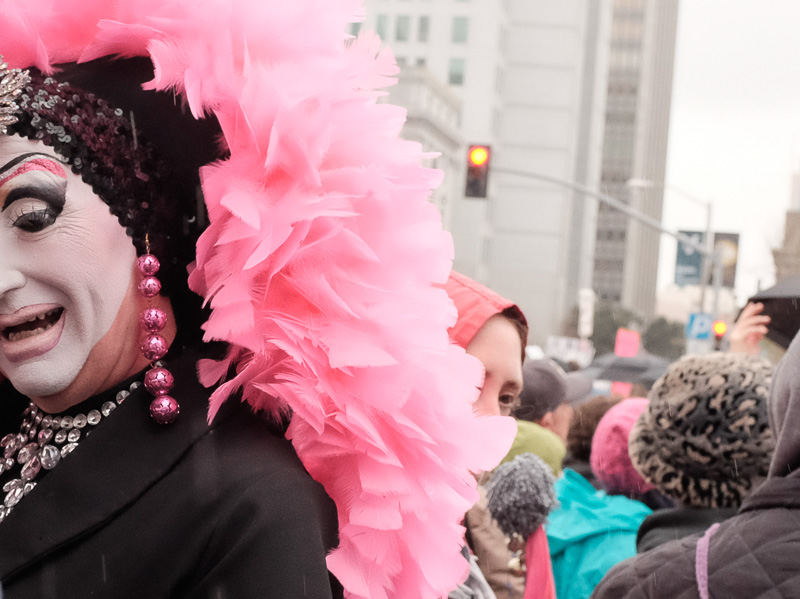 This trans was at the Woman's March, not at the gala. Very San Francisco. The crowd was so thick here that I couldn't move for about ten minutes. I was starting to think I couldn't stand it, but I had to stand it. No other option. Kind of like having Trump as president. The only way through it is one day at a time.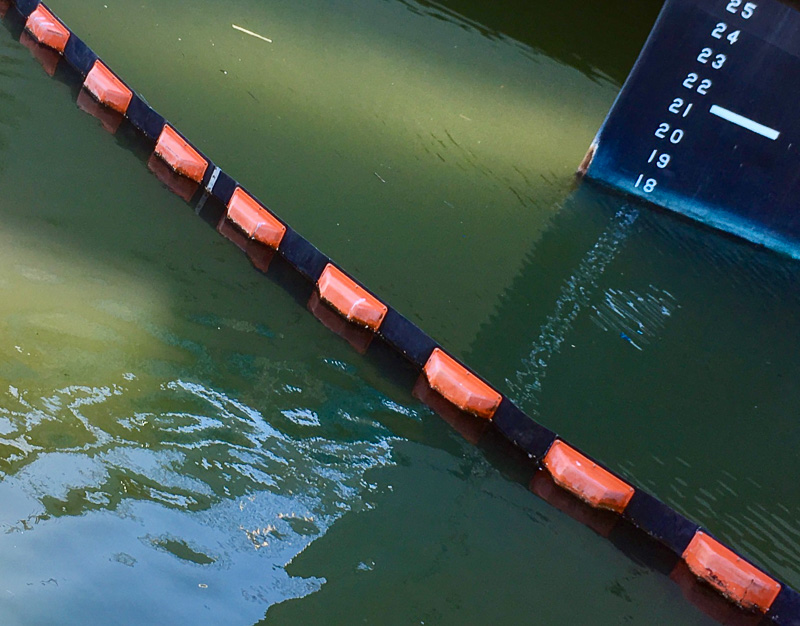 A week before we were up at Terry and Judy Bisson's house in Oakland / Berkeley for a pussyhat knitting/crocheting party. Ten or so women making pink yarn hats—Sylvia ended up making five of them: one for her, one for a friend, one for our daughter in law, an two for our granddaughters. While the women were yarning, fellow Kentuckian SF writer Terry and I went out and showed me the East Bay port of Alameda, including a bunch of stored Navy ships. Good composition in this one. The depth numbers on ships' hulls always intrigue me.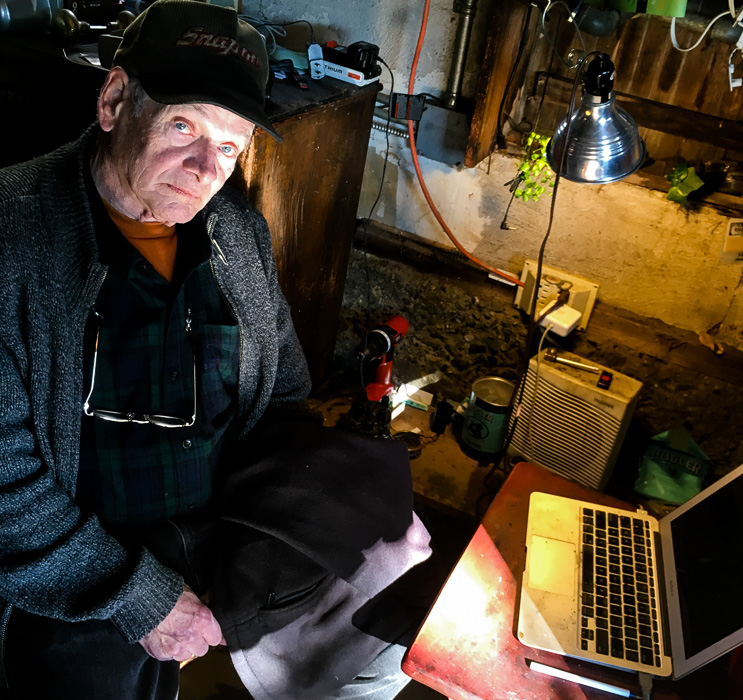 Terry's writing office is a low chair in his garage, with an axle-grease stained Mac Book. Terry's a mechanic as well as a writer.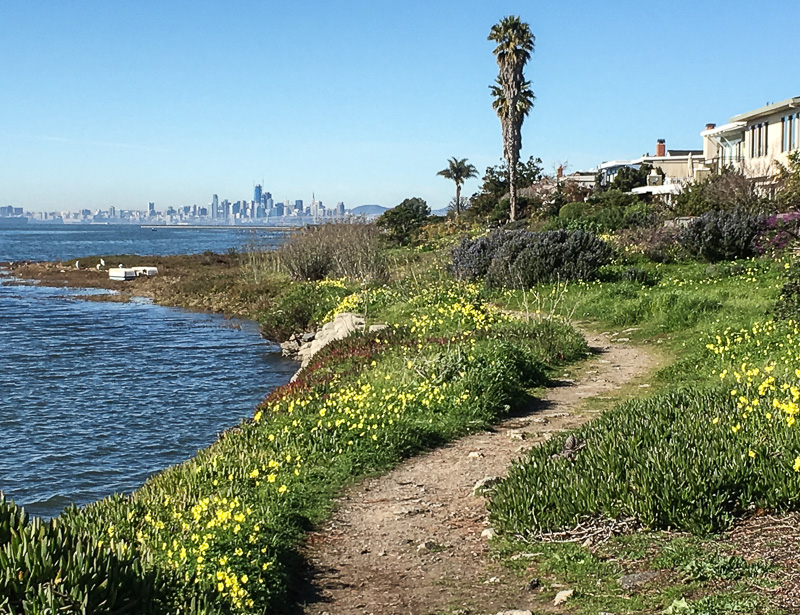 While we were walking along the shore of Alameda island we caught this charming view of Oakland. Everything nice and green from all the rain we've had. You rarely see so romantic a view of Oakland.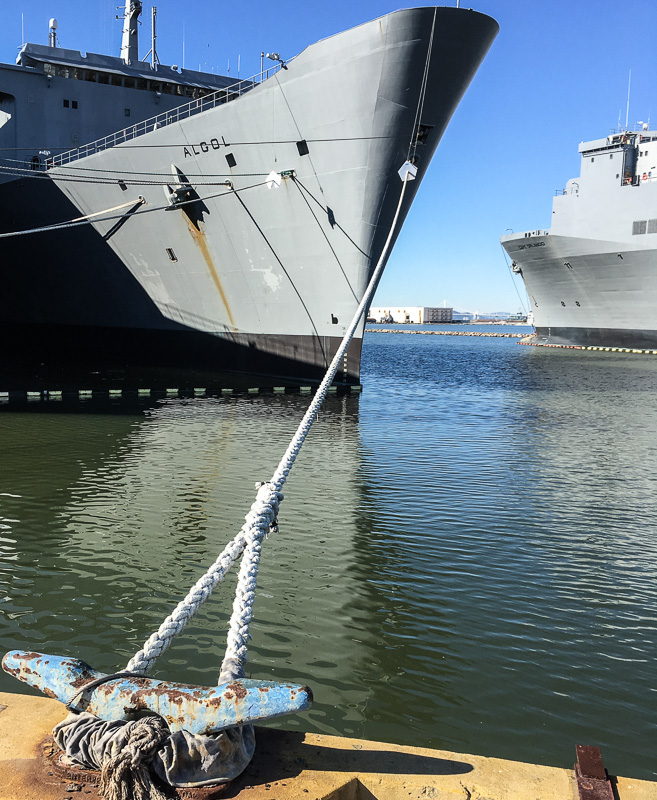 Another shot of the Navy ships, with the rat-boarding-ramp hawser…plus the proverbial rat-blocker.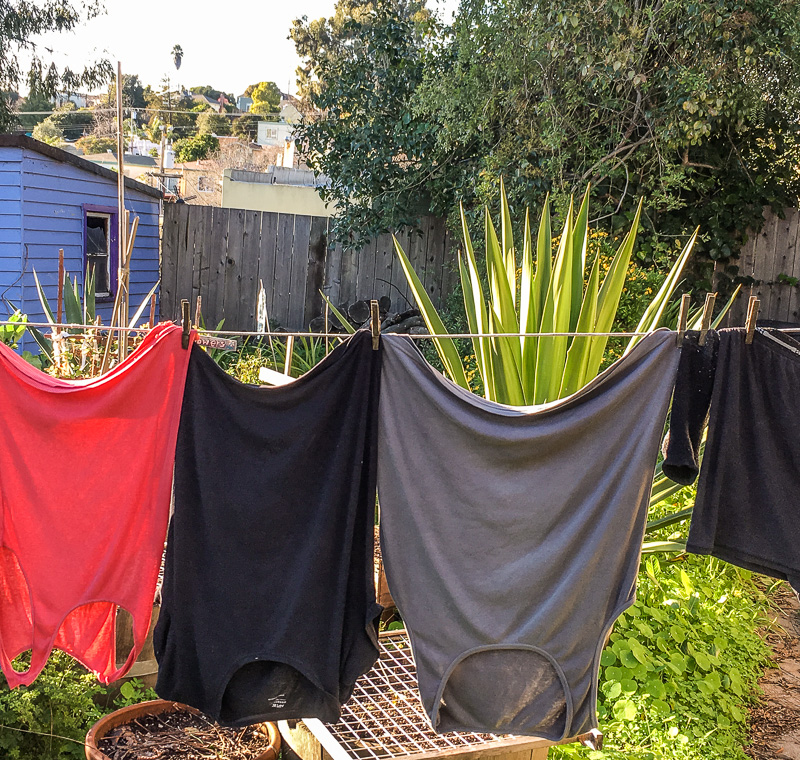 Terry's wife Judy likes to dry their laundry in the sun. Lovely sight, with the big yucca leaves in back.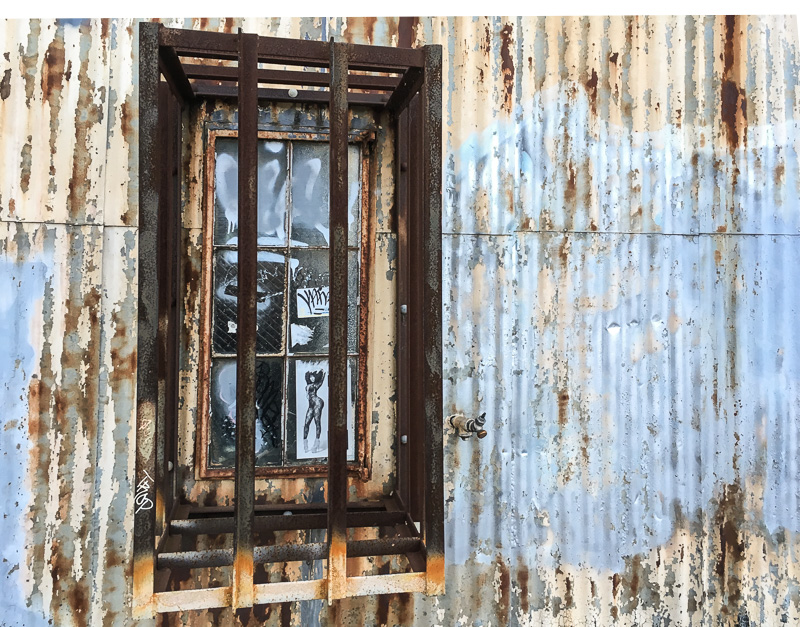 Later Sylvia and I were walking around Berkeley near the fabled Kirala sushi restaurant (waiting to get in line in time for its 5:30 opening), and saw this cool corrugated metal wall with the window grill and some old posters under the grill.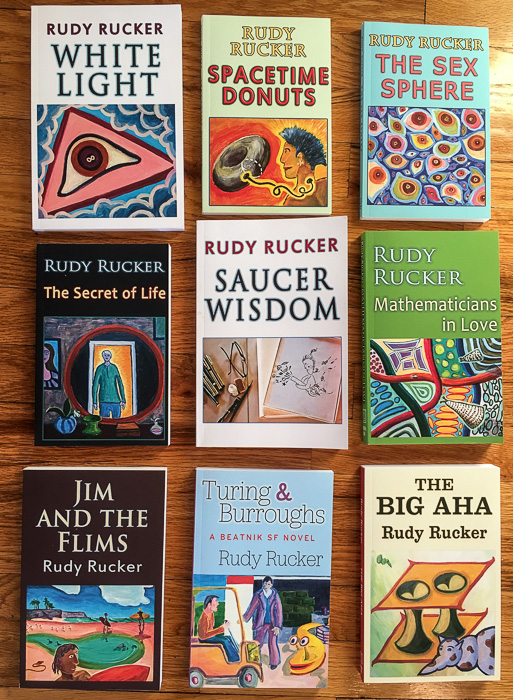 I now have nine of my novels in print from Transreal Books! Almost a uniform edition.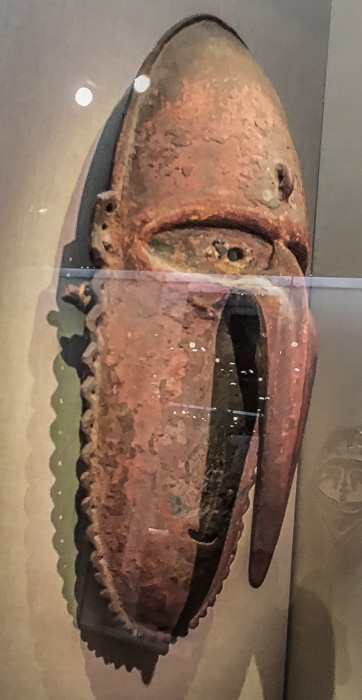 A week before that, we hit the DeYoung museum in SF and, as many times before, I went to look at the wonderful African masks on the second floor. This one is kind of like a Peter Bagge cartoon, with the droopy nose. It's that old Picasso thing—the way that tribal art can cut to the same place that cartoons or modern art are trying to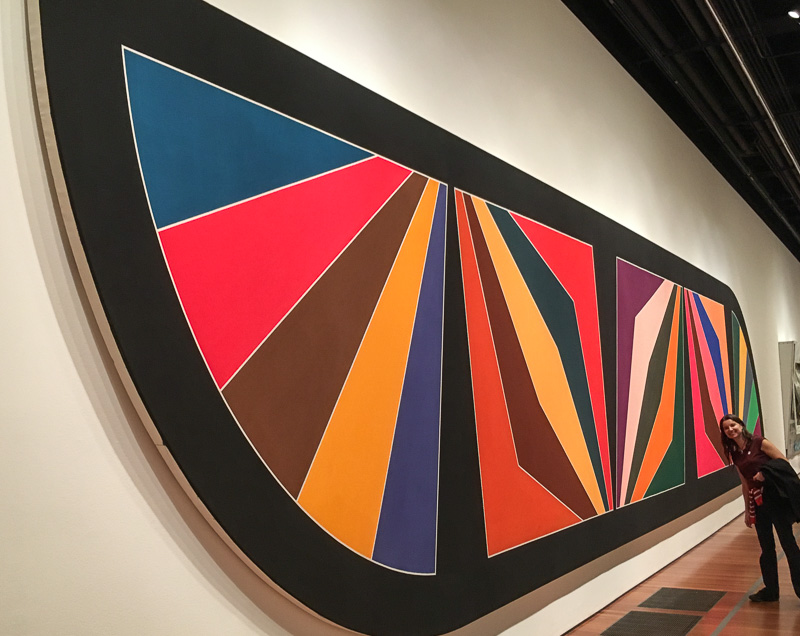 Daughter Isabel here on a visit, and beside a Frank Stella painting. His color sense is so great. And Isabel was such fun to have around.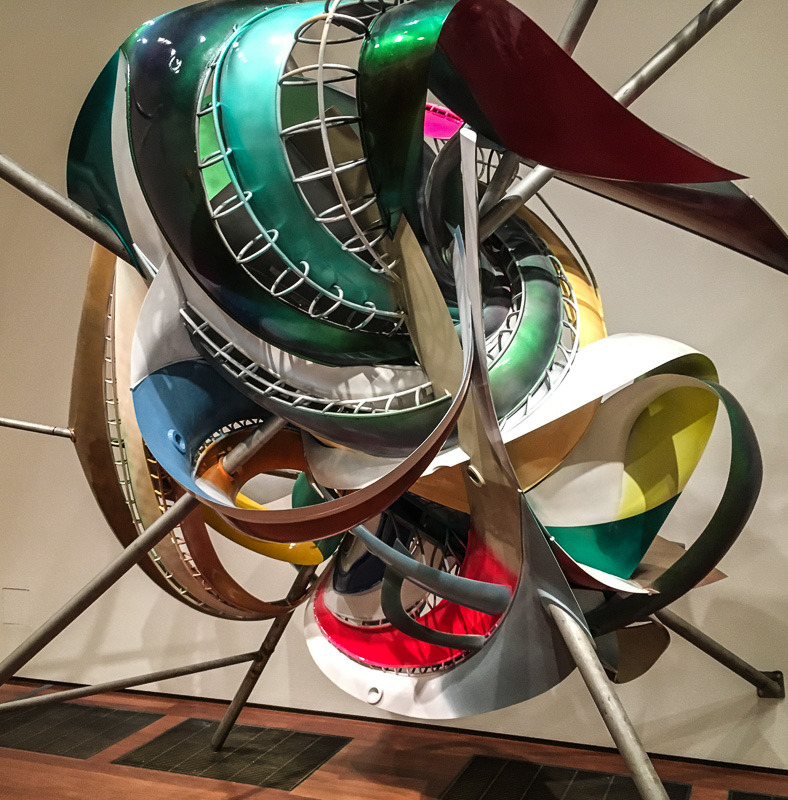 The Stella show in the DeYoung was a small retrospective, and this is one of his most recent works. They guy is now 80, and not letting up. Apparently he designs the small model for the finished work on a computer and makes an image of the model with a 3D printer. And then manufactures the big sculpture via some equally sophisticated process that falls under the new rubric "rapid prototyping"—and which may even be 3D printing as well, in resin, which is then painted with flashy automobile paint. Stella says this work is still a "painting." To him it represents a passage of classical music, perhaps a few bars of Scarlatti. The multidimensionality of music…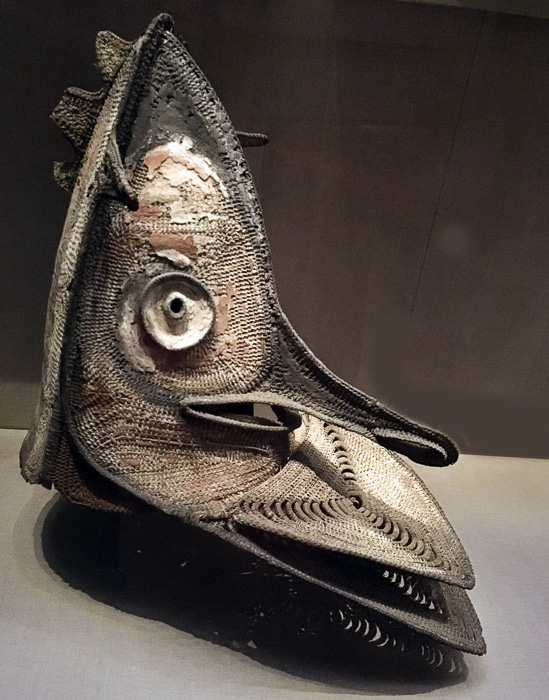 This duck-like mask figure is particularly great. I have a leg up on this style of art given that I find it very difficult to make photorealistic images at all. The trick is to draw fast, from the eye. A catch is that it's hard to draw fast with a brush. By the way, I sold some more paintings this month, bringing the total sales up to 46 paintings…not including the ones I've given to relatives or stashed in my permanent collection.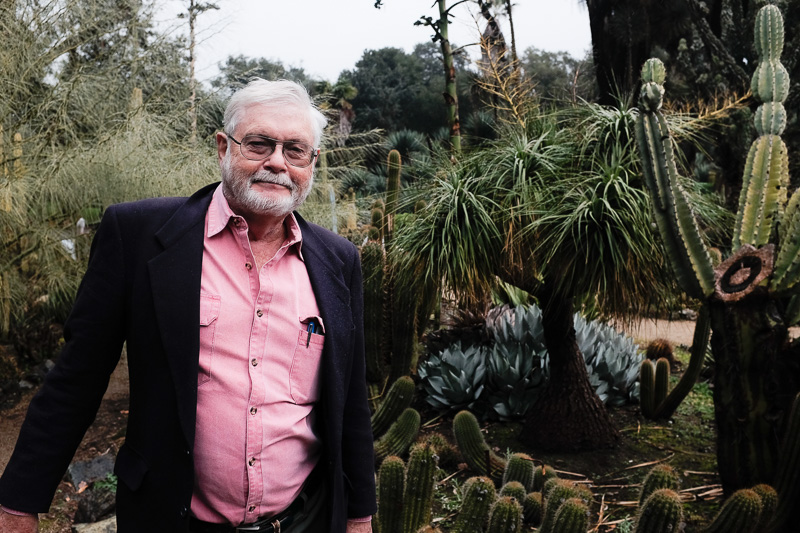 Fellow SF writer Greg Benford was in town and we had a posh lunch in Stanford followed by a visit to the Anderson gallery and the Cantor art museum. It can be fun talking to Greg, especially if we get onto (a) SF world gossip or (b) the mechanics of implementing various SFnal ideas. He also likes to tell me how great his career is doing, has done, and will do—and I have to sort of noodge him away from that, lest I choke in my own authorial bile. But I can just tell him this. Our maneuvering is quite open, and not a cause for tension.
Before hitting the museums, Greg and I got lost, and we came upon the tomb of the Leland Stanford family. Mysterious and Egyptian in the rain. Like Greg and I were explorers on some alien world. "My god! A statue of a sphinx on Mars?"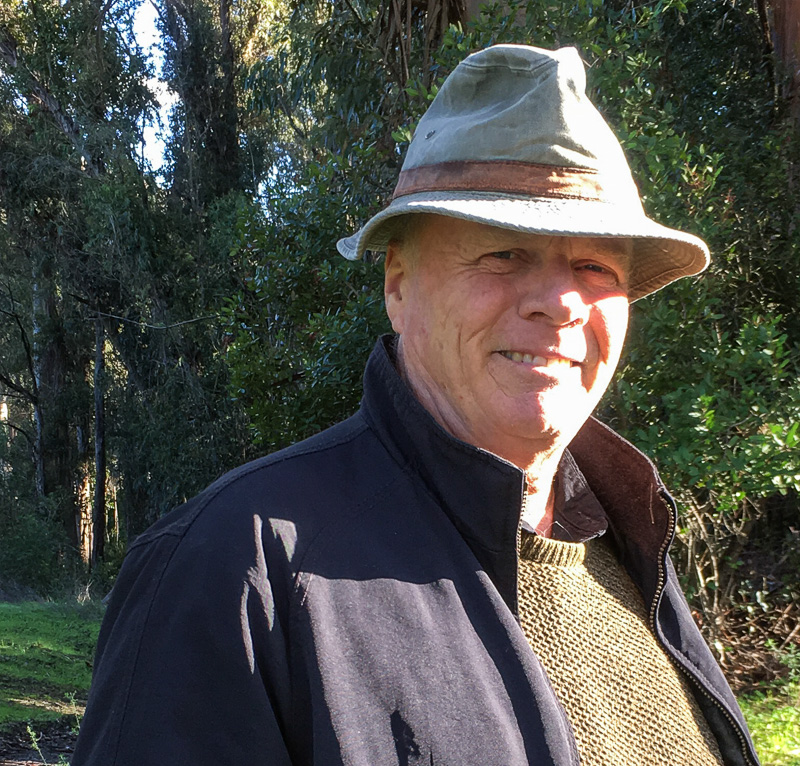 I also got together with my San Jose State prof colleague Jon Pearce—going out to savor the damp green hills after the rain. I insisted we bushwhack a path through a thicket and it took half an hour to go a hundred feet. Jon was like, "There are trails too, aren't there?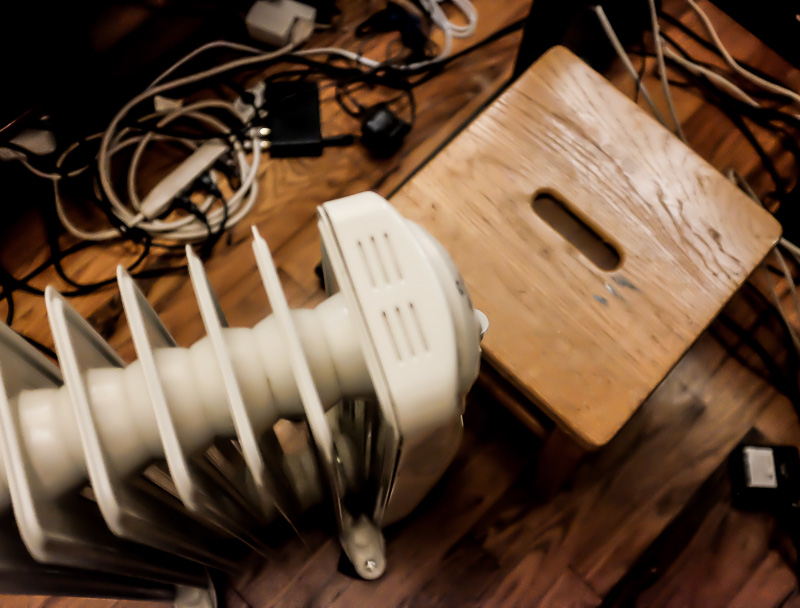 Cozy in my office with my electric radiator as the rain fell.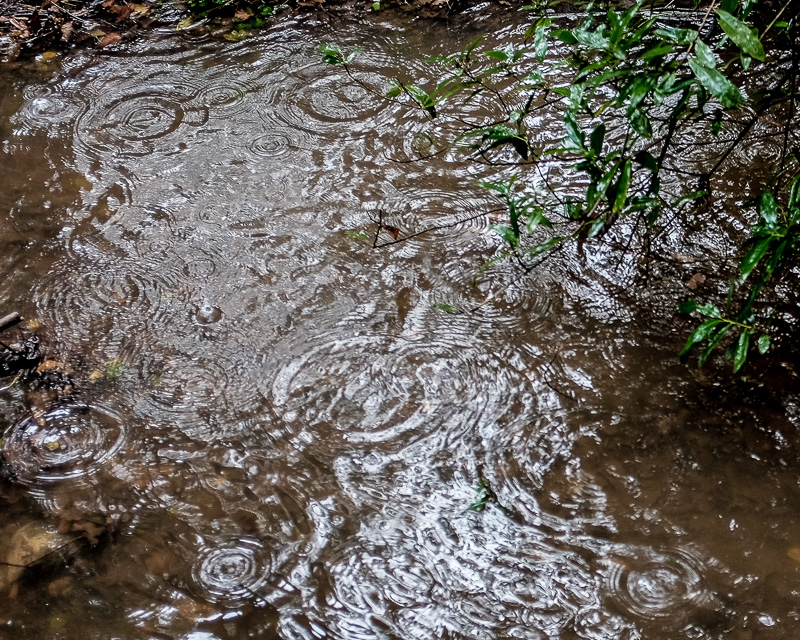 When the storms finally start, I'm so thrilled to see the water rings on puddles. Nature such a great and wonderful analog computation, never missing a beat.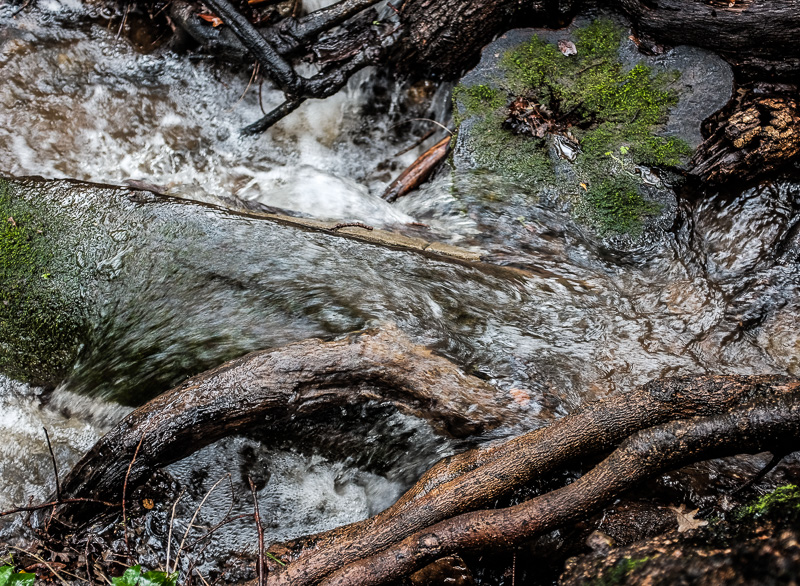 The dry gully below our house developed its seasonal (one or two weeks a year) creek. Gorgeous flows.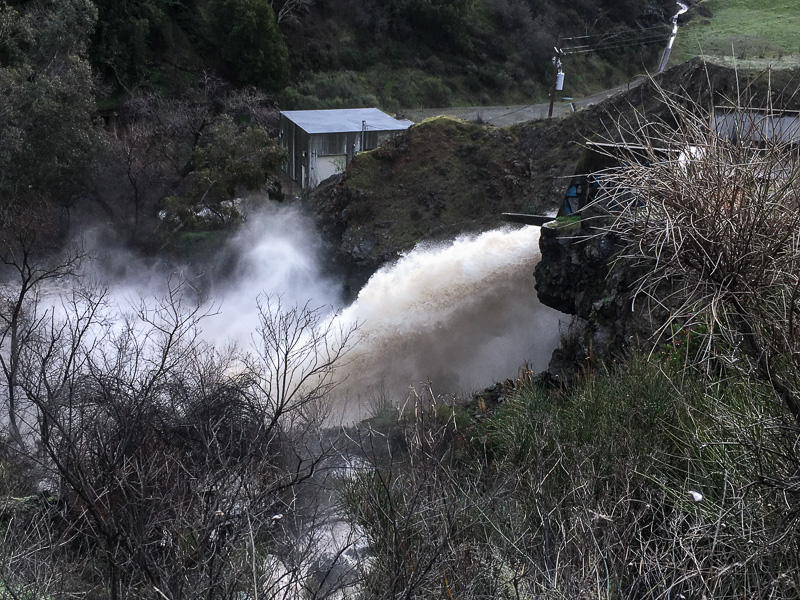 Biggest thrill: the Lexington Reservoir just south of Los Gatos filled and overflowed, shooting out a plume of foamy class-four chaos from its flume. One of the last times this happened was the day Bill Clinton first got elected. Different election, but the flume plume returns.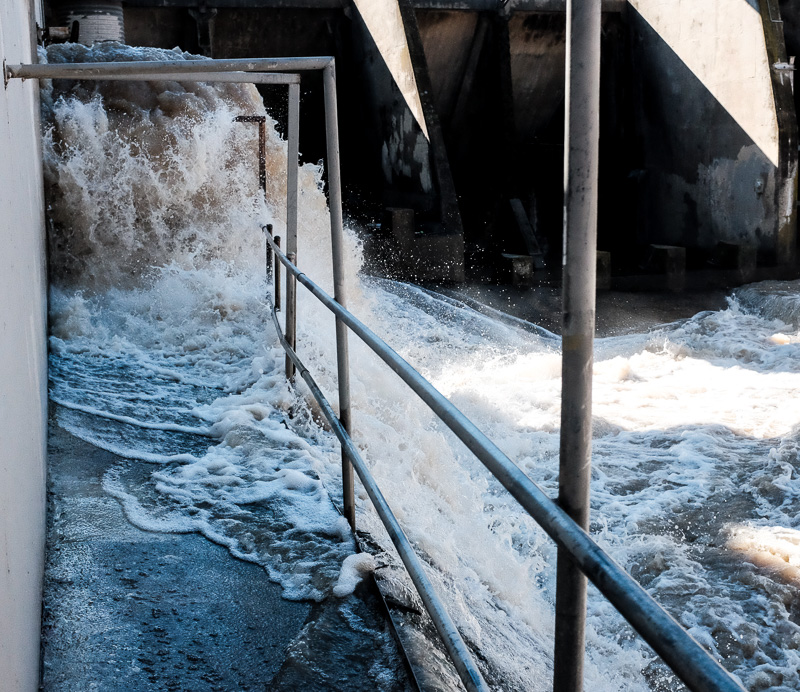 Vasona dam is overflowing as well, and here's a spot where it looks like a great, living mound of water awaiting you at the end of a companion way. "Right this way, sir." I've been rereading H. P. Lovecraft's magnum opus, "At the Mountains of Madness," which features some formless shoggoth monsters in Antarctica, so this image is quite apposite.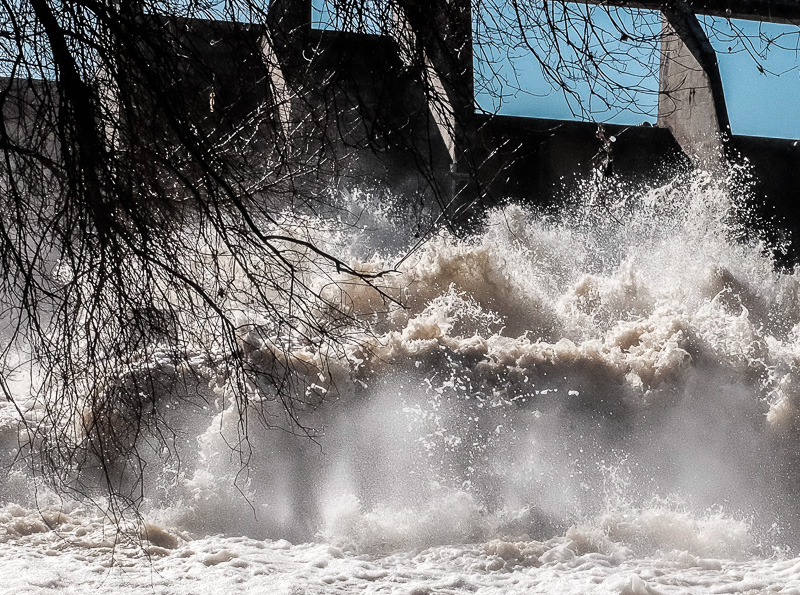 Nice big mound of foamy water. I know I've said this before, but the computational richness of such processes totally staggers me.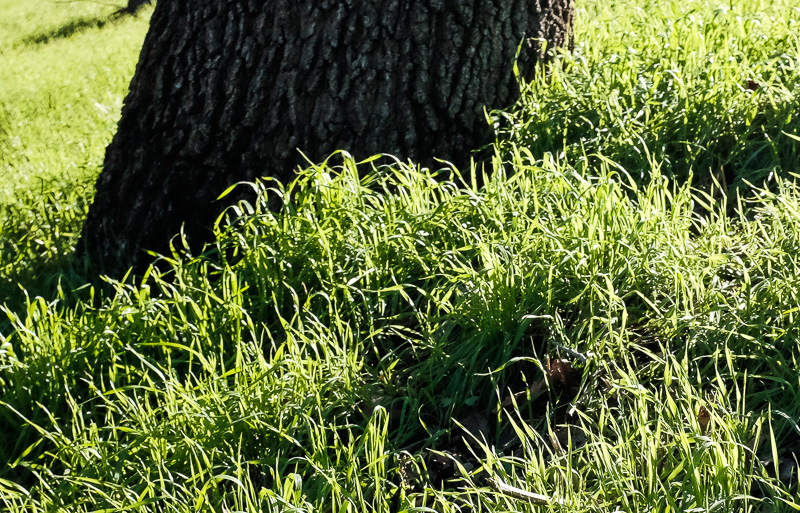 And now it's spring, with the acid-green blades of grass like stained-glass windows lit by the One light of the Sun.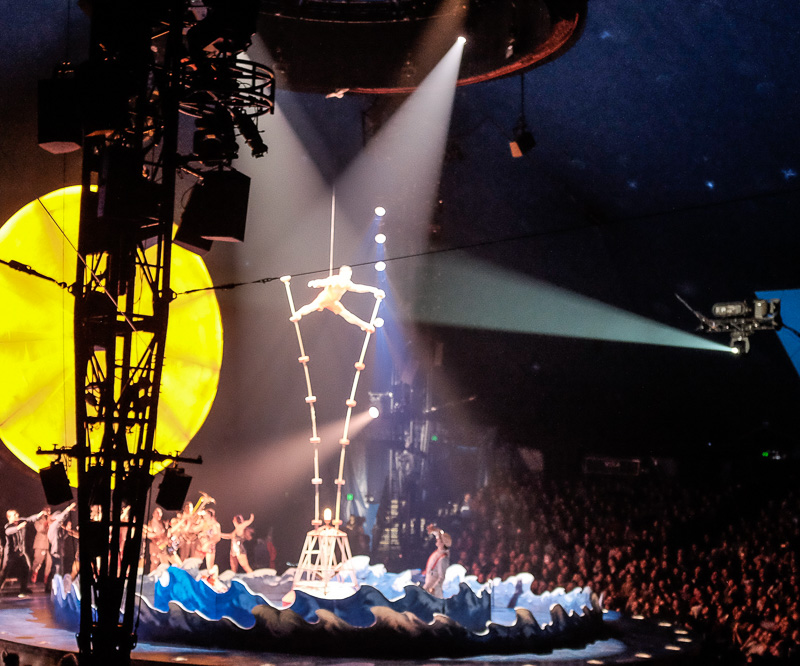 One more shot from the Cirque du Soleil.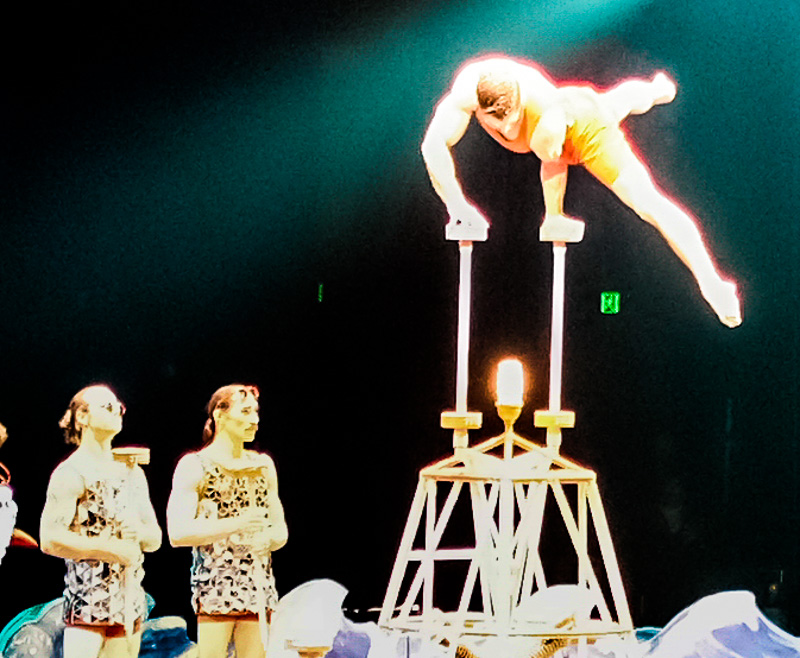 And yet another. We'll keep our balance, we'll move on.