I'm kind of at loose ends these days. I have some ideas for a novel with the working title Wacker World or perhaps Million Mile Road Trip, and I've been moving those around in my head. And I've written a lot of notes. But somehow I'm not quite ready to start the actual book. It's like staring into the sun, and I keep flinching away.
I've been working in parallel on my giant 400,000 word Journals 1990-2015, hoping to get that finished and published early next summer.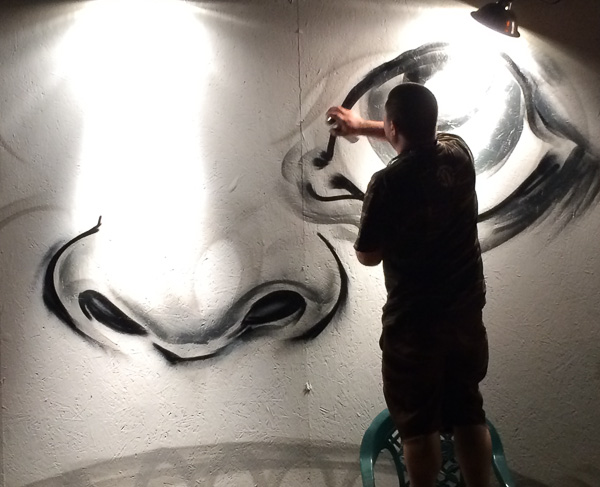 I watched a graffiti artist at a big art festival in San Jose a few weeks back, it was called "Anne and Marc's Art Party." It was nice to see how this young man worked.
It's nice when you get into a work of art, or a work of literature, and you forget your self. The muse gets into your head. In a lesser way, when you're holding a camera, sometimes you see what you think are pictures amid the clutter around you.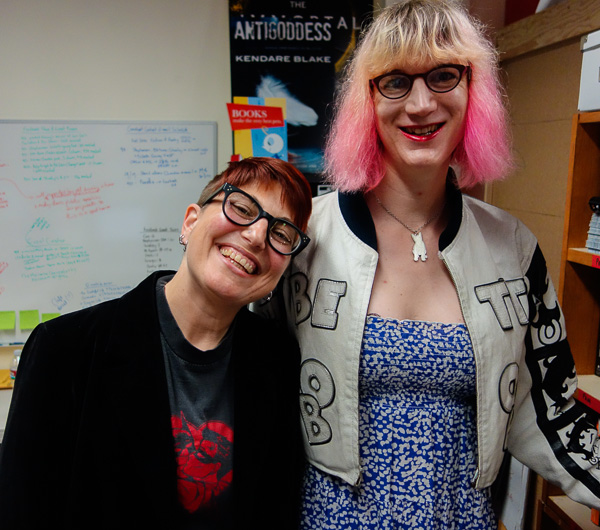 I was part of a reading at Kepler's Books in Menlo Park about a month ago, we were promoting an anthology called Hieroglyph. The best-selling author Neal Stephenson was part of the project, and there was a huge crowd at Kepler's. This photo is of two of my fellow lesser-known authors, Annalee Newitz and Charlie Jane Anders. They have pieces in that antho and were on the panel as well.
Kepler didn't have a single book of mine for sale, which kind of made me wonder why I keep bothering to write them.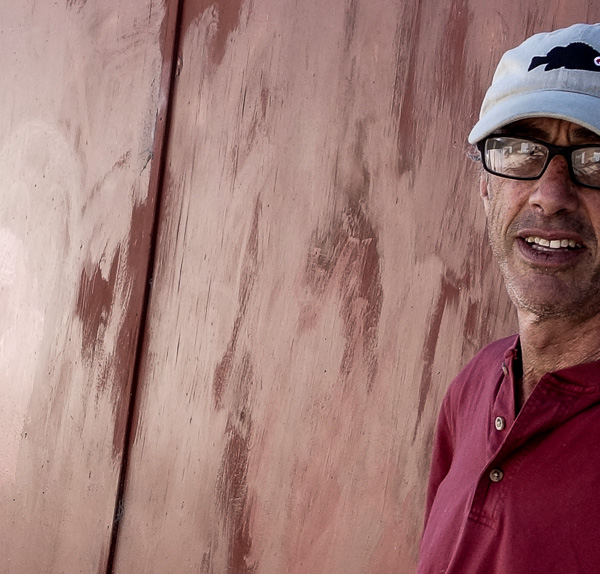 Somehow I picked up a cold virus around the time of that reading, and it stayed with me for a month. By the end, I had what you might call postviral depression—it's when, like, you're feverish and coughing and in a bubble week after week, and you feel like you'll never be well. The photo above is one I took just the other day, when I started feeling reasonably cheerful again, it's of my writer friend Michael Blumlein in San Francisco.
Not that Blumlein looks especially cheerful here himself. What is he thinking? Hard to tell. Being a writer is hard.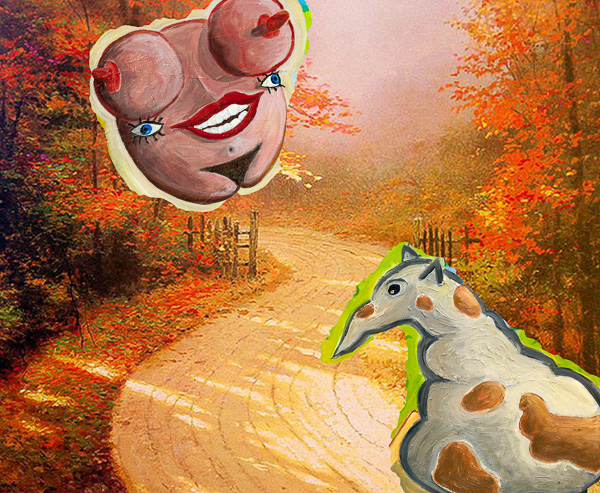 On the art front, the other day my daughter Georgia sent me a jpg of this "cornball fall painting" by former Los Gatos artist titan Thomas Kinkade, and she suggested that I liven it up. So I Photoshopped an alien "gub" from my novel The Big Aha, plus the rather dangerous hyperdimensional creature Babs, from my novel The Sex Sphere. Always fun to be busy doing nothing.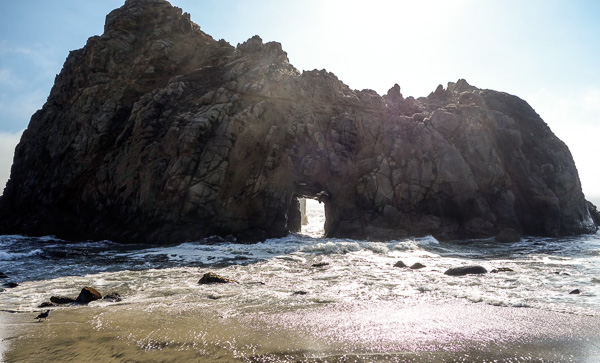 Another fun thing this month was going down to Pfeiffer Beach in Big Sur with Sylvia. There's this wonderful big rock there with what I call the Magic Door, a square hole where the surf surges through. The Magic Door plays a big role in my old novel Mathematicians in Love (which is now out of print—but I'll be reissuing it via Transreal Books this fall.)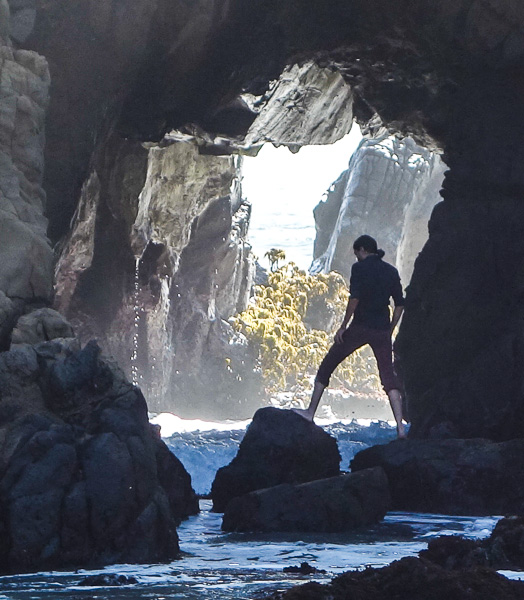 There's as second, less clearly-cut magic door in that rock, over near the left end, and some guys were standing inside it, like on the threshold. I like the weird plants that grow in there as well. Truly science-fictional.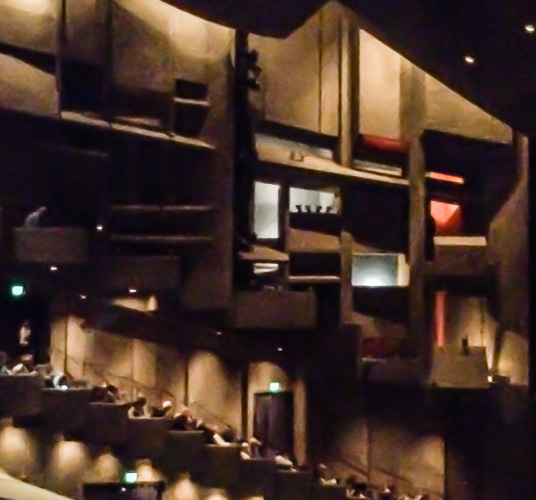 And what else? Sylvia and I went to see the latest ballet by Mark Morris and his company, at Zellerbach Hall in Berzerkistan. I like the side wall of the theater, it's like abstract art. Telegraph Avenue seems ever shabbier. When you lose a big bookstore like Cody's you lose a lot. But I suppose Berkeley students aren't buying books like they used to.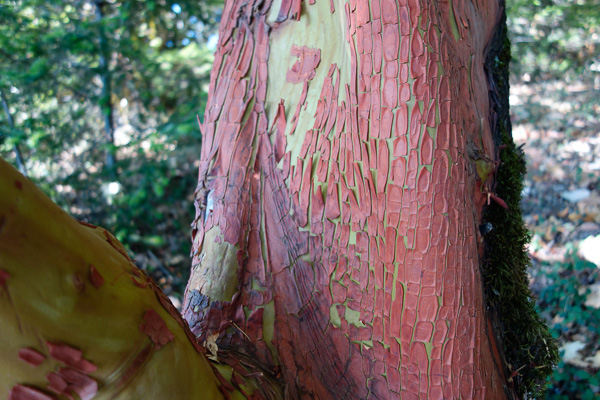 Just this week I was up at Castle Rock Park. I like to walk through the park to a ridge that overlooks a big basin of trees, with the Pacific visible in the distance. Interestingly pocked rocks called tafoni in the park. Some of them with loud people climbing on them—they weren't there twenty years ago. Nature still doing her thing anyhow anywhen anywhere. This photo of some red bark on a manzanita tree.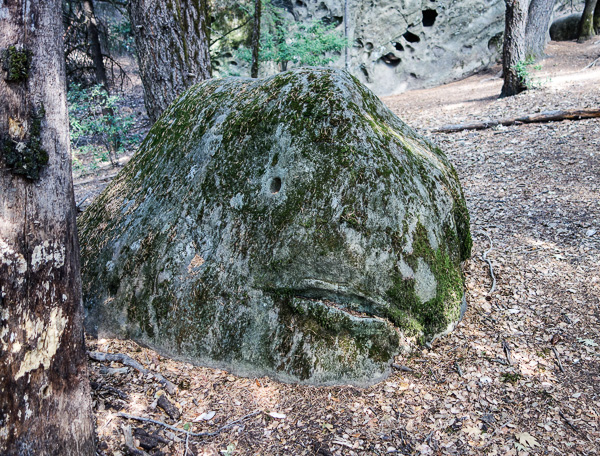 A stone whale or turtle surfaces, astounded. A-stone-aged.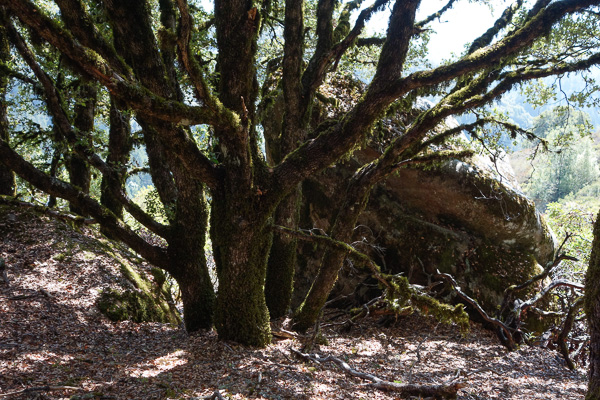 And I'm happy by a sun-outlined bundle of laurel branches.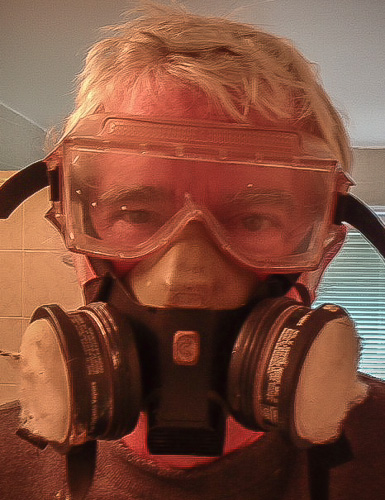 So, like I said, I had some good ideas for Wacker World, but today I was working on Journals 1990-2015. Fun / nostalgic / wrenching going down those mazes of memory lanes. I see publishing it one large volume—as well as, of course, the tractable ebook format.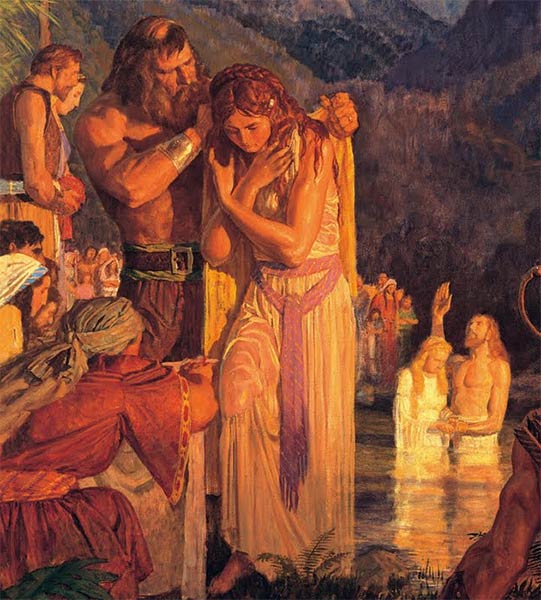 One last image, it's a detail of Alma Baptizes in the Waters of Mormon, by Arnold Friberg. For whatever reason, my friend and fellow-writer Thom Metzger became obsessed with this painting while writing his highly entertaining journal/memoir/report Undercover Mormon: A Spy in the House of the Gods which I've been reading this week. The best book I've read this year.
I was Thom Metzger's math / philosophy teacher, back at Geneseo State College in upstate New York in 1977. Tick, tick! The two clocks are in synch.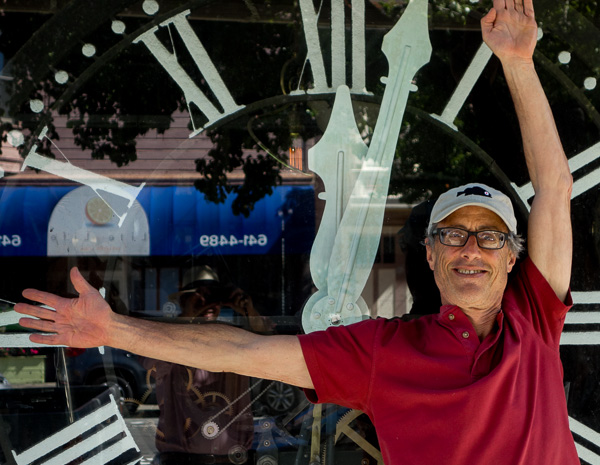 Or maybe not. Blumlein asks: "What time am I? Is it 9:00, or quarter to midnight? Early or late? The beginning, or the end?"