I've always been intrigued by the area of Northern California known as the Lost Coast. This is where the coastal mountains plunge so sharply into the sea that coastal Route 1 bends away from the shore, heads inland, meets Route 101, and expires.
Route 101 runs along north through the redwoods, inland, and eventually bends back to the coast at Eureka through the redwoods.

The zone between 101 and the coast is the Lost Coast, featuring only a few tiny hamlets such as Shelter Cove and Petrolia—these are towns with populations in the 100s, not the 1000s. Some of the land is undeveloped forests, and some of it is carved up into private ranches, quite a few of which are said to contain greenhoused pot farms, or "grows." The South Humboldt wholesale pot trade centers on the Route 101 town of Garberville.
I'd thought Garberville would have a festive carnival atmosphere, but far from it. The place is gloomy and tattered. Grim. We were glad to turn off at Garberville and head into the true Lost Coast.
The Lost Coast roads are narrow and winding, and the citizens are highly independent. During our long drive to Petrolia, deep in the heart of the wilderness, we smelled the heavy pot fragrance from several of the solar-battery-powered grows—not that we could readily see them from the road, and not that we were going to nose in and look for them.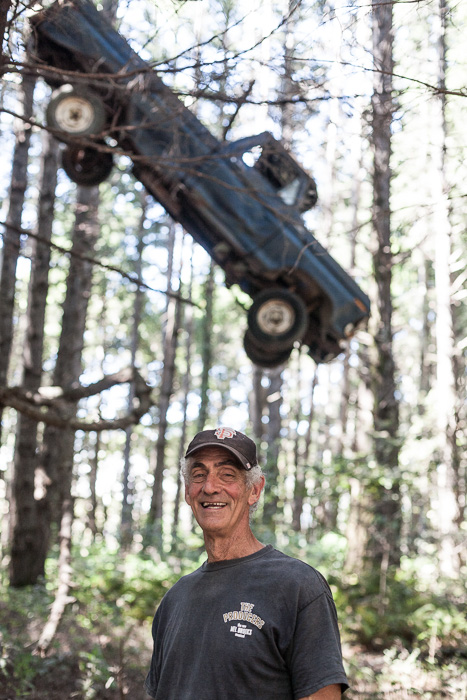 The journey led us to my old college friend Dr. Dick Scheinman, who, far from being a pot-grower, has been the resident physician of Petrolia, CA, for going on forty years. He's an idealistic sort, a thoroughly admirable man. He came the the Lost Coast because he wanted to live somewhere away from civilization "in a place where they speak English and where the rivers aren't full of parasites."
After several tries, I'd managed to reach Dick on his landline phone, and he told me the landmark for finding his house would be "a truck and a tree." This seemed a little vague—I didn't initially grasp that the truck would be in the tree. Dick and his kids hoisted the thing up there some years ago, having removed the engine and transmission to lighten the payload. Why? Because they could. And, since it's the Lost Coast, no pesky officials were likely to say no. The officials don't get out that way very often.
Dick is so self-reliant that he built his own home.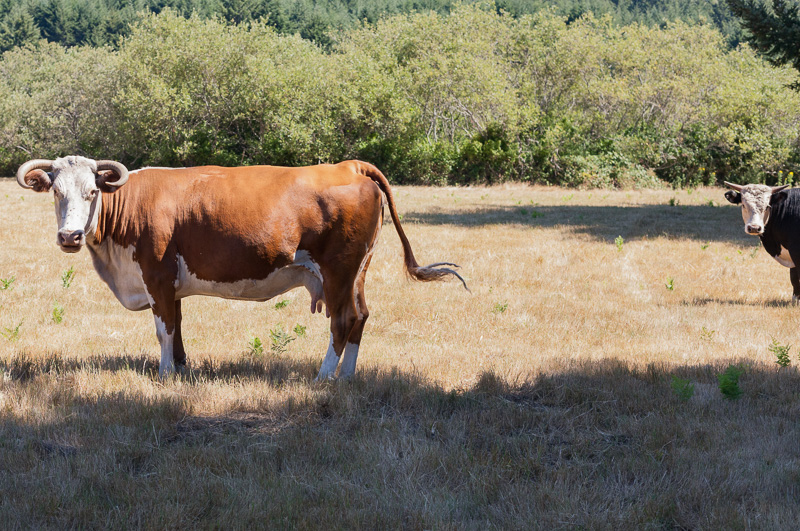 And he farms his own cows—he grilled us hamburgers made from them. Did he use a propane-fueled Weber BBQ set up? Hardly. He propped an old refrigerator rack on rocks over a wood fire, broiled the burgers, roasted some of his garden-grown potatoes in the coals, and crisped up some green peppers Sylvia and I had in our car. Served the food with forks on home-made pottery plates. Delicious. Dick digs the clay for his pottery from the river and fires his creations in a wood-fired kiln he built. We're talking serious D.I.Y. ethic here!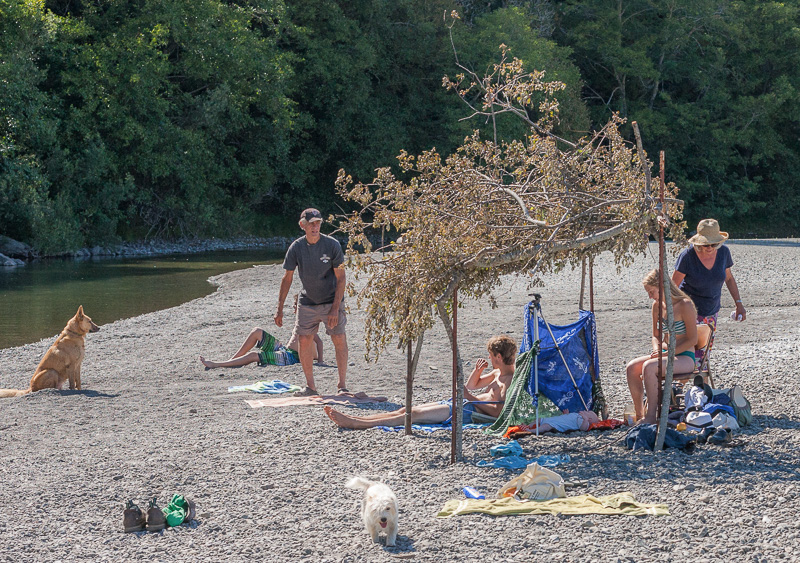 For city slickers like Sylvia and me, it was paradise to be so far off the grid. Dick took us swimming in a river a couple of hundred yards away. His house used to be next to the river, but the river moved. He and his neighbors have a provisional papala set up for shade.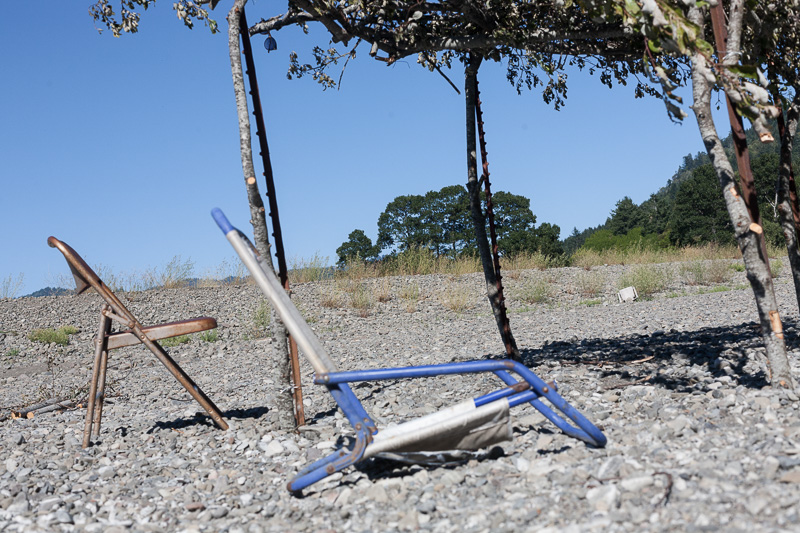 And they do have some store-bought chairs. I like this particular photo, I feel like it captures a little bit of that calmness I felt while visiting our friend. No traffic sounds, no airplanes overhead, no wireless, no cellphone, no rush.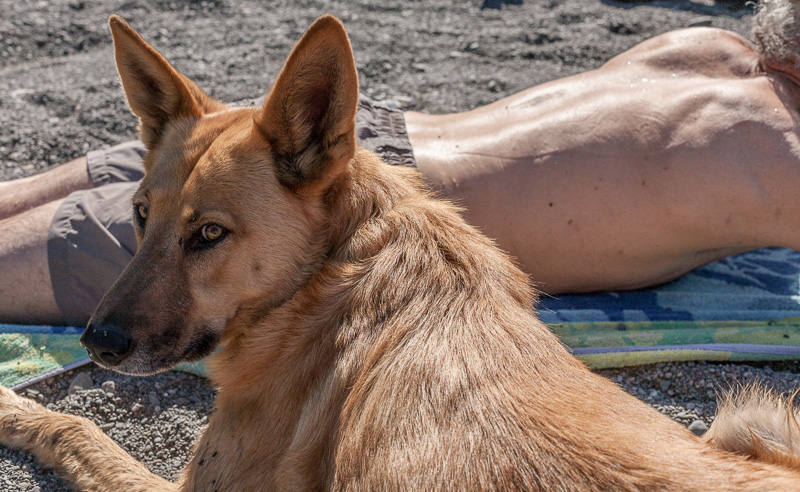 Dick's friends and the neighborhood dogs were all very pleasant—no cracked, dangerous, types were in evidence. We picked a zillion blackberries off Dick's monster rows of bushes.
Our kindly host.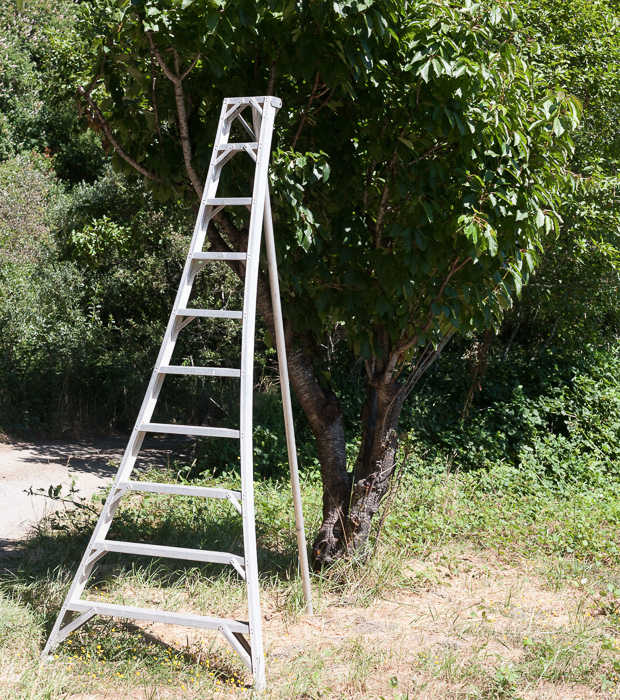 I shot a lot of photos. I had my old heavy-duty Canon 5D SLR with me, and all around me were the kinds of things I like to look at. A ladder for picking peaches, a stairway to heaven.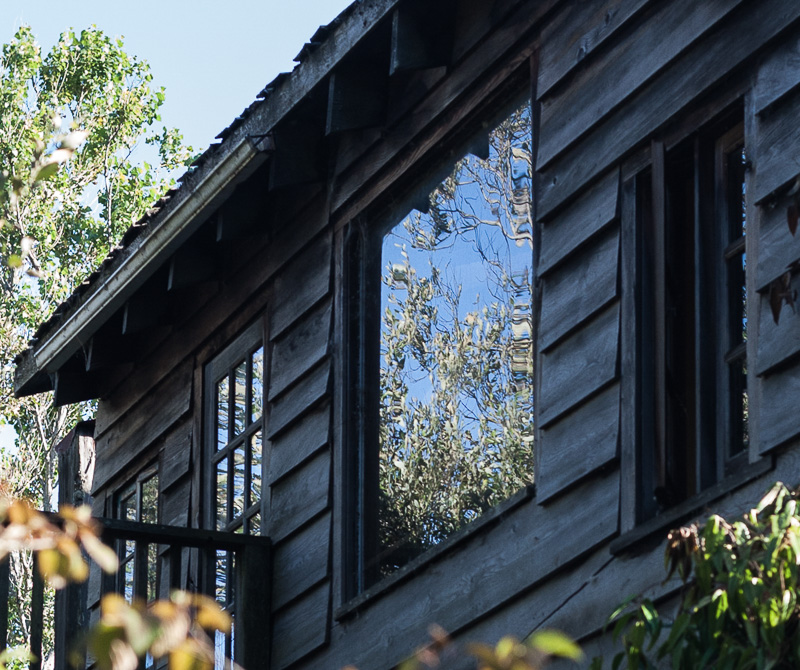 The late afternoon colors reflected in an upstairs window, the glass surface rippled with the ambient gnarl.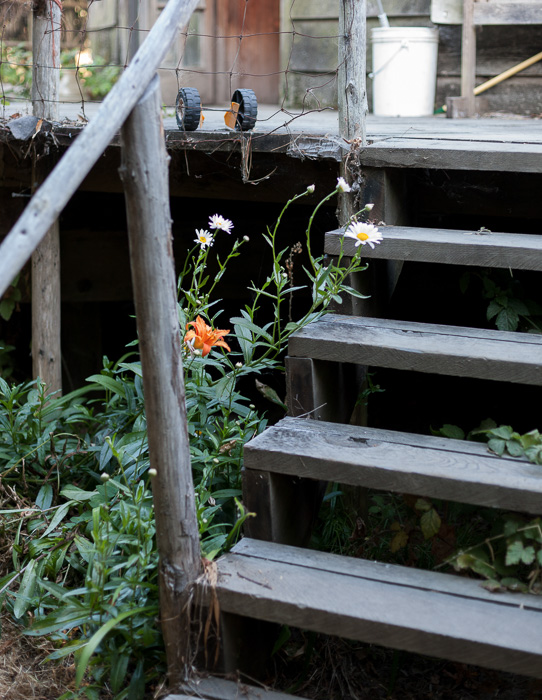 The back steps you go down on your way to the outhouse.
Two hoses on the ground, so lovely.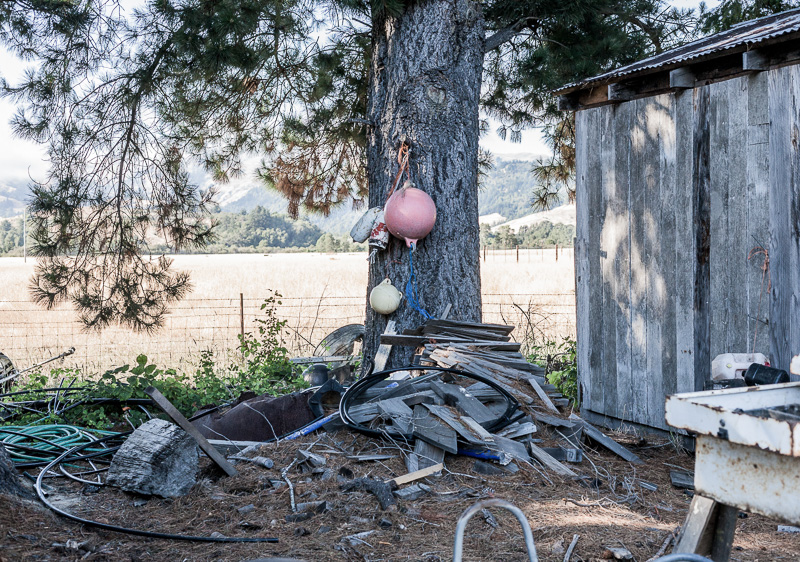 A tree and a field. What more do you want? Okay, a shed and some kindling and a float.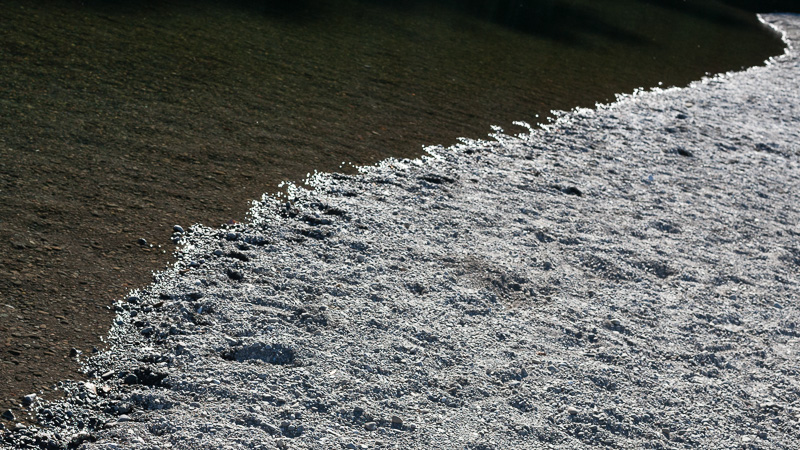 The living yin/yang of the river's edge.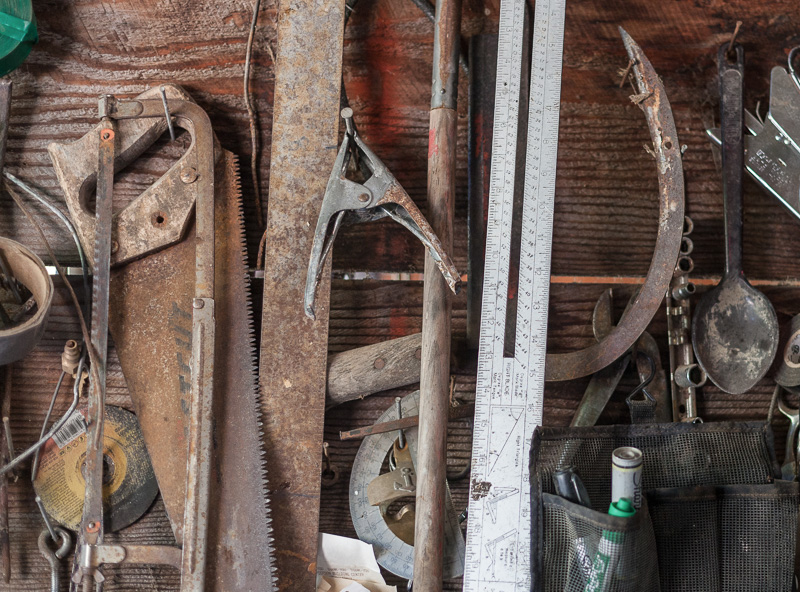 The wonderful toolshed walls, bedecked with wonder. Seeing this, I thought of the famous "Pied Beauty," written by Victorian poet Gerard Manley Hopkins in 1877.
Glory be to God for dappled things –
For skies of couple-colour as a brinded cow;
For rose-moles all in stipple upon trout that swim;
Fresh-firecoal chestnut-falls; finches' wings;
Landscape plotted and pieced – fold, fallow, and plough;
And all trades, their gear and tackle and trim.

All things counter, original, spare, strange;
Whatever is fickle, freckled (who knows how?)
With swift, slow; sweet, sour; adazzle, dim;
He fathers-forth whose beauty is past change:
Praise him.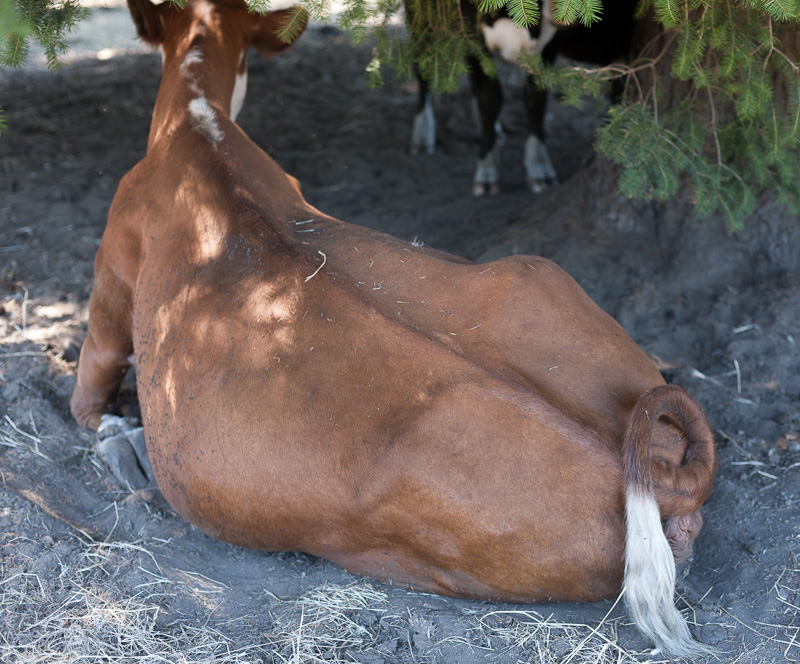 And seeing this cow, I think of Peter Bruegel's painting, Return of the Herd. Cows are wider than we tend to realize, and Bruegel knew to paint them that way. Scheinman hypotheses that, with all that cud fermenting inside their stomachs, cows all times have a bit of a buzz on. Calm and bovine. Dick likes his cows a lot, like pets, even though he eats them. It's the wheel of life. He doesn't actually make any profit on them, but it feels right to have them around.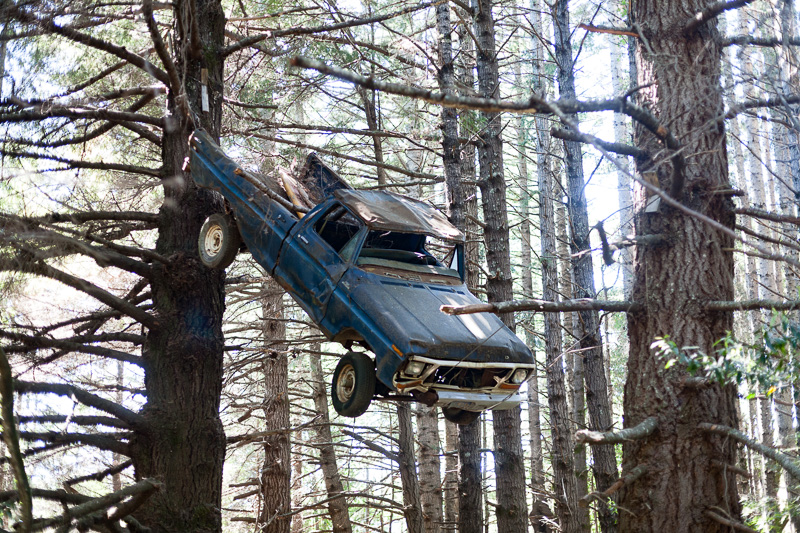 On the way out, Sylvia and I took one last look at the dangling truck.
We hit the fiercely wild Lost Coast beach at the mouth of the Mattole River near Petrolia, then wound our way along the insanely scenic and bumpy Mattole road to RV-filled Route 101, hitting gorgeous Bandon, Ore, for a night, and then, feeling pressed for time, stemmed off along a two-laner beside the lovely Umqua River to reach the congested nightmare of Interstate I-5 North. Eeeek.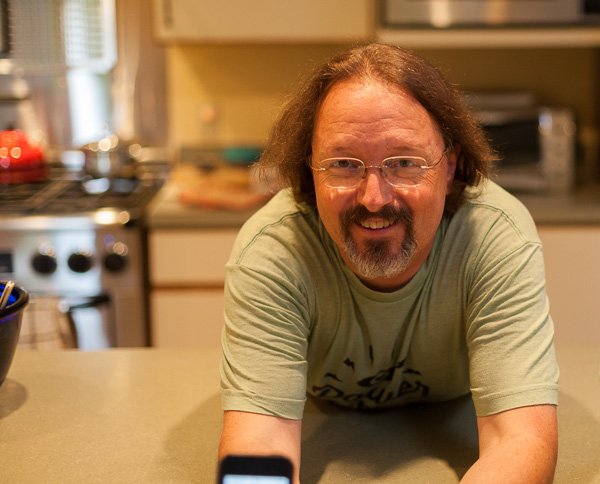 Near Seattle, we spent a night with my SF writer pal Marc Laidlaw. I always love talking to him. Marc and I don't live like rugged pioneers, but we've turned out some good surfin' SF stories over the years. Our latest extravganza, "Watergirl," will be in Asimov's SF magazine this fall, featuring our usual transreal surfin' SF doubles, Zep and Del.
Seek ye the gnarl, dude.