I'm emptying out some of my backlog of "to blog" photos. Today's are mostly from this summer. I have some free time now as I finished assembling the second draft of The Big Aha—as I mentioned in my previous post.
When you revise a painting, you basically keep ruining it and then trying to fix it. When you revise a novel, it's more of a positive, steady-progress feeling. You just keep making it better. Part of the difference is that painting lacks an Undo function, that is, what Windows users call the Control-Z key.
Photos are something else entirely. Seeing moments and patterns while they're there. And then—the less obvious and more digital part—tweaking them in Lightroom or Photoshop. The tweak stage has become an integral part of the process for me although, yes, I know there's some who claim it's purer to go with the original shot. No point arguing about it. Many roads to Rome, and all that. I just know that I enjoy the tweaking as an exercise of craft, and (thanks to Undo), I'm free to play with the picture until I've got what seems to be to be the very best image.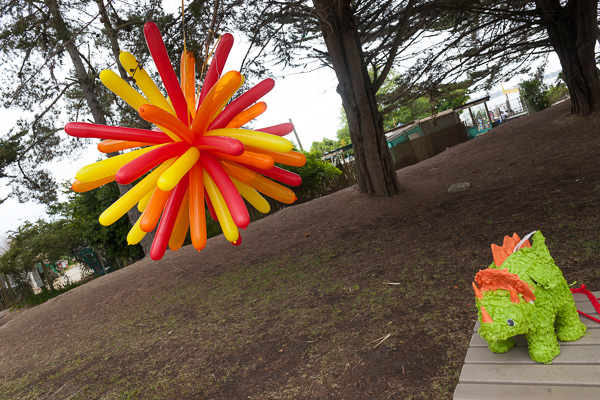 Balloon flower at a kiddie birthday party. Note the stegosaurus piñata as well. As a boy, I only knew of piñatas from Donald Duck comic books. Now in California, they're rather common. They are strong and leathery, not brittle. The kids whack and whack and eventually the piñata handler lowers the thing near the ground and the kids tear it apart like coyotes on a wounded wild piglet.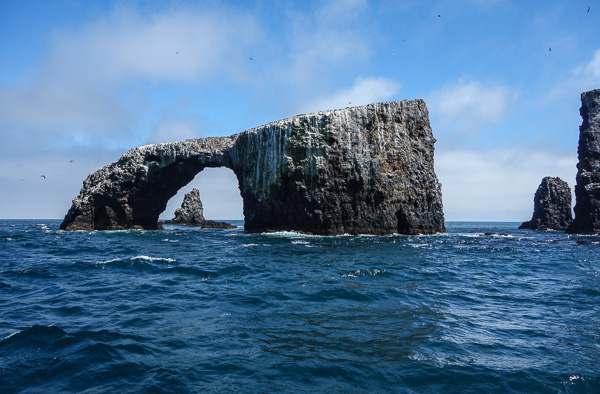 Awesome arch off Anacapa Island, part of the Channel Islands near Ventura, CA. We stayed at a nice cheap Vagabond motel in Ventura and rode a ferry out to the islands two days in a row. This summer's big outing. I went snorkeling here. I was really scared, as the water was so cold and deep and clear, and the place so isolated. So cold I felt like a frozen French fry in boiling oil, not that that makes sense.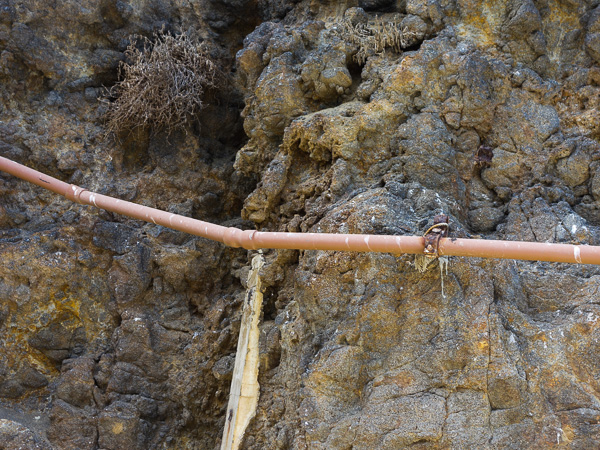 Very funky old infrastructure on Anacapa, which is mainly cliffs and a seagull rookeries.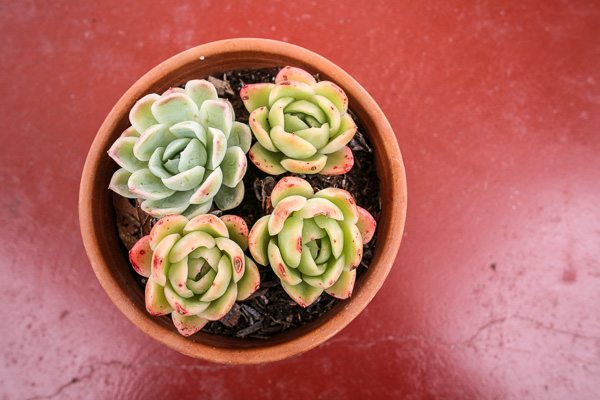 Took this at the cafe at Nepenthe, the insanely crowded yet insanely scenic stop on Rt. 1 near Big Sur.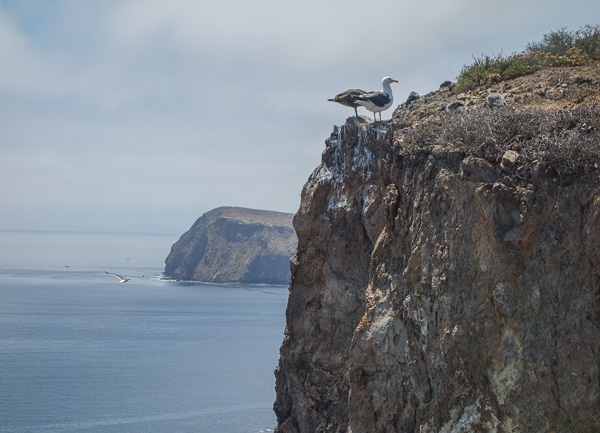 Back on Anacapa, two seagulls stand guard.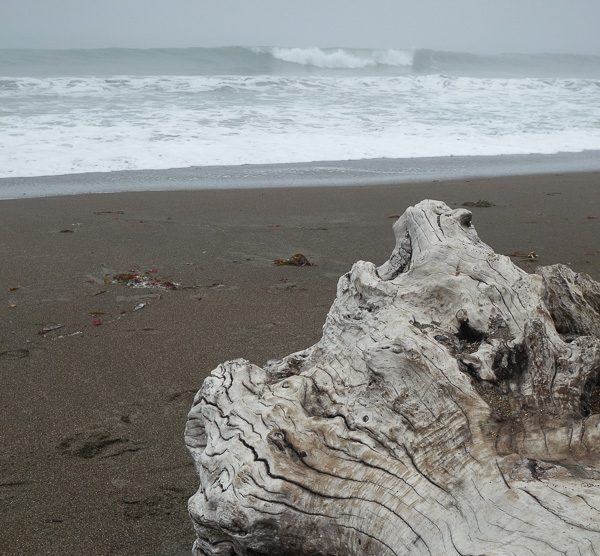 A gnarly tree stump at Moonstone Beach near Cambria. A pretty spot, although the motels here were an insane ripoff in terms of prices. I think a lot of people are there to see the Hearst Castle. Feels like the world population has doubled in the last, what, thirty years?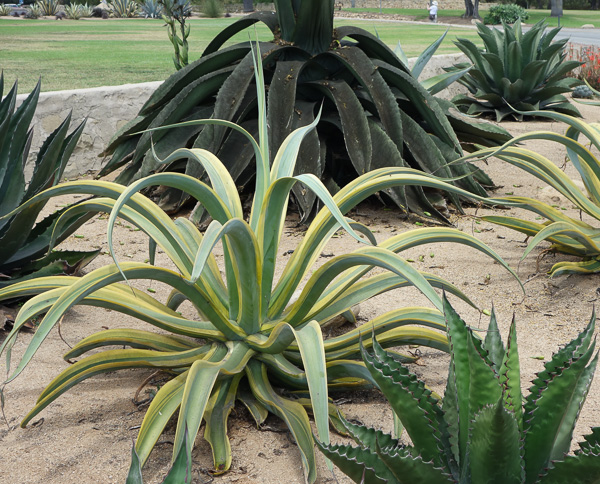 Awesome aloes near the Mission in Santa Barbara. Kind of cephalopods, no?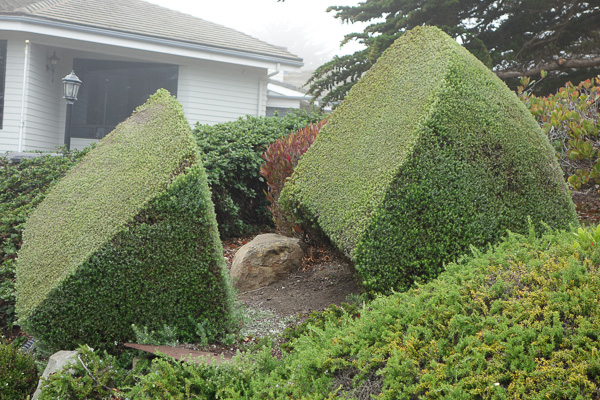 Admirable hunks-o-cheese topiary patterns in Cambria.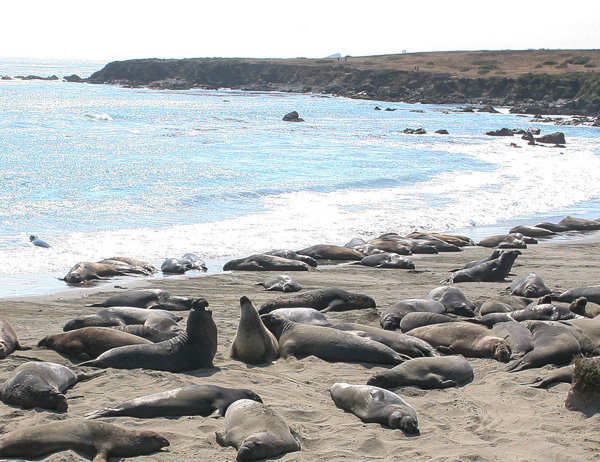 The elephant seals near Gordo, between Big Sur and Cambria. Supposedly only one male gets to mate with all the females in the herd, and all the other males are continually cringing and challenging, trying to work his way to the top. That one on the left bellowing looks a lot like a U.S. Congressman, no?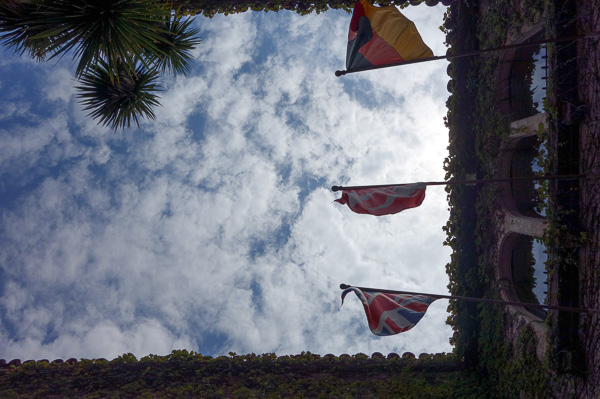 Festive flags against a mackerel sky in Santa Barbara. There was a passageway there with some nice cafes, and we went to the same one two days in a row. Not quite as good the second day.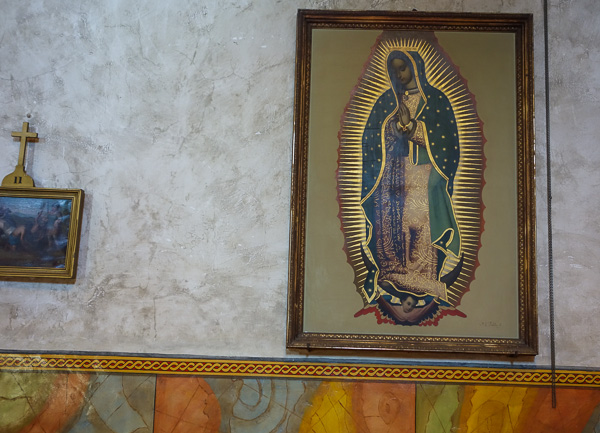 I love Virgin of Guadalupe imagers (this one is in the Santa Barbara mission). The Mandelbrot-set aura. And note the polychrome faux marble on the wall.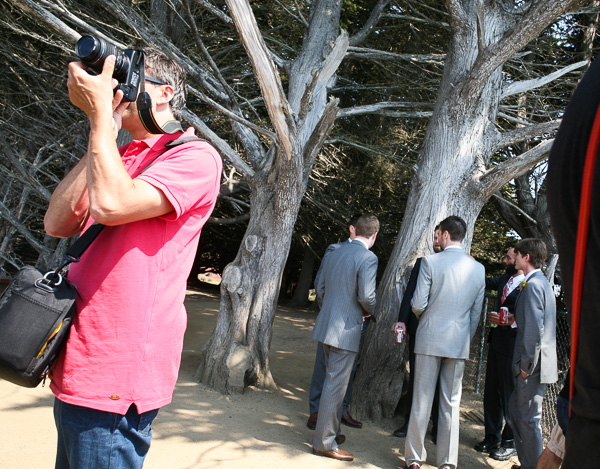 A wedding party ramping up for the ceremony at a spot called Ragged Point south of Big Sur. There's a little-known (to me) series of sights down there.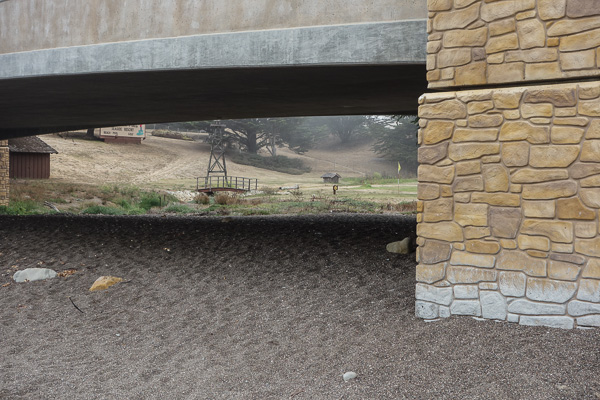 Odd view through an underpass in Cambria on Moonstone Beach. Like that's the afterworld or a visionary Peaceable Kingdom on the other side.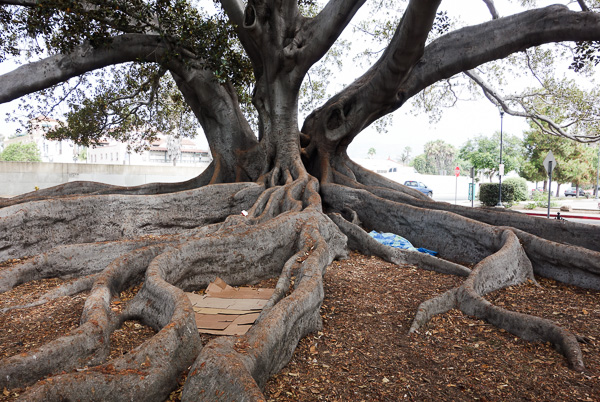 The historically giant Moreton Fig tree in Santa Barbara near the passenger train station. The ridges of the roots make veal-pen type separators, forming little sleeping areas for some of the numerous homeless people in S.B.