At this point in my career and in the history of publishing, it seems reasonable for me to abandon—at least for some of my titles—printed books and commercial publishers. So I've started my own Transreal Books. I see at least three kinds of advantages to this move.
(1) I'm freed from commercial constraints to the formatting of my books—in particular an ebook can be very long, as in my Complete Stories ebook, or it can include color images, as in my projected Better Worlds ebook. And I'll be able to sell my books at a reasonable price.
(2) I can repeatedly revise a book without having to go through the complex process required for new print editions. For instance, as time goes by, I can keep adding more stories to Complete Stories.
(3) By becoming a publisher, I have the final say over what books I put out—and I receive a larger share of the royalties.
I've been seriously crunching the HTML and EPUB formats for a week or two—I'll say more about all that nutsy-and-boltsy stuff in some other post. But for today, here are the current and planned releases from Transreal Books!
---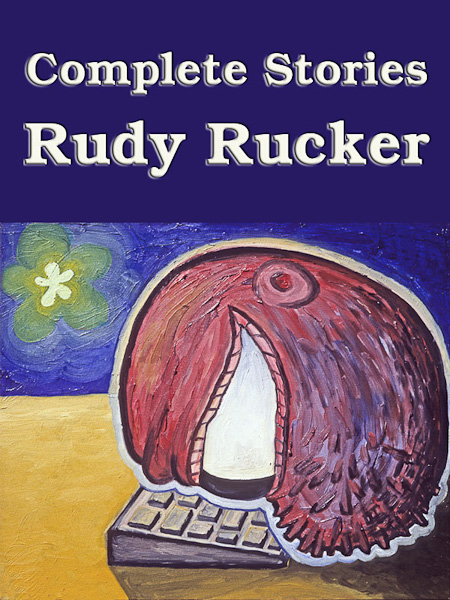 Complete Stories
Buy as Amazon Kindle or Barnes & Noble NOOK.
Collected together in one mammoth volume: all of Rudy Rucker's science-fiction stories, a trove of gnarl and wonder. This, the first edition, includes stories from 1976 through 2011. As well as a volume's worth of fifteen new stories, Complete Stories includes all the tales from The 57th Franz Kafka, Transreal, Gnarl!, and Mad Professor. As well as Rucker's solo stories, we have collaborations with Bruce Sterling, Marc Laidlaw, Paul Di Filippo, John Shirley, Terry Bisson, and Eileen Gunn.
---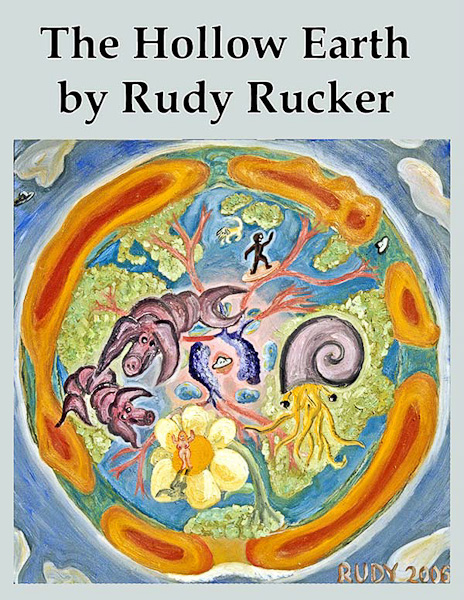 The Hollow Earth
Buy as Amazon Kindle or Barnes & Noble NOOK.
Hollow Earth is a classic work of American steampunk. In 1836, Mason Algiers Reynolds leaves his family's Virginia farm with his father's slave, a dog named Arf, and a mule named Dammit. Branded a murderer, he finds sanctuary with his hero, frustrated genius Edgar Allan Poe, and together they embark on an extraordinary expedition to the South Pole, and the entrance to the Hollow Earth. It is there, at the center of the world, where strange physics, strange people, and stranger creatures abound, that their bizarre adventures truly begin. 1st print edition Avon Books, 1990. 2nd print edition Monkeybrain Books, 2006. Transreal Books ebook version of 2nd edition, 2012.
---
And what's ahead? Here are some of the titles I'm planning:
Complete Essays
Better Worlds (paintings)
All the Visions. (early memoir)
Infinity and the Mind
The Fourth Dimension
Geometry, Relativity and the Fourth Dimension
Mind Tools
Journals 1990 – 2011
Yeah, baby. Free at last.