I finished a new painting today. In this painting, "A Skugger's Point of View," I wanted to render an extreme first-person point of view…in which we see the dim zone around a person's actual visual field. The person in question is the Alan Turing character in my novel-in-progress Turing & Burroughs. He has become a mutant known as a "skugger," and he has the ability to stretch his limbs like the cartoon character Plastic Man. He is traveling across the West with two friends, a man and a woman.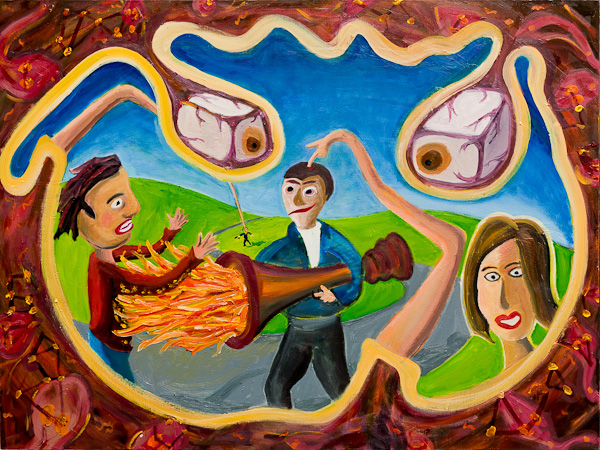 79. "A Skugger's Point Of View". Oil on canvas. 40″ by 30″. March, 2011. click to see larger version!
In this scene, Turing's cohort is being attacked by secret police, one of whom bears a flame-thrower. Turing is responding by sticking his fingers into their heads, perhaps to kill them, or perhaps to convert them into skuggers as well. We can see Turing's arms extending from the bottom edge of his visual field. Even though it's not quite logical, I painted in his eyes as well because they make the composition better. As always, more info on my Paintings Page.
Tonight, my painter friend Vernon Head and I went to an art opening at the Triton Museum in Santa Clara. They had a show by Squeak Carnwath and a show by Stanley Goldstein.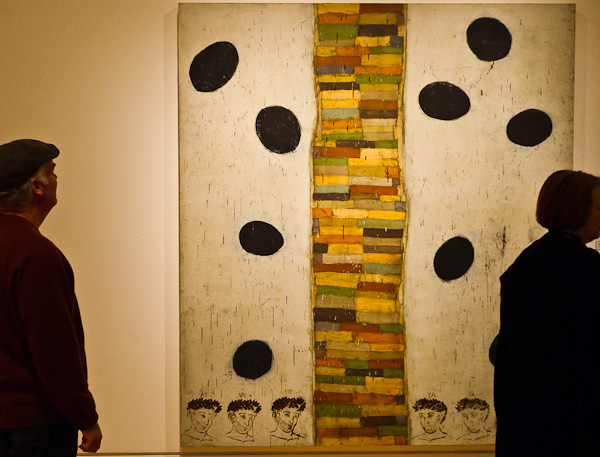 The painting above is "Gone" by Squeak Carnwath, oil and alkyd on canvas, 2005. I liked this one a lot. Vernon and I got a chance to talk to Squeak—she lives in Oakland—a very pleasant and intelligent woman, at one time an art teacher at UC Berkeley, recently retired. She said "Gone" was to some extent in memory of seven artist friends of hers who had died, and the Etruscan style heads at the bottom could be viewed either as mourners or as the mourned.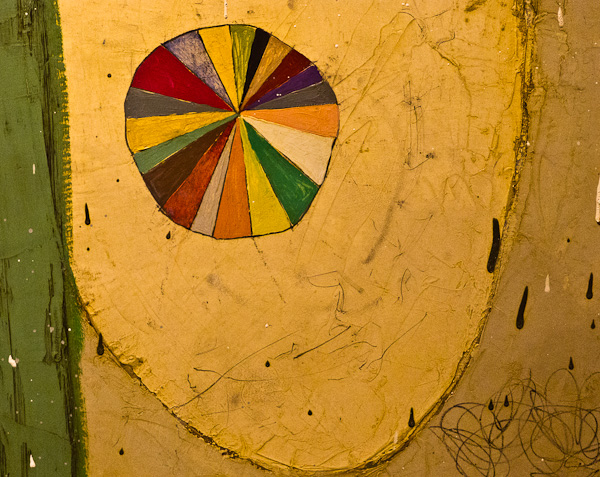 Vernon and I were particularly impressed by Squeak's color sense, her ability to mix such wonderfully mild and harmonious shades. In some of her paintings she goes ahead and sticks in a color wheel, just for fun. She says that color sense is her one great gift.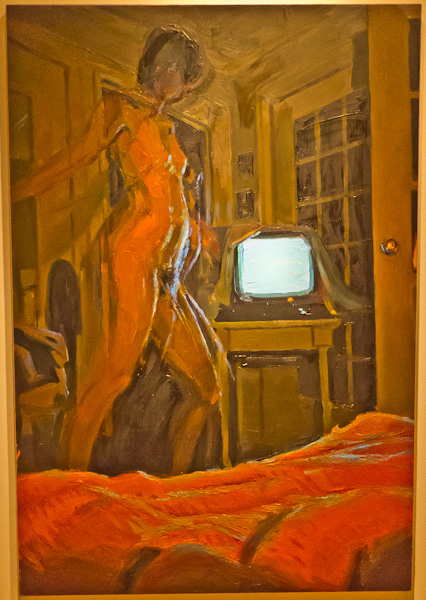 The other show was by Stanley Goldstein, who mostly paints domestic scenes or images from his daily life, almost like painted snapshots. He has terrific ability with color and shape. This one painting, "Francis Dancing By The TV" acrylic on panel, 1997, really jumps off the wall. Seen in the gallery, the blue of the TV is amazingly intense, in counterpoint to the rich orange-red of the quilt.