We were at the Los Gatos Christmas parade once again on Saturday. We've been attending it off and on for twenty-four years.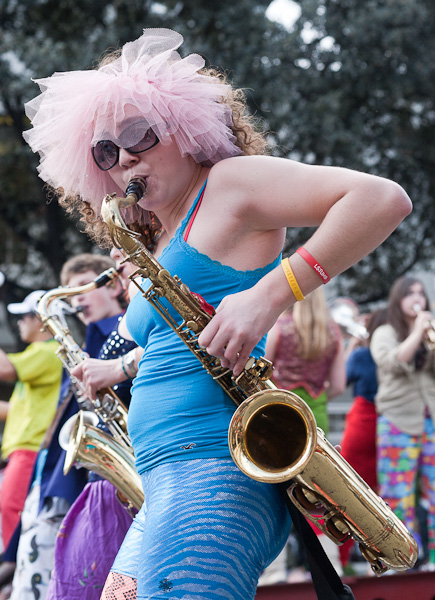 The Stanford band is always a highlight, playing like crazy, dressed to kill. What energy! They're probably all A students, crazy though they look. The saxes were playing with one hand behind their back…
We always have a platoon of squash-growing Italians, as if airlifted in from the East Coast or Chicago, rough and tough, phallically thrusting their vegetables. A beauty queen rides in their Cadillac, chauffeured by a presumably venal official in a top hat.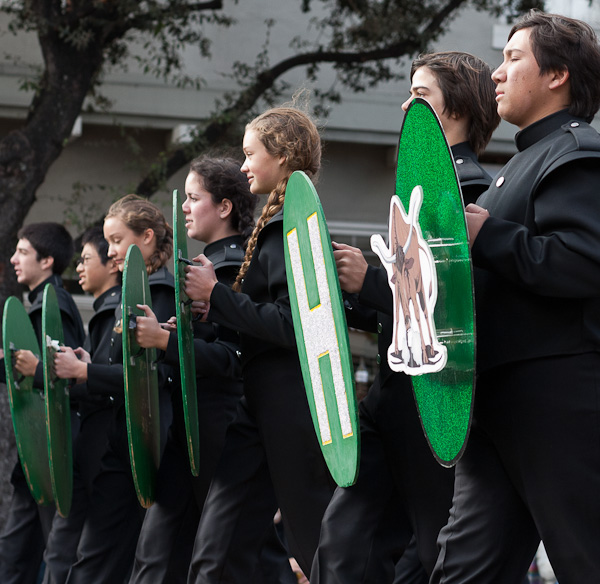 The high-school drill teams are universal, lovely to see. I can vaguely remember being that age. The marching isn't the center of your life, it's just something you do.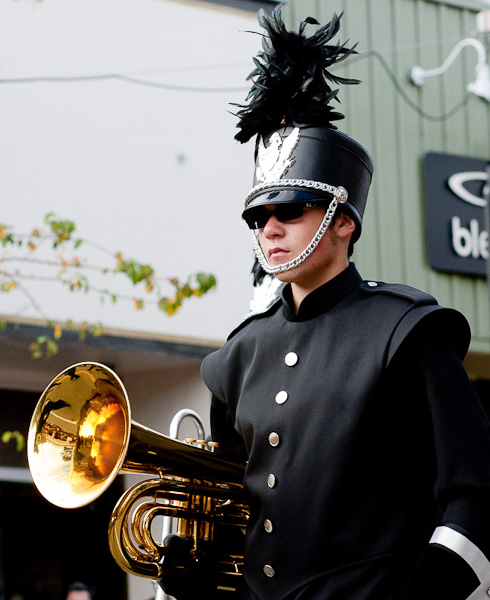 I like this kid, he looks so cool. A horn man.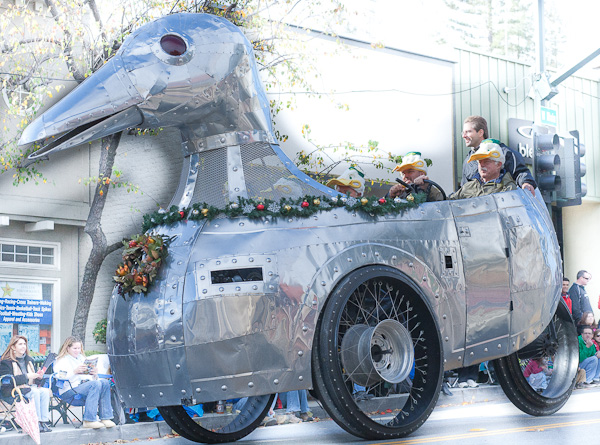 Back to the parade, there's these three or four older men who show up every year in a giant self-powered shiny metal duck. They're fans of the University of Oregon, who's mascot is the most famous duck of all, Donald D. I bet they work on refining the duck-car all year. It's great.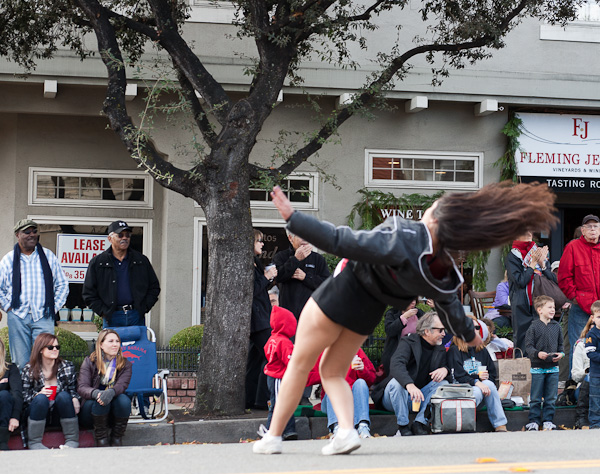 The tumblers are awesome. My autofocus has a slight delay, so I caught this young woman further into her flip than I'd expected, but this is in fact pretty cool. Gravity-defying.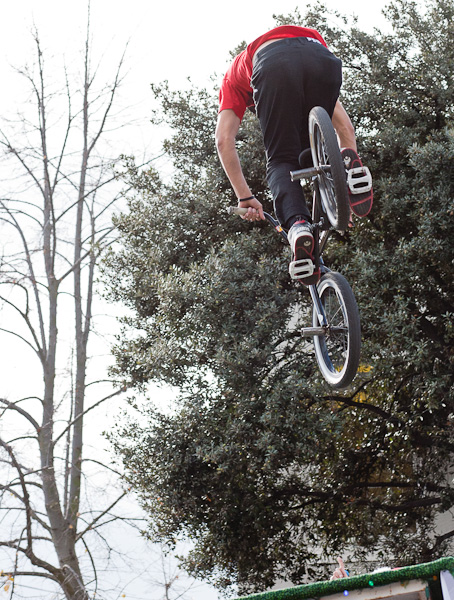 There's this corner-store market on Los Gatos Boulevard, the Jiffy Mart, with a full line of liquor as well. Every year they sponsor a crew of freestyle bicyclists; they drive a pickup along the parade route with curved ramps on the front and back of the pickup, and every few dozen yards they stop, and the eager biker-boys do insane high-air flips. Very California.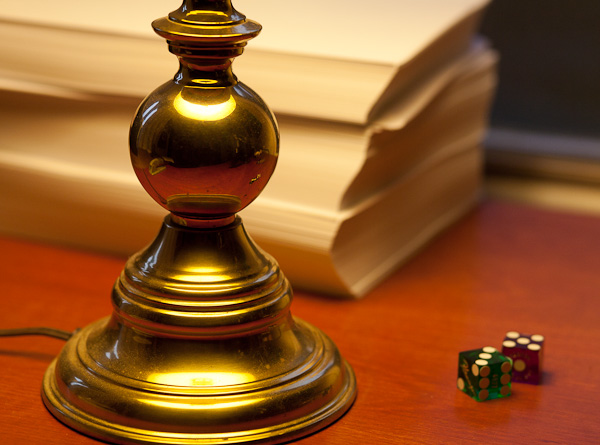 And now I'm back at my desk, pecking away at Turing & Burroughs—I'm going to write a riff off a Charlie Parker reverie I saw, I'll use it for the stream of thought for Alan Turing who's disguised as a black woman inside the Sunset Lounge in 1955 West Palm Springs, Florida. I've been reading the lives of some jazz players, recently Miles Davis, and last year Charlie Parker. And here's the quote I'm eyeing, from Bird Lives, The Life of Charlie Parker, by Ross Russell (Charterhouse 1973), pl 55.
If he looked across the beams of the spotlights that shone toward the bandstand, he could see a lavender haze, shimmering like air over a street on a hot summer day. He watched the heavy smoke that curled and wreathed, floating lazily upward, borne along by the waves of music. It had a sharp, pungent, odor and made a biting sensation in the nose. It was smoke from sticks of tea that were being passed from one man to another on the bandstand below. After twenty minutes of the set Charlie would feel himself borne along in the pleasant lavender haze. Then the long narrow interior of the Reno Club would grow deeper. The bar, the polished glassware in front of the mirror, the waitresses poised like blackbirds, ready to fly to their customers—the tables, booths, dancers, musicians, orchestra, everything in the Reno Club seemed to be exactly where it belonged, as if it had been there forever and would never change, fixed in time and space, and time itself stopped. He was getting high. Now he could hear the things that he had missed, the miniature sound—Basie's little blue comments, a silvery skein of notes played by Prof as a counter line to Herschel, muted chortling of screened brass under the saxophone choir, a light scurrying of sticks across the head of the snare drum as Jesse marked off a bar section, wispy little phrases that entered somebody's mind because of something just played.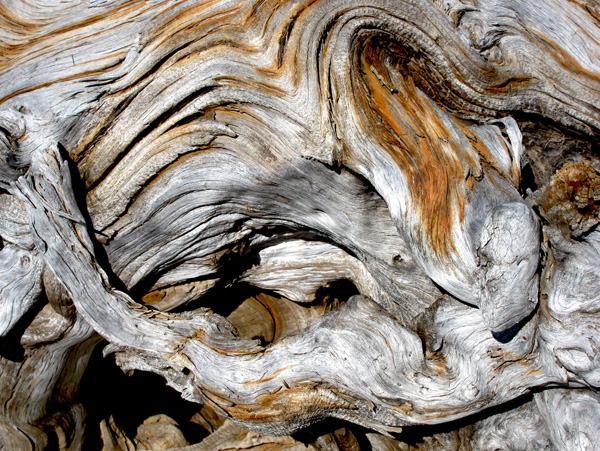 Love those sounds, Ross.