Last week I did a telephone interview with Thomas Gideon, who runs a podcast blog called The Command Line. To hear the talk, you can also click the button below to go to Rudy Rucker Podcasts.

Today I'll continue in my trip-photos mode, with more on Monument Valley.
Our room looked out over the valley, and we happened to wake up at dawn, like around 5 am. Unreal. It's amazing how the whole spectrum gets spread out in the sky.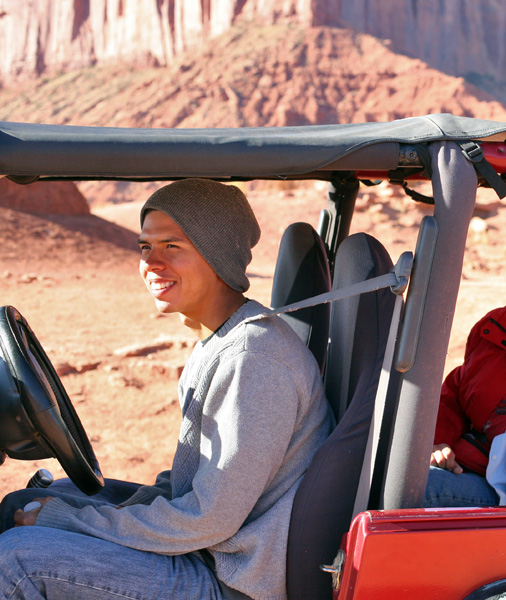 It's possible but maybe a little nerve-wracking to drive your own car into the valley on a fairly whipped gravel road. Instead we signed on for a jeep tour with a young guy called Parker Johnson, whose family runs Majestic Tours. Arranging the tour was fairly casual—there was a booth and a number of guides in the parking lot by the View hotel.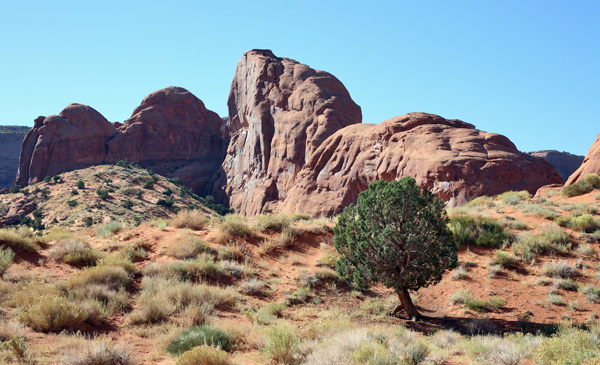 Parker was a good guide. He turned out to be a college student and a big reader, and we talked about books, as well as about the sights. Being with a guide, we were allowed to go deeper into the back corners of the land than we could have gone in our own car. The peace and quiet out there was kind of intoxicating.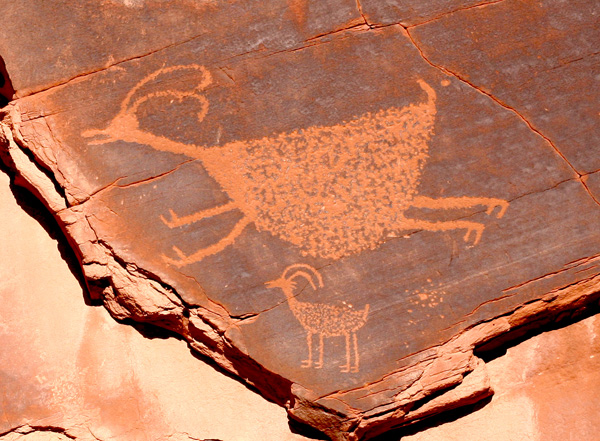 We saw a nice petroglyph of a sheep.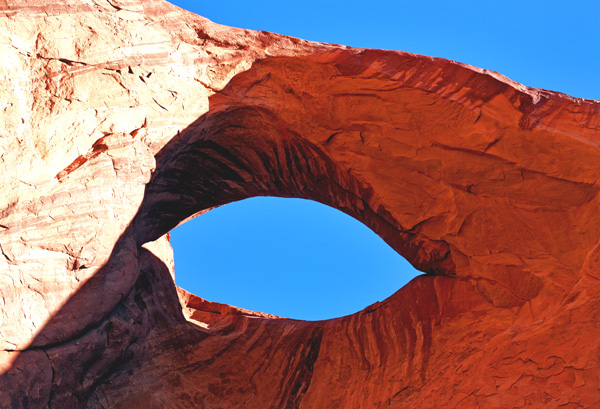 The "Eye of the Sun" is a natural formation that takes on the look of a Picasso profile. Parker said the Navahos have gatherings and concerts there, with singing and drums.
It's partner, the "Ear of the Wind" is great too. A really magical vibe out there.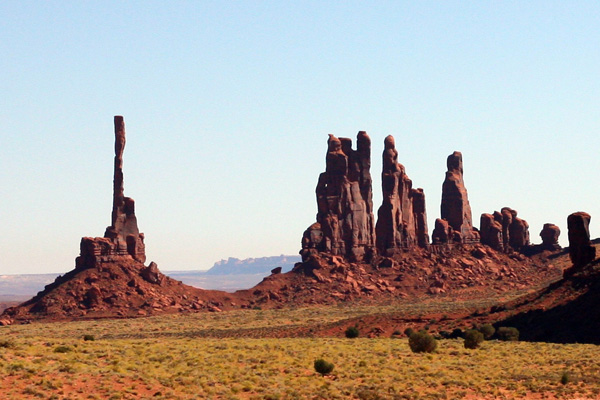 We came to a formation called the Totem Pole, highly iconic. Amazing how perfectly Nature designs things on her own.
You've seen a lot of these shapes in Hollywood movies. John Ford used to come to Monument Valley for filming. The "Mittens," for instance appear in his movies She Wore a Yellow Ribbon and Fort Apache. And the Totem Pole is in the Clint Eastwood movie, The Eiger Sanction—apparently Clint got the Navahos to let him put some climbing pegs into the tower so he could climb atop it for some shoot-out scene.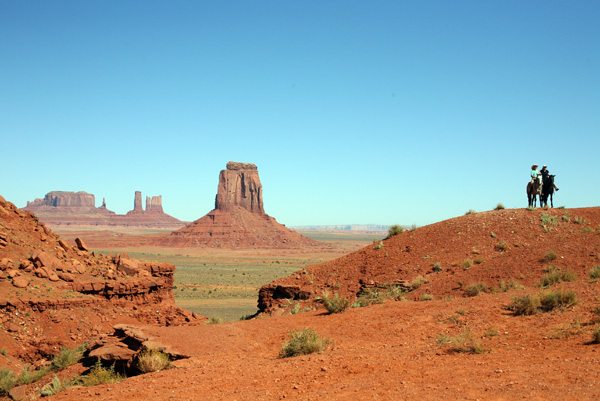 So as to have some evening entertainment, the View hotel shows one of those old John Ford movies projected on the wall of the patio every night, and we could see them from our room's window. It was kind of cool to see the landscape in these old black and white films. But after awhile, the movies got a little tiresome with their unenlightened attitudes towards the Native Americans. Those horse-soldiers whom Ford celebrates were, after all, in the business of stealing the land from the locals. And when John Wayne and Henry Fonda start prating on and on about "honor," and calling each other "Mister," it's hard to take.
On our last day at Monument Valley, I got up really early and hiked a trail out to the West Mitten. I started in the dark, as I didn't want to be in the desert once the midday sun came up. Later I YouTubed a video from my pocket camera.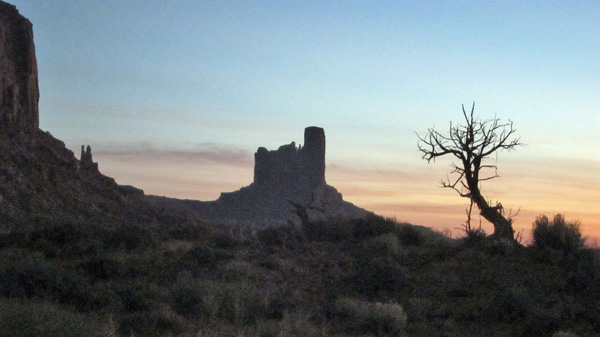 It was about a three hour walk, and I saw no other sign of humans—except for a little complex of sheds, shacks and trailers where a family of Navaho herders lived. Their attitudes about the land seem very cool.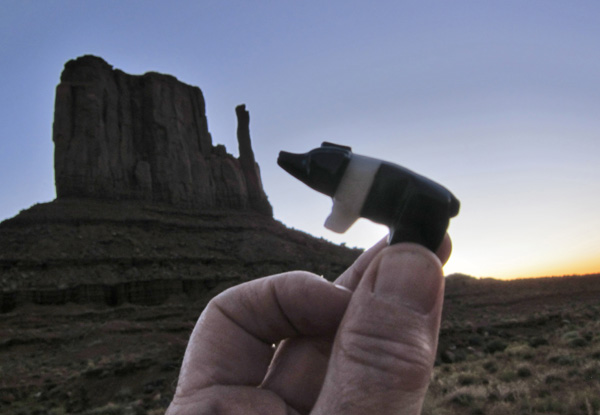 As I mention in the video, To keep me company, I had this cool "fetish" that I bought in the Navaho gift shop, a little pig or, more properly speaking, a javelina. Perfect for me given that, as I've often said, I think of the Pig as my totem animal. "The pig is the most intelligent animal," as I like to say.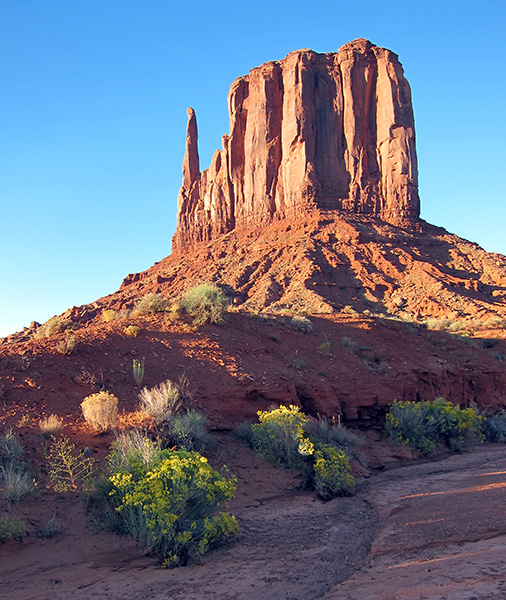 I got a some great views of the Krazy Kat landscape out there, and being behind the mitten felt like I was in a secret and sacred space.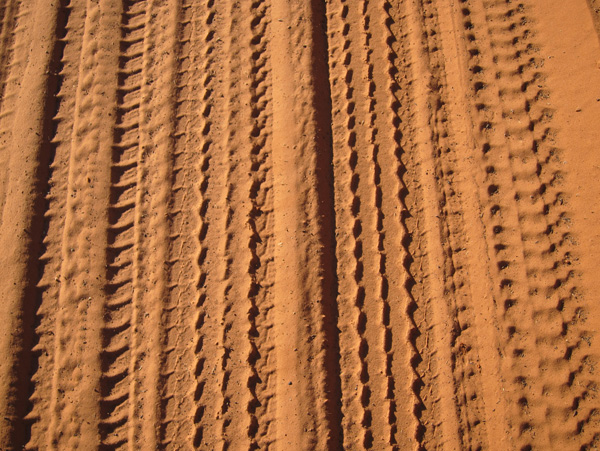 And then I'd finished the hike and was back on the sandy road where the cars and jeeps drive.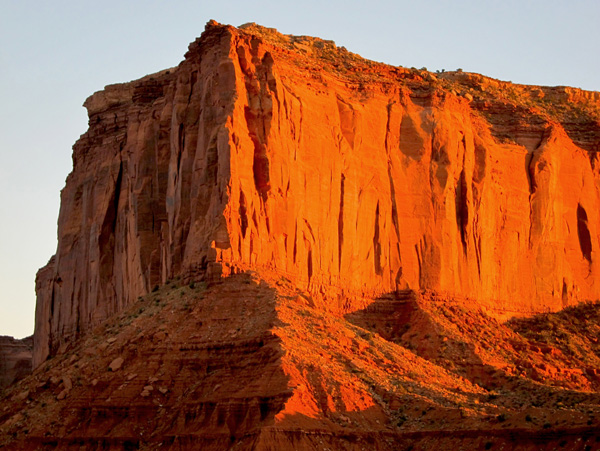 I want to go there again!