In my previous entry, "Painting Thirteen Worlds and The Flims," I was talking about painting an image containing one of Jim Woodring's "jivas," as seen, for instance, in the story "Frank and the Truth About Plenitude," that appears in Jim's wondrous and profound anthology The Portable Frank.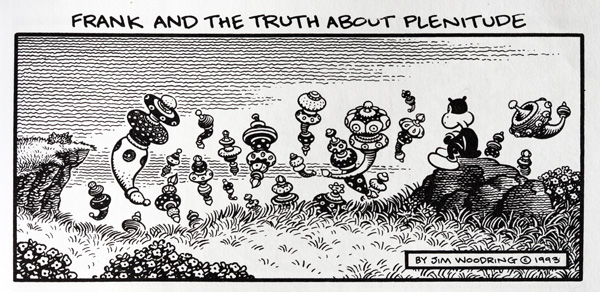 [Image is Copyright (C) Jim Woodring, 1993.]
I now realize that I've seen similar shapes in Ernst Haeckel's Art Forms in Nature (or Kunstformen der Natur). I own the book, but I also found some of his images, like the one below online, like at the Wikimedia Commons! (This is kosher because copyright only lasts seventy years after the author dies.) Here's Haeckel's Plate 17, of siphonophores, edited by me to show three of the jiva-like forms.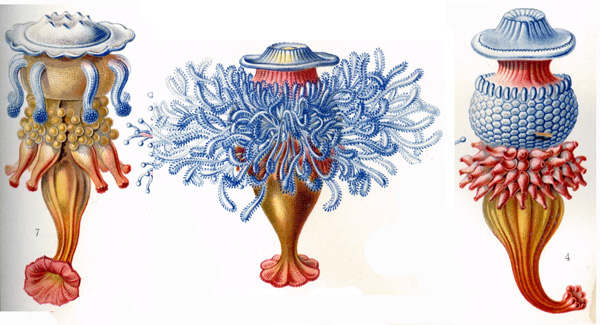 Note that a siphonophore is an animal which resembles a jellyfish—such as a Portuguese man o' war—but which is in fact a colony of individual siphonophore critters called zooids. The jiva-like guys in the Haeckel picture are individual zooids, according to this discussion. A zooid might specialize to work on locomotion, or stinging, or reproduction, etc. They're a little more sophisticated than individual body cells, and little less specialized than organs. By the way, those little gramophone horns dangling down are feeding tubes.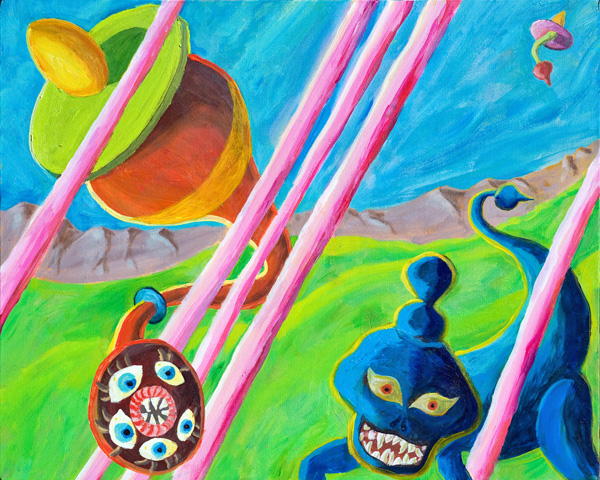 The light dawns. In my new novel, Jim and the Flims, I can have two humanoid factions of "flims" in this alternate world called Flimsy—both good and the bad aliens, naturally. And I think I'll have the jivas and the yuels be agents working for these humanoid flims. The jivas for the good guys, the yuels for the bad guys.
The jivas and the yuels (that's a preliminary visualization of a yuel on the right of my painting The Flims) can be creatures along the lines of hunting dogs or falcons or unruly pets or intelligent robots. If the main flims are humanoid, then we can relate to them—and have sex with them.
I hope Woodring doesn't mind if I talk about "jivas" in my novel. I'll have to check with him, maybe via our mutual friend Paul DiFilippo—those two recently did a boxed chapbook/illustration/puzzle project together called Cosmocopia. (After posting this lihk, I just bought a copy online.)
Update: I emailed Jim and he wrote back that I have his blessing for this project. Thanks, Jim!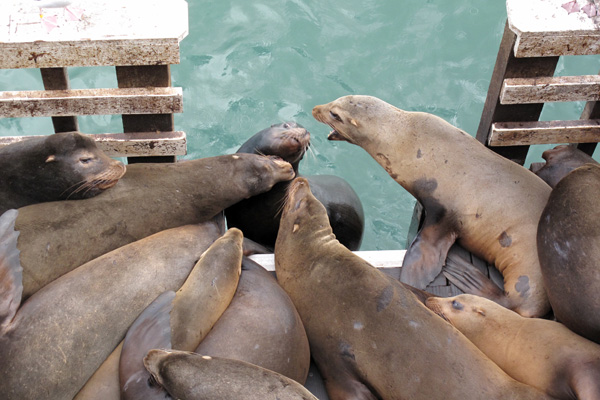 By the way, I'd been thinking of the yuels as blue Tibetan-demon-dogs the size of ponies, as in my painting. But it would be freakier, I think, to have them look like big seals. Maybe blue or deep purple. Voracious, omnivorous seals in any case. It's kind of uncanny and creepy the way seals "walk," humping along with their feet together. Seals would be "reasonable," as the book is set in Santa Cruz.
I like how in the photo above the seals are hassling the poor guy who's trying to come aboard. Reminds me of tenured academics dealing with a timorous job applicant.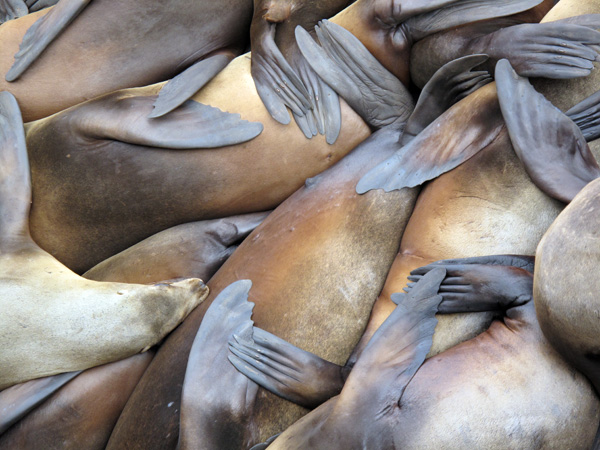 Imagine a Repulsion-type hallucination where your floor turns into a carpeting of seal bodies and flippers. Your house has turned into a heap of yuels! The flims are somehow able to convert pieces of our world into yuels or jivas to serve as proxies in their war for cosmic supremacy.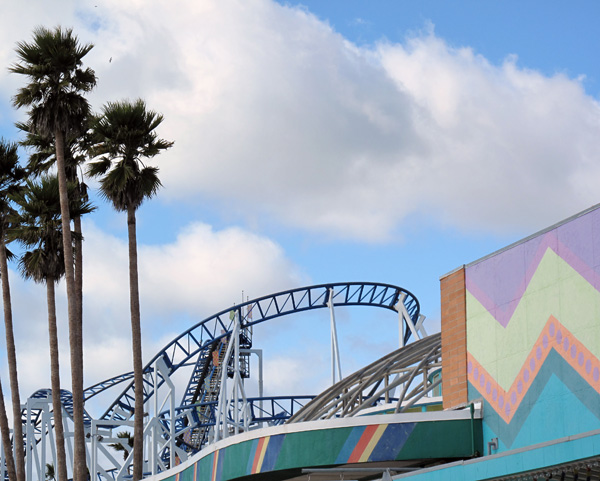 This week I wrote a funny (in my opinion) scene where Jim Oster discovers that his new live-in girlfriend Weena Wesson having a tryst with Jim's landlord Dick Simly. (Weena is in fact an alien, a flim from Flimsy.)
When I came home in the late afternoon, Weena had someone else in our bedroom with her. I could hear that they were having sex. I went shaky all over, with my chest feeling all hollow.

I threw a chair across the kitchen so they'd know I was home, and then I went out in the back yard and started sharpening my biggest carving knife, using a long sharpening iron that made a sinister slithery sound.

A few minutes later I heard quick footsteps going through the house and out the front door. Weena appeared in the back yard, wearing shorts and a t-shirt.

"Are you planning a psychotic rampage?" she asked, half smiling.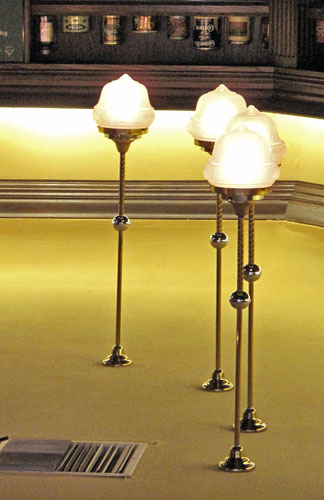 "I want you to know that I'm taking this very seriously," I set down the knife. "Don't you love me, Weena?"

"We've never talked about that. I thought you wouldn't mind if I did another fatsy."

"I do mind. I—I've grown very attached to you. Who was the guy?"

"Dick Simly. Your landlord. I'm sorry you're upset. I don't have to do him again. It wasn't normal sex like with you. I was implanting jiva larvae in Dick's flesh." She bucked her hips gently. "With my ovipositor. Like a wasp."

"You're crazy," I said. But I had to laugh. Weena was a step beyond spacy, that was for sure.