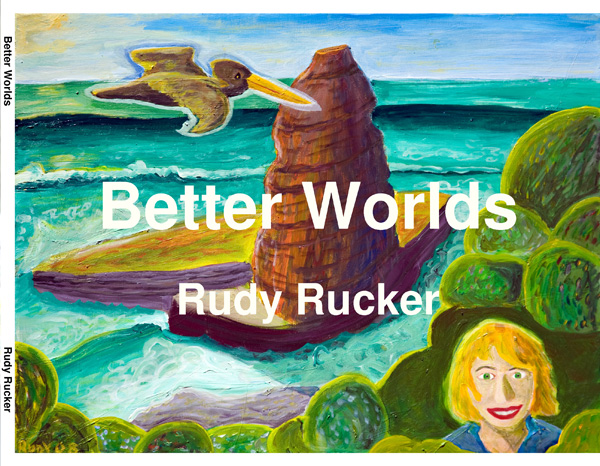 As I've mentioned on this blog, I'm becoming more and more interested in the notion of self-publishing print-on-demand books and ebooks. So I decided to publish an art book on Lulu.
It's called Better Worlds, and you can order your own printed copy for $29.99 right now! Printing and delivery takes a little over a week, so you can definitely get one by New Years Day, or maybe even by Christmas.
The book is a 98-page quality paperback, 9 by 7 inches, and includes full-page images of all forty-seven of my paintings, printed in high-quality color (400 dpi). I also have comments on each of the pictures in there. Here's the introduction: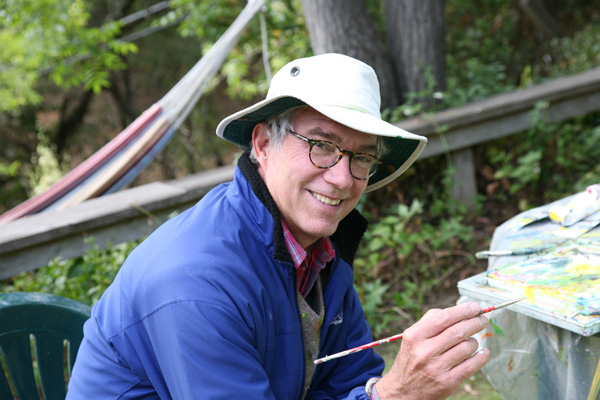 I took up painting in 1999 and quickly I fell in love with the medium. I started with oils, and switched to acrylics, as they're more amenable to quick set-up and clean-up. My studio is a plastic chair and table in our back yard.

I enjoy the exploratory and non-digital nature of painting, and I love the luscious mixing of the colors. Usually I make a quick sketch with broad brush. Sometimes I have a specific scenario in mind, other times I don't think very much about what I'm doing, I just paint and see what comes out. Sometimes I'll even start with an abstract pattern and slowly tweak the blobs into objects. Once I know where I'm going, I'll polish the painting through two or three or even more iterations. I'm never in a rush to finish.

My pictures are realistic in the sense that they contain recognizable objects and landscapes, but fantastic in their use of heightened colors, cartoony simplifications, and odd scenarios. Many of images are telling a little story.

It's possible to buy prints of my pictures, and even some of the individual paintings—information can be found on my website, www.rudyrucker.com/paintings.

Enjoy my dreams of better worlds.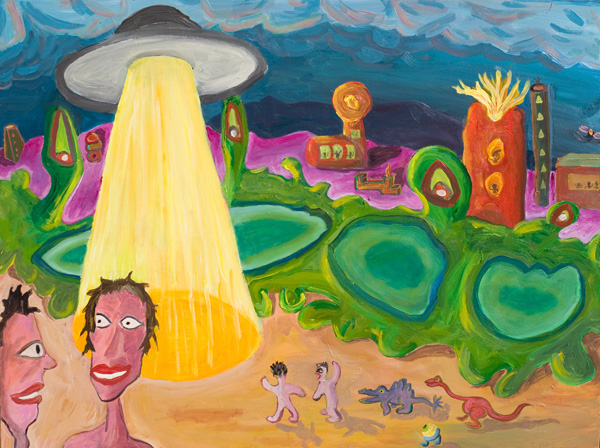 This week I finished my latest picture, a big guy called Welcome to Mars, and, yes, that's the last picture in the Better Worlds book. I wanted to paint a big science-fictional scene. Note that, in the title, I'm using "Mars" in the generic SF sense of "a strange alien planet."
As I often do, I started out with an abstract pattern created by using up the paint remaining on my palette from my previous painting. The first thing I got was a big yellow triangle. And then I thought of it as being a beam emanating form a flying saucer. That green band of monstrous beings was originally a line of foliage, and then it became a hive creature with multiple eyes and mouths. The very last thing I added was the group of little people and critters watching the saucer land—or maybe it's taking off. It represents a new order.
The pair of people in front were originally going to be Romeo and Juliet again, but now I think of them as a President-elect and his wife at a U.S. Inauguration! The Obamas? Welcome to Mars, guys.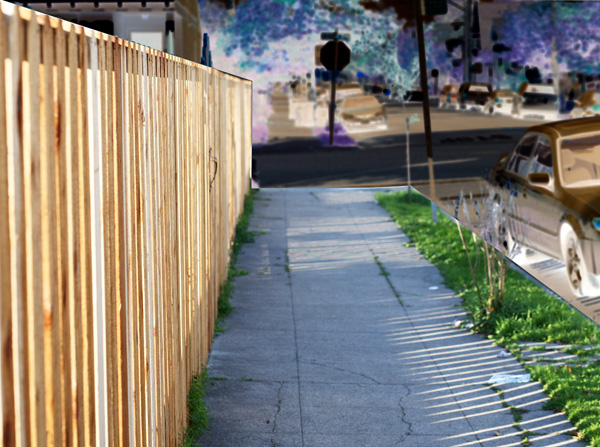 Step off the straight and narrow, and take a walk in Rudy's Better Worlds!
(By the way, you can see medium-res images of all the paintings on my Paintings page.)