More from my memoir-in-progress, Nested Scrolls.
In March of 1983, I got the Philip K. Dick award for Software. Sylvia and I flew up to New York City for the awards ceremony. Earlier that evening we had dinner with my editor Susan Allison, the editor David Hartwell, a writer friend of Phil's called Ray Faraday Nelson, and the well-known writer Tom Disch—who was the one who'd initially proposed starting the award. Disch was a good guy, immensely hip and cultured.
Our whole party walked over to Times Square, where we saw Bladerunner, the brand-new movie based on Phil's novel, Do Androids Dream of Electric Sheep. On the way over, I talked to Ray Nelson—he was such an in-the-moment guy that later in the evening when he had to make a speech, he just went over the things we'd talked about.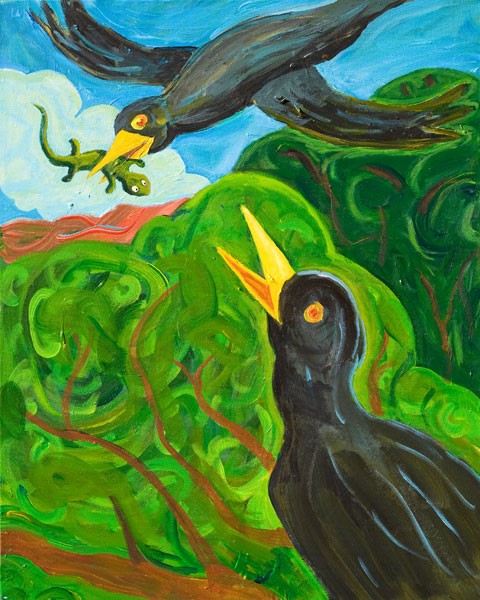 [I finished a new painting this week, it's called Caw! Crows don't actually have yellow beaks, but I think they look right. Check out the worried, astounded expression in that poor little lizard's eyes.]
I liked the Bladerunner movie a lot, particularly the first part, with the blimps bearing electronic billboards, and the cop smoking pot while he interviewed the android, and the dark futuristic city with the neon lights glinting off pavements slick with rain. The last part of the movie seemed too violent, and inappropriately so, given that Phil's Androids novel had largely been about empathy and peace. But that's Hollywood.
"Phil would have loved it," Ray Nelson reassured me. Actually, I've always wondered if Phil's worrying about the movie in progress was what drove him to his fatal stroke—remember that the old phrase for stroke was "apoplectic fit." (In the past, I've blogged about how I imagine Phil as a person .)

[Note the squirrel on the clothesline!]
The award ceremony was in an artist's loft, with the hallways covered in reflective silver paint. One of the first people I ran into was my artist friend Barry Feldman from college. Incredibly, he was wearing a suit, and he looked more like Chico Marx than ever. He seemed just a bit envious of me getting an award—although he was a great painter, working all day long in his studio, he wasn't breaking into the gallery scene. On a sudden whim, I told Barry he could pose as me and enjoy the fame.
As I was such an outsider to the SF scene, nobody knew what I looked like, and the substitution worked for about half an hour. Barry stood by the store shaking hands and signing books, twinkling with delight. I stood across the room, drinking and hanging out with Sylvia, Eddie Marritz, his wife Hanna, and Gerard Vanderleun, who'd edited The Fourth Dimension at Houghton-Mifflin. In the end it all got sorted out, and I met the people I needed to meet—among them was Susan Protter, who'd end up being my literary agent for the years to come.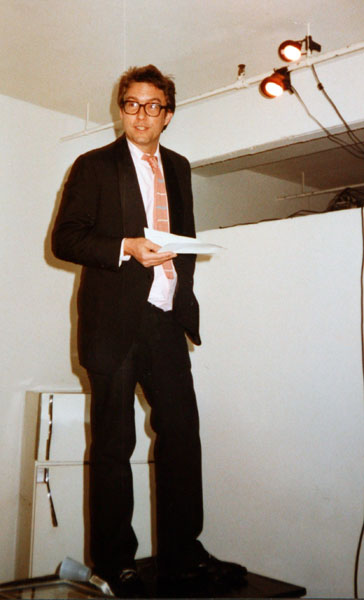 Finally I stood on the bar at one end of the room and delivered a short speech that I'd composed on the plane, thinking about the Garbage King, a guy whom I'd met at Lynchburg party and had imagined to be the ghost of Phil Dick.
"If I say that Phil Dick is not really dead, then this is what I mean: He was such a powerful writer that his works exercise a sort of hypnotic force. Many of us have been Phil Dick for brief flashes, and these flashes will continue as long as there are readers. … I'd like to think that, on some level, Phil and I are just different instances of the same Platonic form—call it the gonzo-philosopher-SF-writer form, if you like. … If it is at all possible for a spirit to return from the dead, I would imagine that Phil would be the one to do it. Let's keep our eyes open tonight, he may show up."
The next day we went to visit Barry and his wife at his studio. I'd lifted a bottle of liquor from the awards ceremony to give him. He looked a little embarrassed. It turned out he'd bagged three bottles himself. (I wrote some more about all this in an essay "Haunted by Phil Dick", which appeared in my collection of essays, Seek!.)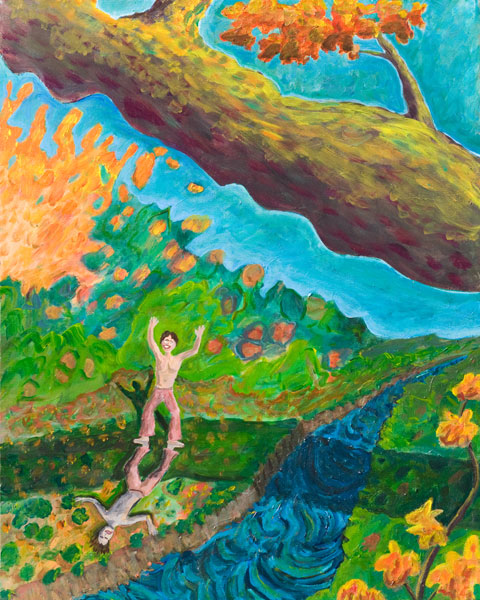 [I changed my earlier painting "Owl Creek" and gave it a new name, "A Fork in Time." The picture represents more clearly than before the notion of someone going through a moment in time where the universe forks and in one branch they live and in the other they die.]
On Easter Day, 1989, I'd receive my second Philip K. Dick award—my third dick, you might say. It was for Wetware, my sequel to Software, and the ceremony was at a smallish regional SF con in Tacoma, Washington. It wasn't like the artists' loft in New York at all. It was in a windowless hotel ballroom with a dinner of rubber ham and mashed potatoes.
By then I was working a day job, and I didn't have time to write as much as before, which had put me into a depressed state of mind. Winning the award, I felt like some ruined Fitzgerald character lolling on a luxury liner in the rain—his inheritance has finally come through, but it's too late. He's a broken man.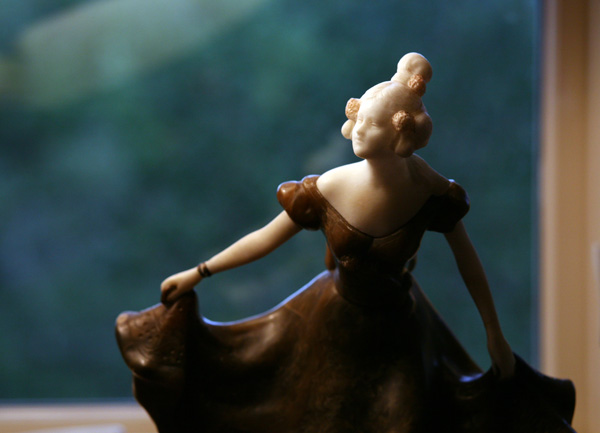 In my acceptance speech, I talked about why I'd dedicated Wetware to Phil Dick with a quote from Camus, "One must imagine Sisyphus happy." I see Sisyphus as the god of writers or, for that matter, artists in general. You labor for months and years, rolling your thoughts and emotions into a great ball, inching it up to the mountain top. You let it go and—wheee! It's gone. Nobody notices. And then Sisyphus walks down the mountain to start again.
In my speech, I read a little more from Camus's "The Myth of Sisyphus":
"Sisyphus, proletarian of the gods, powerless and rebellious, knows the whole extent of his wretched condition: it is what he thinks of during his descent. The lucidity that as to constitute his torture at the same time crowns his victory. There is no fate that cannot be surmounted by scorn."
As so often happens, nobody got what I was talking about. One of the fans invited me to come to his room and shoot up with ketamine, an offer which I declined. Outside the weather was pearly gray, with uniformed high-school marching bands practicing for something in the empty streets.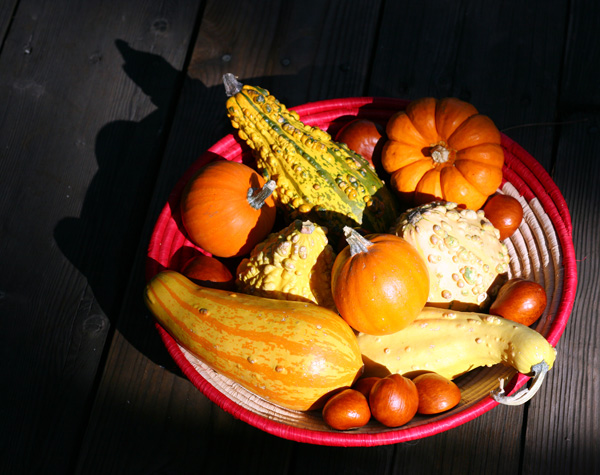 But never mind all that ancient gloom! It's a new world now. Happy Thanksgiving!