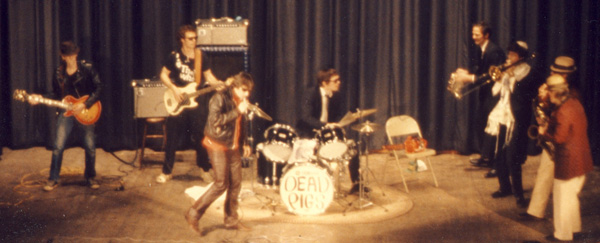 Bassman Andy Warren sent me a picture of our glorious punk band, "The Dead Pigs," in action in Lynchburg, VA, 1982, twenty-five years ago. We were playing at Randolph-Macon Woman's College, where most of us then worked—although very few of us were going to be working there much longer. Thus the punk assault.
I was the singer, and that's Andy behind me, and our townie ringer Tom MacMillan on the left (he could actually play the guitar), and Mike Morris on drums—he was even more of a troublemaker than I was back then. On the right, from the rear, Roland Girling on tambourine and chain-saw, Jack Schewel on trombone, and Mike Gambone and Georgia Grove playing saxophones.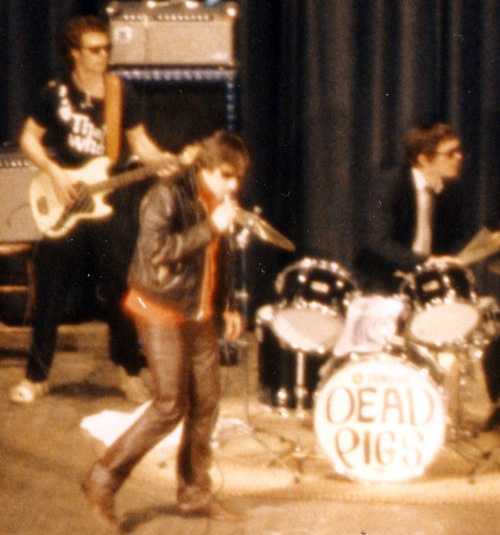 We did a killer version of Duke of Earl.
"Daddy sent me to Randy-Mac.
He bought me a horse and a Cadillac.
I sold the car and bought me a brain.
Now I'm half grown up and I'm goin' insane.
Duke duke duke, Duke of Earl
duke duke, Duke of Earl,
duke duke, Duke of Earl."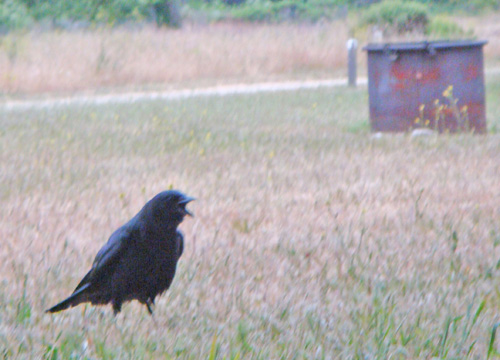 I have a VHS tape; maybe one of these days I'll MPG it and post it. By the way, in later years, Mike Morris started a second Dead Pigs band in Florida, but I never got down that way to hear them or jam with them, but Andy did. I see that I blogged on the Dead Pigs once before.