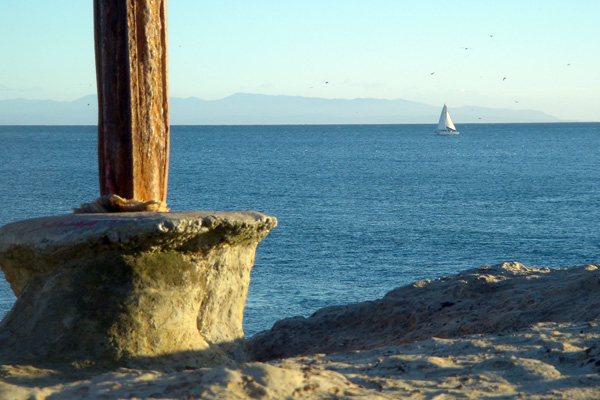 Yesterday I was in Santa Cruz and neighboring Capitola for the day. I was happy because my old SJSU student turned journalist Gary Singh wrote a great article about me in the Santa Cruz Metro. "It's so California, you just wanna scream, Yeah! Which was always the best thing about Rucker's novels anyway: You'd find profound high-tech Silicon Valley right amid rock & roll, '60s radicalism, counterculture and the fourth dimension."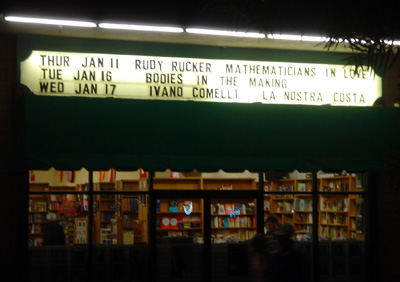 I was in town to give a reading at the Capitola Book Cafe. They had my name on a marquee. I was scared to go in. I was scared nobody would show up.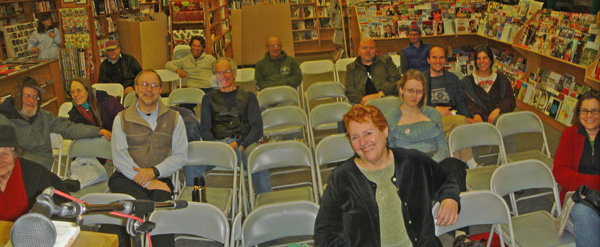 We had nearly 20 people, not bad. I knew a few of them. Karen Joy Fowler even turned up unexpectedly (in red).
And Nick Herbert was there, who helped me figure out the character of Frank Shook for my novel Saucer Wisdom. Of course Nick himself bears no resemblance to actual people living or dead! I discuss Nick's concepts of matter and consciousness in my Lifebox tome. I hope to feature some of his poetry in the Spring issue of my webzine Flurb.