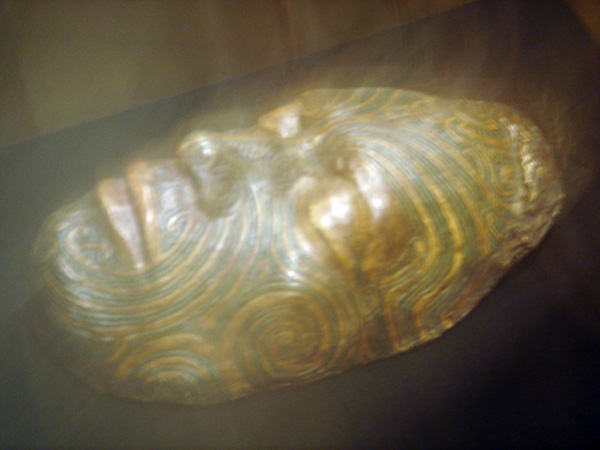 I saw a lot of Charles F. Goldie's paintings in Auckland and another Goldie painting in Wellington and another in Christchurch; Goldie (1870-1947) painted Maori with full facial tattoos, these tattoos are called moko or ta moko. This particular image shows a tinted cast made of a chief's face after his death; it's in the Te Papa museum in Wellington. I asked the Maroi woman guard if anyone had ta moko anymore, and she said she knew a lot of guys who had it, and they'd all been at a "Power" concert together the night before. I bet those are some heavy dudes. Like Hells Angels so scary they don't even need motorcycles.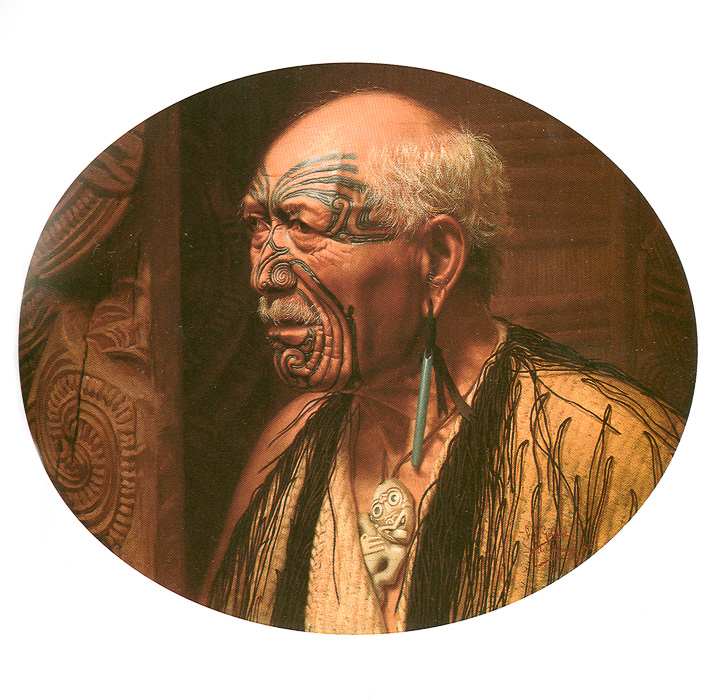 Amazing designs, rich with the arching branches of fern fronds and the curled up spirals of fern fiddleheads. Goldie's pictures show that the tattoos were in fact carved into the skin. Dig the Tiki necklace he's wearing, you see that litlte man with the crooked head everywhere in Maori art.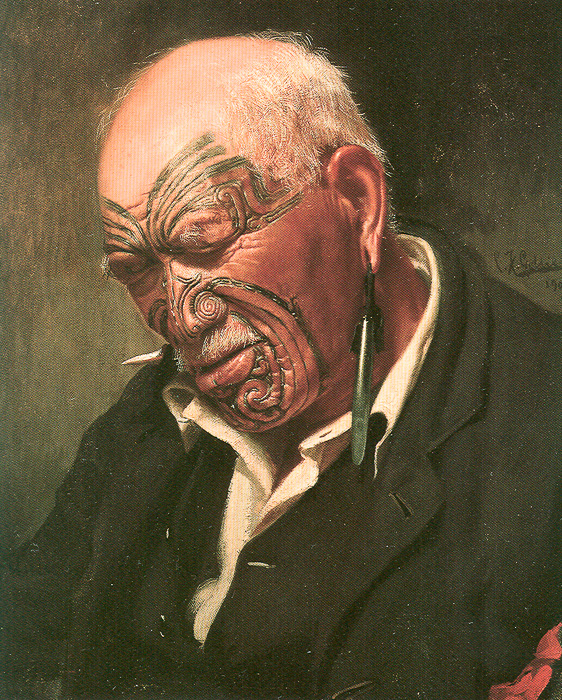 Note that this second painting shows the same man as the first painting, a chief named Patara te Tuhi. This picture is called "A Hot Day." The Maori posed for Goldie for a daily fee.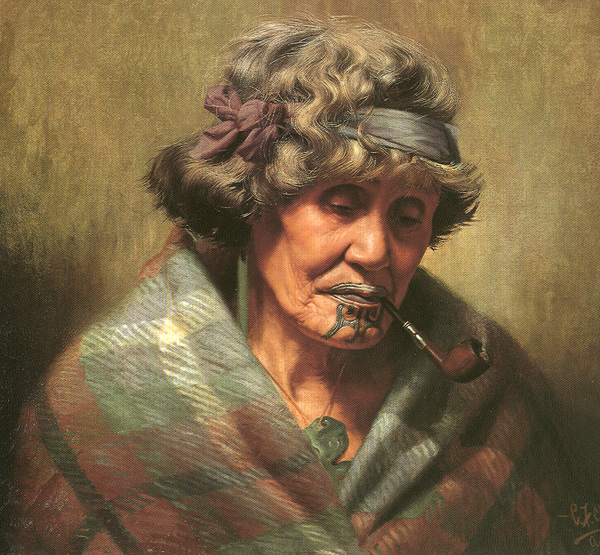 Ina Te Papatahi was one of the first Maori he got to know. The women generally had their moko only on their chins. Also it was only the higher ranking members of the tribes who had moko. Goldie painted Ina many times. In the gallery I heard a guide talking about her, she seems to have been quite a character, involved in intrigues with more than one tribal chieftan.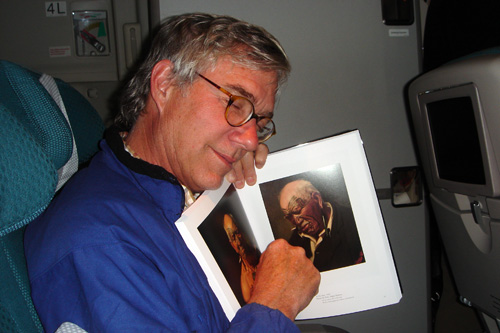 I bought a very interesting book at the Auckland Gallery, Roger Blackley, Goldie, (Auckland art Gallery, 1997). Goldie is a great old-school academic painter.
Note that the moko tattoos were around for many years, but the idea of accompanying them with scarification "moko whakairo" became widespread only in the 1820s, according to Pita Graham, Maori Moko or Tattoo (Bush Press, Auckland, 1994). Perhaps the carved moko took hold because at this time the the Maori had metal knives from the Europeans, meaning that they could carve the moko in a little better than with the bone and stone tools they'd used before. This picture is called "All 'e Same t'e Pakeha" which means, I think, "All Europeans look the same," or maybe it means "Don't I look European?" — pakeha being the Maori word for European. (Actually some of my commenters say it probably means "All Maori look the same to Europeans.") It is perhaps a somewhat condescending title, as Goldie had a colonialist kind of attitude toward the Maori. But obviously he was deeply fascinated with them as well. It's a great picture, it would be so cool to hang out with this model (the chief Te Aho-o-te-Rangi Wharepu of the Ngati Mahuta tribe.) Certainly Goldie's models liked his portraits of them very much; a few letters from the Maori models survive — Goldie would give photos of the paintings to the models.
The flowering of ta moko after European arrival reminds me of how totem poles got big after the natives of the Pacific northwest got steel axes from the traders. In both cases a native art form that had this big flowering right after First Contact — right before the collapse of local culture.
I see this pattern as underlying the metanovel form in Postsingular. It's a case of extreme Baroque new-technology-mediated form that is fated to collapse due to side-effects of the very tech that makes it possible.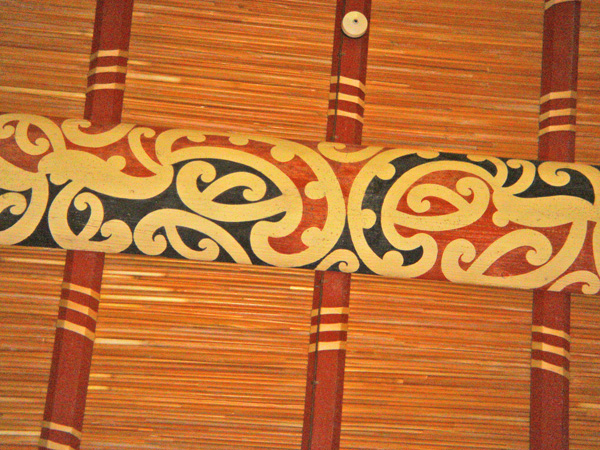 There's a bit of a renaissance in moko these days, some tough-looking Maori have them now. High street fashion. I don't think a European could get away with wearing one, at least not in New Zealand. If anyone has links to photos of contemporary moko, let me know.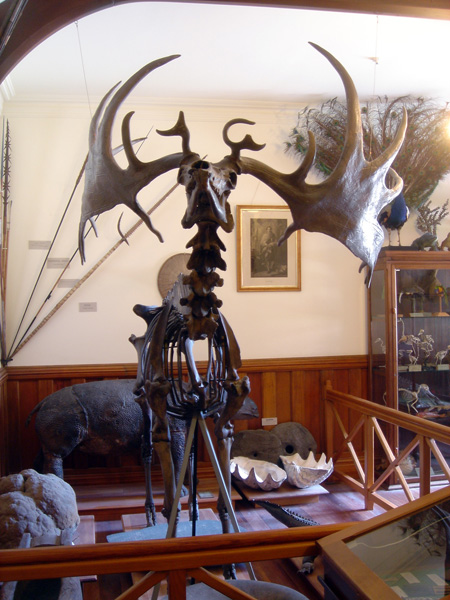 [Irrelevant photo of an Irish Elk skeleton in a jumble room at the Chirschurch museum.]
An interesting grisly sidelight. When someone with a really great moko dies, you hate to throw out that beautifully decorated head. So the Maori sometimes mummified tattooed heads. And then of course traders began wanting to buy them. It's said that some Maori tribes began deliberately hunting heads off neighboring tribes or even taking a slave, tattooing him, and then the cutting the slave's head for sale. I want to write a short story which is a nice first-person account of a crew member of a whaling ship who jumps ship in the Bay of Islands near Russell. He has an affair with a Maori woman and is then kidnapped by her tribe. They tattoo him and at first he thinks its an honor, and then he realizes they plan to sell his head. "All 'e same t'e pakeha." He escapes in a small boat, a storm blows up and he's swept into higher and higher southern latitudes, towards the mouth of the Hollow Earth! Mocking moko skulls dance around him. [These drawings are from the Bush Press book mentioned above.]