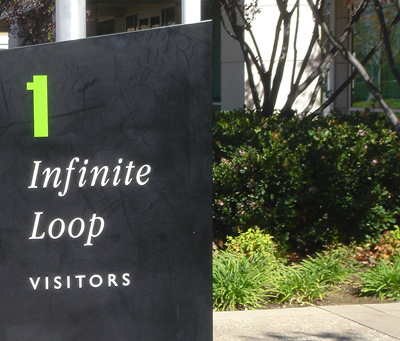 I went to have lunch at Apple yesterday. Their address is "1 Infinite Loop," which seems cute, but the roadways by the entrance are set up so that if you make what looks like a natural turn for the parking lots, it whisks you onto northbound De Anza Boulevard and you have to make a difficult U-turn and two left turns to get back. Infinite loop indeed.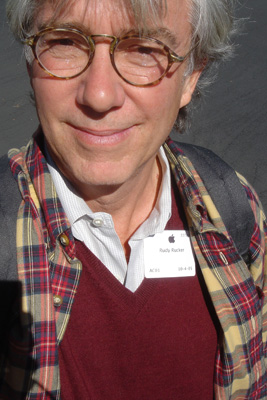 I got to have a special Apple badge. Somehow the high-voltage grills at the doors failed to detect that I'm a Windows programmer, and I escaped vaporization.
I was there to see my former students Leo Lee (right), and Alan Borecky (left). Alan works for Electronic Arts on the Tiger Woods golf games; he was just visiting like me. Leo recently started working at Apple on a project he wouldn't tell me anything about. He's enjoying himself.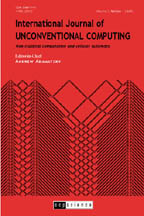 On another note, computer visionary Rodney Berry tipped me off about this great new magazine, the International Journal of Unconventional Computing, about the generalized kinds of computations that I write about in my book The Lifebox, The Seashell, and the Soul. What makes this journal site really great is that all the papers are readable online! You can, like, find out about using Zhabotinsky scrolls as a computer.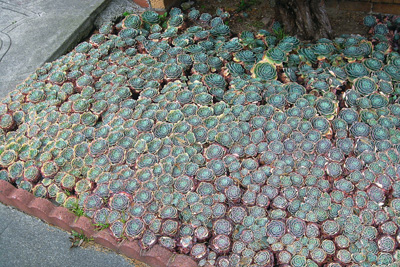 Meanwhile the hen-and-chicks cacti are processing data in the computational fog. Which leads to quantum computing, which leads to way-out-there theorist Scott Aaronson, who's just started a blog with a link to a mind-breaking, incomprehensible but somehow very interesting list of ten problems for quantum computing. SF writers can strip-mine this page for buzzwords.