Yesterday I went on a kayak tour in the rock islands, it was called "Jake's Tarzan Tour." It was one of the best days of my life.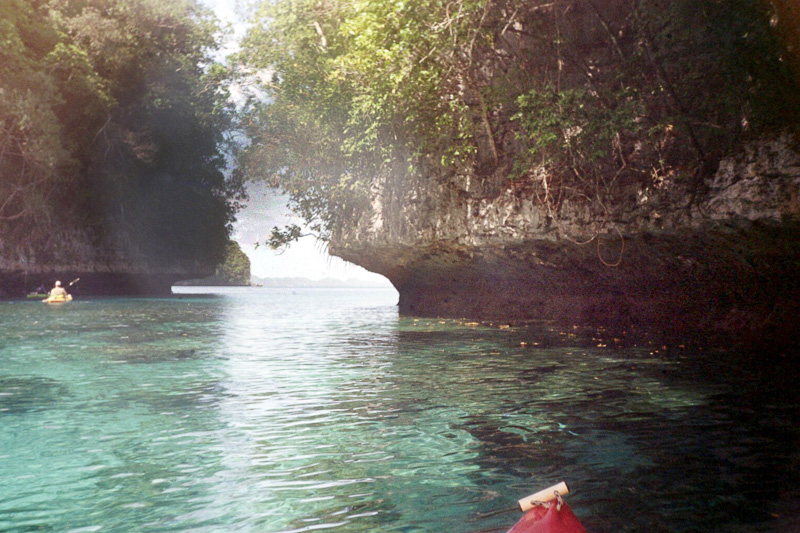 Our guides were three Palauans: Jake, Ding and Rayna. They were great: wild black natives, talking rapid-fire Palauan to each other all day, Jake was the very image of the old-style Polynesian chief, though later I found out he'd gone to college, started a career as an accountant, and thrown that over to be a tour guide.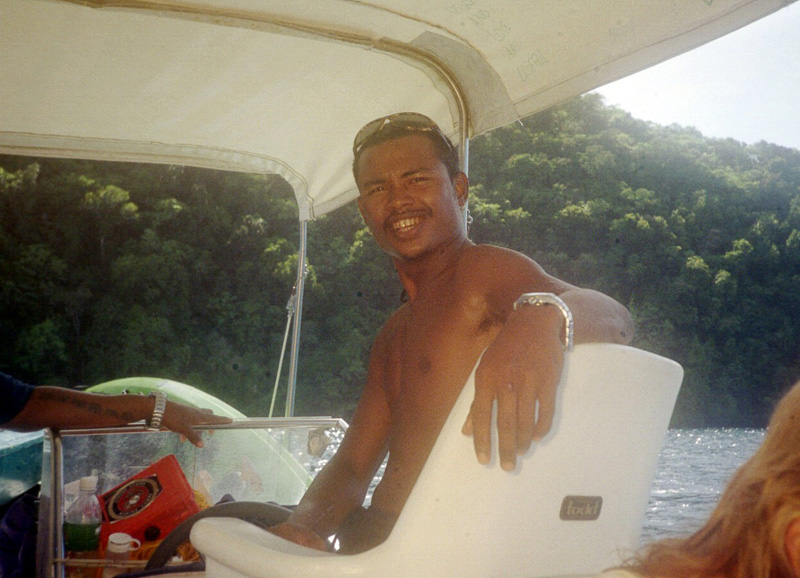 There were five of us tourists. They loaded up five single-seat hard kayaks on a boat and motored out to our starting point. For the rest of the day, we kayaked in stages: we'd get to a location and the motor boat would be waiting there, we'd tie our kayaks to the boat, go snorkeling, climb up the ladder to the motor boat, replenish our supplies, and then remount our kayaks. Jake had six waypoints for us: a hidden underwater tunnel leading to a tree-lined lagoon filled with giant clams, and a sunken ship from the 1930s.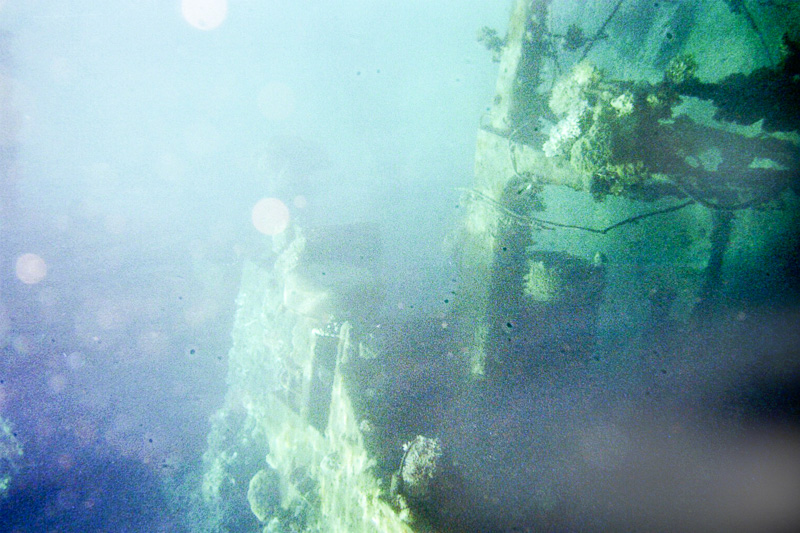 And then a little point where Jake speared a fish, a large lagoon with a beach where we had lunch, an underwater tunnel leading to a cave filled with blue light coming up from the water, and an arch connecting two bays with soft corals growing on the sandy bottom of the arch.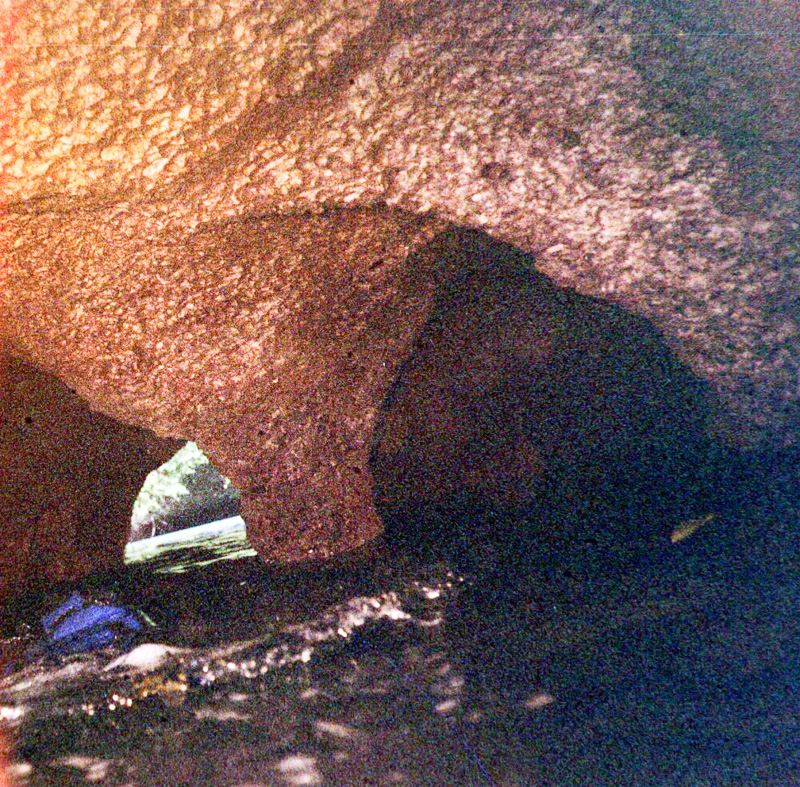 We must have skirted the edges of two dozen islands, none of them were all that large. Their edges are eaten away by the ocean so they stick out of the sea like muffins. In kayaks we could get far under the ledges of the islands. Little stalactites hung down, the turquoise waves lapped at the rocks, tree leaves drifted about. The islands themselves are less lush than I'd realized. From a distance they're solid green, so one thinks of a jungle. But the greenery is more like a thin layer of icing on a base of stark and toothy gray rock, porous limestone that's been eaten away into thousands of little blades and spikes. As humus collects in the pockets of rock, seeds take root and grow trees, some of them quite large.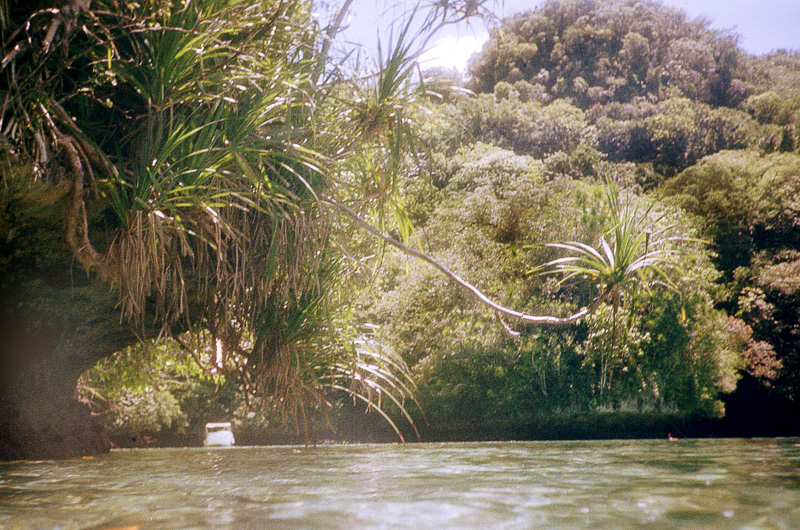 Coming into the lagoon for lunch I felt quite weightless; the water was so clear and unrippled, and the sand below it so white. It was as if my kayak were gliding through empty space. And quiet, quiet, quiet all around. Not a whisper of wind in the trees, only the gentle lapping of the waves, the occasional calls of birds and, of course, the sporadic whooping of the Palauans. I had such a wave of joy, wading around that lagoon, and a profound sense of gratefulness, both to the world for being so beautiful and to God for letting me reach this spot. I had another wave of these feelings a bit later when we were kayaking through a maze of small islands in shallow water, bays that no motor boat could reach. Peaceful, peaceful. Eden. The world as it truly is meant to be. Thank you, God. I'm glad I lived long enough to get here.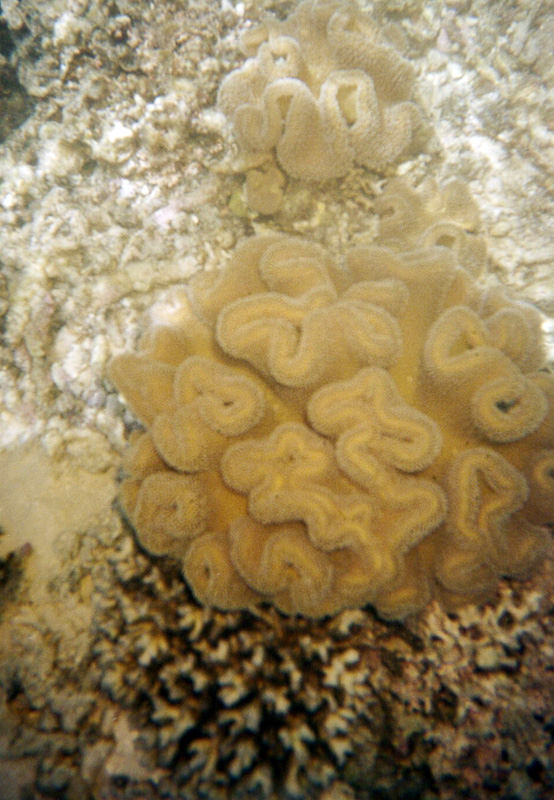 High in the air above one of these sunny backwaters, I see a large dark — bird? It's the size of an eagle, and, no, it's a fruit bat, the sun shining through the membranes of its wings. The islands look like green clouds come to earth; mirroring their fluffy white brethren above.
In the last snorkel spot there are lovely pale blue and pink soft corals, branching alveolar broccolis on the sandy bottom of the archway connecting two bays. Fractals, in short. Swimming through the arch, I encounter a shoal of maybe ten thousand tiny tropical fish, like the fish you'd see in someone's home aquarium, little zebras or tetras. With my snorkel on, I marvel at their schooling motions, their bodies moving in a unison like iron filings in a field, their ropes and scarves of density emerging from the parallel computation of their individual anxieties. The turbulent water currents compute, the clouds in the sky, the cellular automaton reaction-diffusion patterns on the mantles of the giant clams, the Zhabotinsky scrolls of the shelf corals, the gnarly roots of plants on the land.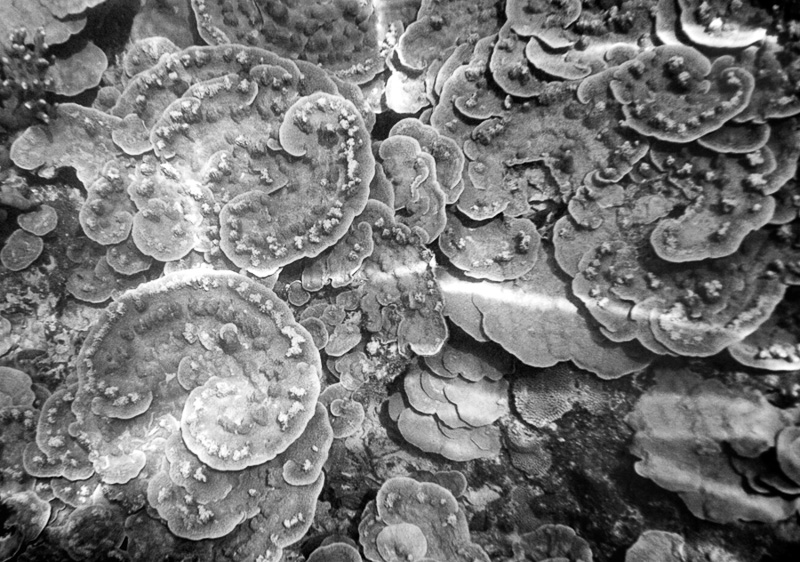 And I'm thinking that maybe, yes, maybe after all everything is a computation. Universal automatism gives me a point of view from which I can make sense of all these diverse forms I'm seeing here. Maybe Wolfram is right to chide me for "taking it all back" at the end of Lifebox. But what about my thoughts, can I see those as computations too? Well, why can't they just be fractal broccoli, flocking algorithms, class four turbulence, cellular automaton scrolls. I ascribe such higher significance to them, but why make so much of them. Are my thoughts really so vastly different from the life forms all around me in these lagoons? Why not relax and merge. All is One.
And if I find it useful to understand the One's workings in terms of computation, don't think that this reduces the lagoon to a buzzing beige box. The lagoon is not reduced, the lagoon is computing just as it is. "Computing" is simply a way to speak of the dance of natural law.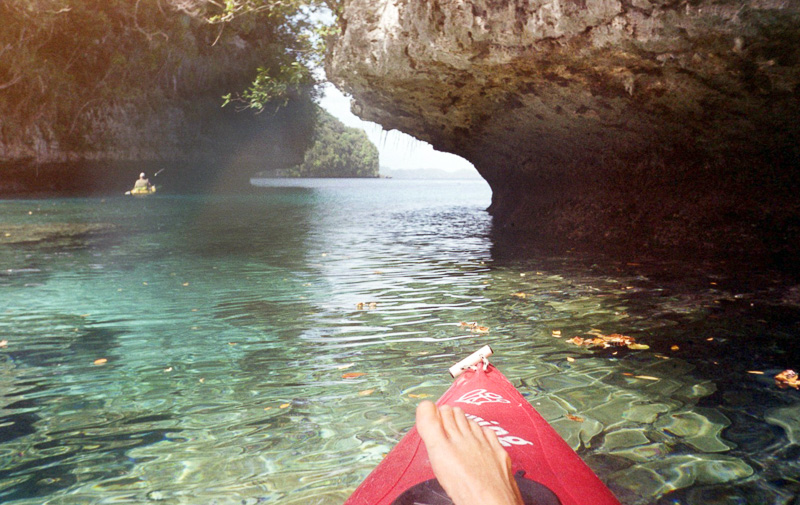 Speaking of dance, when we got back to the dive shop, Jake and Rayna were kidding around with this nice, cute American girl who's just moved to Palau and is supporting herself by working at the shop — I met her the other day because she came along on the Blue Hole dive on her afternoon off. And Jake and Rayna start dancing and chanting, crouched, facing each other, their hands shaking in their air, slapping their thighs, vital and joyous as a pair of indestructible cartoon characters. Archetypes.
I mark this day with a white stone.
(Which is what Lewis Carroll used to write in his journal on his very best days.)