As I've been mentioning, I spent the last two months doing final revisions for my two novels Return to the Hollow Earth (written 2017-2018, to appear from my Transreal Books in August or September, 2018) and Million Mile Road Trip (written 2015-2016, to appear from Night Shade Books, May 2019). Like ordering a dessert, and getting two. Fun, interesting, but now I'm worn out. Made (literally) about three thousand changes, large and small. By now I'm in a drifty, twinkling sci-fi fog, with my brain falling out.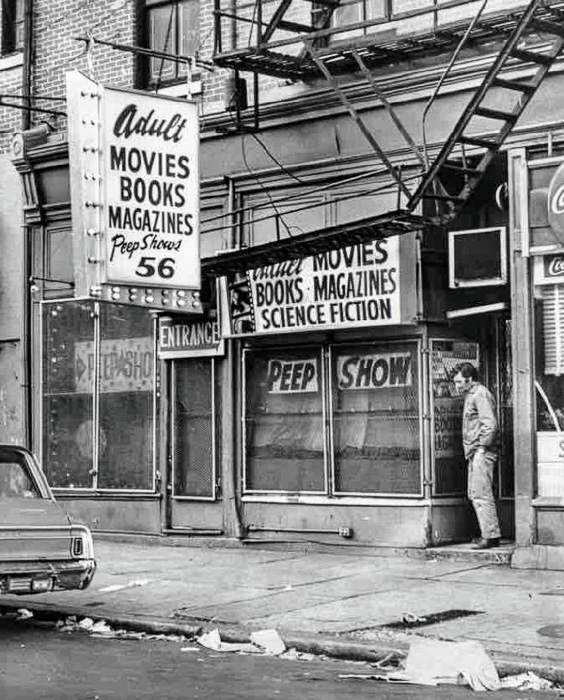 In the 50s and 60s, there was a notion that science fiction was a subliterature on the same low level as porn. Paul Di Filippo dug up this old photo to instantiate this notion. When I tweeted it, one of my followers commented to a friend, "That's him in the doorway," meaning me. I kind of liked that. Almost like being beatnik.
What with all the revising, I haven't gotten around to blog posts, other than a recent one about how to make an ebook. So today, as I sometimes do, I'll just be putting up some things from my bulging photo stash—even when I'm writing, I keep taking pictures.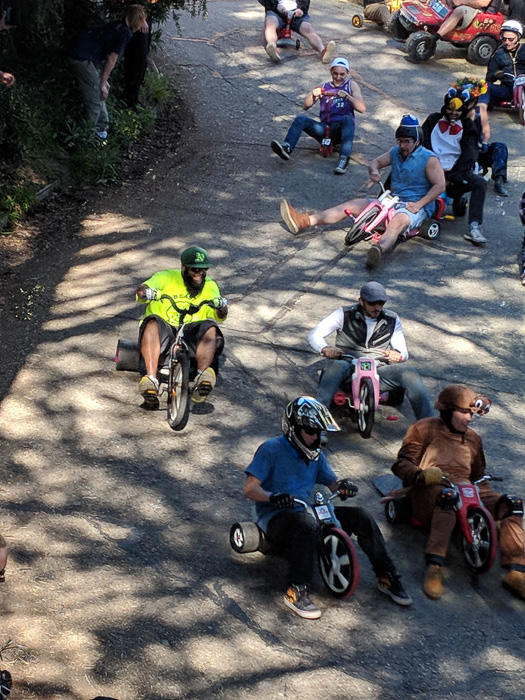 Did I ever post this photo of the Big Wheel race on Potrero Hill on Easter? Such a jolly event, and somehow nobody seemed to be getting injured. Adults (mostly) riding random scavenged kids' tricycles, Big Wheels, or office chairs.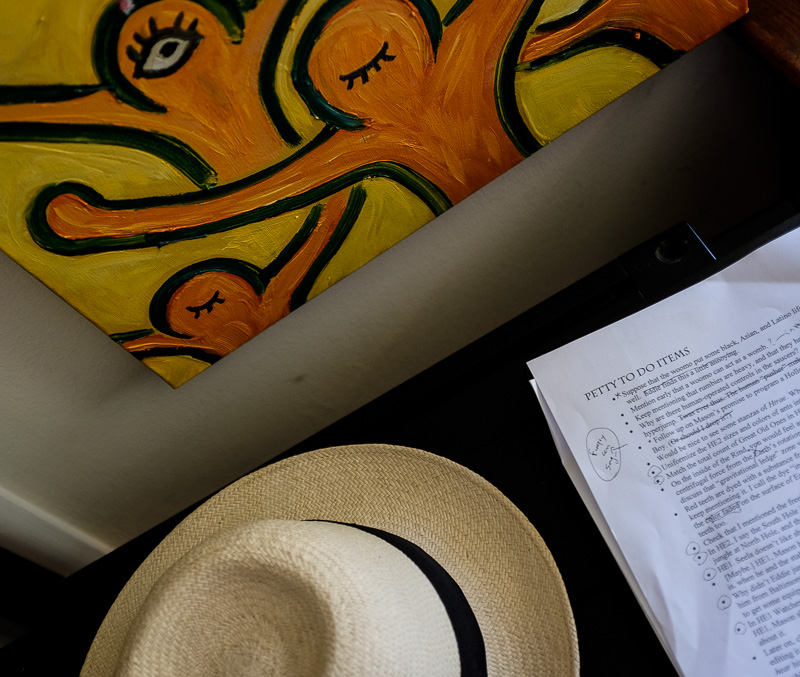 Here's my Notes for Return to the Hollow Earth manuscript from when I was nearly done revising the novel and (for that matter) the notes. Plus a corner of my home made Keith-Haring-style UFO painting, "I Once Was Blind, But Now I See." I don't understand why nobody has bought this painting…for sale for a (relative) pittance on my fab Paintings Page. And that's my nice Panama hat that I got about a year ago. They tend not to last more than one or two years…either getting lost or getting a cracked hole. Really the subject of this photo is shades of beige and yellow…and the use of the triangle.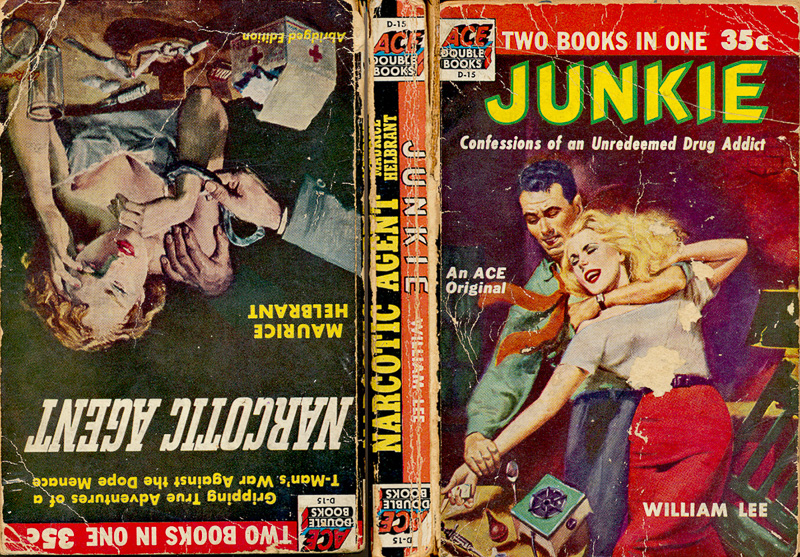 My writer friends Paul Di Filippo and Richard Kadrey delight in posting altered covers of old pulp paperbacks, somehow transmogrified into fantasy, science-fiction or horror titles. [See photo of me in the doorway at the start of this post.] This cover is the actual 1953 Ace Double edition of William Burroughs's first novel, Junkie, which he published under the nom de plume Willy Lee. My book dealer pal Greg Gibson gave me the book years and years ago. I knew of this book from the earliest days, and it's existence inclined me to send my 1979 novel White Light to Ace Books, as did Ian Watson's "Miracle Visitors." Like, "Those Ace guys are cool…" Greg was outraged when I actually took my rare Ace Double out of its plastic bag and read it, wanting to soak up the seedy 50s atmosphere. By the way, I feel it cannot be emphasized enough that William Seward Burroughs was fundamentally a science fiction writer, and is the true father of us all. But who is us?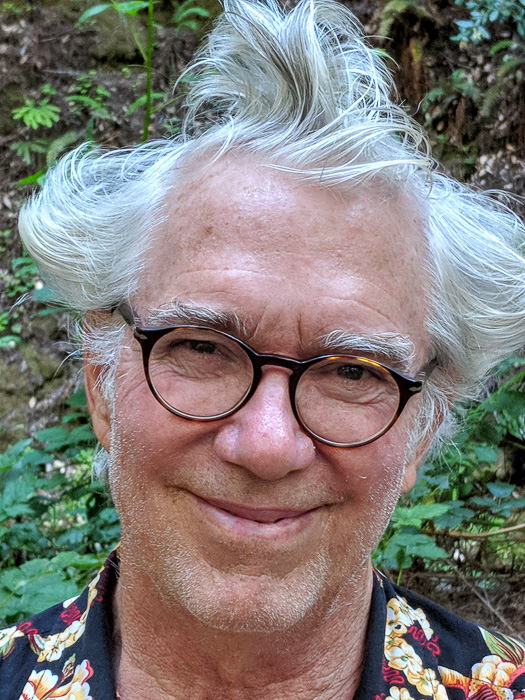 Went for a hike in the Santa Cruz Mountains near the famed Alice's Restaurant with Sylvia, Rudy Jr., and two of his kids. My granddaughter coiffed me with a Bozo do, kind of nice. Like a Mr. Frostee cone.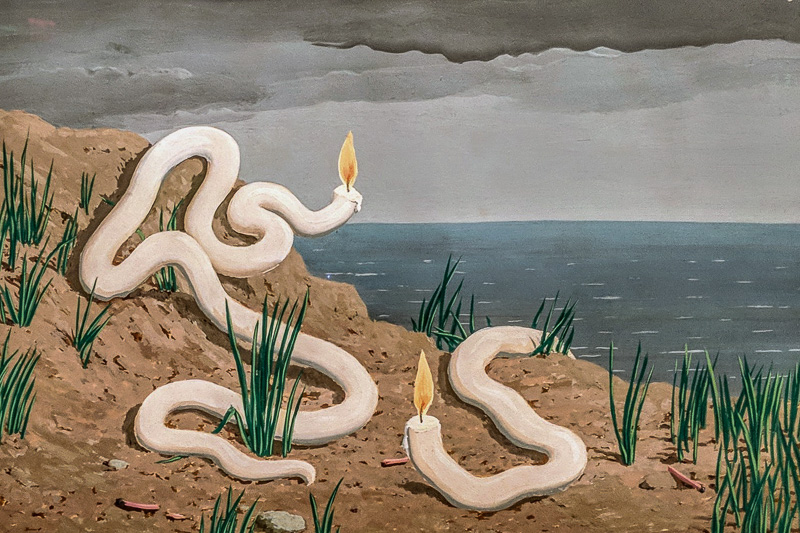 Big show by the surrealist Rene Magritte at the SFMOMA in San Francisco. Here's a painting I'd never seen—I forget the title now, easy to do, as a true surrealist often chooses a title that has nothing whatsoever to do with the image, although, of course, any image and any title do, at the deep waking-dream level, illuminate each other. I'd never thought of candles as being, potentially, flexible snakes. Aha!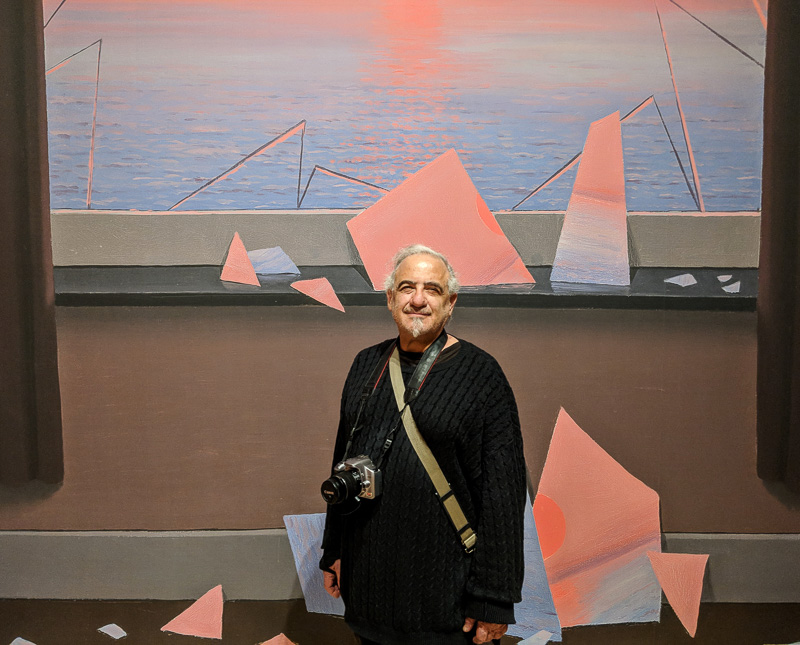 Our veteran artist pal Paul Mavrides came to the show with us. "Paul broke a big Magritte painting."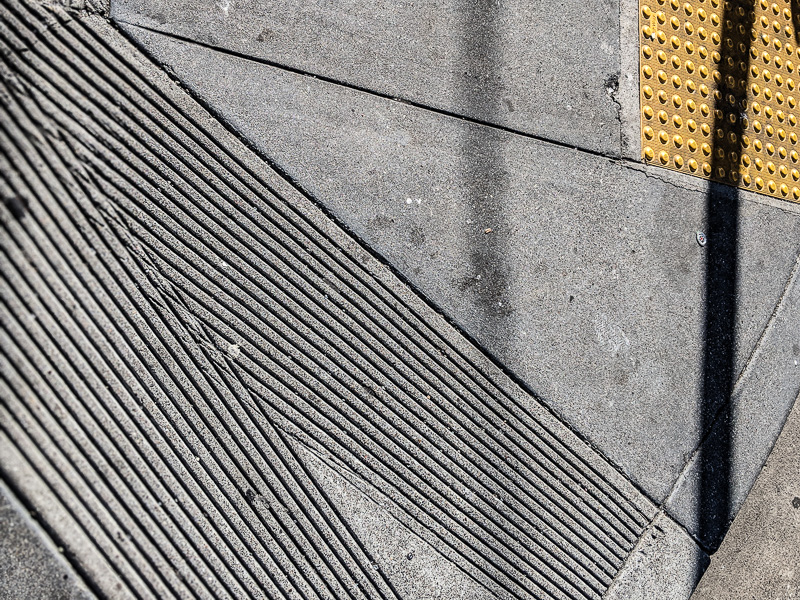 Synchronicity and randomicity. Both my new books involve one specific 4D construct: which you might call an "unny tunnel," or "anomaly," or "wormhole," or "Einstein-Rosen bridge." "You know what they are," insisted the seedy old writer. And synchronisitically I did the photographic equivalent of a "butt dial" on Valencia Street last week, that is, I shot a picture without noticing I did it, and the image has a very nice "lost in the fourth dimension" look to it. A calling card from the Muse: "Crossing a 4D street."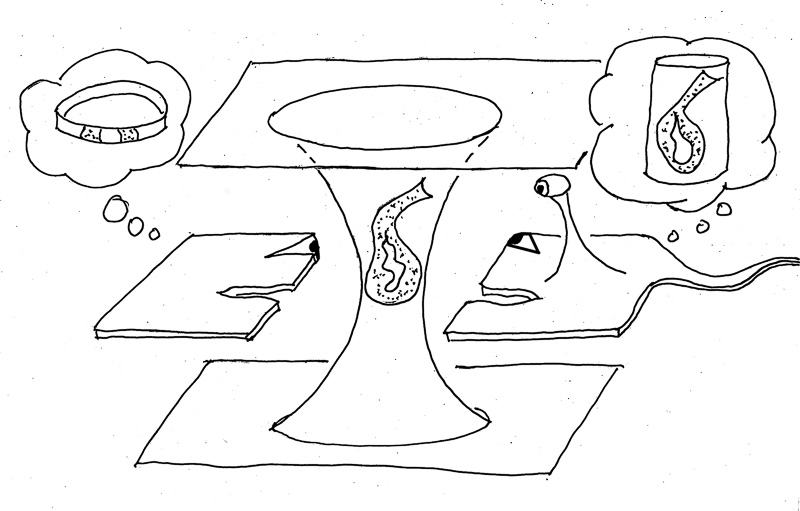 Here's a diagram explaining something complicated that happens near the end of Million Mile Road Trip. That square with the tail and the higher-dimensional eyestalk, I call her Yulia, or the flat cow.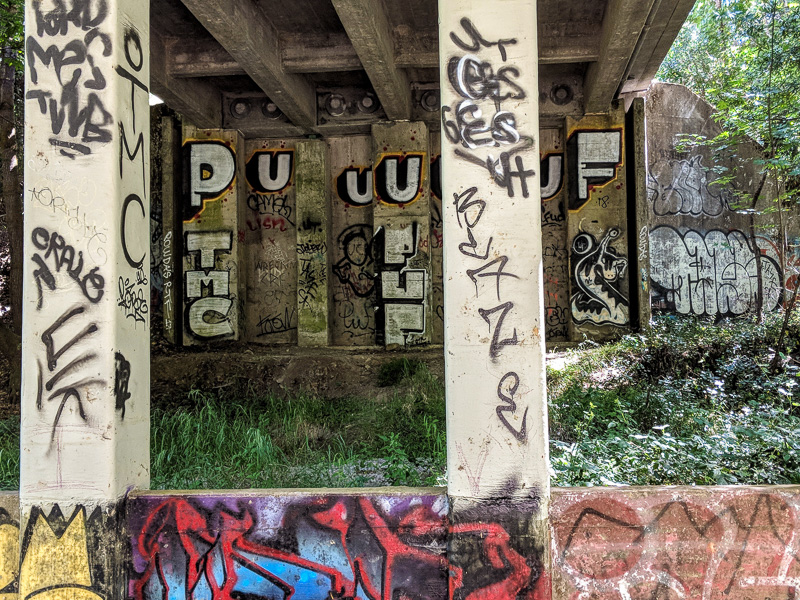 Demotic art of the graffitist, seen under a bridge over a woodland creek where I like to hike. I walk in the water on the gravel mostly, wearing Keens sandals. I went here the day after I finished fixing Million Mile Road Trip. Dig the five Us in the Puuuuuf…one U is unseen. Marveling at the woods, and beautiful disorderly order of the clouds and the ripples in the creek and the wind-wobbling leaves, it seems to me that it would be odd and unnecessary to vape to "get higher" Chaos is Enuuuuuf. But whatever works, dude. Far be it from me. Not even. Joie de vivre.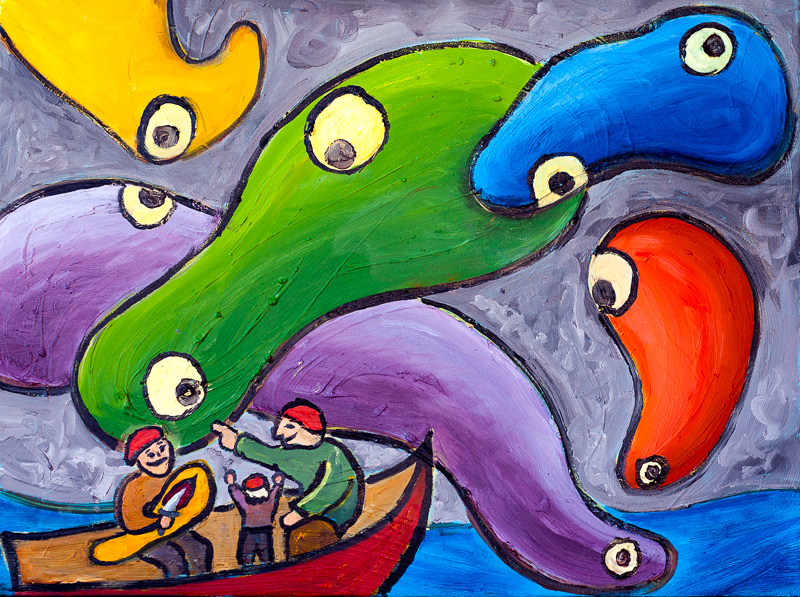 "Woomo Hunters" oil on canvas, May, 2018, 24" x 18". Click for a larger version of the painting.
While I was working on the ending to Return to the Hollow Earth, I did a painting of five large "woomo" creatures floating over a sea, with two men catching a baby woomo, and slitting it open, with their little boy watching. I don't think that the hunters are prudent.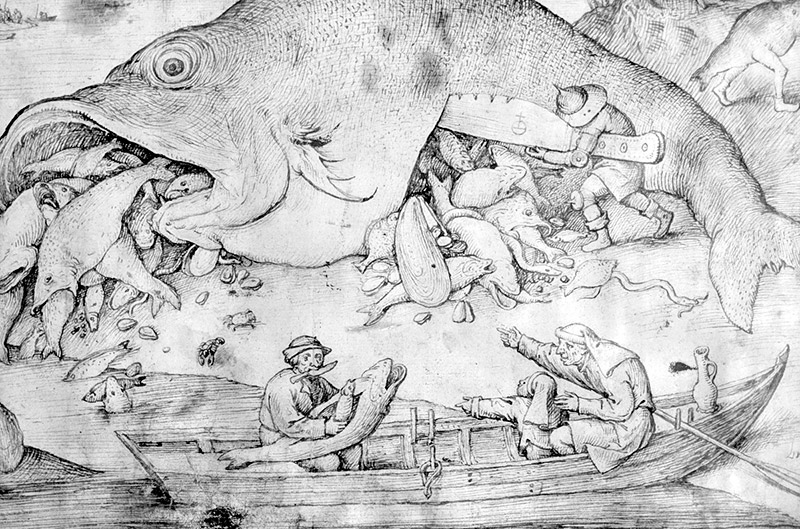 I took the composition of the hunters/fishers in the boat from a very famous 1556 drawing by Peter Bruegel. When the drawing was made into an etching, the publisher put the signature "Hieronymous Bosch" on it, just to help the sales. I love the thought of that. Bruegel forging Bosch! Like Jimi Hendrix playing Dylan's "All Along the Watch Tower."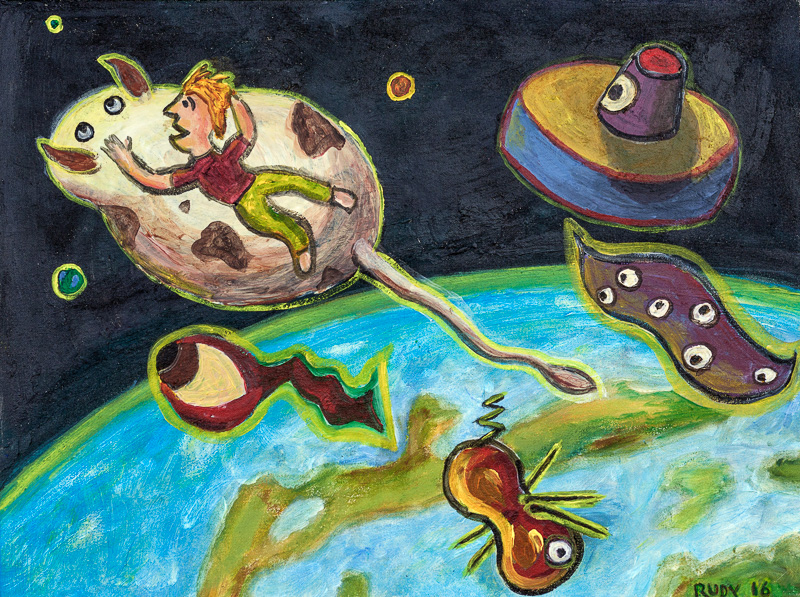 That's enough for today. I'll post some more later this week, or next week. Here's a passage from Million Mile Road Trip that I find amusing and heavy. The flat cow (shown above) is talking to my character Villy about the nature of reality as related to the two connected universes in the novel.
The world is made of stoooories," says the flat cow, getting into a divine wisdom routine. "Not atooooms. Words weave the cosmoooos. A tangle of gossip, archetypes, and jooookes."

The moos echo in Villy's head. He's always imagined his thoughts to be images of the firm external world. But Yulia's saying it's the other way around. Villy makes an effort to get to that state of mind. And for a few seconds he's there. Reality is a sea of sensations, feelings, and tales, intricately linked, with everything alluding to everything else. And the stodgy, solid, kick-a-brick, normative world—that part is the illusion. That part is the dream.

As for the split between ballyworld and mappyworld—there's really no difference between dreaming the world as a bunch of planets, or dreaming the world as an endless sheet of basins. Either way, it's the same gnarly thing underneath. Feet on a welcome mat. A tangle of talk. Yeah. Villy feels high as a kite.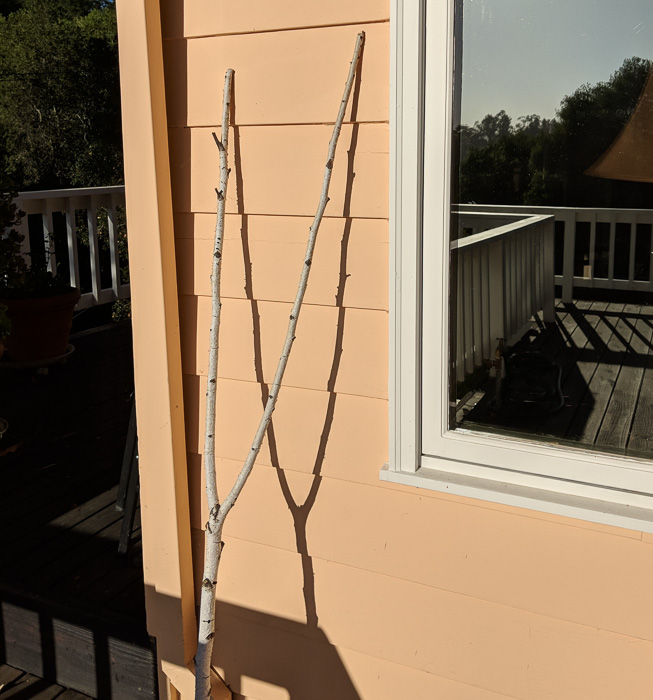 Just like the forked birch stick and her shadow, eh?