Sylvia and I went to the book launch party for the Complete Zap Comix boxed set at City Lights this week. There were 17 issues of Zap, running from #0 through the new #16 included with the set.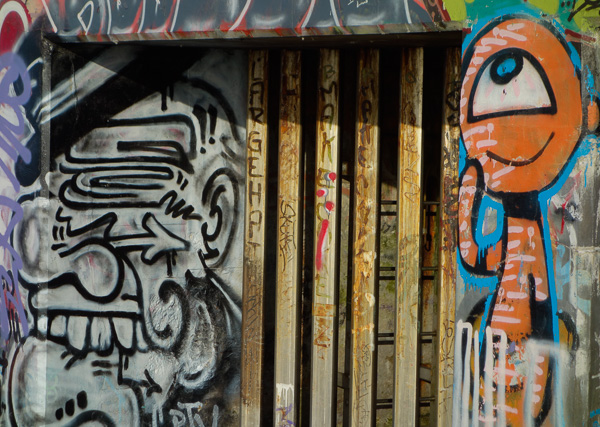 [Graffiti at Sloat Street beach in San Francisco.]
Of the eight Zap artists, Paul Mavrides, Robert Williams, and Victor Moscoso were there. Spain Rodriguez and Rick Griffin are dead. S. Clay Wilson has brain damage from a fall. Gilbert Shelton and R. Crumb remained in France.
There's a famous story about Crumb declining to participate in the traditional group "jam session" comic for Zap #14, and the other artists were mad at him. In the resulting jam, various seedy and eldritch cartoon characters are bringing R. Crumb's amputated penis and the tattooed mummy of T. V. pitchwoman Betty Furness to the court of a king. A dessert is served to the king. Here's the fairly hilarious conclusion of that jam, this frame largely drawn by Shelton with Wilson in the background, and with the follow-up frame including Spain and Mavrides.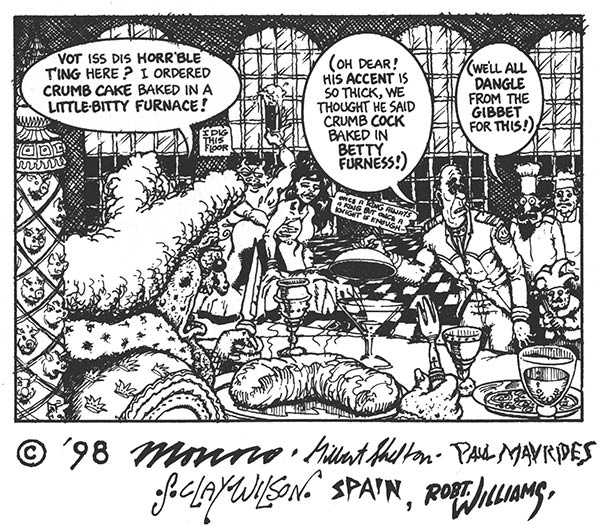 A frame from "(Self) Important Comics" in Zap #14, pen and ink on paper, Copyright © 1998 by Gilbert Shelton, Paul Mavrides, Spain, Robert Williams, Victor Moscoso, and S. Clay Wilson" Click for a larger version of this image plus the next frame.
I was planning not to buy the massive six volume + portfolio of prints Complete Zap Comix—the price is exorbitant. But, filled with the joy of talking to Robert Williams (who did the cover of the first edition of my book All the Visions) and to my pal Paul Mavrides . My mind snapped and went ahead and bought the thing.
You can see a lot of work by Robert Williams on his website. Paul Mavrides doesn't have a website for his work, but you can do a Google image search to see lots of photos of his work, and of him. Also he had a show at the Steven Wolf gallery last year. And here's a PDF of an interview I did with Paul for Mondo 2000 back in 1993 when Paul was painting on black velvet.
I wish I could meet Gilbert Shelton sometime. His work, Philbert Desanex' 100,000th Dream is one of my all time favorites, and I dream of writing a novel that's somehow akin to it.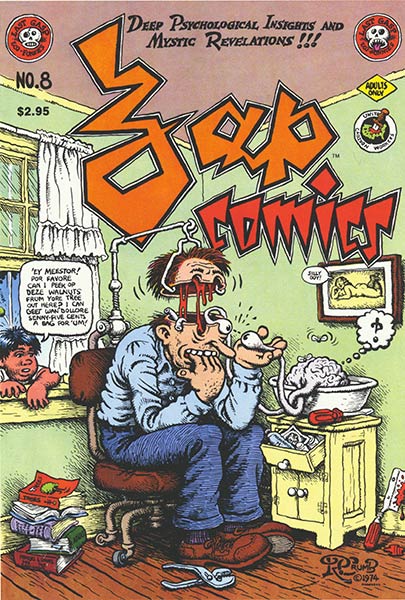 Cover of Zap #8, Copyright © R. Crumb 1974, from the Complete Zap Comix portfolio Click for a larger version of the image.
The set includes high-quality prints of the old covers, one of my favorites is shown above. This image has always unsettled me in a deep way, as I can so easily visualize myself doing what this man has done. It's a transreal depiction of overly wild mental self-examination or self-warping—and I've done a lot of that over the years, as part of my creative process of believing (temporarily) some really strange ideas while getting my head into the right space for writing my various SF and pop-sci works.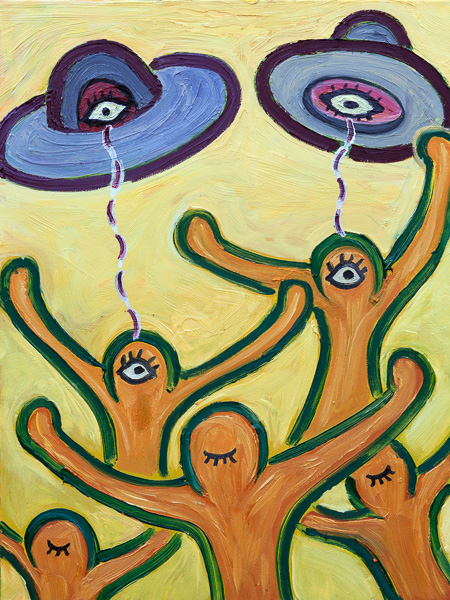 "I Once Was Blind" oil on canvas, January, 2015, 18" x 24". Click for a larger version of the painting.
I finished a new painting of my own this week. It was inspired the work of Keith Haring that I saw in his big show at the DeYoung Museum in San Francisco—I posted about this show earlier this month.
My painting is called I Once Was Blind , taken from a line of the gospel hymn "Amazing Grace," as in, "I once was blind, but now I see." The saucers are enlightening the benighted humans below. These days I tend to think of UFOs as organic living beings—and not as spaceships with aliens inside them. The saucers are the aliens. Like rubbery flying jellyfish. They can attach themselves to things like leeches or limpets. Each of them has a single large eye. I'm going to be using these saucer being are going to be appearing in my next novel, Million Mile Road Trip, which is starting to come along pretty well these days.
By the way, I Once Was Blind and many of my other paintings are for sale online via my Paintings page. I recently lowered all my prices—particularly the prices of my older works—and I really hope to sell one of them this month. I need to recoup some of that money I blew on The Complete Zap Comix!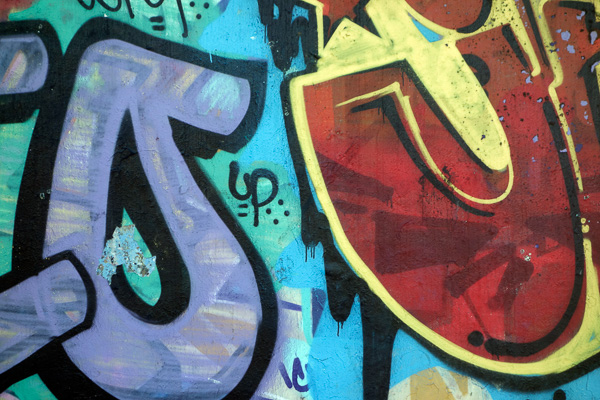 Back to that Zap launch event for a minute. The assembled artists did a panel, telling stories about the old days. Robert Williams is probably the best raconteur of the lot. He has a southern/western accent that's superficially at odds with his deeply transgressive paintings and his juvenile-delinquent hoodlum demeanor (even at age 70)—and somehow this makes his stories even funnier.
Williams got his start working as the art director for the legendary hot-rod artist Big Daddy Roth in Southern California. After Williams got in with the Zap Comix crew, he took R. Crumb down to meet the heroic Big Daddy. Says Williams, "Crumb showed Roth his sketch book, and Roth was leaning over it and a long strand of drool came out of his mouth and dripped onto a page of Crumb's sketch book. Drool right out of his mouth. End of story."