It's time for another sale on my paintings.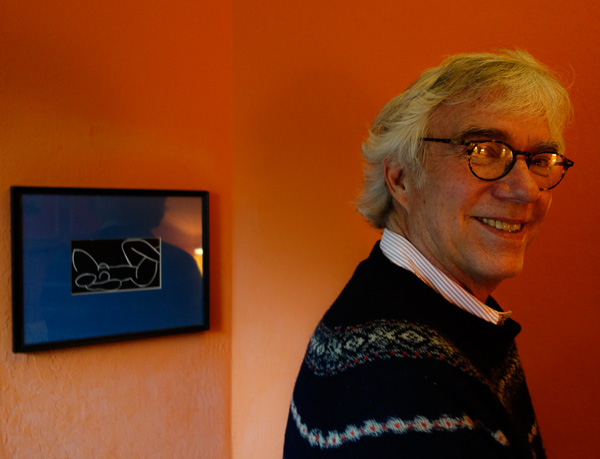 I have no room left in my storage racks, and I'm painting more than ever. Please buy one! I've cut just about all the prices by $100 or $200. Check out the prices now. I know some of you said you'd like to buy Frog Man, so here's your chance!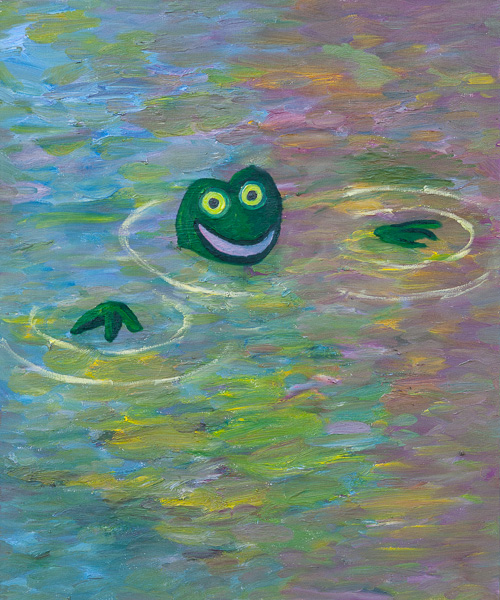 "Frog Man," oil on canvas, January, 2014, 20" x 24". Click for a larger version of the painting.
I finished a new painting last week (shown below). The way this one came about is that I was finished writing an SF story "Laser Shades" for a very cool art book, The Superlative Light, by the photographer Robert Shults. The book consists of photos taken in a very-high-power laser lab.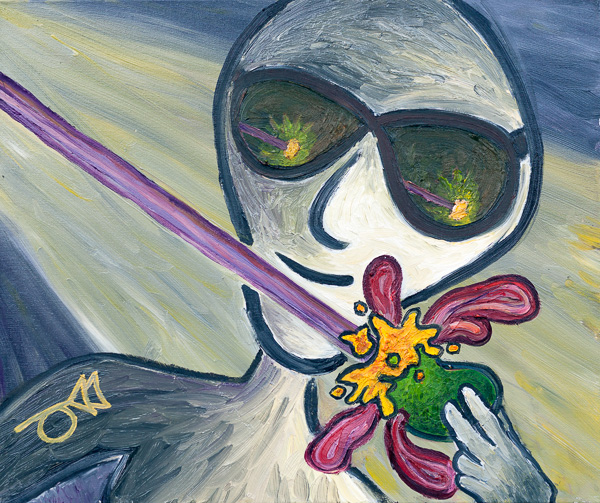 "Laser Shades," oil on canvas, February, 2014, 24" x 20". Click for a larger version of the painting.
While I was working on the story, I wasn't quite sure about how to end it, and then I made my new painting as a way of previsualizing a big scene. The guy in the painting is wearing special laser-proof shades and he's (rather unwisely) holding a fetal "egg" in the path of a yottawatt laser beam. A yottawatt is about the power of the Sun. That zapped egg is going to hatch out some kind of weird person, so look out!
Eventually I'll post the story online, but not yet. I'll let Shults's book come out first. Also I might read the story somewhere this spring, and if I do, I'll put up a podcast of the reading.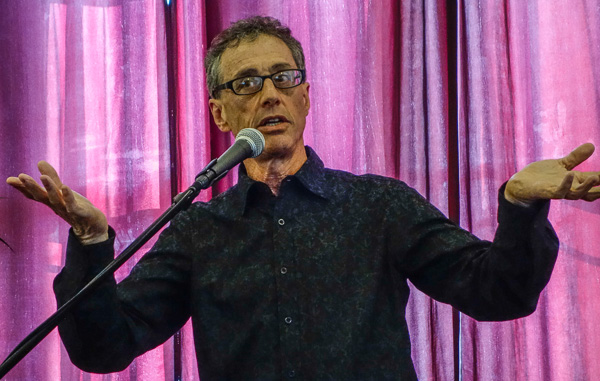 I was up at Borderlands Books on Valencia Street in SF yesterday to see my old friend and way-gnarly SF writer Dr. Michael Blumlein doing a presentation on his new book of stories, What the Doctor Ordered. It was a good show. Learn more about the book on Michael's home page.
Speaking of Borderlands, my Big Aha show of paintings there has been extended until March 29, 2014. So if you're a local, you can check out some of my latest paintings in person. And then buy one!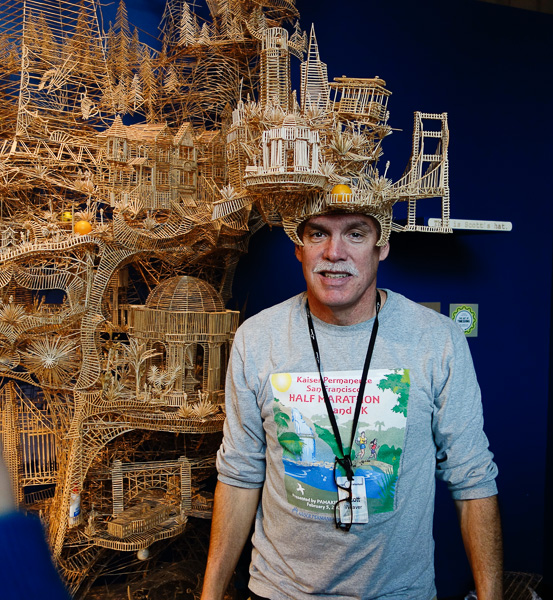 And speaking of art projects, Sylvia and I saw this man Scott Weaver doing a demo at The Exploratorium in San Francisco early in February. His life's work is a giant toothpick sculpture, kind of depicting San Francisco as a whole. He's been tinkering with it for thirty-five years Weaver also has a toothpick hat that he sometimes wears while discussing his work.