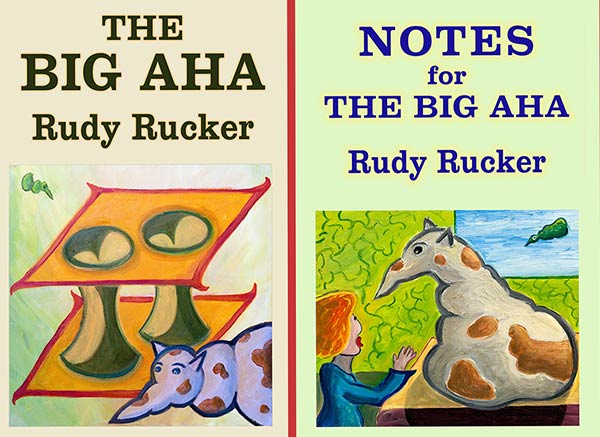 The Big Aha
A Novel by Rudy Rucker
From Transreal Books. Paperback and Ebook. (Hardback coming soon.)
330 pages and 14 illustrations.
***
Biotech has replaced machines.
Qrude artist Zad Plant works with living paint.
Career's on the skids, wife Jane threw him out.
Enter qwet—it's quantum wetware!
Qwet makes you high, and gives you telepathy.
A loofy psychedelic revolution begins.
Oh-oh! Mouths in midair, eating people!
Zad and Jane travel through a wormhole—and meet the aliens.
Stranger than you ever imagined.
What is the Big Aha?
***
Browse the entire The Big Aha novel for free as an illustrated web page.
Buy ebook and print editions of The Big Aha.
More info at the website for The Big Aha.
And one more thing: Notes for The Big Aha , a book-length writing journal.