I finished another painting for my novel today, more info here: The Big Aha project. The new picture's title is The Mr. Normals vs. The Myoor.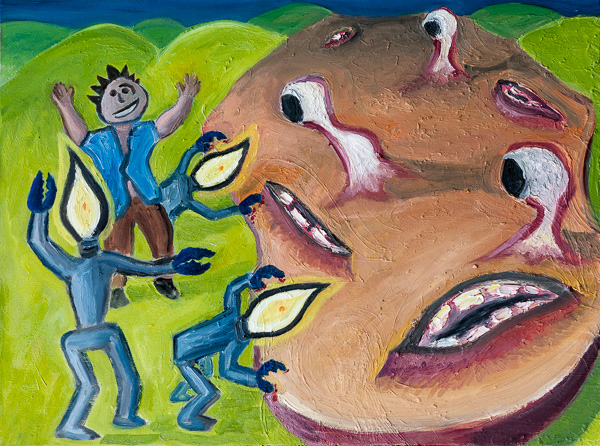 "The Mr. Normals vs. the Myoor," oil on canvas, July, 2013, 24" x 18". Click for a larger version of the image.
The picture has to do with a scene in the closing chapters of The Big Aha. My character Zad has created some creatures called Mr. Normals whom Zad has now sicced upon a sinister giant alien slug called a myoor. The myoor looks scared of them, which is good.
I made the Mr. Normals look like Gyro Gearloose's Little Bulb in the old Donald Duck comics.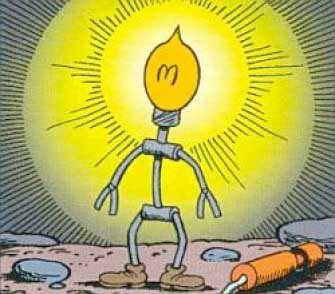 The other day I watched this very heavy Mexican SF movie called Sleep Dealer, which the cool Tucson artist Daniel Martin Diaz turned me onto recently. (Check out Diaz's amazingly cyberdelic forthcoming book Soul of Science.)
The Sleep Dealer film's is partly about the US taking advantage of Mexican workers. And the myoor is kind of flowing down across a border, and my Zad character looks kind of Latino in this painting, and I was also thinking about cross-border ethnic conflict here, so at another level the picture is a political parable…not that I would have a clear idea of what the Mr. Normal / Little Bulb figures would stand for under that interpretation.
But primarily the painting is about the events in The Big Aha. The way I painted Zad relates to two earlier paintings of him which I'll reprint below, Louisville Artist and Night of Telepathy.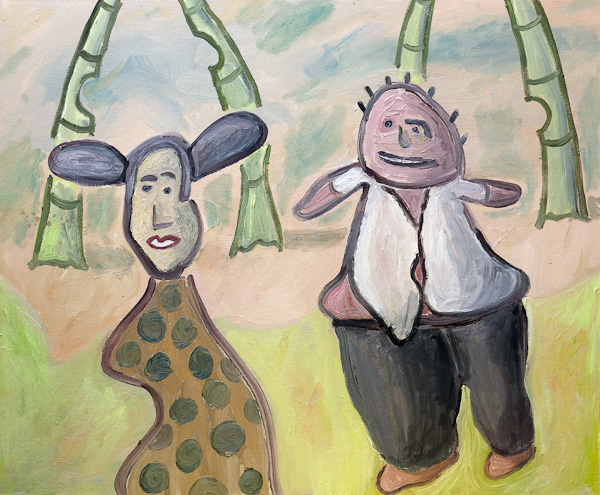 "Louisville Artist," oil on canvas, October, 2012, 24" x 20". Click for a larger version of the image.
The way I painted the Louisville artist is kind of a self-deprecating joke about my personal self-image, or about the public's image of artists or writers.
I mention Louisville because I was born there and lived there till I was 17, at which point my parents moved away and I went off to college. The Big Aha novel is in fact set in Louisville. Those tall things in the background are "house trees" that people inhabit in the biotech future.
What about the woman? She's the girlfriend, Loulou, whom Zad takes up with during a period of separation from his wife. I had fun giving Loulou a really odd hair-do. Kind of Princess Leia thing.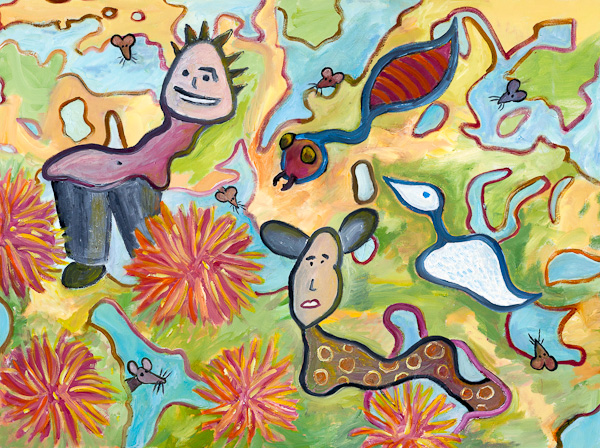 "Night of Telepathy," oil on canvas, November, 2012, 40" x 30". Click for a larger version of the image.
In this painting we see Zad and Loulou spending a night together in telepathic contact. What about those rats? Well, there happen to be a lot of intelligent rats in The Big Aha, thanks to "quantum wetware."
And it'll all seem perfectly logical in the end…