I'm a little behind on the journal aspect of my blog. This month I was busy finishing issue #13 of Flurb, and then converting the issue into ebook format. But before that, my wife and I were out in NYC for a week. So today I want to blog some of that.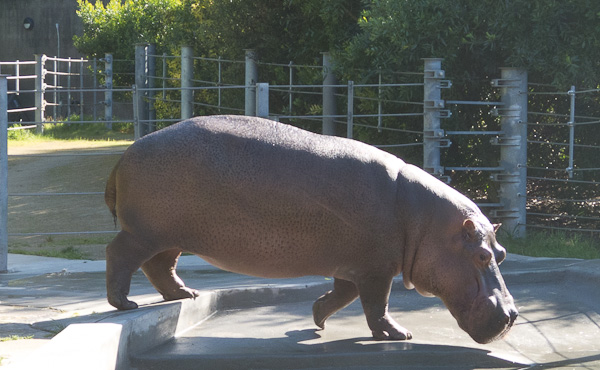 Actually, before New York, I need to post this picture of the hippo at the San Francisco zoo. Hippos are among my very favorite animals. The comely bulk, their smoothness, their nimble lightness on their feet, and the fact that they're said to be quite vicious and dangerous if encountered in the wild.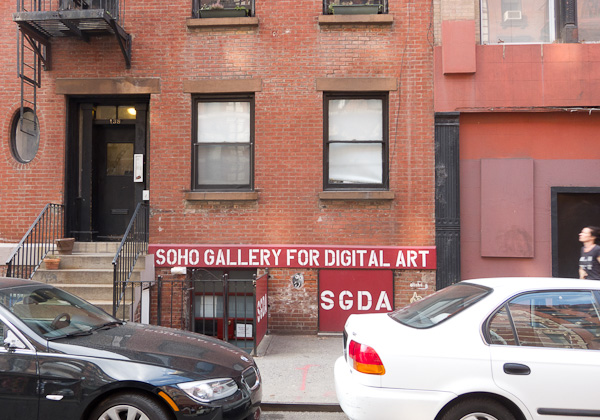 One of the things I did in NY was to do an interview and give a reading from Nested Scrolls at a gallery in Soho. This was organized by Jim Freund in connection with his New York Review of Science Fiction reading series and his Hour of the Wolf radio show — here's a link to a stream of the show online, though I'm not sure how long the link will keep working. I start up about five minutes into the stream, and the show contains both my interview and my reading.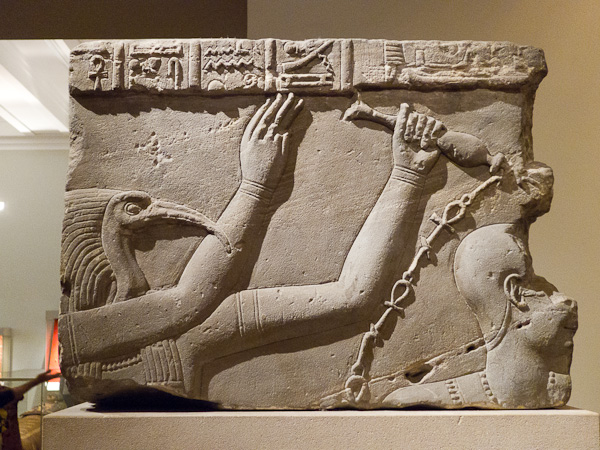 (Thoth in the Met)
Streams aren't a convenient medium for listening on-the-go. The picture above shows me on the left fruitlessly trying to extract an mp3 of my interview from Jim Freund, partially seen on the right. He eluded the flail of Thoth! No matter. What I finally did was to capture the stream with Audacity on my computer, and then edited the interview out of the Hour of the Wolf show. And a very good interview, too. Jim's good at this. I added it to Rudy Rucker Podcasts, click on the button below. (And I put a hint about capturing streams in the comments section down at the end of today's blog post.)

Speaking of my Podcasts, let me jump away from NYC and up to the present for a moment. Today I was up at the Anarchist Book Fair in San Francisco and I did a panel with Terry Bisson and John Shirley. Our theme was "Anarchism and Science Fiction," and I got a good recording of the hour-long panel. We had a nice big audience—anarchist kids in their twenties or thirties, very shaggy and bright-eyed. Not a typical SF crowd at all—actually I don't think they were in fact SF readers. But fun to talk to. You can click on the button above to access both the Freund interview podcast and the "Anarchism and SF" panel podcast.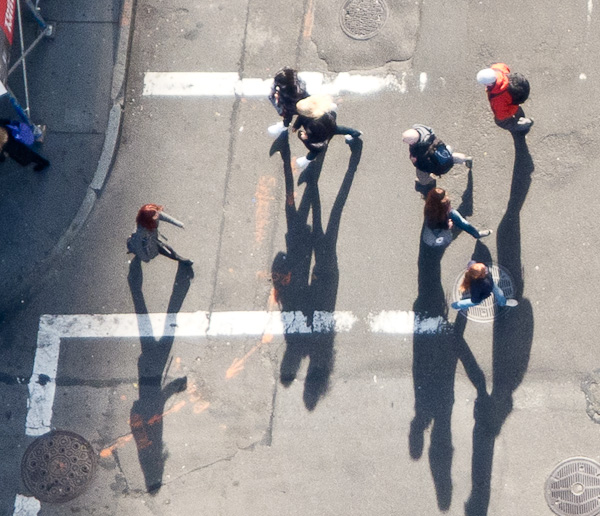 Okay, back to New York. We lucked into a great room in the Intercontinental near Times Square. The window even opened, a little bit, and I could peer down at wonderfully tiny Manhattanites with their early morning shadows.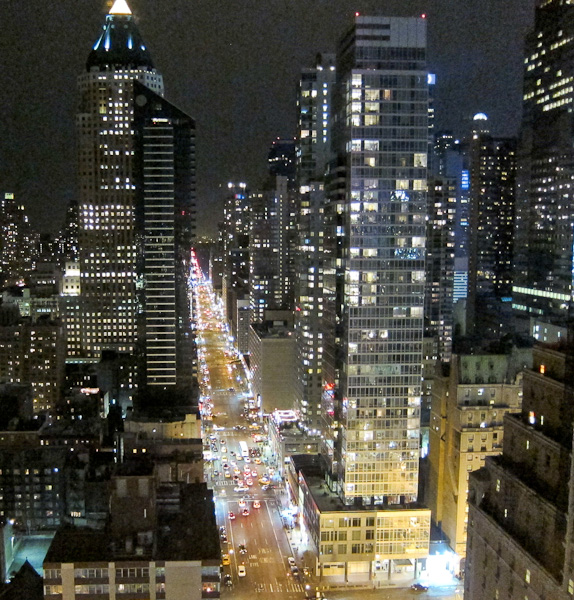 The white ways of the night.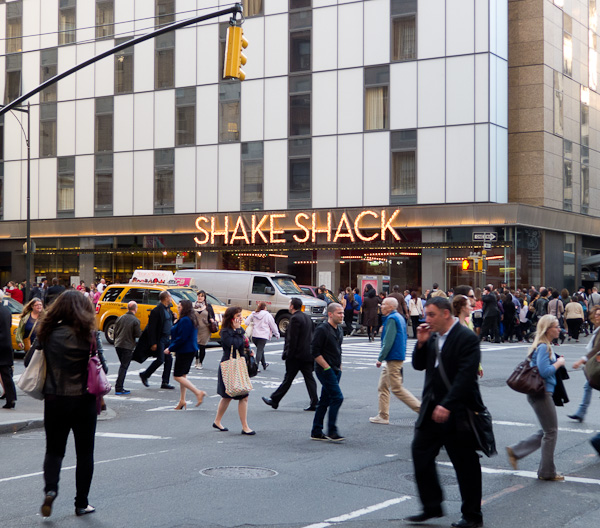 There was this burger place downstairs, the Shake Shack, at Eighth Ave and 44th St, I became mildly obsessed with the name, saying it over and over. Always a line there, every hour of the day. There's another Shake Shack in Madison Square near the Flatiron Building—where I always go to visit Tor Books, where I was doing most of my publishing from from 1999 – 2011. An autumnal feeling at Tor this time, who knows how many more times I'll go there.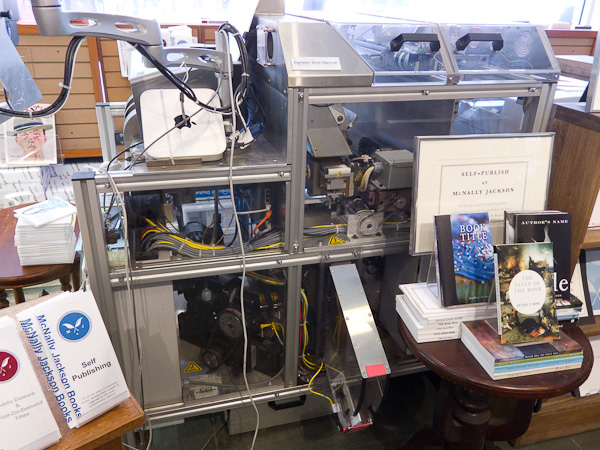 Publishing is in such a fierce state of change. Authors are like the dinosaurs after that big meteor crashed into the Gulf of Mexico a zillion years ago. We're trying to turn into birds as fast as we can. This object above is an Espresso Book Machine which I saw in this really great Soho bookstore, McNally Jackson Books. You can print off a print-on-demand book on the spot there, even one of your own if you want.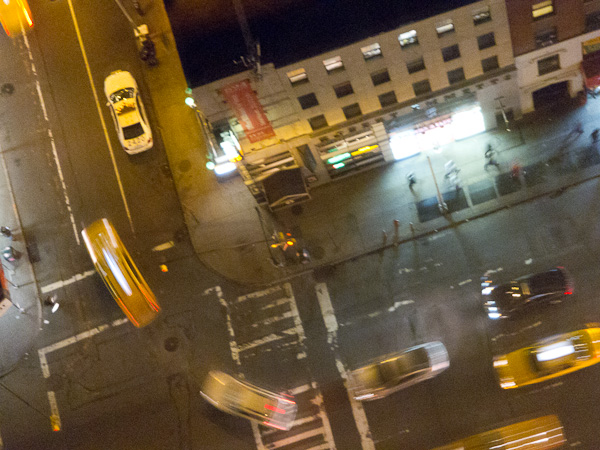 Print-on-demand is already fading, though, it was a weird stilt-legged trilobite of the Cambrian explosion. Ebooks are where it's at now, where "now" might last five years. Publishing is very chaotic just now, I've never seen it like this. It's like the carriage business the year after Henry Ford starting selling the Model A.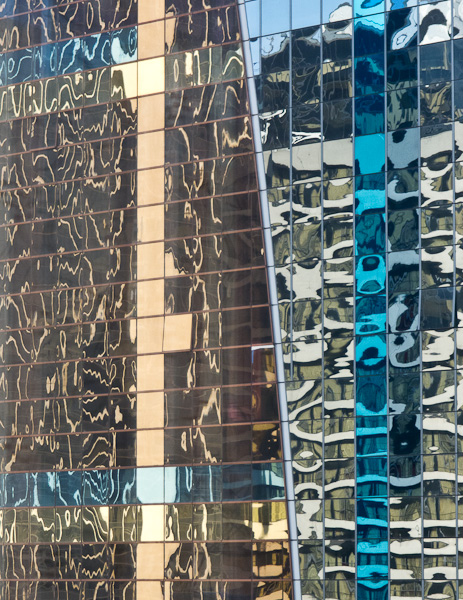 I'm glad I'm learning how to make ebooks. I've got my Transreal Books page working pretty well, with my Collected Stories on it, and my Collected Essays coming online soon. I made an ebook Flurb of issue #13 as well, and next fall if I can work things out with my authors and the technology, I may put together a Completely Flurb: E Flurbus Unum ebook omnibus that's about a hundred megabytes in size. Go frikkin' wild with this sh*t.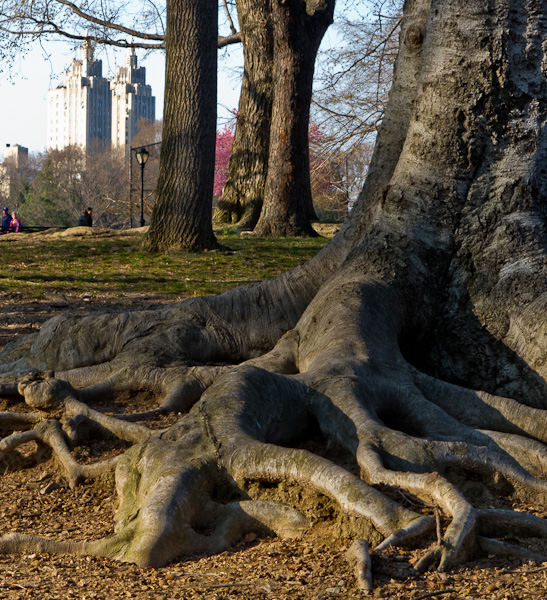 Anyway, back to NYC. Always so great to be in Central Park, the classic contrast between the skyscrapers and the old trees and grassy swards with humans at rest and play. Very New Yorker cover.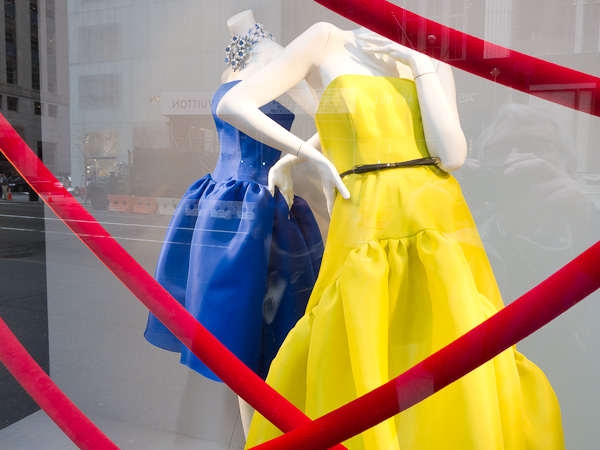 My wife and I have been to NYC so many times over the years, it's kind of a constant in this changing world, the frail honks (Love the minatory traffic signs: DON'T HONK (what part of that don't you understand??)), the siren wails, the rumble and jostle, the shuffle of feet, the smells, the windows at Bonwit's, the rhythms of the subways, the ballet at the Joyce, the ubiquity of the New Yorkers, curt but not unkind.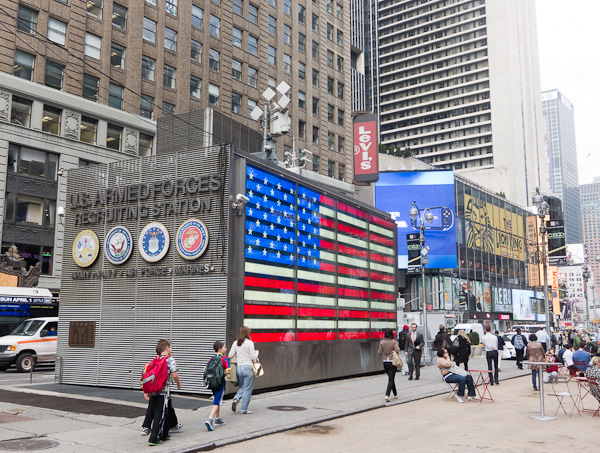 I always smile when I see the perennial Army Recruitment Center in Times Square. It's been there as long as I can remember, maybe forty years. I always imagine a group of guys on a wild spree in the Big Apple and then, late at night or in dawn's early light, one of them reels into the Recruitment Center like a disoriented lobster who's crookedly tail-snapping his way into a trap.
Later that day…"So this is Fort Dix!"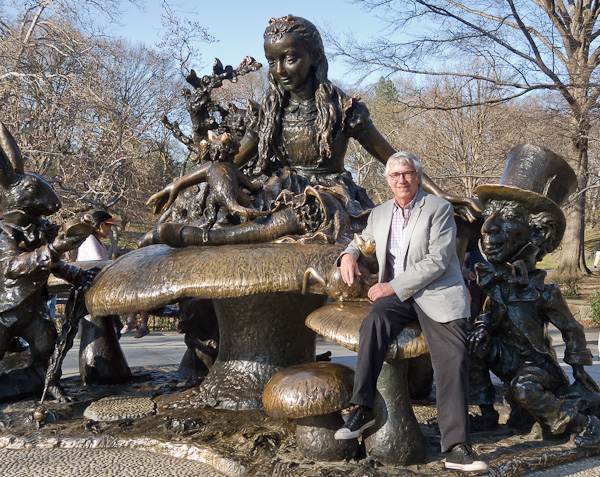 We happened upon the Alice in Wonderland statue in Central Park, and I posed for a photo on it—I actually did this once already, in 2005, and the reason I like to do this is that I'm thereby emulating my boyhood hero and my first actual writing mentor, Martin Gardner, who wrote a wonderful column for Scientific American for many years.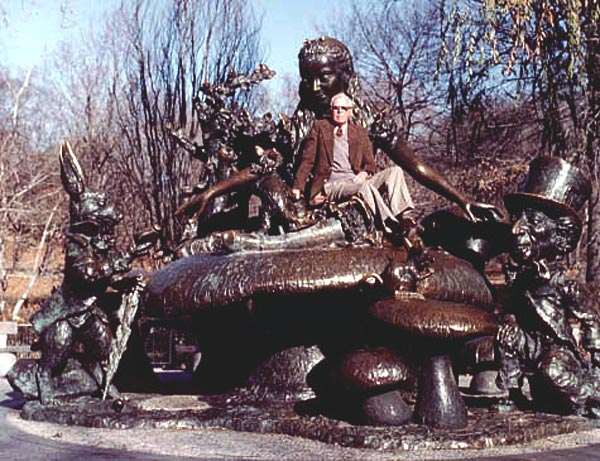 Dear Martin. He lent me about twenty rare books on the fourth dimension in 1982 when I was writing my nonfiction book, The Fourth Dimension. And now he's dead.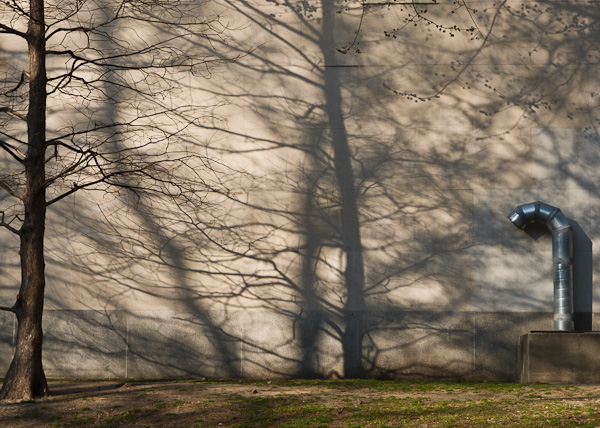 Beautiful tree-shadows on the wall of the Met. And our bodies are shadows of our souls. How many dimensions?