Department of Prophet Receives Honor in Home Town: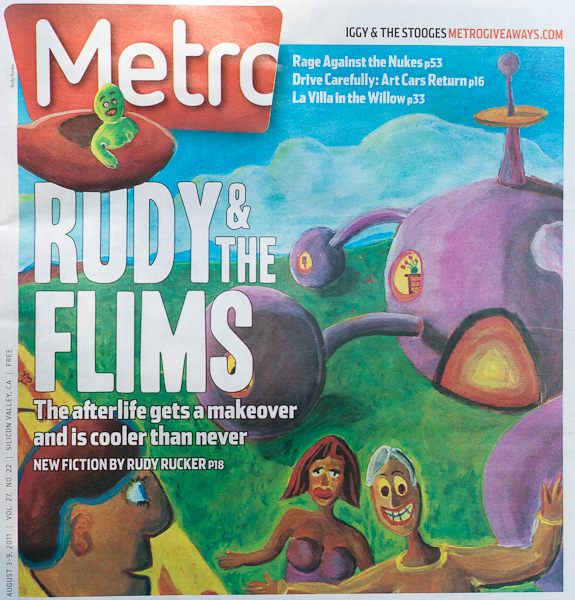 I'm the cover story in the Silicon Valley Metro this week, with a profile by Dan Pulcrano, an appreciation by Gary Singh, photos by Felipe Bultrago, and the entire first chapter of Jim and the Flims! I'm really happy about it.
The Metro is a free weekly newspaper, widely distributed around San Jose and the South Bay, and you can view a free PDF of my issue online.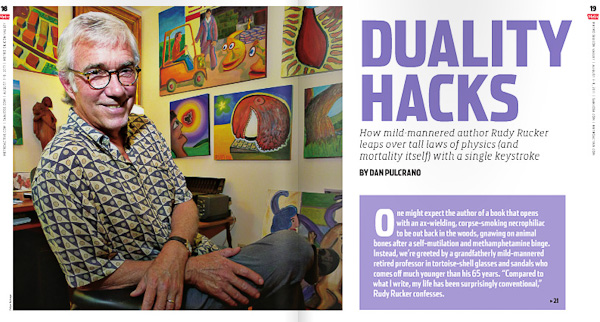 It's cool that they showed some of my paintings in the article—the one on the cover is "The Clone Garden" which I did while working on Jim and the Flims.
I've been painting more than usual lately. It's because I don't have a novel or even a short story to work on, and I like to have some kind of creative outlet during the day. A way to lose myself in the process of craft.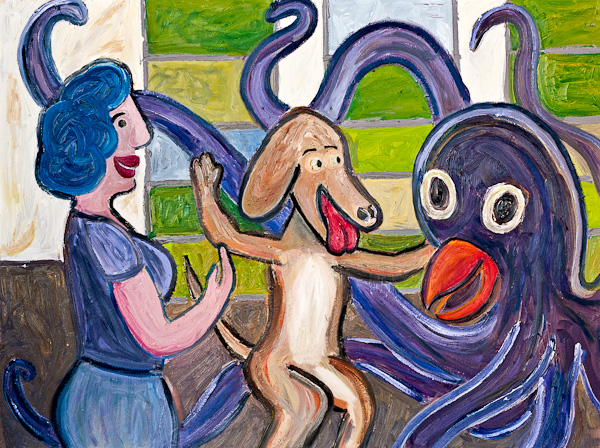 "Noon Meeting", 40″ x 30″ inches, August, 2011, Oil on canvas." Click for larger version.
So here's the latest one, called "Noon Meeting." I started out with a set of pebble-glass windows that I like. They went into the background, the grid of green and yellow rectangles. And I put three characters in front of the windows, happy to be getting together in the daytime, let's say it's at noon. A woman, a dog, and an octopus.
By the way, I feel like I'm accumulating too many paintings in my basement, and I'd really like to sell some. So check out the summer sale prices on my Paintings page!
Coming back to "Noon Meeting," my artist friend Paul Mavrides had suggested that I try using an impasto medium to build up more of a texture on my pictures and I did this with this new one, and it looks good.
This is one of those pictures that is a bit like an unknown parable. But I feel like the three friends are people I know. Indeed, I might be the dog in the middle, bringing the two others together. We used to have a dog who looked a lot like that, his name was Arf.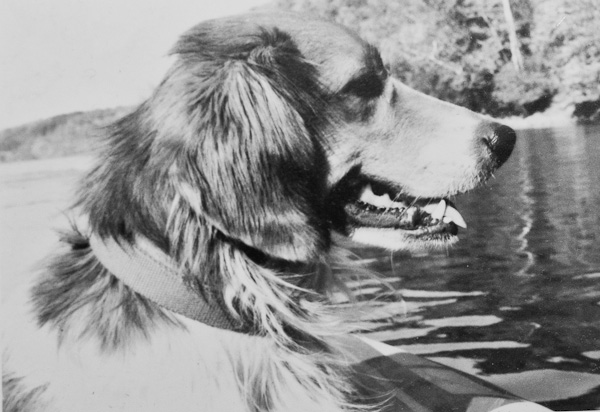 I told my other artist friend Vernon about the theme of my new picture and he said, laughing, "Ah, yes, the three fundamental elements of any successful painting: a woman, a dog, and an octopus."
I never got to hang out with cephalopods, only glimpsing them when diving, but I often put them in my novels. They're, like, the ideal aliens.