I went by a favorite little museum of mine, Villa Stuck, the Jugendstil home of this odd turn of the century artist, Franz Stuck.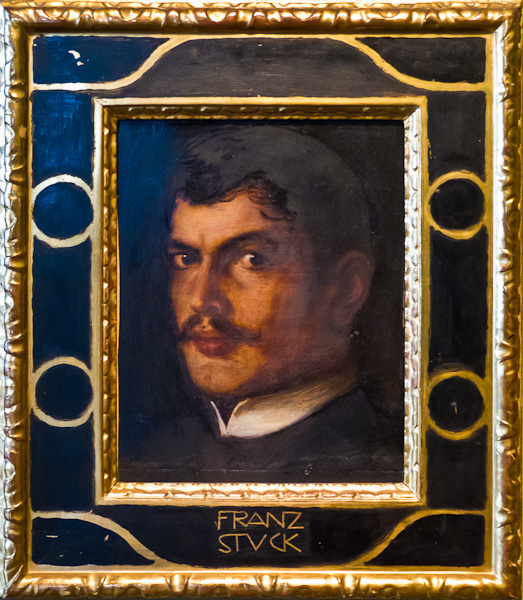 Stuck was a handsome, sociable man. He seems to have worked his way up, making a career as an artist and architect, marrying a possibly wealthy American woman, being made a noble and becoming "von Stuck," and teaching art for many years at the Munich art academy, with students such as Paul Klee and Fritz Albers.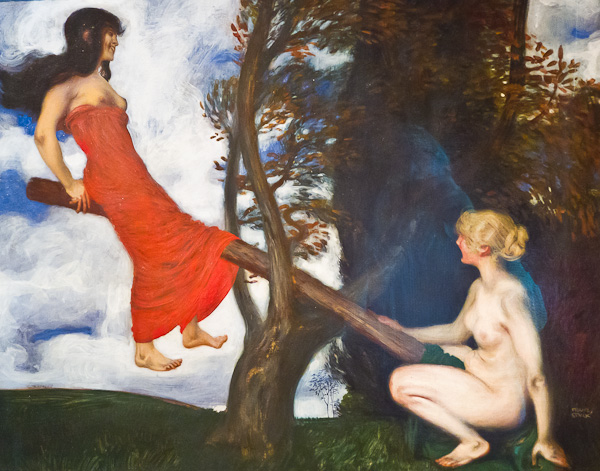 Stuck isn't really the most talented painter—his images are almost like outsider art, filled with idiosyncratic mythological references and slavering eroticism. His 1898 painting, "Die Wippe" ("The Seesaw") all but shows a pair of women, a blonde and a brunette, sharing a dildo, with one of the women leering and the other blushing and turning her head.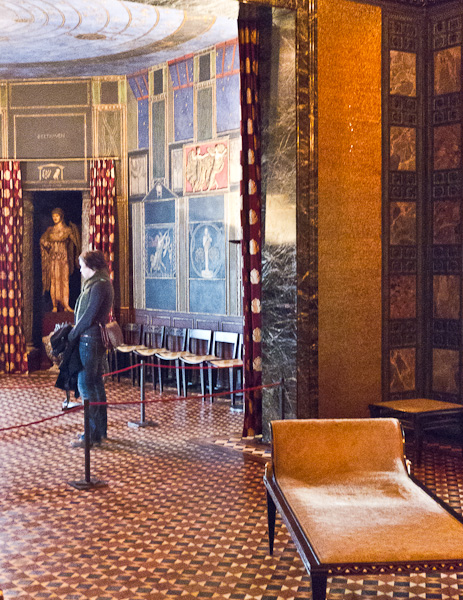 But Stuck was something more than a painter—he was an impresario, perhaps a bit like a Pop artist. He made elaborate, architectural gilded frames for his paintings—particularly for his greatest hit, Die Suende (or "Sin"), which he copied and resold a number of times over. And he used the modernist expedient of photographing models and using those images to lay out his paintings. I like Stuck more than Sylvia does—of his work she once remarked, "Did this guy ever go outside and look at anything real?"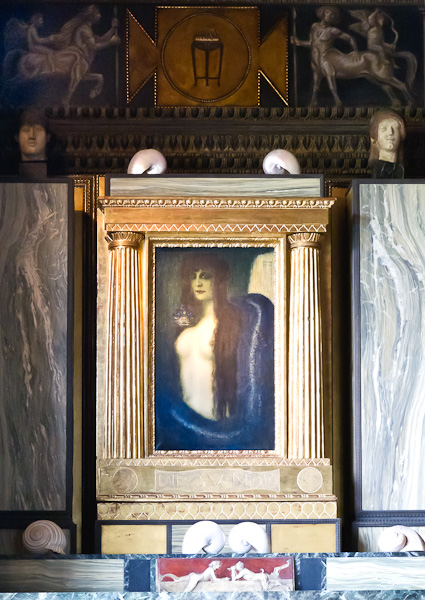 It's not just the art in Villa Stuck, it's the building itself, with every surface completely decorated. And upstairs in his studio is a copy of Die Suende atop a huge altar with polished nautilus shells on it. I love artists. Like so many of the buildings in Munich, Villa Stuck had to be restored after World War II.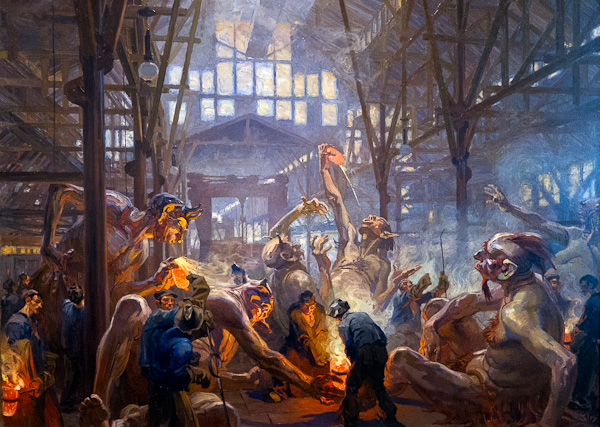 [Kley's "The Krupp Works Devils" Click to see larger image.]
The Villa Stuck had an interesting temporary exhibition of works by Heinrich Kley. There was one large and amazing 1913 painting of the Krupp steel mill, Die Krupp'schen Teufel ("The Krupp Works Devils"), with huge demons commingling with the workers—the demons representing, I think, the elemental forces of nature involved in smelting—as opposed to the evils of arms-manufacture. Kley did this work on commission from the Krupp company shortly before World War One.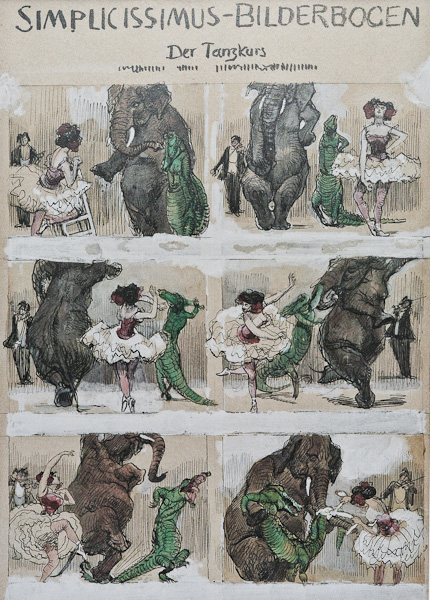 [Kley's "Dancing School #1" Click to see larger image.]
In later years, Kley became a regular cartoonist for the legendary journal Simplicissimus, and he did a number of cartoons of animals behaving like people. In 1912, he created a classic comic strip that's alternately called "Die Tanzschule" ("Dancing School") or "Die Tanzkurs" ("The Dance Lesson"), in which an Elephant and a Crocodile are learning to do ballet.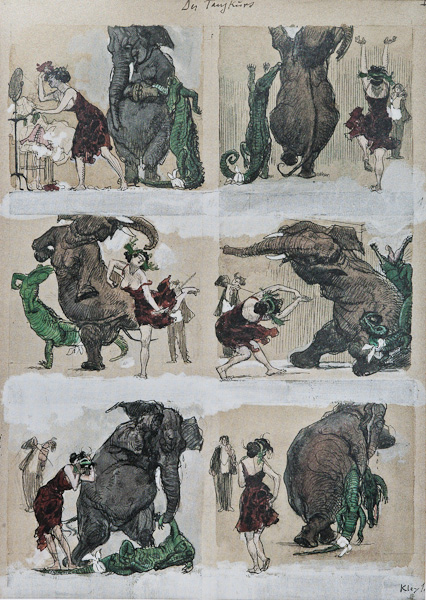 [Kley's "Dancing School #2" Click to see larger image.]
Studying Kley's "Die Tanzschule" on the wall actually made me laugh out loud. The elephant and the crocodile aren't merely playful, they want to learn to dance, they're transported by their motions, and the crocodile howls and sobs with the elephant steps on her tail.
I wish I had better images of "Die Tanzschule"—due to the hypervigilant guards, I had to settle for photographing the rather poor reproduction of this work in the show's catalog, and then Photoshopping them to look a little better. Note that I did manage to get a shot of the actual canvas of " Die Krupp'schen Teufel " as shown further back up the page.
In 1940 "Die Tanzschule" served as an inspiration for part of the "Dance of the Hours," scene in the Disney animated film Fantasia. In Villa Stuck, they had a few drawings from the Disney film to drive home this point .
But the crocodiles in the Disney seem witless, each with the same fixed "devilish" smile in the corners of their mouths. And the Disney elephants are too cute. Disney vs. Heinrich Kley is a bit like the low humor of Douglas Adams vs. the heart-piercing wit of the still-insufficiently-recognized grandmaster Robert Sheckley.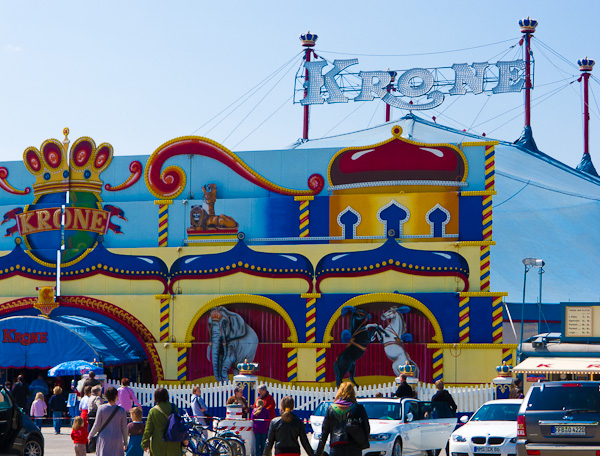 Another thing I did in Munich was go to the Krone Circus.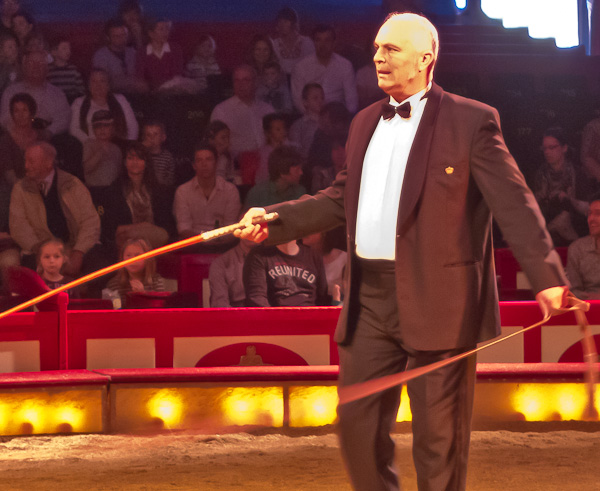 I like circuses anyway, but a European circus seems especially cool, perhaps everyone there is a European local—you pretty much never see another American tourist at the circus.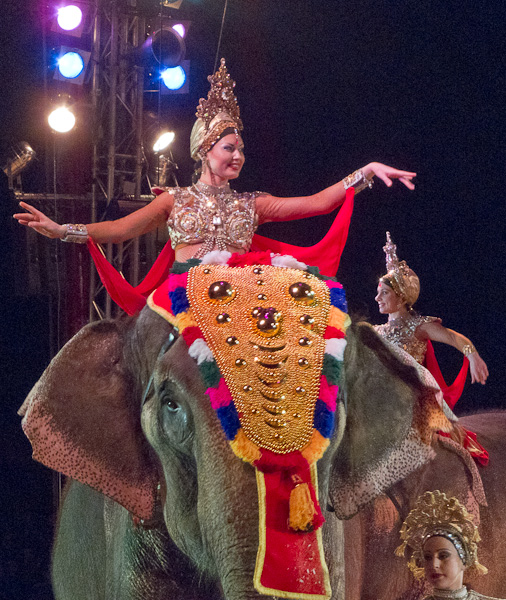 It was a one-ring circus with elephants, a pair of clowns, and some trapeze artists. There's no spectacle I love more than acrobat women riding on elephants!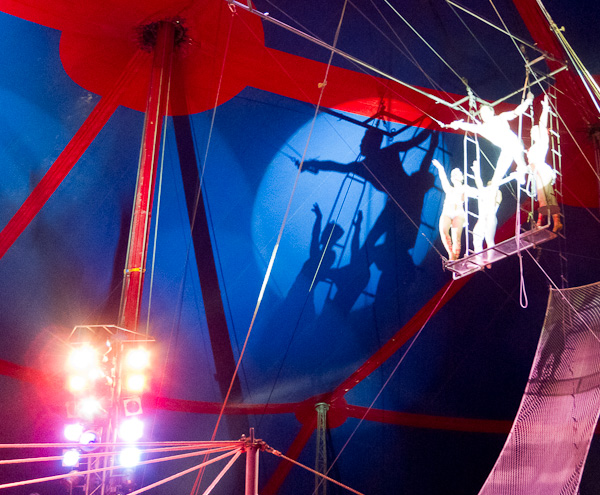 It reminded me of a time about thirteen years ago, when I had a sabbatical, and Sylvia and I bummed around Europe for over five weeks—and we went to this little circus in Vienna, and I had a kind of revelation when I came out. Here's the passage:
Sunday afternoon, the 27th of September, 1998, there was a strange moment — S and I went to the Circus Roncalli at 3 PM, it was lovely, so full of color and laughter and love. And then we came outside and there was a chill in the air, and some low gray clouds — though still with blue showing through — and some of the leaves on the tree were yellow and it was like all of a sudden it was Fall, and it had come perhaps gradually and we'd been too busy playing to notice, it had been Summer when we left home, but now we'd stayed away so long that it was Fall, us off in a distant city, a feeling of having stayed away longer than I'd realized, and a feeling, too, that, in the great "year" of my life it's Fall. It turned to Fall while we were at the Circus.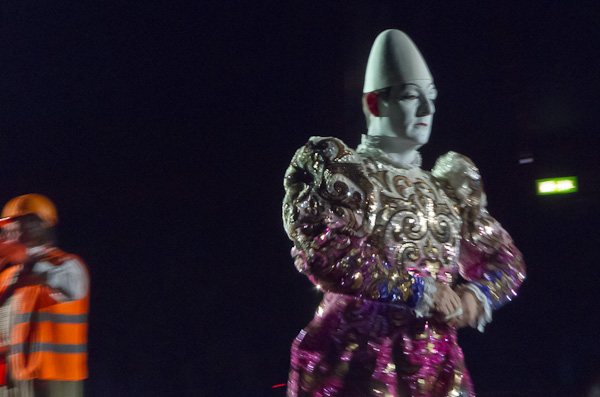 I received no revelation this time, although I did get two or three good photos.
One more outing I managed was to see the München Volkstheater production of the Berthold Brecht and Kurt Weil musical, Der Dreigroschen Oper. (Three-penny Opera). It was cool to be in the huge crowds at the concert, the circus and the play. I had trouble understanding the rapid-fire dialog at the musical, but they had a seven-piece live band, and an amazing rendition of "Mackie Messer," a song from the play that we know as the pop standard "Mack the Knife"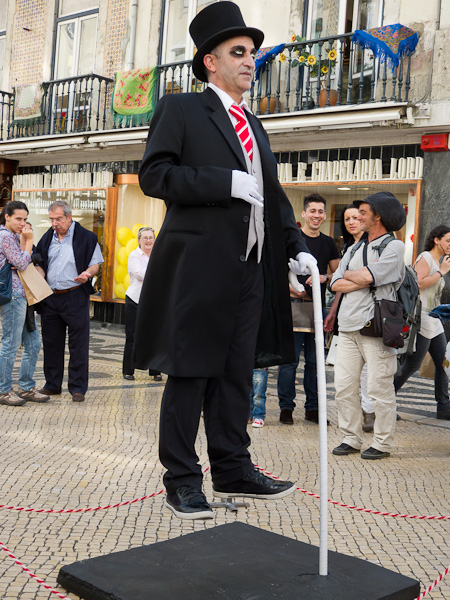 [ The "Static Man" in Lisbon. Holds Guiness record for motionlessness. Somehow he has a hidden harness that suspends him in air from a cane sticking up from a platform.]
The actor singing "Mackie Messer," really tore it up. He was sleazy, unshaven, in a powder blue suit with no tie—like an on-the-skids lounge singer, but German as well. I'd almost forgotten this side of the Germans, that is, the expressionist, Grimm-brothers, Cabinet-of-Doctor-Caligari, freak-show, Scorpions heavy-metal aspect.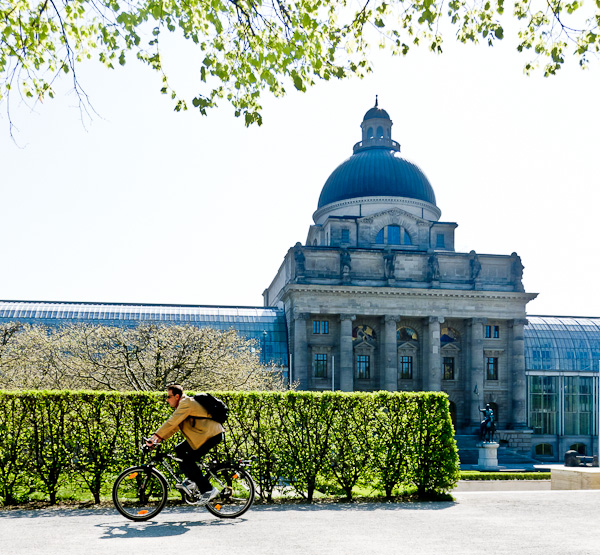 I left both the circus and the musical before they were over. I was mainly thinking about getting back to cousin Rudolf's apartment and lying on the couch. Or riding the tram and looking at people on the street. I've noticed this before—when I go out to shows alone, I find it hard to sit through the whole thing. It's not as much fun without someone to share your enjoyment. I recall one of my friends telling me that, after his wife left him, he was unable to go sit through an entire movie in a theater. Perhaps we're such creatures of the herd that when we're alone, we feel impelled to range about in the hope of striking up a conversation.