It was intensely nostalgic to return to Geneva. I first visited Sylvia at her parents' apartment there in 1964, the summer after my freshman year at Swarthmore. And we were married at the American Episcopal Church in Geneva in June, 1967.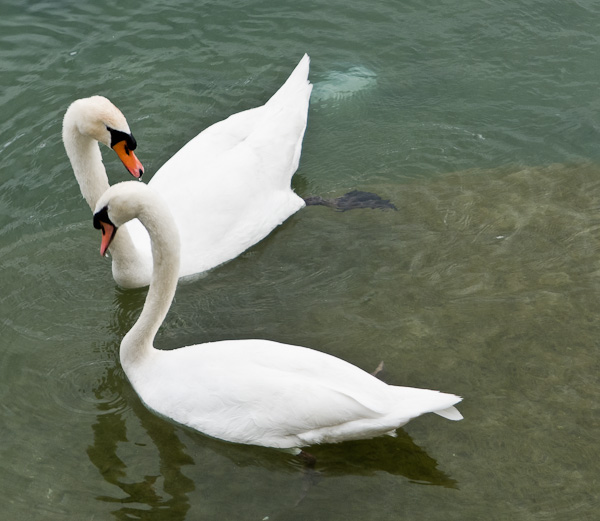 Sylvia's father Arpad worked at a branch of the United Nations called WIPO, for the World Intellectual Property Organization, and eventually he became the Director-General. Up until 2005, Sylvia and I visited Geneva once or sometimes twice a year—call it forty trips for me. And we always brought the kids along. We were were in Geneva with our children as newborns, as toddlers, as teens, as twenty-year-olds—over and over, year after year.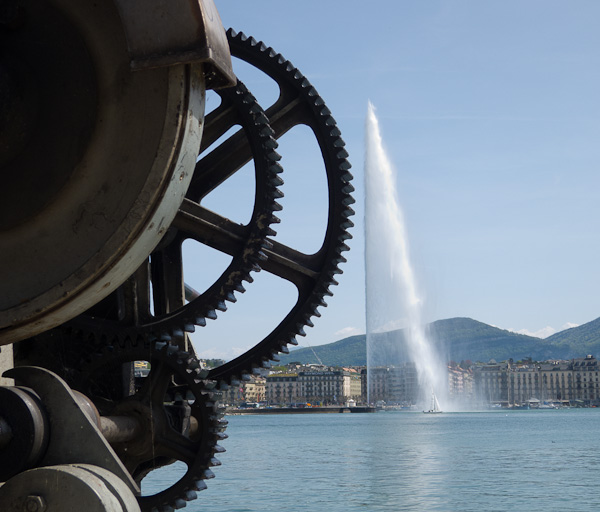 Sometimes I'd split off from the family and spend a few hours wandering the downtown alone. The biggest sight is, of course, the famous fountain in the lake, the jet d'eau. I remember working on some of my novels in Geneva—for instance I got the idea for the floating "Umpteen Seas" of The Hollow Earth by imagining Lake Geneva lifting up to hang suspended in the air, a giant, jiggling glob.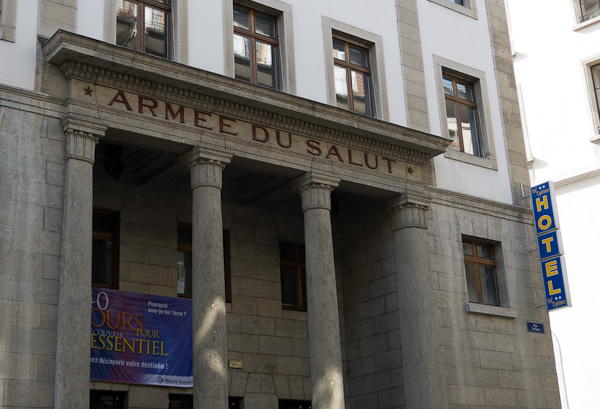 This time around, Sylvia and I stayed, for the first time ever, in a Geneva hotel. We found a fairly inexpensive two-star hotel called La Bel' Espérance, run by, of all people, the Salvation Army. Not that the hotel guests were street people, they were low-end business types and frugal tourists like ourselves. The nice thing about the hotel is that it's on a quiet side-street in the heart of the cute medieval part of Geneva called the Vielle Ville, not far from a nice old cafe-lined plaza called the Bourg de Four.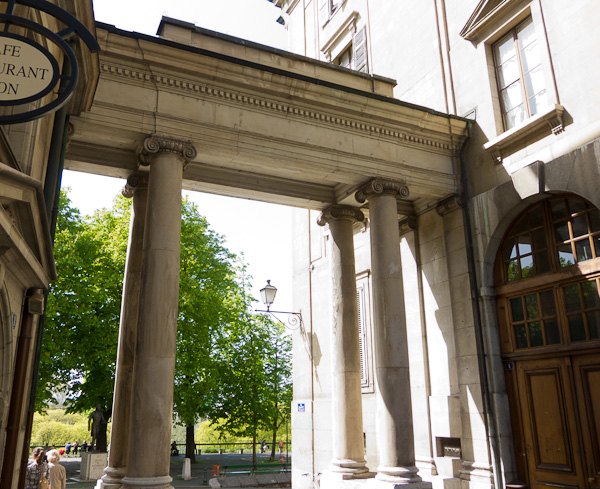 One thing that kept striking me about Geneva was how many things have remained unchanged over the forty years I've been going there. Although it seems as if they're continually doing construction on the city—a lot of this work involved retrofitting or strengthening or restoring or refurbishing the same stuff that's always been there. It's worth noting that there's not much graffiti in Geneva. Although I'd gotten to enjoy the wall decorations in Lisbon, it was kind of relaxing to see the unblemished gray and beige walls of Genève.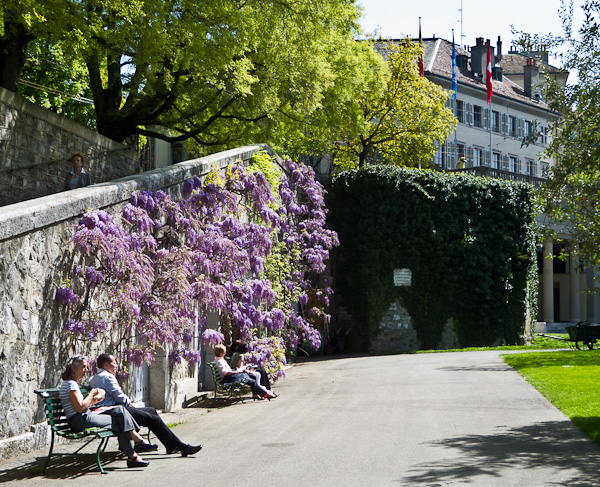 It being April, the weather fluctuated between rain and sun. Lush chestnut trees line the old city wall around the Vielle Ville. After so many visits, I know the streets of Geneva very well—better, really, than I'd expected. At every turn, new memories came floating up.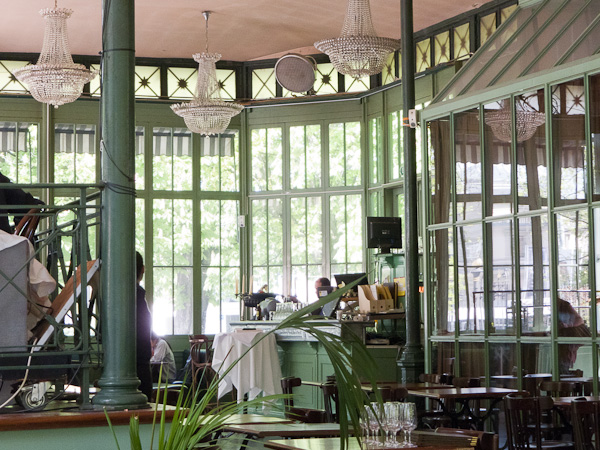 Our daughter Isabel and her husband turned up in Geneva the same day as us, and we had a lot of fun walking around with them, showing them some of our favorite spots. We four had a nice lunch at a cafe that Sylvia and I have always loved, it's in an 1890s pavilion in a park below the old city wall, the park also holds some buildings of the University of Geneva.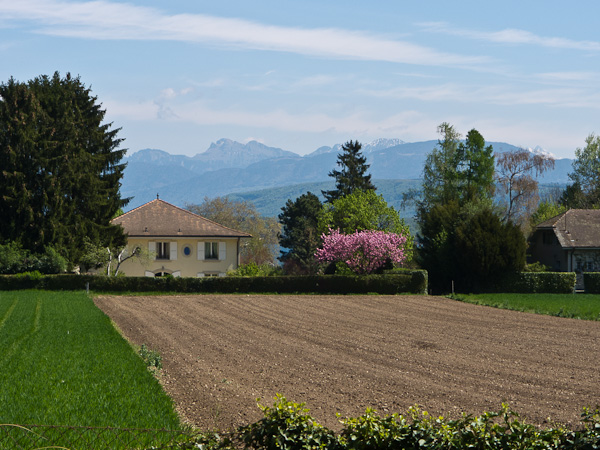 We got together with Sylvia's brother, her nieces, and her step-mother. Lots of warm family visiting,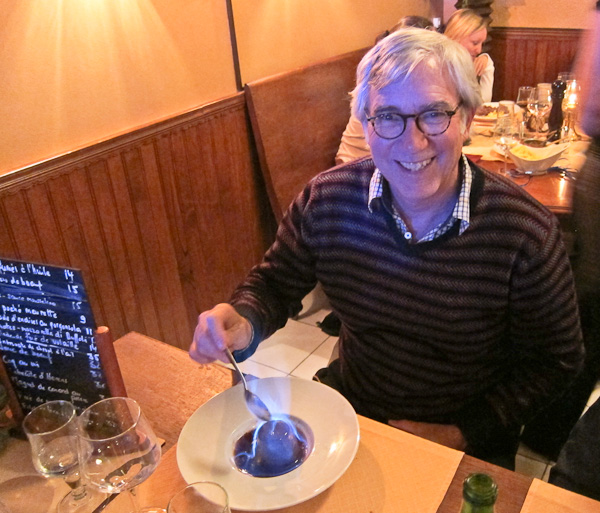 One particular evening Sylvia and I ate in a bistro with four of the young people. It was warm and cozy in there, a magical evening, one of those times that stands forever as a kind of oasis along one's long journey through life. One of us had a horsemeat steak, which is a common thing over there. I had ice-cream flambé. Sylvia's neice Diana told us that when Swiss kids are in bands they sometimes sing a fake English that they call Yogurt—I guess it's a relative of the "French" that the waiters' speak in the Café La Boeuf segments of Prairie Home Companion.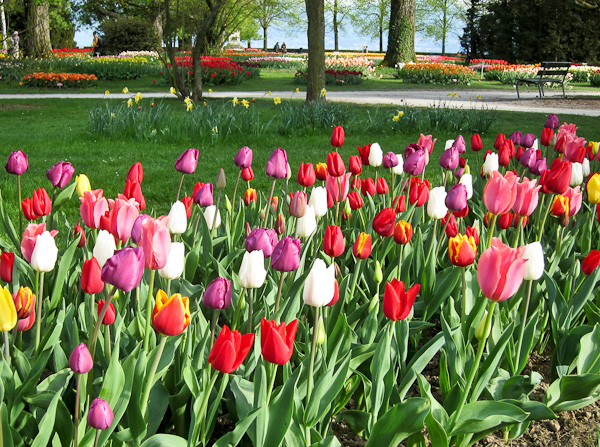 On the last day, we visited Sylvia's step-mother. A sweet woman. She took us to see the the "Tulip Festival" in Morges. It wasn't like a festival in sense of crowds or an admission fee.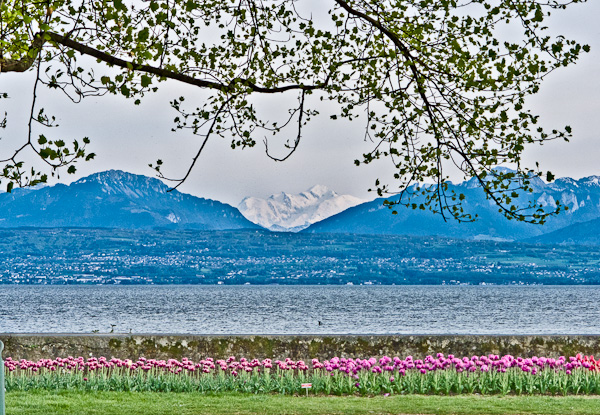 It was bed after bed of incredibly gorgeous tulips in a green park at the edge of Lake Geneva, with towering mountains plunging into the lake on the other side.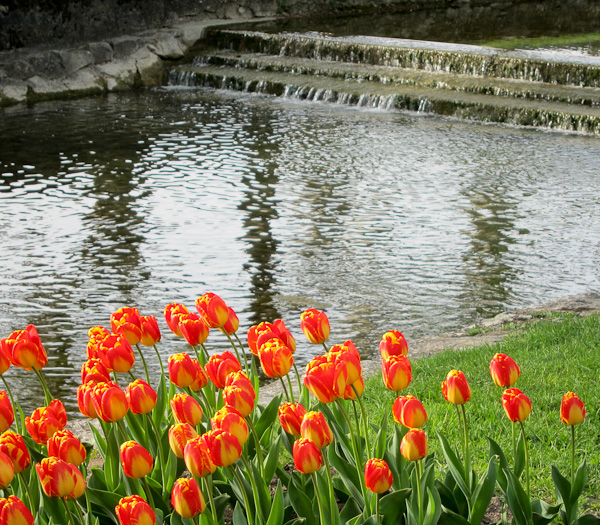 Hardly anyone there. We wandered in, gorged on beauty, and left.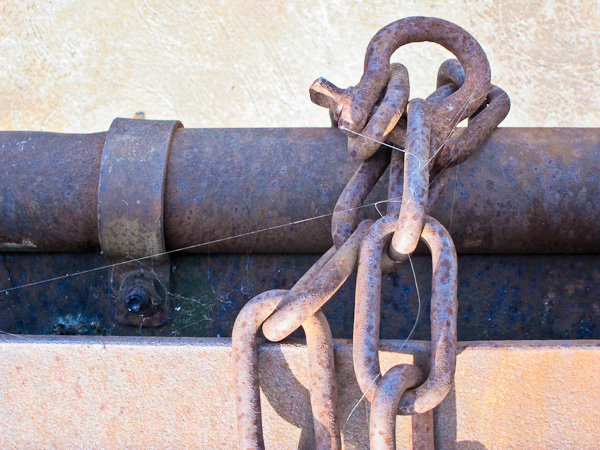 By the time we hit Geneva, Sylvia and I had entered a zone of exponentially increasing physical exhaustion. I was walking slower and slower, like a watch running down. There's something exquisitely pleasurable about being so tired out. I'm very aware of my body, and I deeply savor each moment that I can sit down. The fatigue is like a cushion that I recline upon.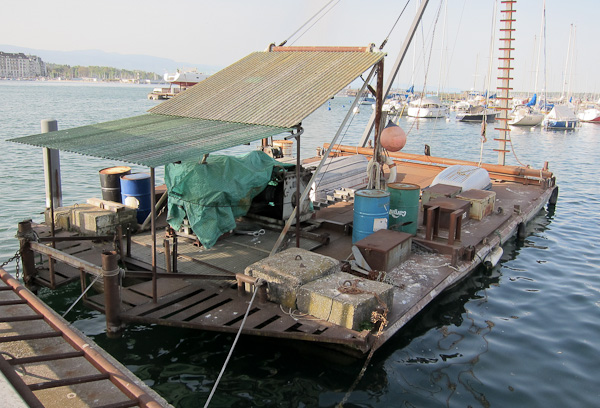 During my afternoon rests and my idle evening hours, I spend hours playing with my photos in my Lightroom program, tweaking my new memories in real time: clarity, contrast, vibrance, exposure, brightness, blacks.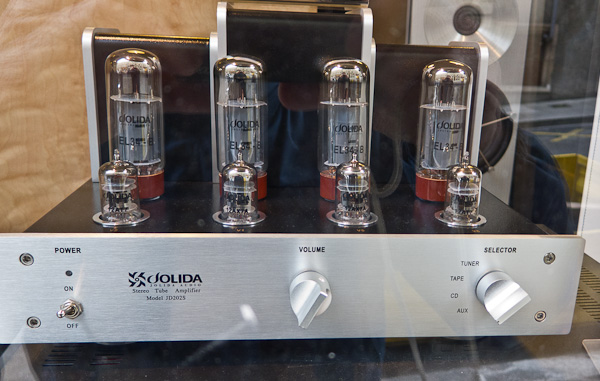 Right next to our hotel I saw a window of high-priced amplifiers which, how retro, include non-digital vacuum tubes. Analog has always been where the truest gnarl is at.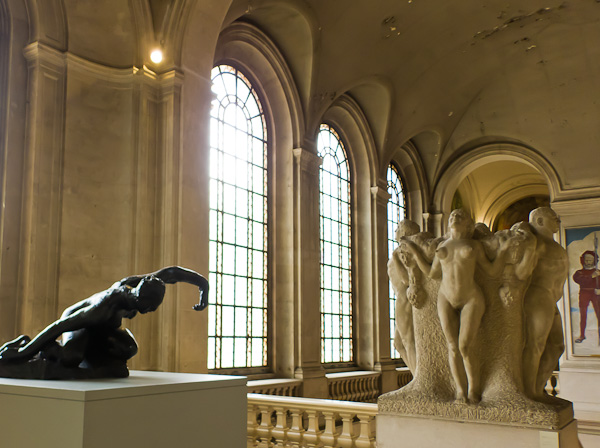 Sylvia and I hit the Museum of Art and History, visiting my two favorite rooms there. In one room are the paintings of Felix Vallotton (1865-1925), a guy with an amazing sense of color. He does mythological kinds of scenes, only the characters are very much recognizable as turn-of-the-century individuals. The paintings are a little bit peculiar…unfortunately I didn't get a shot of any of them.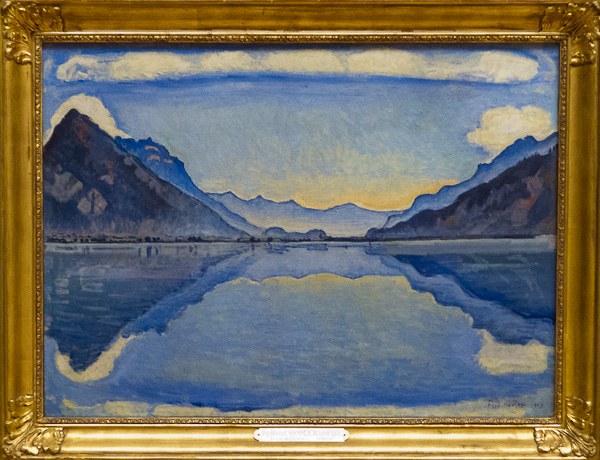 In my other favorite room are works by the Geneva artist, Ferdinand Hodler (1853-1918). He has several styles. In one style he paints amazing scenes of lakes and mountains, quite modern and impressionistic, with really wonderful hues. The paintings take on an abstract, symbolic energy. Hodler has one particular blue that I wish I knew how to mix. The guard told me to take photos, but I snuck one of his "Lac de Thoune" 1909.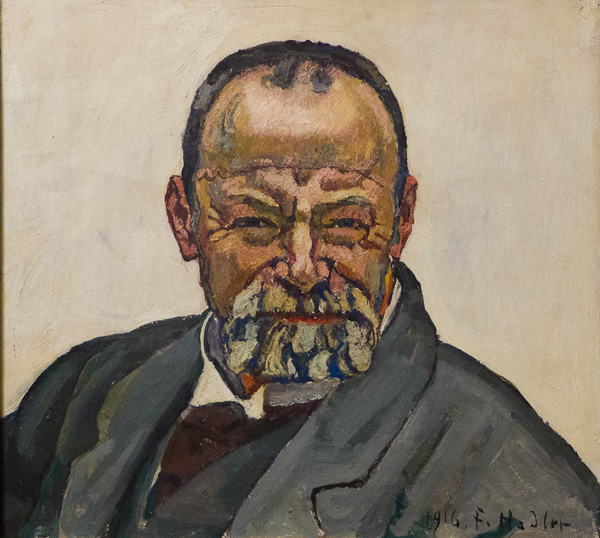 I got photos of three of Hodler's self-portraits as well. These are wonderfully expressive and remarkably differentiated from each other. He's making a face in this one, like a guy in a photobooth. These works speak to me as an aging writer, as Hodler did them in 1916 and 1917, shortly before his death at age 65. What vigor, self-knowledge, irony!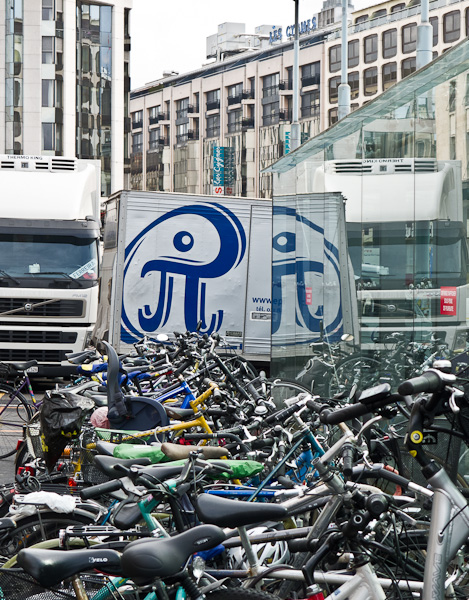 The days of our long vacation roll on, each day with its own little tasks and hurdles. I can imagine being paralyzed with fear and worry—even now, after years of travel, I have tendencies in that direction. But in reality, it's just one step at a time. Walk to the tram stop. Get the tram to the train station. Find the train track. Etc. And if you flub a step—like if you to see a sight and it's closed because it's, whatever, Tuesday afternoon, you can always do something else. If you miss a connection and spend an extra night, you can always find a room.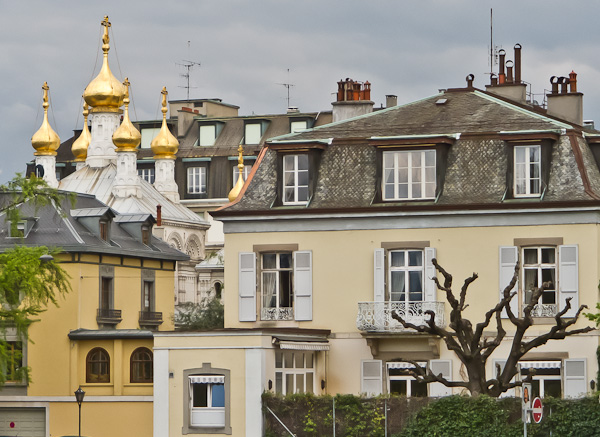 The Swiss public transport is like a clock. The trams, busses, and train cars are of an extravagantly high quality, they roll smoothly, they're frequent and ubiquitous. One aspect of using public transport is that we spend a fair amount of time waiting in public places. I didn't bring my smart phone on this trip. So how to use the time? Look around, duh.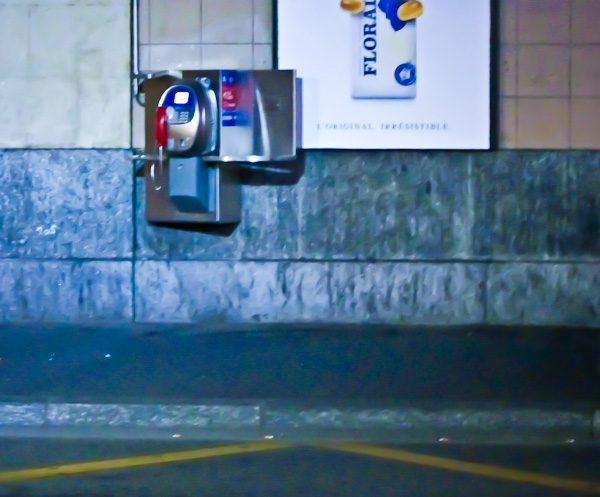 If restless, I pull out the folded square of paper I usually carry in my back pocket and write down what I see, for later incorporation into my travel notes and blog posts. Or I take a photo of a pattern I see in the surroundings.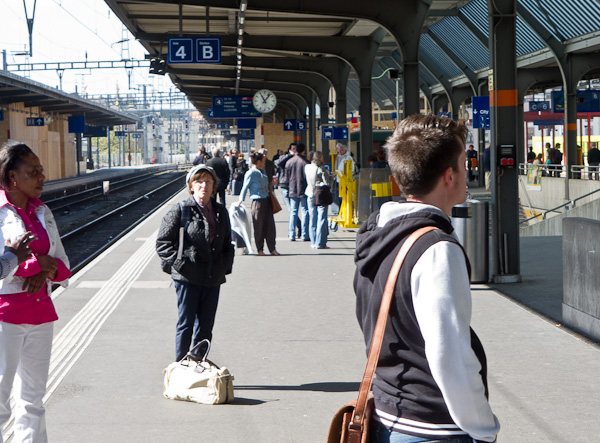 On the platform in Geneva, waiting for the train to Zurich and on to Munich, I noticed that the people in Europe are thinner than Americans on the whole. No adults wear baseball caps. Almost nobody shaves their head. Leather shoes are more the rule than sport shoes.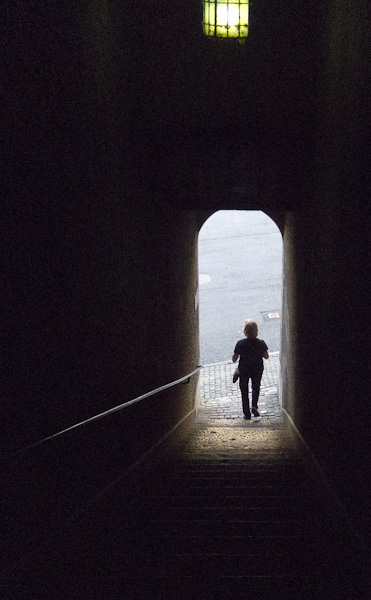 Good to see you again, Geneva. I'll be back.