As of today, March 22, 2010, I'm 64! This is two-to-the-sixth-power or 1000000 in binary, or, as my old mathematician/computer-scientist friend David Slater puts it, "one million base two."
Speaking of feeling like I'm a million years old, about six weeks ago I started having a pain in my chest when bicycling up a hill or even climbing steep stairs.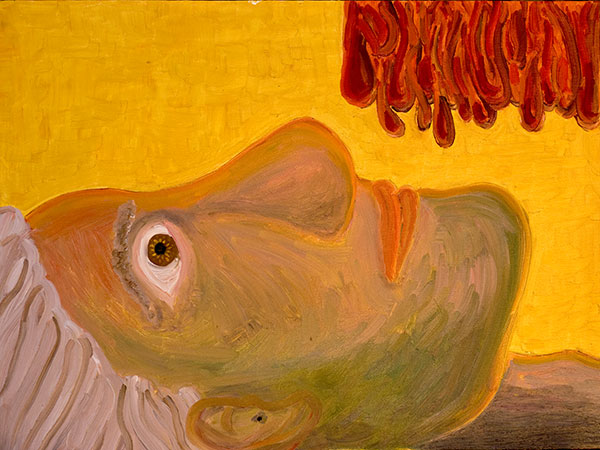 ["Heart Exam" Oil on canvas. 24″ by 18″. March, 2010. Click to see larger image.]
My doctors gave me a series of increasingly ominous exams which revealed that some of the arteries that bring blood to the muscle of my heart were clogged. My heart muscle was hurting when I exercised because it wasn't getting enough oxygen. I did a painting, Heart Exam, to dramatize my anxiety.
(Re. the materials for this painting, it represents a switch back to oil instead of acrylic paints. Looking through my old tubes of oil paint, I found an oddball tube of metallic gold paint that I'd bought as a kind of joke. But I used that whole tube on this painting, covering the canvas with an underlayer of gold paint, and leaving the gold exposed for the empty part of the background. It gives the picture a nice icon-like quality.)
Back in the so-called real world, I discussed my options with several doctors, and in the end we settled on my getting some stents installed to open up the clogged arteries. This is a fairly routine procedure, not requiring any long hospitalization. But I had to wait a few uneasy weeks to have the procedure done.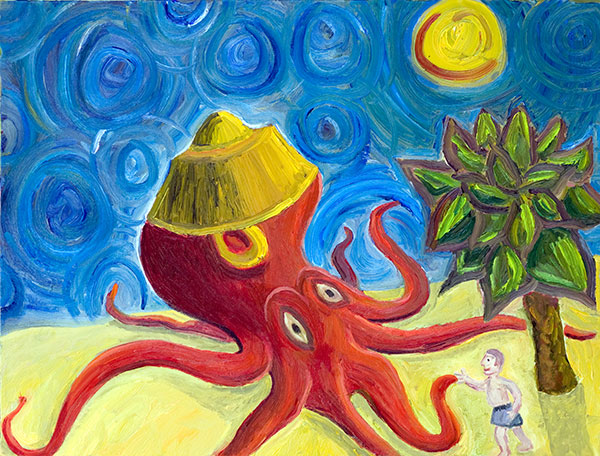 ["Giant Octopus with A Silly Hat," Oil on canvas. 24″ by 18″. March, 2010. Click to see larger image.]
While I was waiting and worrying and (inevitably) second-guessing our plan, I kept on painting. Painting's a good way to turn off the voices in my head. My most recent painting, Giant Octopus Wearing a Silly Hat, helped put me in a better frame of mind.
Giant Octopus Wearing a Silly Hat emerged almost at random. I was simply fooling around with shapes and colors until I found something that I liked: a giant octopus in a silly hat that might be a washtub or a lampshade. It was only after I'd been working on this picture for a couple of days that I realized the red octopus was in fact a symbol of my heart with its troublesome arteries.
Once I'd painted myself shaking hands with the wacky octopus, I developed an inner feeling that I'd be okay.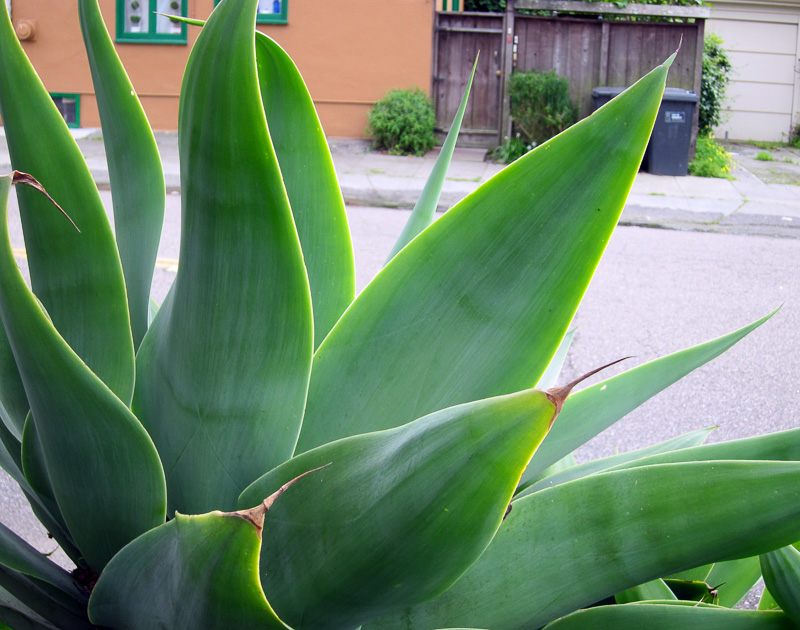 So I had some stents put in last week, and I came home feeling lively. And now my heart doesn't hurt when I climb a hill. So far so good—not to sound overconfident. At my age, I could still drop dead tomorrow. But that's always true for any of us.
I'm happy today, I like my birthdays. I made it to 64, and it's been a good run, better than I'd ever hoped.
"Thanks for everything."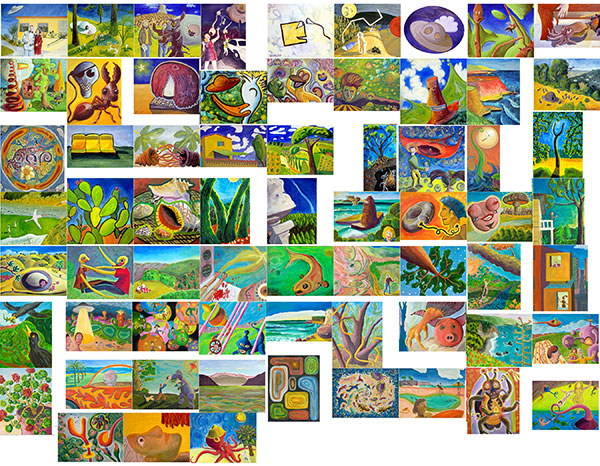 Some good news on the painting front. I'll be having a six-week show of my recent paintings and prints in San Francisco from Friday, April 9, through Saturday, May 22. The show will be in the Variety Preview Room on the first floor of the Hobart Bldg. at 582 Market St., near 2nd St. and Montgomery St., San Francisco.
We'll have an opening night party at the Variety Preview Room on Friday, April 9, from 6-9 PM—I'll be posting more info as the event draws near. The room is generally open during weekdays as well, so you can view the paintings at other times. And we'll have a closing event on Sat. May 22, from 6-10 PM, where I'll read with author Michael Shea as part of the SF in SF author series.
Paintings and prints will be for sale at the show during the opening and closing events, or via my painting website . Thirty percent of all sales during the show will go to support Variety Children's Charity of Northern California.