I feel odd now, between books. Like I just got out of the pen. (Pun!) Or out of the cave. Trying to relax, to slow down the art factory machine. I should be paying attention to the world while I can. Enjoying it. Doing nothing. It's surprisingly hard, that.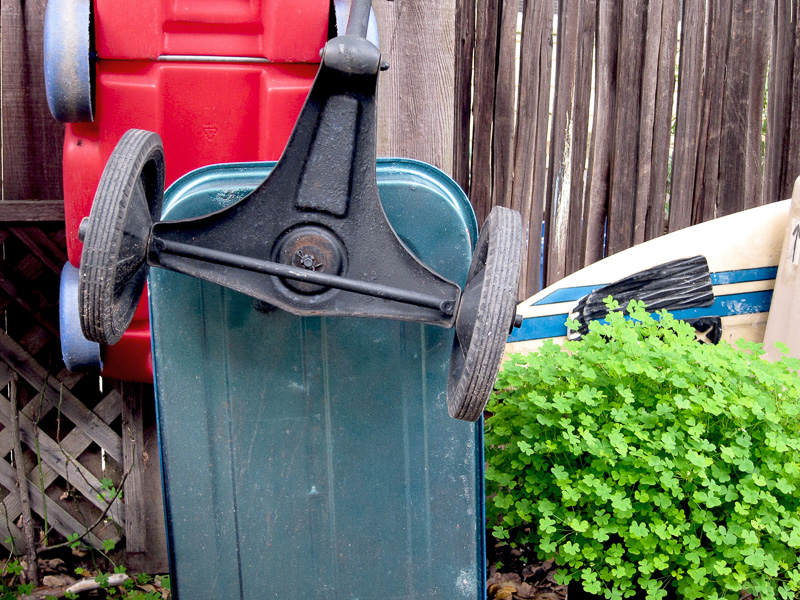 I did put out the new Flurb. And I spent one evening listening to some of my old vinyl records. I came across a great oddball pscychobilly LP, Destination Zululand, by a group called King Kurt. And I'm taking a few pictures (like those shown today) with my new Canon S90.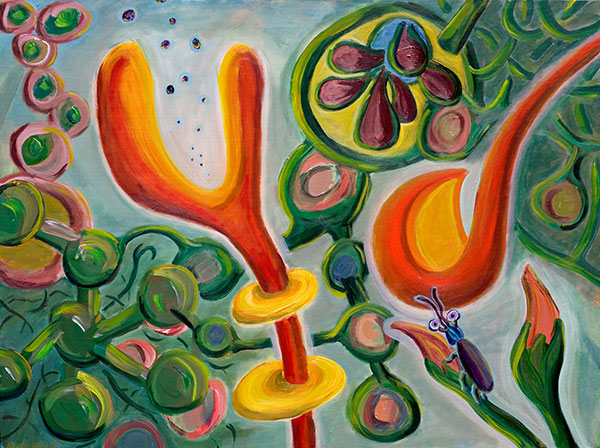 I finished a new painting, Flower Dream, last week, acrylic on canvas, 40″ by 30″. I think this picture might be the "dream" of the somewhat ordinary flower at the lower right corner. The picture arose fairly spontaneously. The first thing that went in were those two big red shapes, the fork and the hook. I combined the paint left over from my previous picture, At the Core of the World, and filled in the background. And then I kept on adding stuff to make it jungly.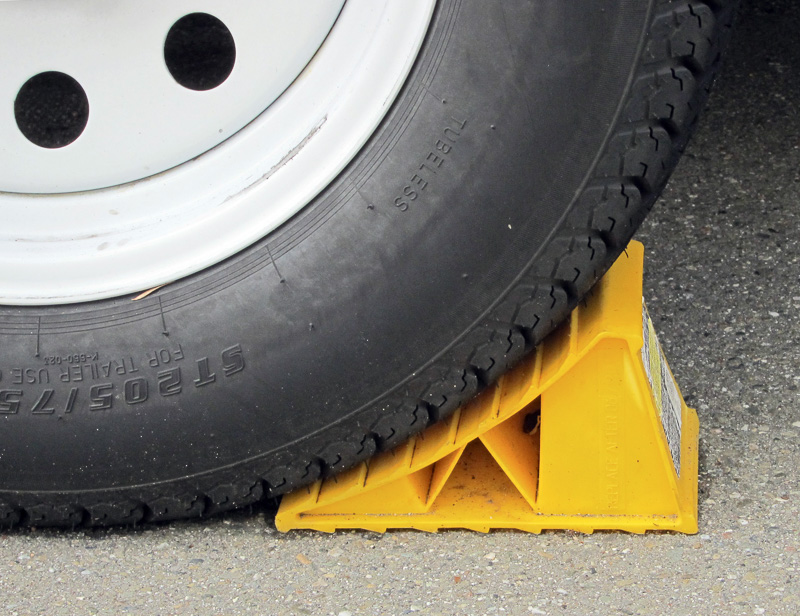 I spent a couple of days retweaking the design of my art book, Better Worlds—I put in my latest pictures, and thought of a way to lower the page count by putting the picture notes all together at the end of the book. The book's a mere $26 right now, and you can get an e-book edition for a laughable $5. We're givin' this stuff away!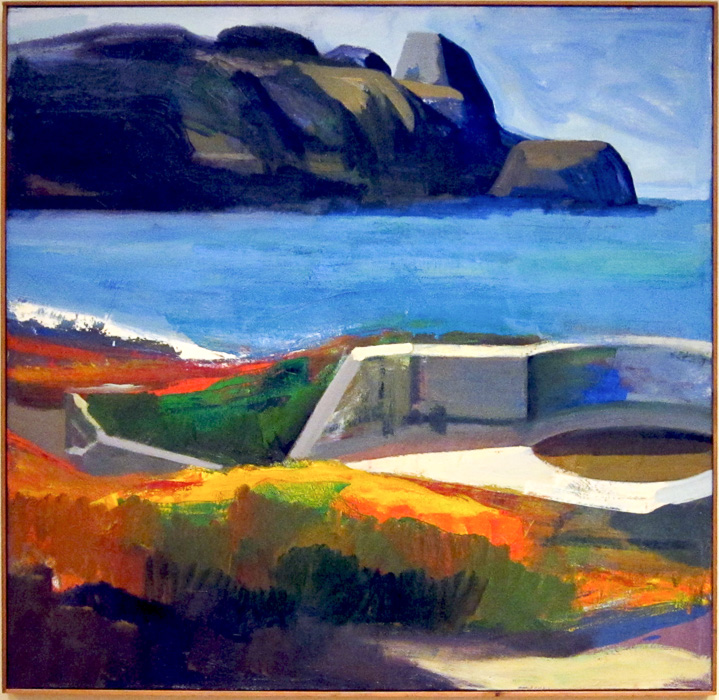 The other day Sylvia and I went to the Museum of Modern Art (MOMA) in San Francisco, we hadn't been in the city for awhile. MOMA has a 75th anniversary show on, featuring pictures from their permanent collection, not all of which I've seen on their walls before. I admired a really nice painting from 1962, James Weeks Looking West from Spanish Fort – Baker Beach #3.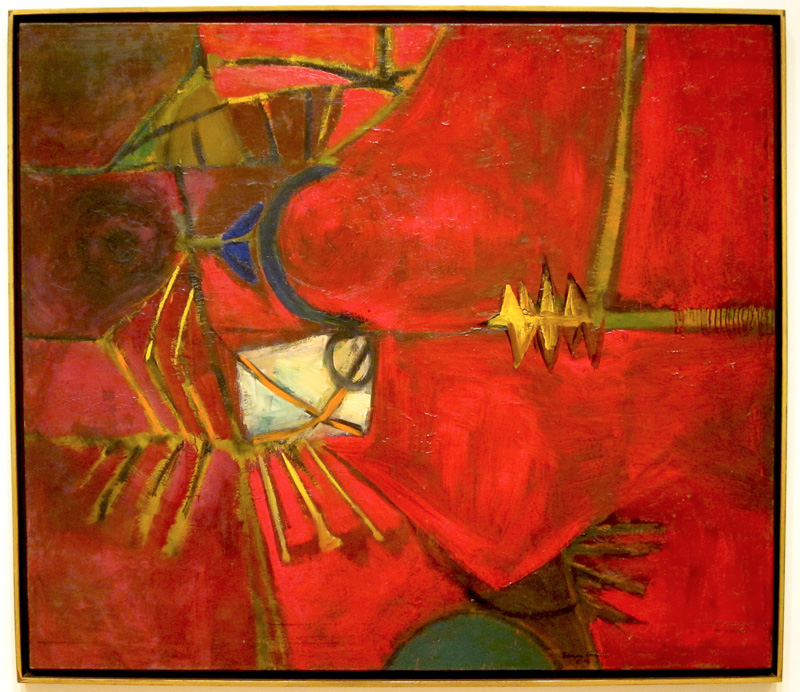 And I saw a wonderfully red pre-figurative California abstract painting by Elmer Bischoff. I liked this particular work so much that I'm going back to oil paint (instead of acrylic) for my next painting.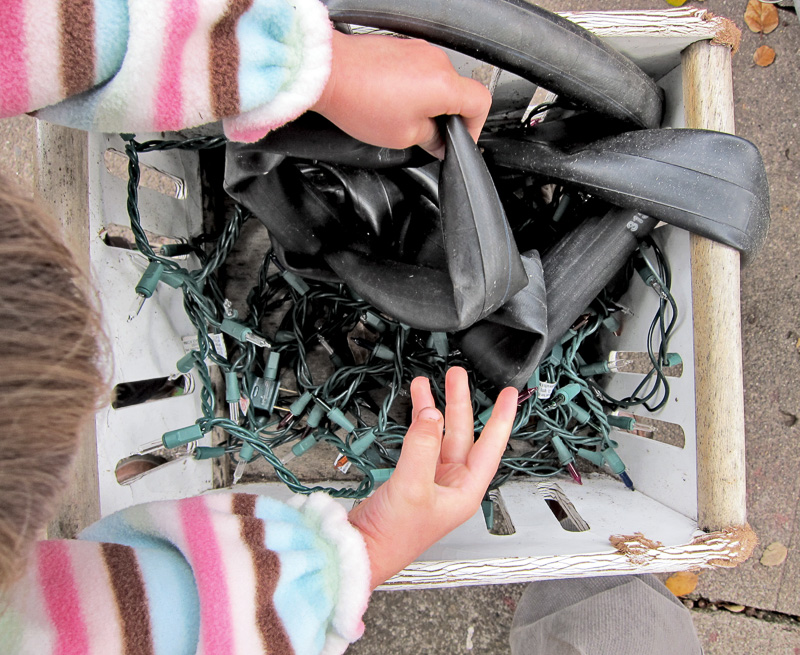 After MOMA, we split up for awhile, and I walked through the back streets to the Hobart Building on Market Street near 2nd Street and near Montgomery Street. There's a space on the ground floor in there called the Variety Screening Room, it's like a small film theater, but can also be used for spoken word presentations. The space is managed by the Variety Children's Charity, and is rented out by various other groups, including my pals at SF in SF, that is, Science Fiction in San Francisco.
I've read at SF in SF several times, and will be reading from my upcoming Ware Tetralogy on May 22, 2010. I'll also be reading from the same book at Borderlands on Valencia Street a month earlier, that is, on April 24, 2010.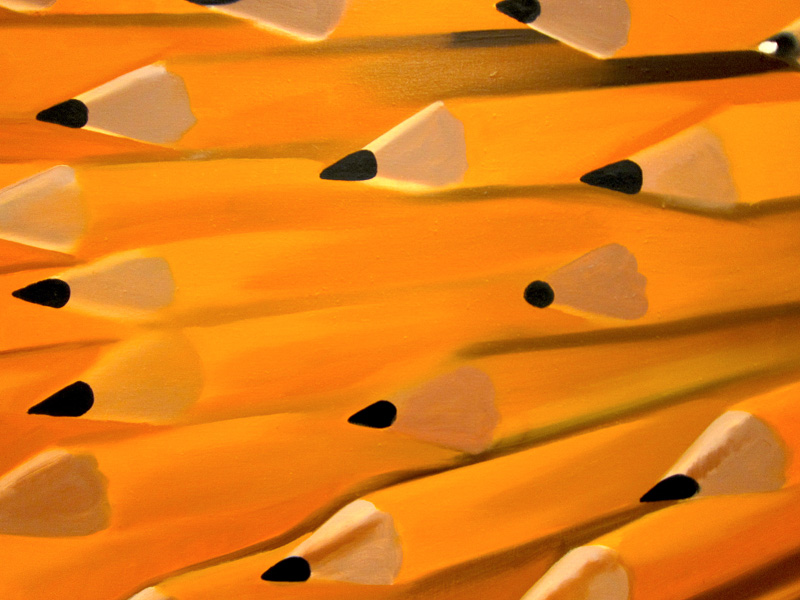 [Detail of James Rosenquist, Leaky Ride for Dr. Leakey, a sexual (in my opinion) painting at SF MOMA.]
The redoubtable Rina Weisman of SF in SF also arranged for me to have a two-month art show in April and May, 2010, in the smallish lobby and bar area off the Variety Preview Room. The reason I went there the other day was to estimate how many paintings I could fit in. Probably ten or maybe twelve. The lounge is unprepossessing in the daytime, but in the evening, with a crowd of people and drinks on sale, it warms up. I'll be posting about the opening night party as the time draws near.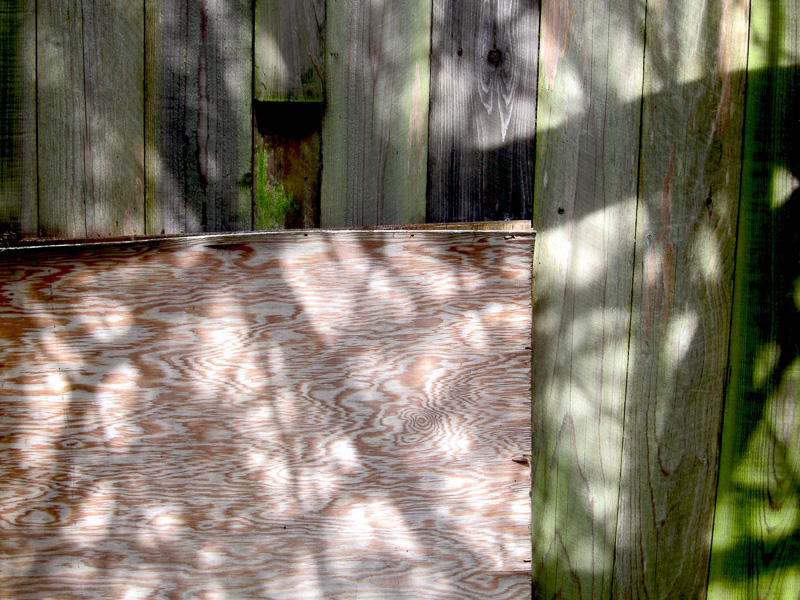 It was a cold, windy day and I was worrying about some health problems. Walking to the Hobart Building and then on towards Union Square I felt weary and old. Looking at the clusters of pedestrians, I imagined our dead selves as mirror-images walking upside-down underground, our ghosts shadowing us, all us barely afloat on a quicksand of death, and me, in particular, more than half-dead already. The flame of life flickers; we fret and strut for naught. I wanted to be home lying on my couch. Or at least kvetching to someone. Kvetching always makes me feel better. Another reason to write…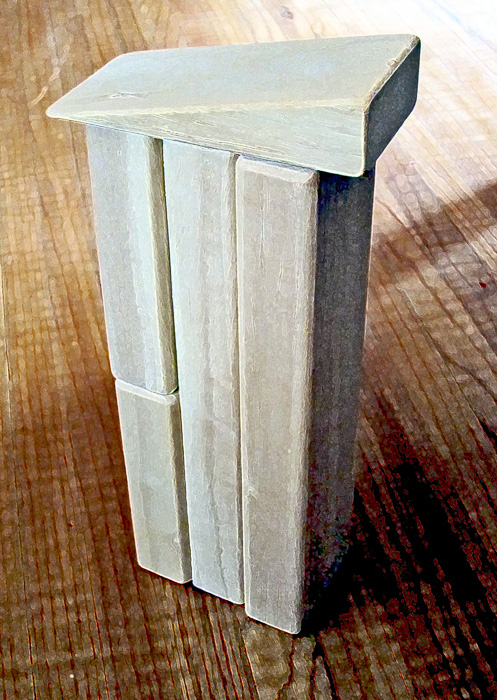 On a whim, I walked into the Mechanics Institute Library, a San Francisco institution I'd heard of but never visited. It's on Post Street near Market. The Mechanics Institute Library is a very cool place, it's a private library that you can join—like you might join a gym. If I lived in San Francisco I'd definitely sign up, if only to have a pleasant place to hang out downtown. And they host a word-famous chess club.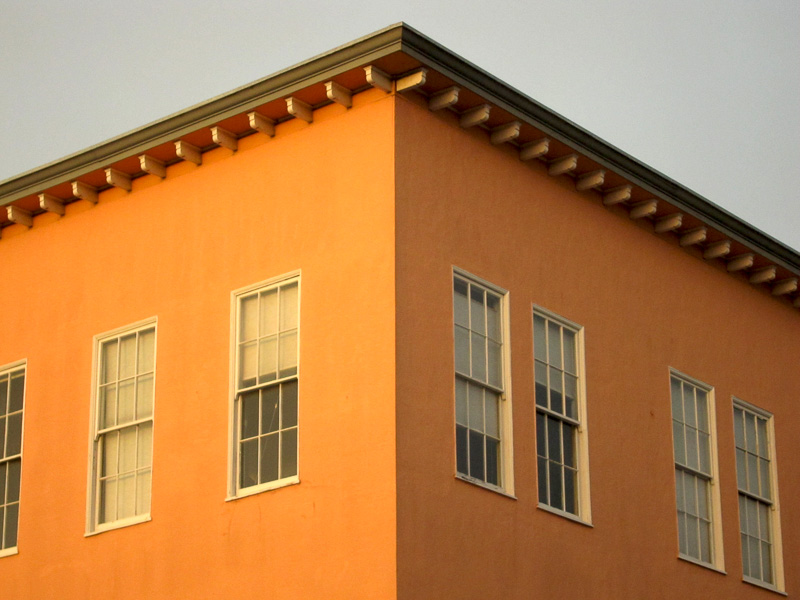 Jim Flack, a friend from college, works there as a director, and had mentioned once that I should come see him. Being at a psychic low-point, I was glad for a chance to reconnect with an old friend. Good old Flack.