I only have about three more chapters to write on my novel Jim and the Flims. Right now, our hero Jim Oster has been loaded up with ten thousand jiva eggs—the jivas being some nasty aliens who want to invade Earth. The cartoonist Jim Woodring designed the original models of jivas that inspired me.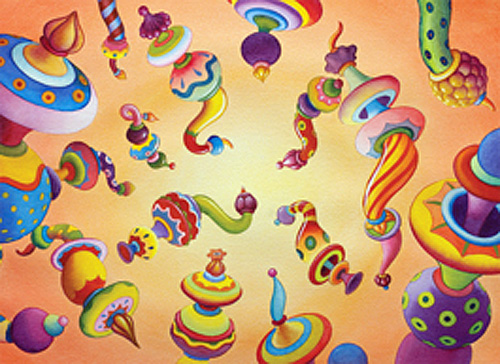 [Image of painting, "Jivas," by Jim Woodring, 2008, which recently sold for $1200 at the Comic Art Collective.]
In the part of my book that I'm writing now, Jim Oster is in Santa Cruz, California, with all those eggs about to pop out of him and find human hosts. The jiva eggs want to get inside living humans, there to incubate and grow—and later to emerge as a grown jivas, which have the general appearance of flying beets with a long snaky tails.
Now, originally, I was assuming that it kills you to host a jiva. I thought you'd be like being a paralyzed caterpillar with a wasp larva growing inside you.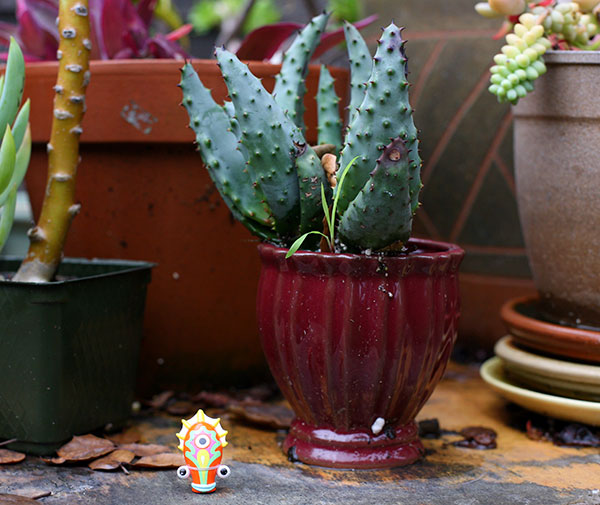 [Part of a broken Woodring-made toy with cacti.]
But then I realized that if Jim's eggs go into ten thousand of the citizens of Santa Cruz, then that many people will killed by the lethal practice of hosting a jiva larva. That's ten thousand deaths out of Santa Cruz's population of fifty thousand.
"Oh well!" was my initial line of thought. "Can't make an omelet without breaking eggs!"
I was taking a kind of prankish delight at the thought of depicting mass destruction in Santa Cruz. The town is like a second home to me, by the way, and I love it dearly…but it seems like a great locale for disaster scenes.
I was also thinking that if ten thousand people died, then I could have a scene of Jim confronting all those dead souls at once, and that would be dramatic. And I was imagining the new ghosts moving into a new tract-home-style development in the afterworld, a place called Nueva Santa Cruz.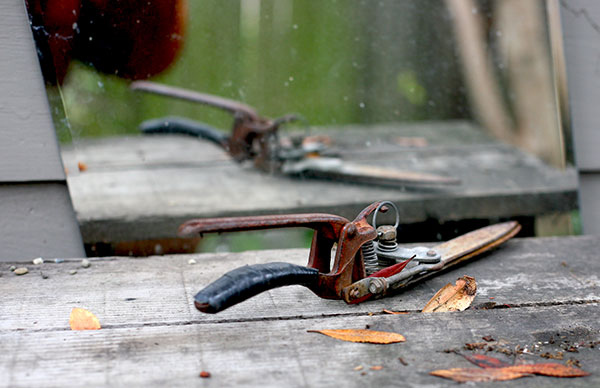 But yesterday I decided not to decimate the population of Santa Cruz after all. I think some readers would be turned off to encounter a mass die-off in what's meant to be a fairly light-hearted novel—it would bring them down, and my goal is to show my readers a good time. A massacre like that hangs up the story-flow. People start brooding over it. And I'd prefer to to keep things bouncing.
So I'm putting in some mumbo-jumbo about the jivas having tweaked the egg-in-human-body routine so that the latter-day Jivaic saints of Santa Cruz can carry their alien spawn to term without lethal effects.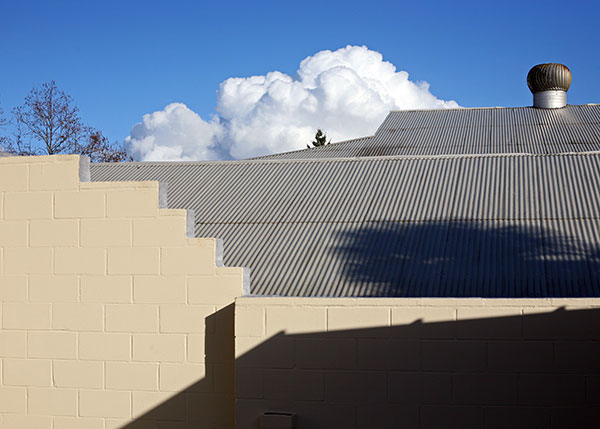 I love how flexible things are in SF. Give people a floating log to hang onto, and they're willing to go with the flow, and right over a waterfall if that's to be part of the fun. It's like that poster of a UFO that was in agent Mulder's office in the X Files with the caption: I WANT TO BELIEVE. (Click here for the history of this poster.) I always loved that slogan, it really gets to the heart of what ufology and science fiction are all about.