I just finished reading Don Delillo's White Noise, which was first published in 1985, and is out in a very nice Penguin Classic Deluxe paperback.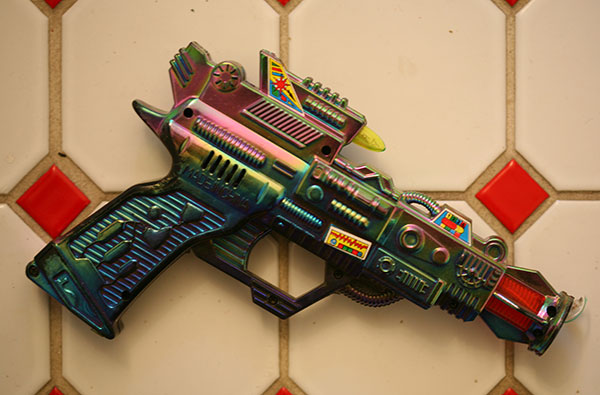 [My favorite toy raygun. By the way, my artist friend Paul Mavrides did a great painting, "Peace Dividend" of rayguns in 1997.]
Somehow I didn't read Delillo's book when it came out, even though there was considerable buzz. Maybe I was bitter and envious that Delillo was getting the lit-crit attention that I wished we cyberpunk SF writers were getting. You can't really trust writers' opinions about other writers books—many of us are, at least some of the time, mean-spirited, back-biting, and resentful.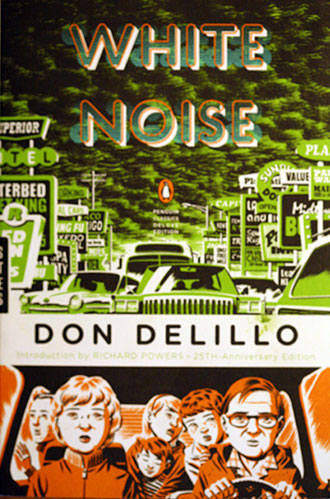 Anyway, White Noise kicks ass. Other than it's (refreshing) lack of computers and the internet, it could have been published this year. The dialog is amazingly flat and hard-hitting. And the plot elements are somewhat science-fictional: an unfathomable "airborne toxic event," and a mysterious high-tech drug called Dylar. Delillo does this cool thing of throwing in generic TV and advertising phrases, standing on their own in little paragraphs, breaking up the action. "Technology with a human face." "And this could represent the leading edge of some warmer air." "Not that I have anything personal against death from our vantage point high atop Metropolitan County Stadium."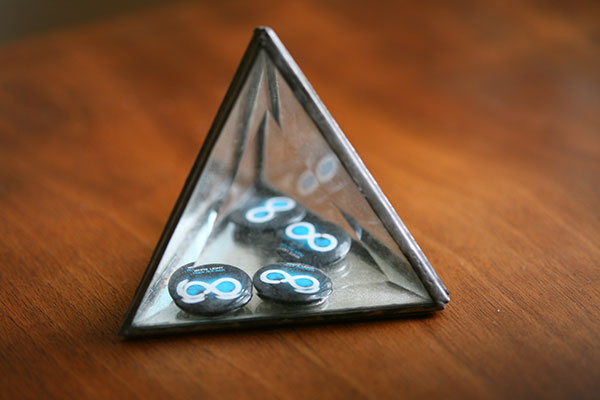 [Advertising pins for the 1980 Virgin Books edition of my novel White Light, the pins stored in an argon-filled tetrahedron at the Rucktronics Museum in Silicon Valley.]
Quite a few of Delillo's scenes are set in a supermarket, with our characters bathed in the waves and radiation of product information. The white noise. They get most of their information about the world from supermarket tabloids.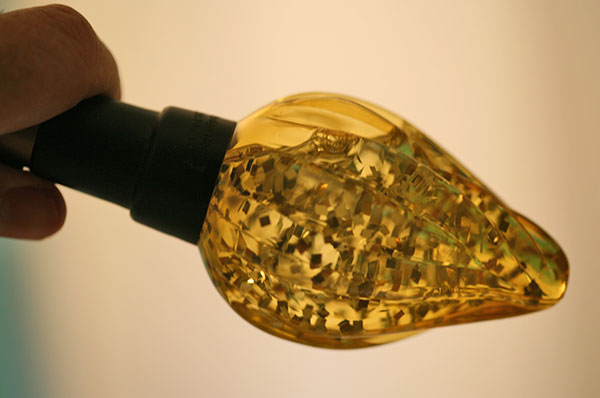 [A Liberty Light, a gift from my friend Nick Herbert, who at one time worked for the manufacturer.]
The other thing I've been into during this rainy, cabin-feverish week is to listen to a boxed set, Back to Mono, of singles produced by Phil Spector 1958-1969. I got it from the library.
My favorite is Darlene Love, singing "Today I Met the Boy I'm Going To Marry," which you can hear in this YouTube video of…the phsyical record spinning on a turntable. It's gotten very hard to find free mp3s of songs online, but for some reason you can find a lot of songs being "pirated" as soundtracks of YouTube videos. You can find mp3s on marketing sites like lala.com, but then they only let you hear the things once before buying it. And if you really want to get an mp3 for free you end up on, like, a Polish language site seething with malware. So hooray again for YouTube.
There are a number of videos of the Ronettes, though—they're the supreme girl-group named after their lead singer Veronica (Ronnie) Bennett, who was later married (unhappily) to Phil Spector—thus she's more commonly known as Ronnie Spector. That's "Be My Baby" above, in a kind of weird video of a TV show with, oh my god, gogo dancers. Ronnie's not a really great dancer herself, but it's sweet and cute to see her and the other two Ronettes do their best. Probably "Baby I Love You," is a greater song, here's a video of that, in which the two sub-Ronettes (Ronnies sister and cousin) are relegated to a role liike appliances being wheeled from a closet. I like their Easter Parade outfits in this one.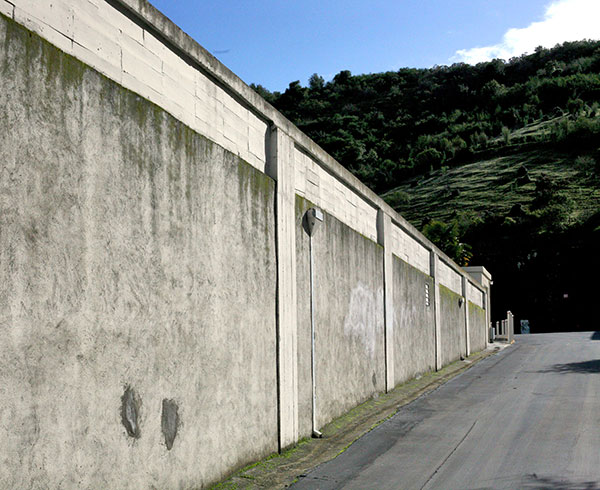 I always had trouble figuring out what ethnicity the Ronettes were—turns out they're a mix of black, white, and Native American. Researching them and Phil Spector and his other groups, it seems like most of them had pretty rough lives. Phil Spector's in jail for killing a woman, for instance, with no chance of parole till he's 88.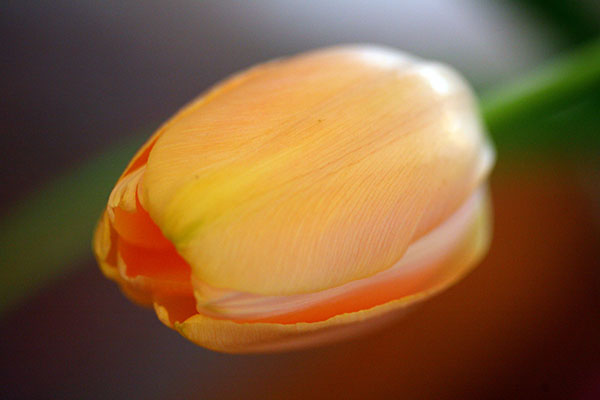 Looking back to happier times…another great group that Spector recorded were the Crystals, led by the wonderful Lala Brooks. We're talking "Da Doo Run Run." You can see the Crystals sing it on YouTube. Oddly enough the song "He's a Rebel," which is credited to the Crystals, was in fact sung by Darlene Love. Here's a recent video of Darlene Love singing the song with Lala Brooks of the Crystals. And, wow, YouTube is bottomless, here's Darlene and Joan Jett singing the song.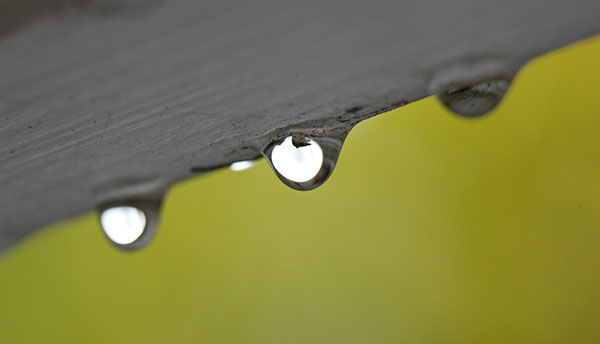 [Danglng raindrops with a palm-tree-bokeh background.]
But the weirdest video of "He's a Rebel" is the following. Back in 1964, Kenneth Anger made a fairly outrageous underground movie called Scorpio Rising, whose entire soundtrack is pop songs of the day. I remember seeing it in an art house back then and cracking up that they had "He's a Rebel" in the movie overlaid with some clips of Jesus and the disciples walking around in some ancient religious film. You can see the movie on Google video. The "He's a Rebel" part cuts in about twenty seconds after the 16 minute mark.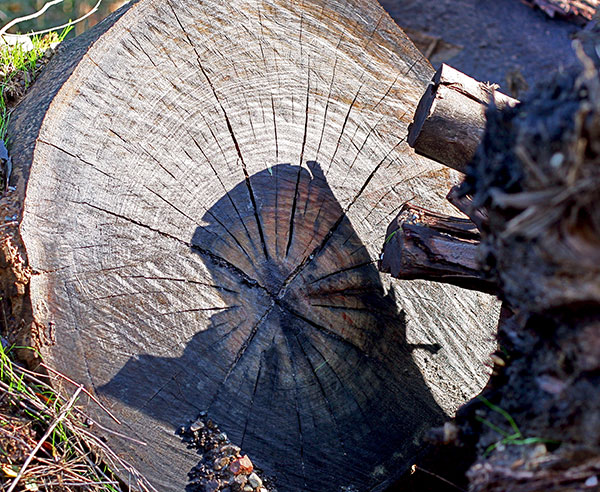 White noise, white light, white heat.