Leon and Yolande taught us some Australian slang, and we also learned some from our old Melbourne friends Robert and Margaret Mrongovius, who had us over for dinner at their house. They lived in the neighboring apartment when we were in the University Guest House for a year in Heidelberg in 1979, thirty years ago.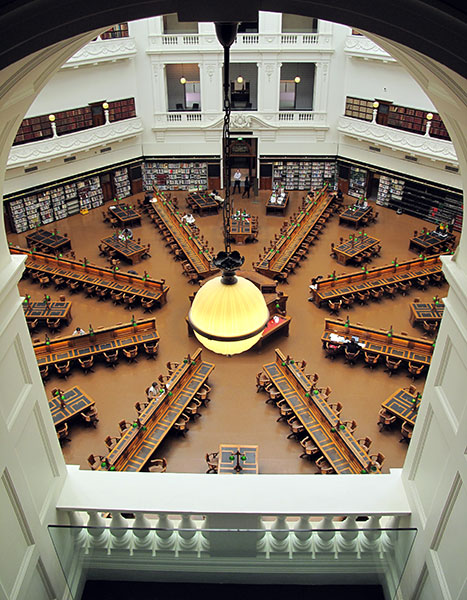 [Reading room in the Melbourne main library, where we went to do our email for free.]
Here are some tidbits I gleaned from the locals.
A buff jock type guy with short hair drinking beer with his friends is "boofy" or a "boofhead." A redneck is a "bogan" or a "westie."
A nap is a "kip." Food you find in the woods is "bush tucker."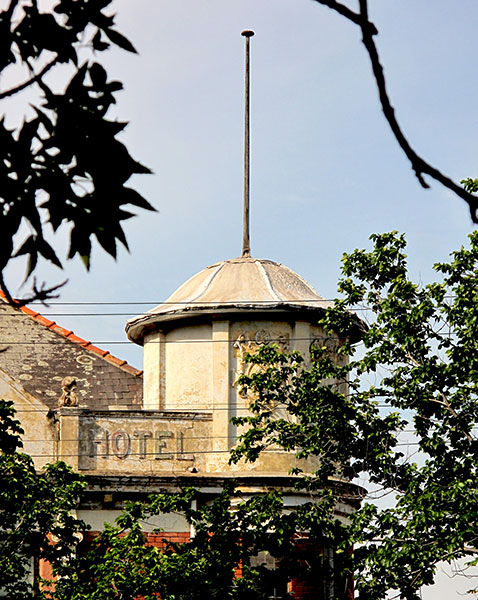 [A quaint corner of Williamsport, near Melbourne.]
A group of kangaroos is called a "mob of roos"?
A "dag" is a clot of crap on the wool near a sheep's butt, so "daggy" means "gross or gnarly." Yet sometimes, "dag" will be used fondly, like "nut", as in "You are a dag." I mentioned this to Leon, and it turns out he used to date a woman who'd say that to him, "You are a dag," and it annoyed him. So of course I started saying to him, and even loudly declaring on the Melbourne night sidewalks, "I am a dag!"
"Shonky," means sleazy, shoddy, sneaky.
Cockney rhyming slang is used here. "Have a butcher" means "Have a look," as look rhymes with the hook in butcher's hook. A "porky" is a "lie," as lie rhymes with the pie in pork pie.
For more, see the Australian dictionary of slang.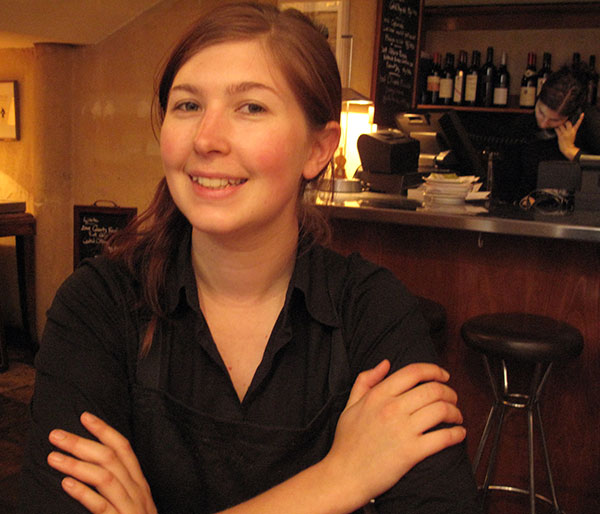 We visited young Alice Mrongovius—the daughter of our old Heidelberg friends—we last saw her thirty years ago, when she was two or three. She's just gotten an art degree from the Victorian College of the Arts (VCA), and is paying the bills with a job as a barista in a cafe. She's very cute and lively, a cartoonist, with work at her site, www.banditfox.com. She and her sister Martina have done several comic books together.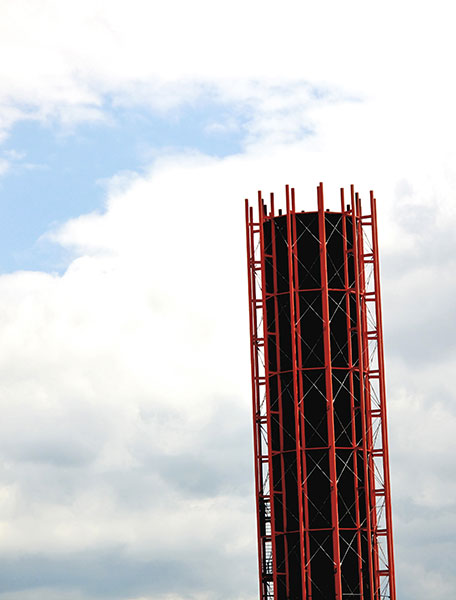 [Tower of the Contemporary Art Museum in Melbourne.]
Yesterday, Sylvia and I actually looked through a group show by Alice's graduating art class at the VCA, which happened to be near the building where I gave my talk. Alice was showing some drawings and a pair of milk cartons with slip covers.
Not many of the young people seem to be into painting—it's mostly photos, videos, collages, or assemblages. Maybe painting is too hard, too slow, too much trouble. Another factor is that it's easier to tell at a glance if a painting isn't very good. If someone puts a pile of dirt on the floor, then it's not so clear if this is worse than or better than the other piles of dirt on the floor that one has seen in museums and art galleries. With a pile of dirt, the artist is less exposed.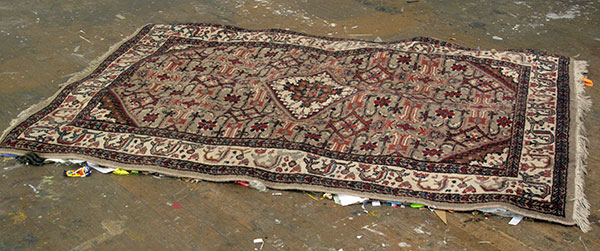 Speaking of dirt, there was one dashed-off work in the show that was kind of witty, it was a cheap oriental-patterned rug with a lumpy surface—the lumps are the result, the viewer slowly realizes, of a great deal of random paper trash having been hidden under the rug. The work, by Ilie Rosli is called "Swept Under."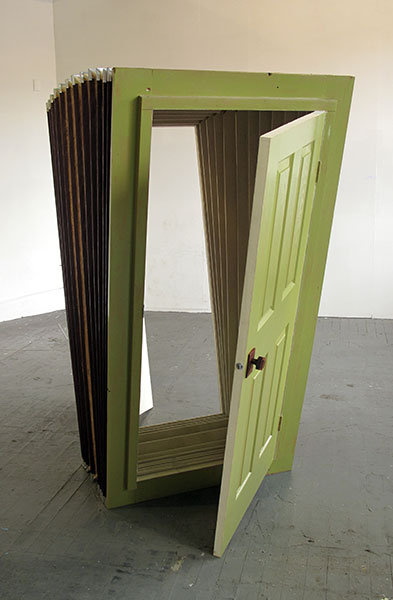 Another assemblage that I liked was a pair of doors connected by an accordion-like corridor—"Limbo" by Carmen Reid.
Today we hit the botanical gardens—I saw some unfamiliar Australian trees like the banyan-like Moreton Bay Fig and the Ridge Myrtle with its ridged bark. We had a bland British lunch at the public tea garden there, with mynah birds fighting over the scraps.
And on the way back, we happened upon the Malthouse Theater, a modern complex that was showing, among other things, an hour-long modern dance performance: "Structure and Sadness" by Lucy Guerin.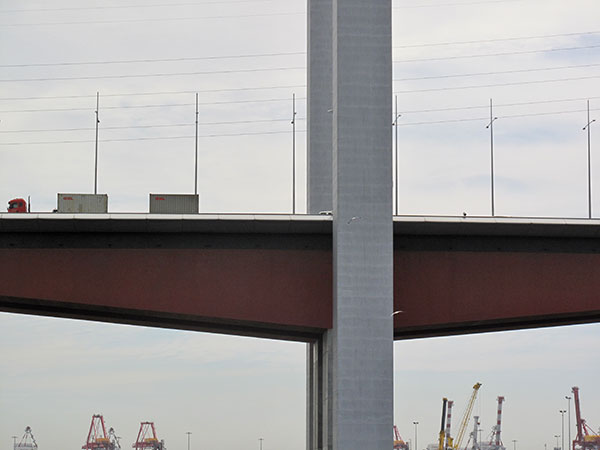 [The West Gate freeway bridge near Melbourne.]
"Structure and Sadness" is a great piece. Unlike most contemporary ballets, it's about a specific historical event, to wit, the collapse, during construction, of a part of the West Gate freeway bridge over the Yarra River near Melbourne in 1970. The six dancers acted out abstract notions of stresses and force vectors, while building a very large house-of-cards bridge-span which collapses near the end of the performance. While listening to Joan Jett singing "Crimson and Clover," a woman learns that her husband, a bridge construction worker, has died. At the very end, four of the dancers lie down under a metal plank—another lies down to one side, and the final dancer walks over the plank into the darkness. Using the bridge. This could come across as being over-literal, but it was done with great subtlety. It's an interesting mixing of levels, and beautiful dance.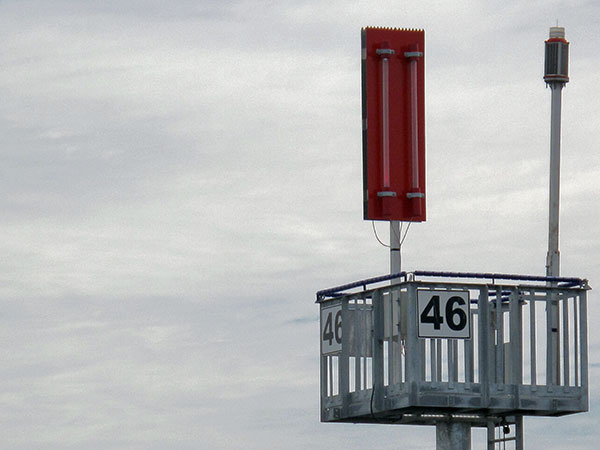 [Marker in the Yarra River near Melbourne.]
I've also been reading the Australian writer Peter Carey's 2001 historical novel, True History of the Kelly Gang, written as if by the Australian outlaw—or "bushranger"—Ned Kelly (1854-1880). It's a wonderful book, written in dialect, as if transcribed from papers that Ned left behind.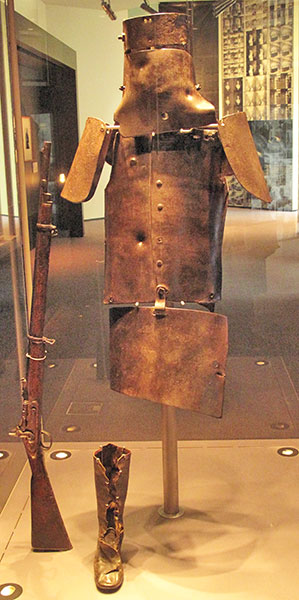 What inspired me to read this book was that we saw Ned Kelly's armor on display at the Victoria State Library—Ned had it made from quarter-inch-thick steel for his final showdown with the cops, or "traps," as he calls them. We go to this huge old stone library nearly every day to check our email and cruise the web—it's always soothing, on a trip, to get back into the familiar bath of your online personality.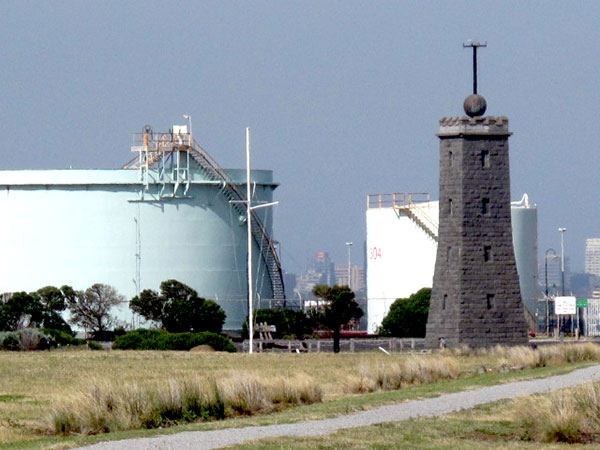 [A "time-ball" signal in Williamsport, near Melbourne.]
We went to an SF-related party on our last day in Melbourne, which was great fun. It was nice to meet some more SF people—the encyclopedist Peter Nicholls was there, as was the expatriate American (now Australian) SF novelist and anthologist Jack Dann. Both of them were really enjoyable people. Finally I was talking to some locals who'd heard of me!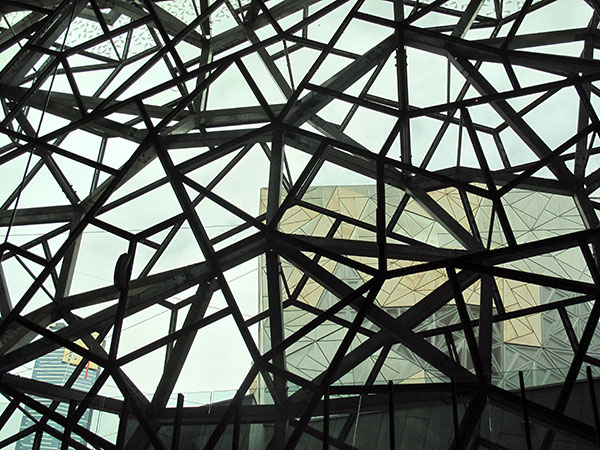 [One more picture of the cool building in Federation Square.]
The party was at the house of Jenny and Russell Blackford, stalwart members of the Melbourne science-fiction scene—for a time they helped edit and publish a zine, Australian Science Fiction Review, which included SF essays and (often) squabbling letters in the back. They'd heard of my visit through Damien Broderick, the once-Melburnian SF writer who's now working in Austin, Texas. I got to know Damien a few years ago when he was writing his non-fiction book, Transrealist Fiction—a study of the realistic-SF genre that I myself named.