As I mentioned last month, in my post, "The Afterworld as A Monad with an Infinite Center," I've been working on a painting called Topology of the Afterworld. I finished it yesterday.
As I mentioned before, this painting has to do with my mental image of Flimsy, an afterworld that I'm describing in my novel Jim and the Flims. I wanted to fit an endless world into a finite volume—I'm thinking that maybe a copy of Flimsy is inside each electron. And I used M. C. Escher's idea for fitting infinity into a nutshell by having things shrink as they approach the middle.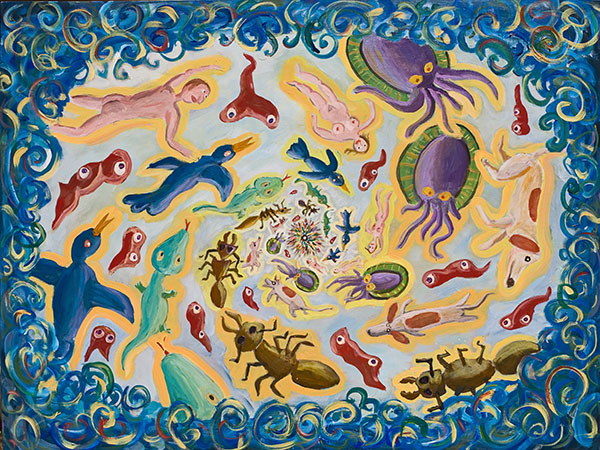 Click on the image to see a larger image.
I started with six streams of beings: humans, cuttlefish, dogs, ants, lizards, and birds. And then, again following Escher, I filled in the blank areas with globby beings designed to fiit the available spaces.
I'm happy with this one. (More info at my Paintings page.)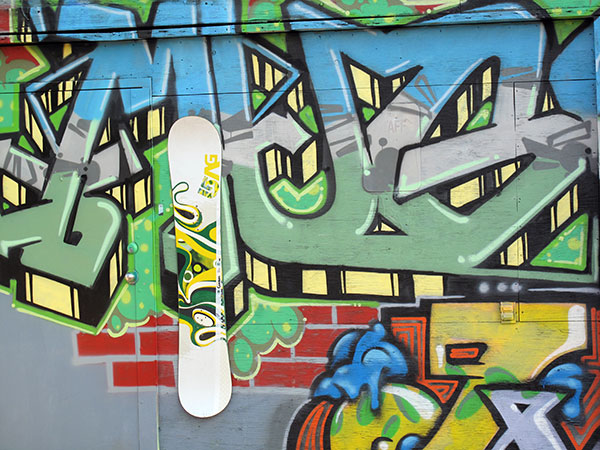 [Graffiti with fake bricks and a real snowboard in Kamloops, BC, Canada.]
On the cyberpunk front, Paul DiFilippo posted an interesting essay/review, "Aging Chrome: Cyberpunks in 2009" of the latest novels by John Shirley, Bruce Sterling, and me.