I've been feeling anxious about Jim and the Flims, my novel-in-progress. I think it's useful to stay in a frame of mind of doing it my way, rather than trying to make it commercial. As has been rather amply demonstrated by my previous eighteen novels, it's highly unlikely that any novel I ever write will be a giant commercial success. The skittish fen are suspicious of me, and forever more will be. So why should I start groveling and bowdlerizing and self-censoring and hobbling myself—especially if so doing vitiates my joy in writing?
I feel cornered, backed up to a cliff's edge, and that I should try harder to be commercial. Hand in hand with that comes a feeling of rebelliousness. My instinct is to give "them" the finger and jump. And maybe, in the long run, that is in fact the most commercial move. (And keep in mind that "they" only exist in my head, that is, "they" are a certain set of voices in my ongoing tourtured-artist-type internal dialogue.)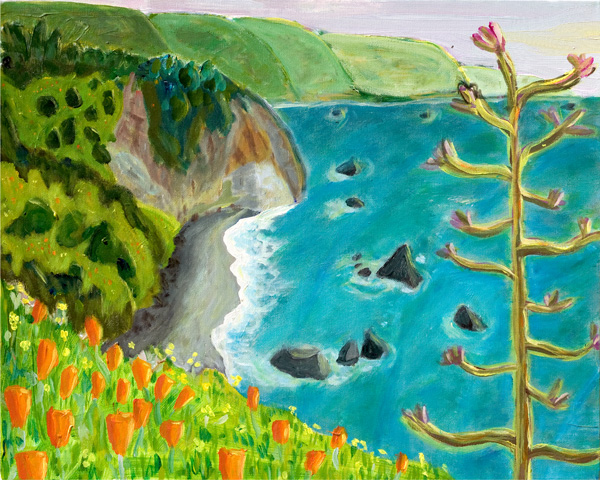 [My painting Big Sur at Lucia, started at Lucia Lodge on my 63rd birthday. Prints at rudy.imagekind.com].
Maybe I flip my wig and go totally surreal with Flimsy. Random crazy stuff, like in the Alice books. I have an idea for a garden of growing clones for sacrificing to the jivas, and that's a nice fresh image. As a working method, I could go for shock-effect after shock-effect, picaresque style, enjoy it locally, and that's all it is.
But, face it, flipping isn't enuf. I need a story-thread to keep myself wanting to sit down and write every day. When a book is going well for me, working on it is as interesting to me as reading someone else's novel—I'm eager to find out what happens next.
Another issue is that I need some consistent overarching relationship between our world and the alternate world "Flimsy" that Jim visits. Today I'm entertaining the idea that Flimsy is in some ways the afterworld. I did use this move in White Light, which was largely set in a kind of afterworld. So I've mined this vein a bit, but certainly there's more ore in the seam. How might the alternate world "Flimsy" in Jim and the Flims be the afterworld?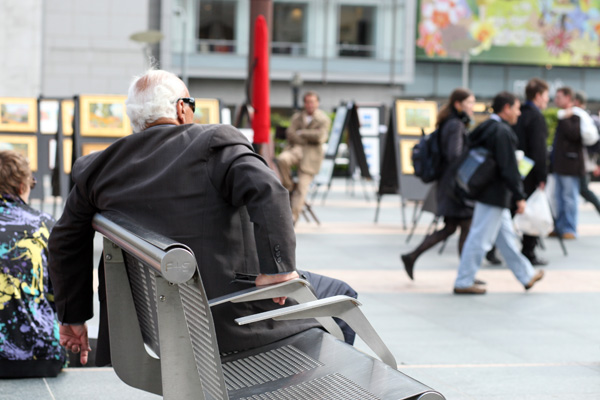 (Afterworld 1) One possible move is the traditional one of giving the character a health crisis, then segueing into increasingly bizarre adventures, and then he realizes that he's actually dead. "And then Jimmy Olsen realized he'd been dead during the preceding N chapters, and that all those mad adventures had been afterlife experiences." [When I say "Jimmy Olsen" I'm riffing off those old Superman comics where cub reporter Jimmy Olsen kills Superman, and in the last panel of the comic, Jimmy Olsen falls out of bed, and says, "Oh, it was only a dream."]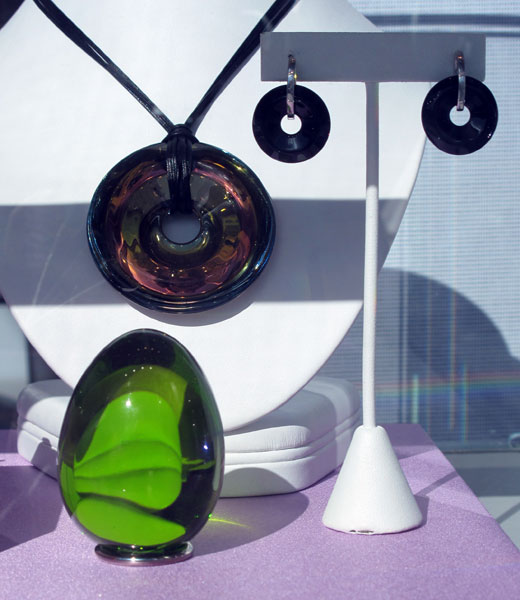 A downside with the Jimmy Olsen move is that the longer you postpone the reveal (that is, the larger N is), the more annoying it is for the audience. Like they've been reading along, and taking the story seriously for chapter after chapter, and suddenly you're telling them you've been scamming them.
And once a reader actually does know that the character is dead, the adventures take on a special interest of a different kind.
This said, if the main character is dead, this takes some zest out of the story, as who cares, after all, about what happens to a dead guy? And he can't really die, now, so what does he have to worry about?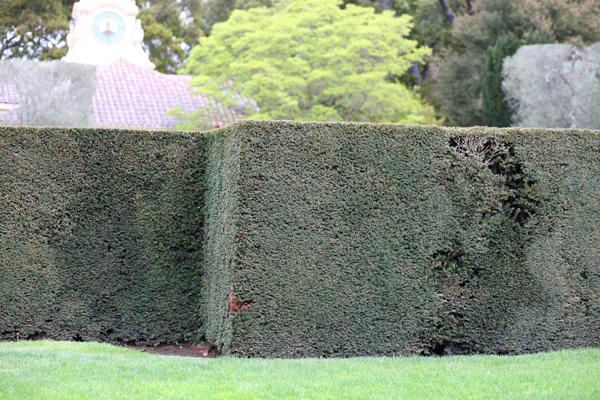 (Afterworld 2) A second way to write about the afterlife is to use Dante's move in his Inferno. Dante himself isn't dead, he's on a tour of these other worlds. It's like an exploration of alternate universes. Note that Niven and Pournelle already wrote an SF pastiche of Dante, so I wouldn't want to copy any particulars, just the general notion of a living guy exploring the afterworld—which is, again, the move that I used in White Light.
Kicking up the spook factor, maybe one or two of those three surfers that Jim meets before he leaves are in fact dead, they're ghosts or zombies? And maybe half the people at the surf party are dead, too. Surf zombies. That would be cool. I still want the drama of killing the obnoxious boss surfer Header with an axe, so maybe Header is alive—but I guess he could be a zombie, and then he gets back up to his feet even with his brain gone and his head axed, all Vault of Horror style. Gnarly, dude. If Header's a zombie, then I can keep using him as a character even after he's been killed…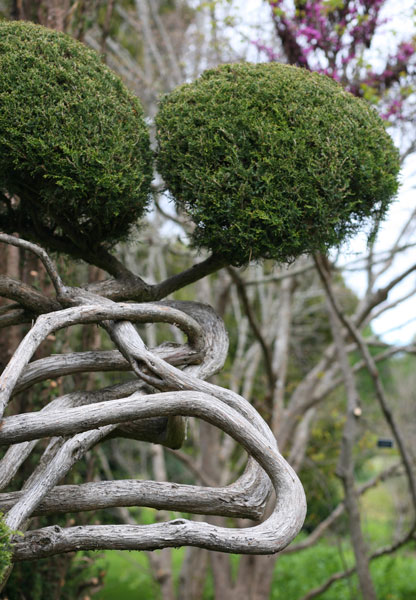 Is Jim's mysterious woman friend Weena something like an angel or a devil? Well, she's from this other world, which might be the afterworld, so maybe she's a ghost. Or maybe that world had native-born people as well as ghosts that have emigrated there from here.
I do like the idea that Ginnie is a ghost—this is the surfer woman whom Jim falls in love with. And once they're in Flimsy/afterworld, Ginnie is substantial and he can make love to her. There can be some prefigurings of Ginnie being a ghost before she tells Jim or before he figures it out. She's hard to see when it's dark. Other people don't seem to notice her.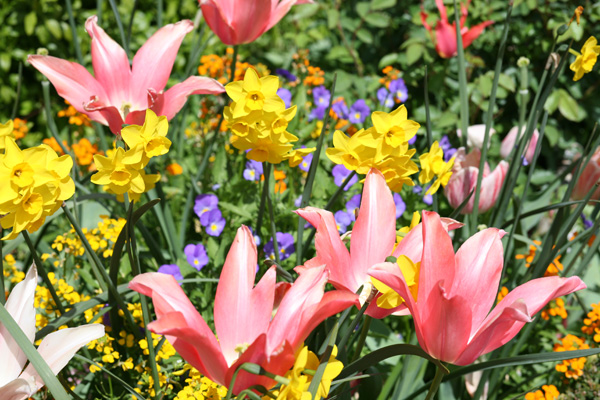 And maybe, what the hell, further into the book, widower Jim meets up with his dead wife Lucy over in Flimsy. Kind of an Orpheus and Eurydice number, I think I've never used that pattern before, hooray, or wait, in White Light, the guy does get a girlfriend over in the Land of the Dead, but it's not his ex-wife. Man, I'd be hooking into a silo fulla corn with a dead wife routine, wheenk to spare, very commercial. Especially when Jim can't bring her back from Flimsy to his homeland. Tearful fade-out. [Here's a post where at the end I explain what I mean by "wheenk".]