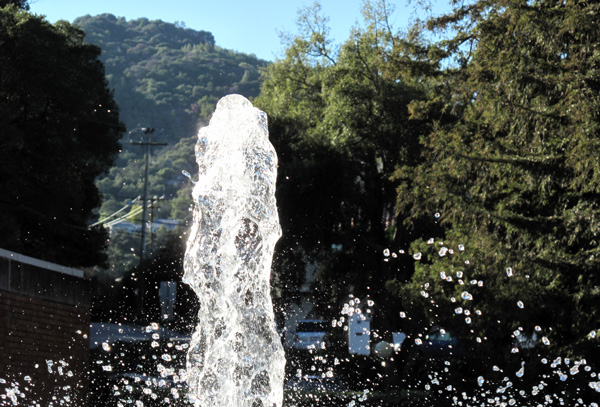 It's been raining hard all day, very unusual here. I like the waxing and waning of the drops sweeping across the roof. Think of all the vibrations in all the drops…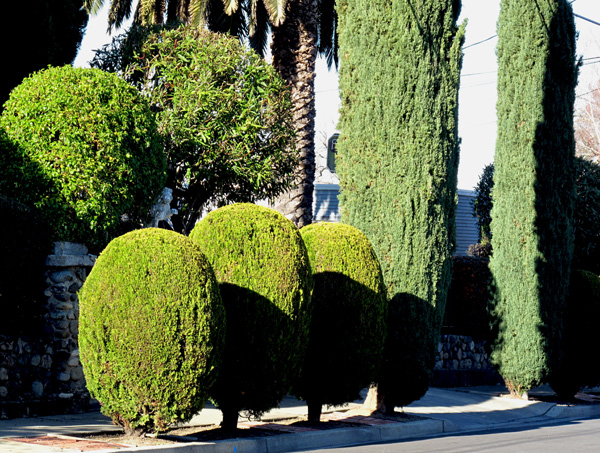 I don't have much to say today. Suffice it to say that I'm still grappling with the shape of my novel, Jim and the Flims. And I did another layer on some parts of my new painting, Four Mile Beach. I might finish it in a couple of days.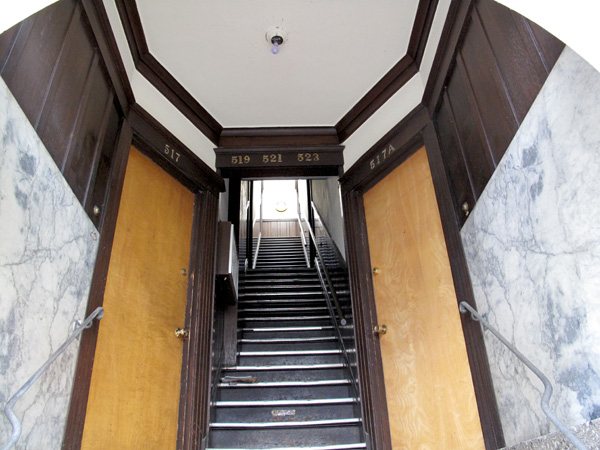 For me, writing is very much a matter of groping. Exploring possible paths through the story universe to find one that's both surprising and with a kind of inevitable story-like feel. This is a flight of stairs in an apartment building on Telegraph Hill, where we were this weekend. There's a clock on the wall at the very top of the stairs in this picture, but my obnoxious camera battery died before I could reshoot and get the exposure right.
I like this scene, it's an example to me of how certain physical situations have the feel of concrete symbols: a hemmed-in flight of stairs with a clock at the top. Life in a nutshell. Bridges are like that too.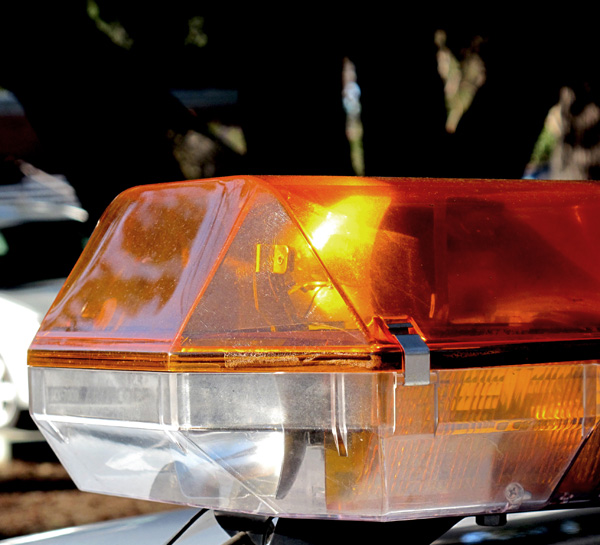 An equliateral triangle on a cop flasher. Not an archetype, just a shape.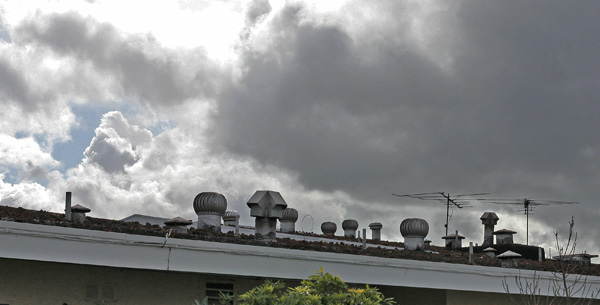 In Berkeley I often walk past a dilapidated motel-like home for seniors on Shattuck Avenue. These vents against the dramatic sky are again archetypal. The vents connect the individual souls within to the higher Gnarl above.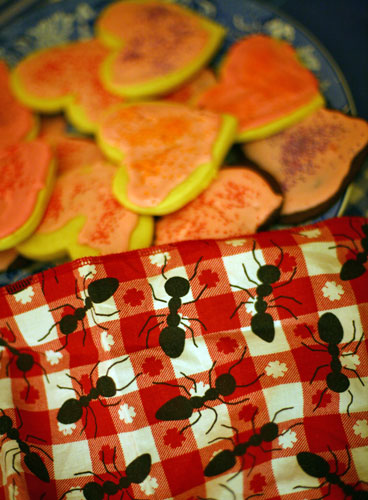 Friday we had dinner at the home of my fellow Kentuckian and SF writer, Terry Bisson. Terry was going on about how photography is the lowest art form — because he thinks it's easy to do (hah!) — and this reminded me to take some pictures. Dig this ant-decorated napkin beside a plate of Valentine's cookies. Relatively easy to shoot, yes, if you've practiced using your camea for a considerable time, but to see the picture there to be plucked, ah, there's the tricky part.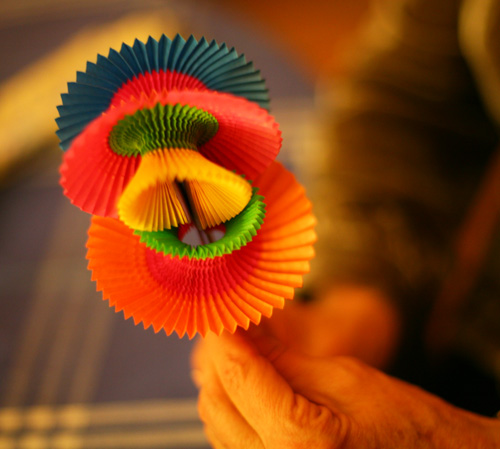 The Bisson's granddaughter had a cool paper toy that she'd gotten as a favor at a birthday party. We all played with it. I thought of the cases of plaster models of curved surfaces that the old-school European mathematics departments have on display—relics from the days before the chips ate our brains.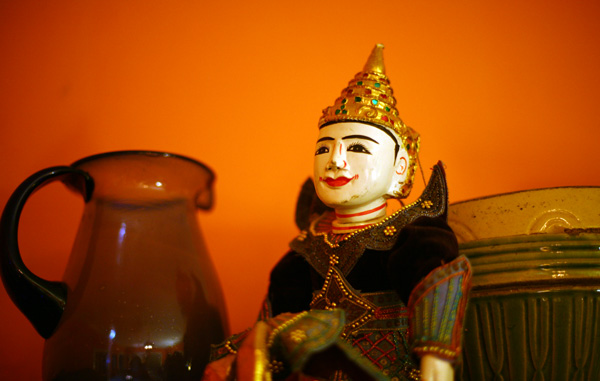 I've pretty much photographed all the bric-a-brac in my own house, but Terry's house had new stuff to shoot. I like the orange/yellow color on their walls. Maybe I cold put some weird gods and goddesses walking around in the land of Flimsy in my new novel. When I'm as uncertain as I currently am about my story, I'm wide open to influences from stuff that I see. Inhaling metric tons of sensation, with my sensitive baleen filtering out the twitching krill.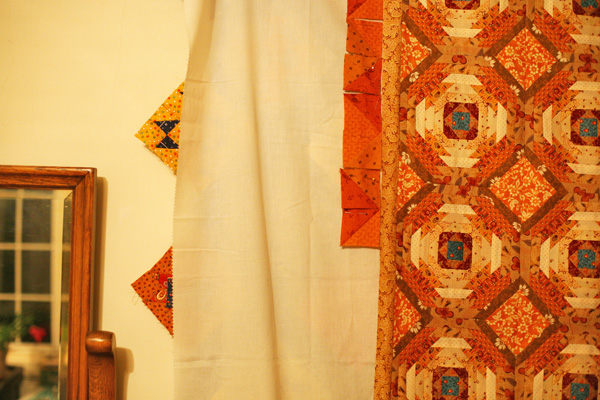 Terry's wife Judy is a quilter, she has stacks and stacks of them. Here's one in progress. Lovely stuff.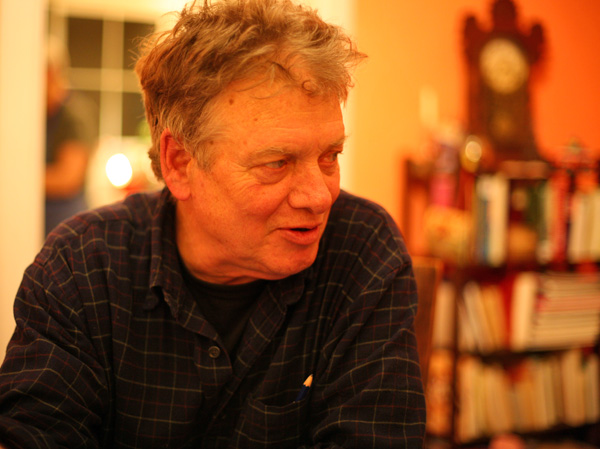 Bisson himself! My pal.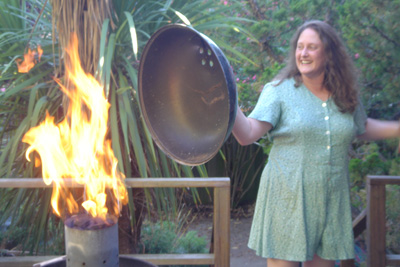 I also saw my artist friend Paul Mavrides and his friend Mimi Heft this weekend. That's Mavrides on the left.
And I got together with my old college friend Greg Gibson as well, but I didn't get any pictures of him. Greg was in San Francisco for the California International Antiquarian Book Fair, representing his company Ten Pound Island Books. It's kind of scary how old we're getting. But the books are older. Some very cool stuff on display, this great underground river of images and words, forgotten but not gone.