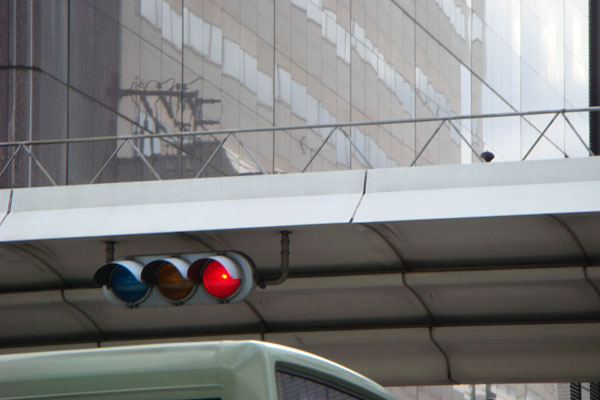 I was in Japan a couple of times in the 1990s, first for a Mondo 2000 related conference, and then for a speaking tour arranged by Mr. Ohmori of Humanmedia. Those times I had "handlers" the whole time, and this time we're a bit more on our own.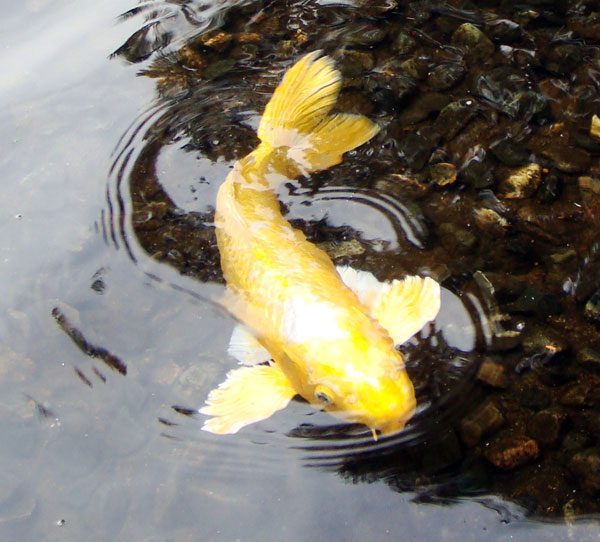 Doing anything in Japan is about twice as hard as you'd expect. In European countries, (a) lots of people know English, and (b) you can figure out what signs say. In Japan, (a) hardly anyone seems to speak English, not even people like hotel clerks or tourist office people, and when they do, they tend to just say "Yes," to anything, to be agreeable, (b) you can't figure out any signs, they're squiggles instead of letters, and when there is a Roman alphabet transcriptions, the place names are random strings of syllables, always the same few interchangeable syllables. My wife says it's like we're illiterate deaf-mutes.
There aren't many other Westerners here, we exchange haunted, hang-dog looks when our paths cross, untouchable pariahs that we are. It would take years for me to have the faintest notion of what's going on here, it's totally like being on an alien world. But not that alien, after all: people are still eating and buying things and pairing up.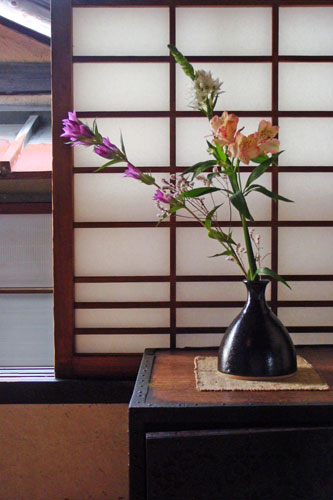 The Japanese are very diverse in their facial appearances and clothing; it's entertaining to sit somewhere and watch the river of humanity stream by.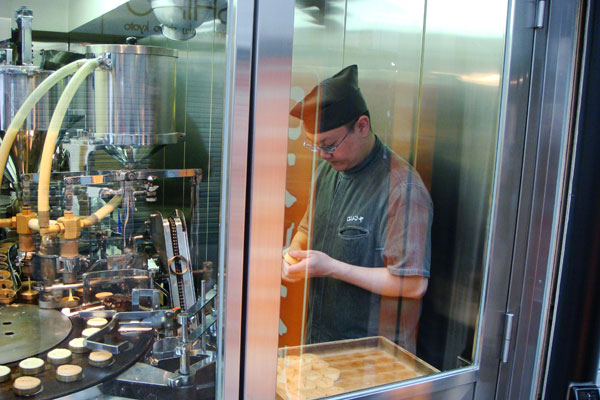 Many of them are extremely beautiful, both women and men—with faces symmetrized around refreshingly unusual norms. Full lips abound. You still see some women in kimonos. Lots of the men are in black suits, as usual, but some younger guys wear rattier hipster garb.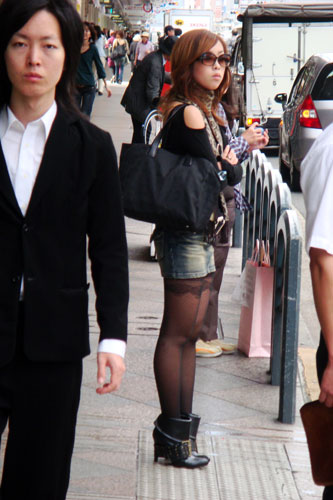 A lot of teenage and twenty-year old girls are into this eye-catching hooker look: high-heeled shoes or boots with black socks running up to the knees, worn with a microskirt or with hotpants. Many have bleached their hair to shades of orange.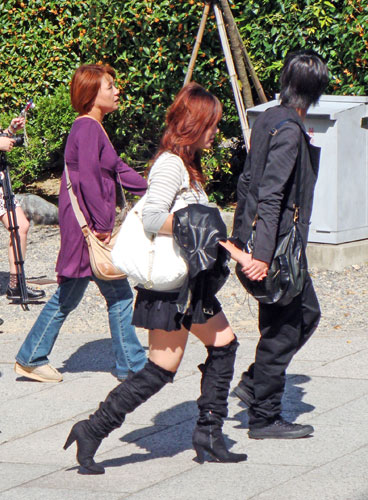 Many Japanese women use a traditional walking gait in which the hips don't move, it's sort of the opposite of a model's runway wriggle. Instead they hold the hips rigid and crouch a little, moving with bent knees. When you cross this walk with high-heel hooker boots, you get a really strange effect, it's like seeing a predatory alien on the prowl.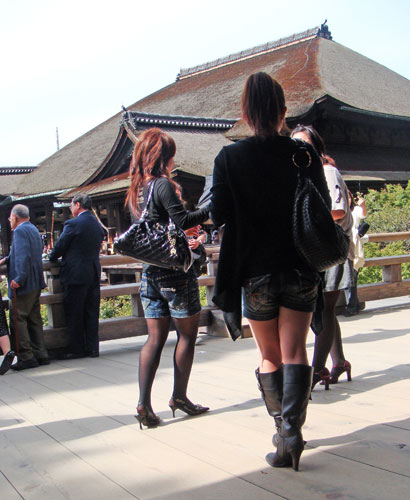 We visited the Nijo castle where the local warlord lived, the Shogun. I think of a castle or a cathedral as stone, but here the "castles" and temples are wood and paper. To be safe in his Nijo castle, the Shogun had all the floors rigged to squeak when you walk on them: "nightingale floors."
You're always having to take off your shoes to go in places.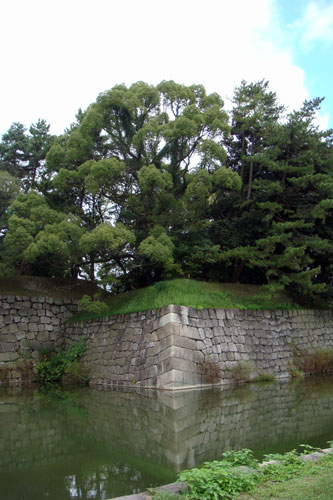 Also, he did have stone outer walls around the castle grounds, and a moat. Maybe I'll make the castle atop the beanstalk in Hylozoic be like a Japanese castle.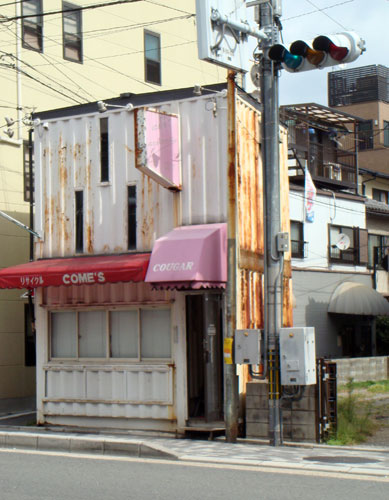 We walked around the old geisha neighborhood Gion, tiny wood houses. A few kimonos. This picture is of a non-wood house in a different neighborhood, a house like upended shipping container, a bar, actually, with guys drinking inside.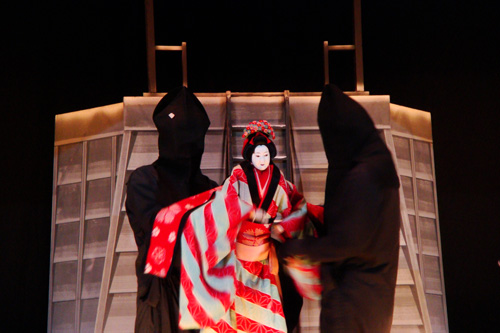 Saw a cultural variety show of Japanese entertainment, including bunraku, where puppeteers in black hoods are up on the stage with a lifesize puppet. Seems like a symbol of something. Also it seemed like featherbedding, in the sense of hiring extra workers: three people were working this one lady puppet (the third is hidden behind it.)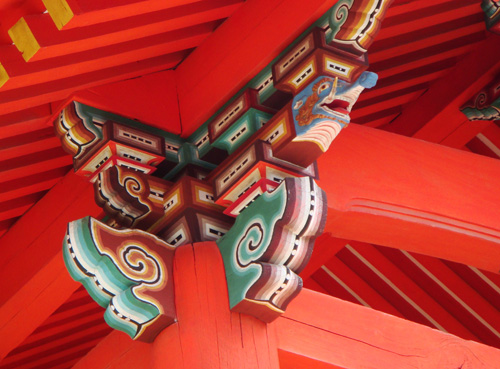 We hit a big temple atop a hill. I can't remember the name: some random string of syllables.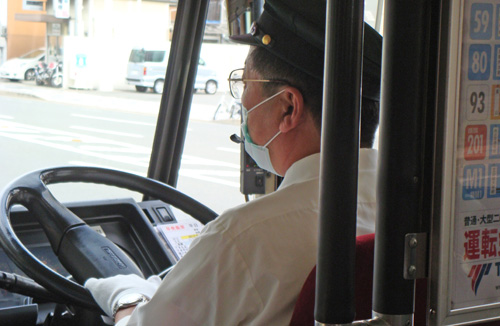 We get lost every time we take the bus, always getting off at the incorrect squiggle or R.S.O.S.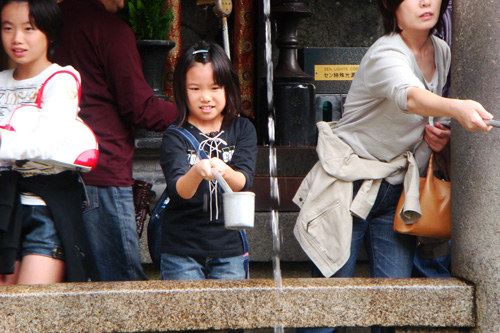 It was nice at the temple, with a pot of incense people fanned into their hair, special water to drink, dipping it from a waterfall with cups on long sticks.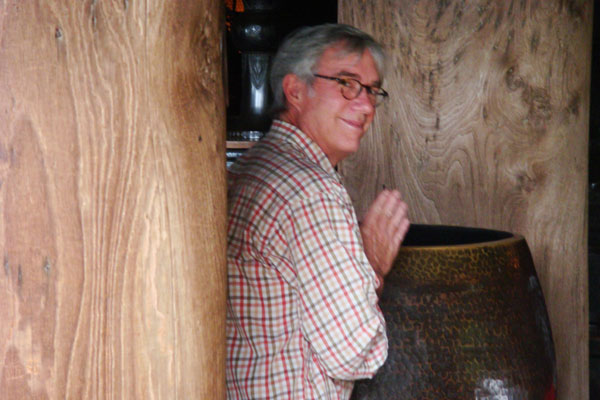 A big gong I got to hit, sending up a prayer for my new grandson, Desmond, and for peace, love and understanding on this journey to Japan.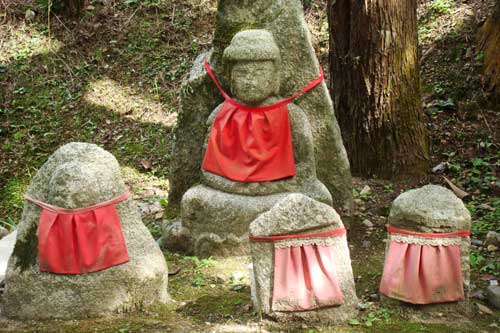 Ate some udon. Saw some worn rocks wearing aprons. Why? I'll never know. Good to see trees. They love gnarly trees here, in the parks, you'll see the groundskeepers studying each tree, discussing where to lop off a twig to make the tree gnarlier.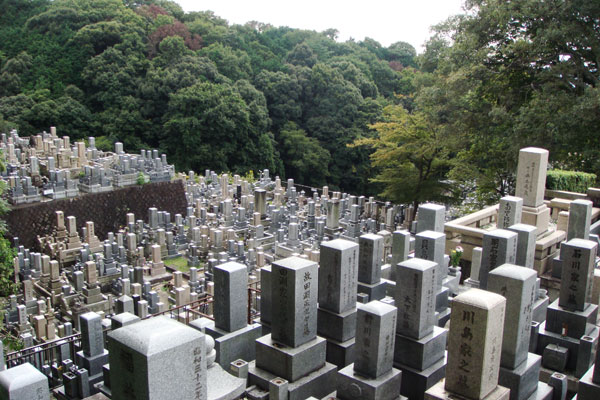 On the way back down hill we walked through a graveyard, like a little city of its own, an identical spire atop each little cache for ashes.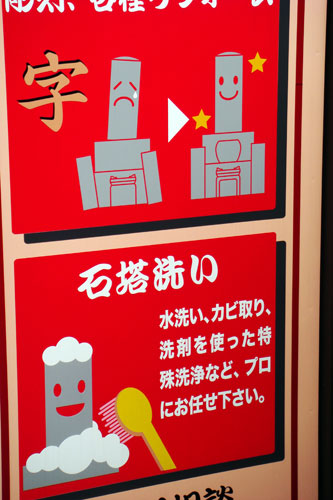 A sign for a monument-maintenance service showed sad-face and happy-face gravestones.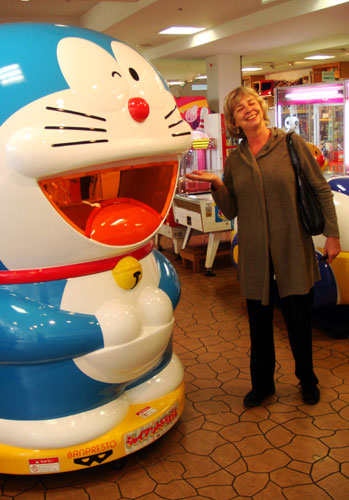 Usually when I travel it's pretty easy to get money from cash machines with my ATM card. Hard to find an ATM here, and a lot of them don't have English on the buttons, it's hard to figure which of the four possible card orientations to use (they vary randomly from machine to machine) and even then a lot of machines won't honor my bank. We ended up on the roof of a department store looking for ATM machines. They had a room of giant kiddie toy machines. And a jungle of ventilation equipment.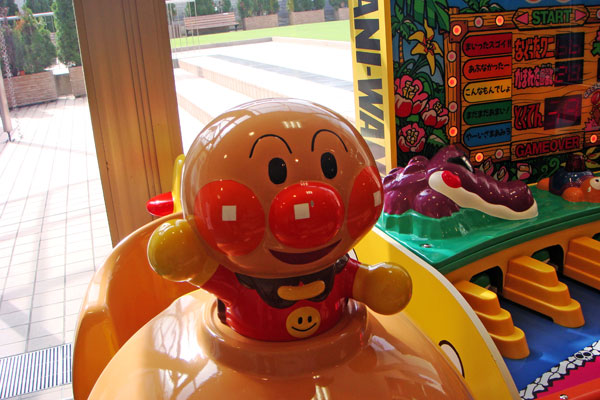 Getting a meal here is challenging. You can settle for udon noodle soup, or sushi (ordered by pointing at plastic models), but if you want a more complicated meal, there's no telling what you'll get. Today, expecting to get some tame sushi-style octopus, I hooked into a mound of slug-slimy raw octopus with a puree of white vegetable tasting like horseradish and bearing the taffy-like consistency of ice-cream, this vegetable matter also glistening with slime. I chewed some of the octopus for awhile, and when it showed no sign of giving way, I spit it into a napkin. Tried another piece with same result. A memorable dish. I could really lose some weight here.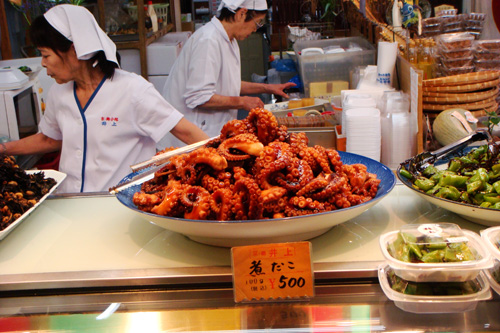 There's a great blocks-long roofed market we walk through every day. Amazing pickles: they pickle just about anything in Kyoto. Lots of dried fish, and beautiful fresh fish. Not much meat to be seen. Some nice looking fruit, selected and polished like art works, and priced accordingly. Saw three mushrooms going for $500. I could really lose some weight here.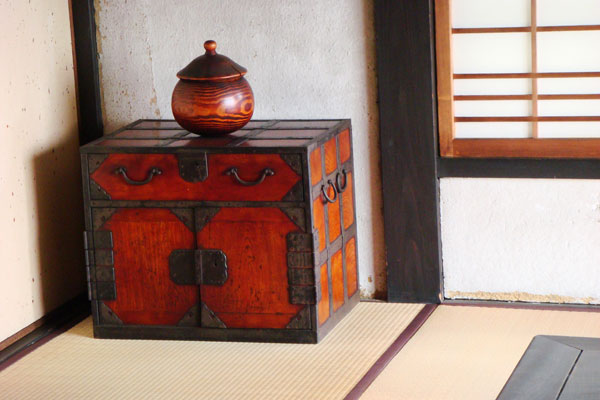 The most "real Japan" place we've seen so far as been the house of the potter Kawai Kanjiro. Really peaceful in there, with that Zen vibe.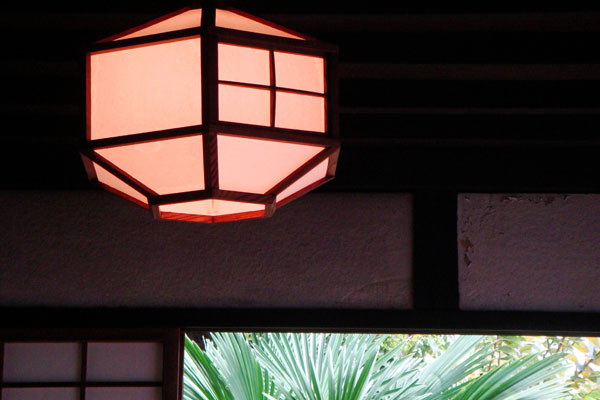 We hit the Kyoto National Museum, too, kind of a disappointment compared to my memories of the Tokyo version. All the "paintings" were black and white. Dude!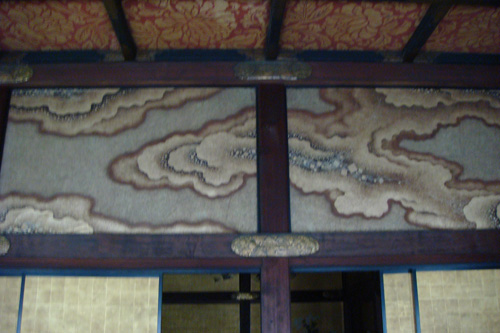 They have a special show of Shogun-era colored paintings of gnarly clouds and trees, but it was closed—I did see a lot of these as murals on the paper walls in Nijo Castle, murals from the 17th C, no less.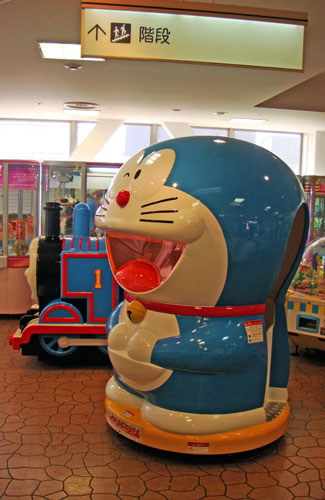 I can't get enough of this kiddie Kat. So many signals to sort out here. I have no idea, really. Tourist blogs are quite suspect, I know. You swoop in for a week, make some superficial observations, experience a moment or two of bliss, draw your vast conclusions. Maybe I won't have any tidy boxed conclusions.