James E. Carrig, 1946 – 2007
"Dance beneath the diamond sky, with one hand waving free."
I went to grad school at Rutgers with Jim Carrig; we were both getting Ph. D. s in math. He was Irish, from the Bronx, dark-haired, a solidly built guy, something of a wild man.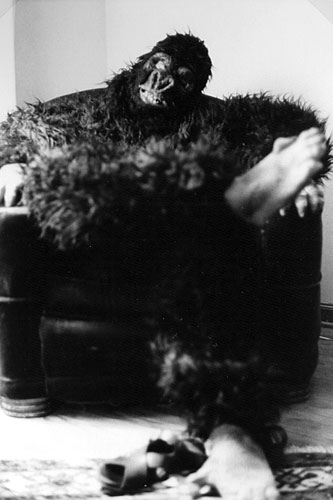 [Jim in his gorilla suit, in our house in Geneseo, NY, 1974.]
He'd tell me great stories about things he'd done with his running buddies in NYC. Like the time they rented full-body gorilla suits, took acid, and went to as many bars on Third Avenue as they could. Seeing them enter, one of the bartenders said, "These guys drink for free."
Jim was a huge Rolling Stones fan. I've been playing my old vinyl copies of Let it Bleed and Sticky Fingers this week, dancing and remembering him. One time he and his then-wife Fran managed to get four tickets to see the Stones in an afternoon concert at Madison Square Garden. They took my wife and me along, a great show, a big time. I remember Jagger on stage saying, "Did y'all get off school today? Ah did." When we got home, lightning had struck the tree next to our house.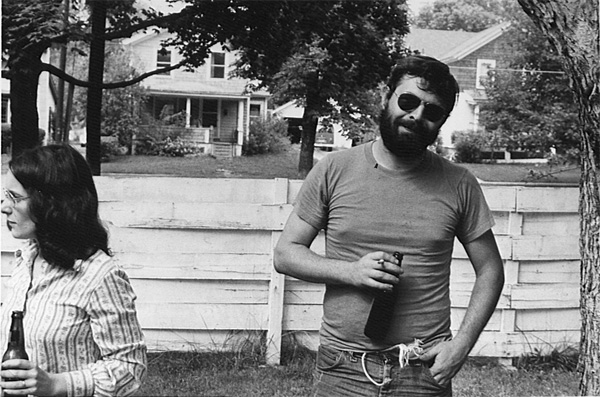 [Fran and Jim in our back yard in Geneseo, NY, 1974.]
It's because of the Stones connection that I put up that YouTube video of "Gimme Shelter," a song Jim really loved. We liked the way the beginning is like surf music. Keith lugging a long-board across the sand? The video is maybe kind of wimpy, maybe Jim would have mocked it, but he would have enjoyed that too, and, after all, the video is from 1969, which was right around when we became good friends.
Jim and Fran would give great Halloween parties, and if you didn't show up in a costume, Jim wouldn't let you in the door.
He had a thoughtful intellectual side as well—we used to love discussing the nature of time. We thought we were getting older then, pushing thirty years of age as we were. He was cultured, with wonderful taste, a bon vivant.
I wish I could see him one more time.
That quote at the top of this note is from Dylan's Mr. Tambourine Man, of course. I once heard Jim use this phrase to describe those high point moments when you're tuned in on life. Dancing to "Sister Morphine" with my wife and Jim's ghost on my porch the day of his funeral, I had my hand up to the starry sky, waving free, hoping to touch him.