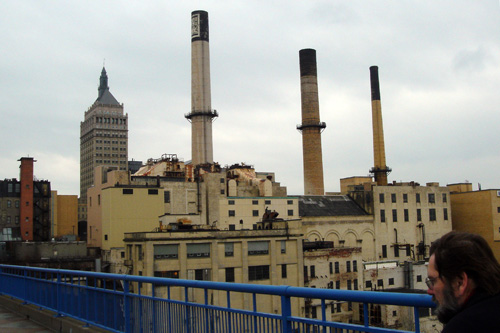 In the morning I went to do a radio interview with a smart guy called Bob Smith for WXXI FM in Rochester. My friend and RIT (Rochester Institute of Technology) John Roche took me. We looked at the High Falls of the Genesee River.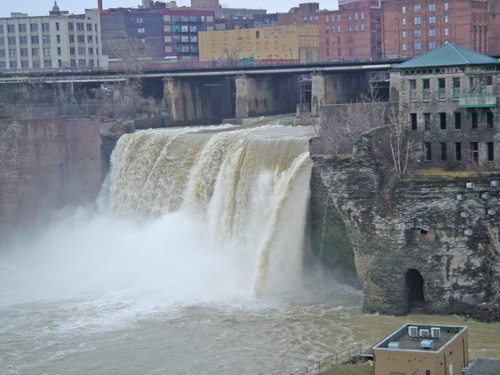 You didn't used to be able to easily see the falls thirty years ago, but the city has fixed up the access, hoping to draw more people downtown, with the usual indifferent success of struggling old cities everywhere. This week poor Rochester had to sell off a fancy ferry they'd bought to run back and forth across Lake Ontario to Toronto.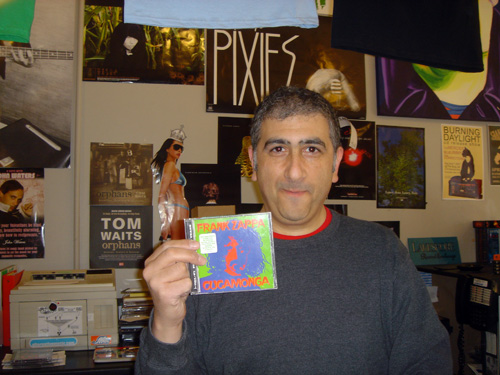 John and I had lunch on the nice Park Ave in Rochester, a reasonably yup little street. This guy runs out of the Lakeshore Record Exchange store as we walk by, his name is Anthony, and he recognizes me from my blog! He'd noticed that I'm in Rochester. It works! Anthony let me pick out any record I wanted for free, I got an album of early Zappa rarities. I saw Zappa play twice in Rochester, thirty years ago.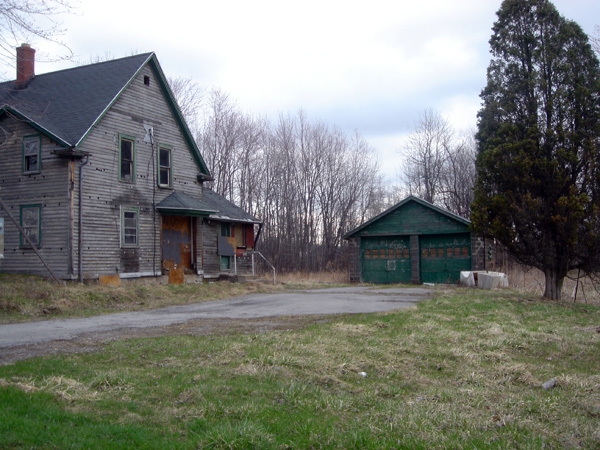 The weather turned very Great Lakes on us. Driving wind, spitting snow, low gray clouds. The housing prices are quite reasonable here!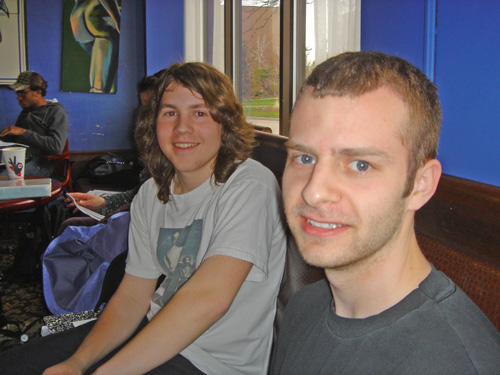 Two pleasant young men interviewed me for the RIT paper, Tristan and Brian.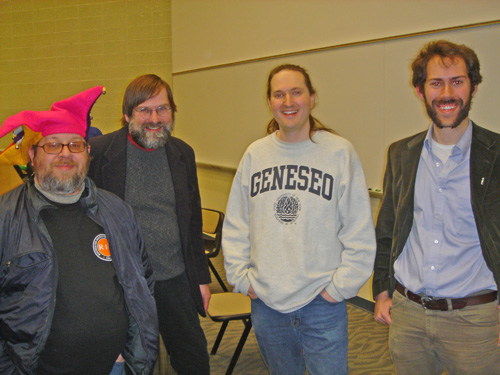 The school had four guys give a colloquium talk on various aspects of my work. From left to right, Steve Jacobs talked about me being one of the first academics to dare use computer game projects to teach software engineering, John Roche talked about my transreal style and my literary relations to cyberpunk and Beat literature, Jeff Johannes spoke of me as an exponent of mathematics who brings people into the field and how much I'd done for math with my popular books, and Peter Lazarski talked about my influence on his work on his graphic novel Imaginary Monsters. As much fun as being at your own funeral to hear the euolgies!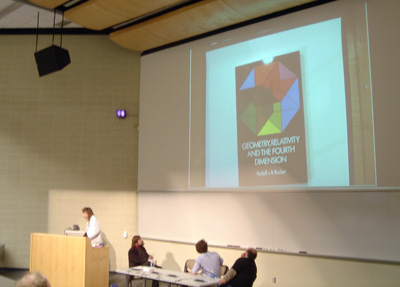 What touched me the most was hearing Jeff talk math and me. Following on John Roche's appreciation, it brought a tear to my eye. I've never gotten very much recognition or thanks from the mathematics community, and it was so good to hear that I was appreciated. He showed all my math books' covers with an overhead opaque projector, and even projected the Geometry & 4D book and the two math papers I published while at SUNY Geneseo: "Undefinable Sets," and "Truth and Infinity". It was satisfying to hear him say, "Hard to believe Geneseo wouldn't give him tenure!" He commented how in all the math work, I kept looking for the broadest possible perspective. And he noticed with the proper amusement my Lifebox book table of my fifty or so ever-changing year-by-year opnions about how to fill in the blank in "Everything is _______"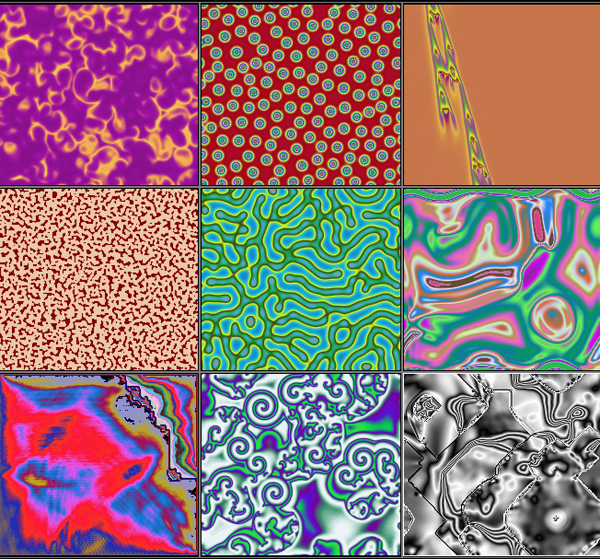 I gave my talk called "Life is a Gnarly Computation." . I've given the talk before but each version is a little different. I keep simplifying it. And this time I put in a slide of advice about what the philosophy of gnarl says about writing.
* Writing is a gnarly computation; the outcome is somewhat unpredictable. Let it grow.
* Reality is gnarlier than anything you read or see. Go transreal.
* In the zone, the cosmos dances with you.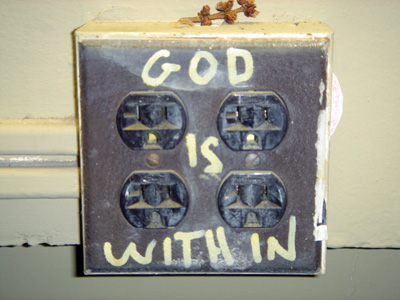 That last point was inspired by seeing the spiritualist monument yesterday, just when I'm thinking about woogie mediums. So then on the way out, I got another little friendly bump from the cosmos, noticing this cool graffiti on an electrical socket. Thank you, god.