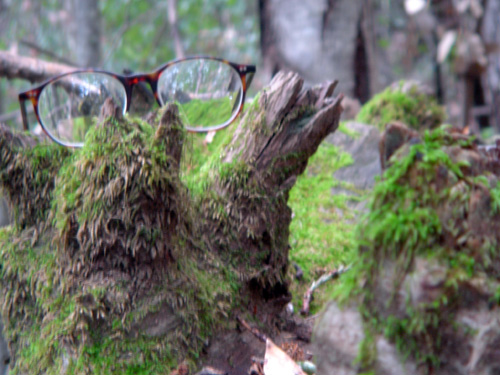 So I drove back to Big Basin Redwoods State Park today near Boulder Creek, CA. I made a beeline for the spot where I lost my glasses; it took about two hours to walk that far in. On the way it started raining. But I felt happy to be in the primeval woods for the second time in a week. The air has a special clean woodsy quality, and it's so utterly quiet. There's no machines in earshot.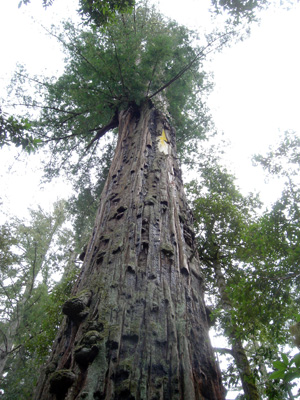 At first I can't find the same path at all. I think of those fairy tales where a certain door or path appears only occasionally. We'd be in trouble if the nascent spirits in matter starting moving our paths around!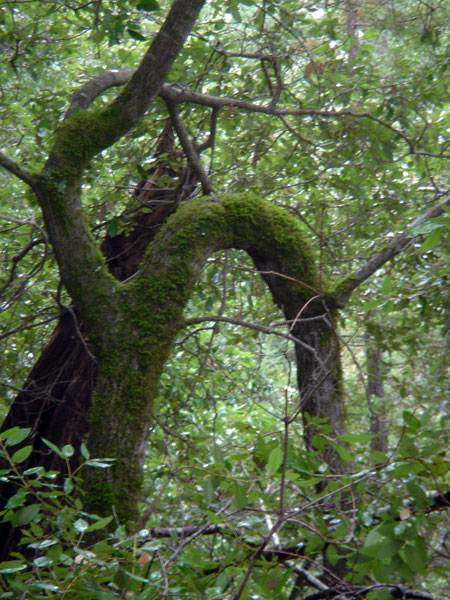 What I'm realizing this week is that the woods are big. And somehow I don't end up in the same side arroyo of the woodsy canyon as the other day. I try working my way sideways along the canyon wall, looking for that same stand of manzanita and those particular boulders, but—you know—my legs are still sore from three days ago. I realize I'm not gonna be able to endlessly trot up and down the sloping terrain of a canyon the size of Manhattan And I've still got the two-hour walk back in the rain ahead of me.
So I gave up. My glasses are on the loose. Those black bumps on the log in the video appear to be fungi, but are actually reality-control knobs.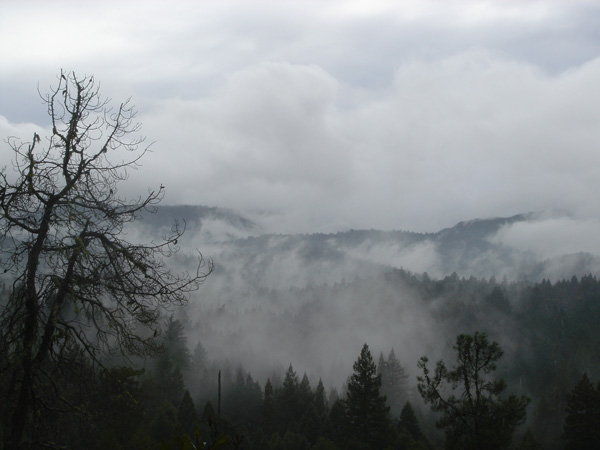 The day before realizing the glasses were really gone, I'd cruised my favorite optician, Eye Contact of Los Gatos, to get the fit of my backup glasses adjusted, and I noticed they had some nice new Oliver Peoples frames.
Frame styles are finally rebounding from those tiny Benjamin Franklin Urim-and-Thummim type lenses that lamentably have been the fashion for the last ten years. Finally you can get some frames with decent-sized lenses so that you're not peering at the world through tiny peepholes. On my way back out of the park, visions of new glasses danced in my head. I can pay for a quality specs with my half of the money for of that story "Hormiga Canyon" that I just wrote with Bruce Sterling, a story set in, oddly enough a canyon very much like this one, poulated by ants with legs the size of redwoods…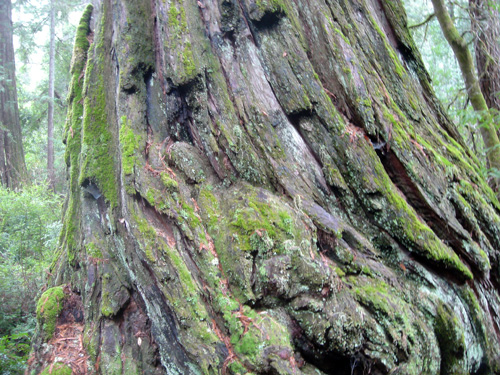 The redwoods are great. Walking in the woods close to my house is always nice, but when you're in a Redwoods State Park, you feel like, whoah, "Beastie Boys always on vacation."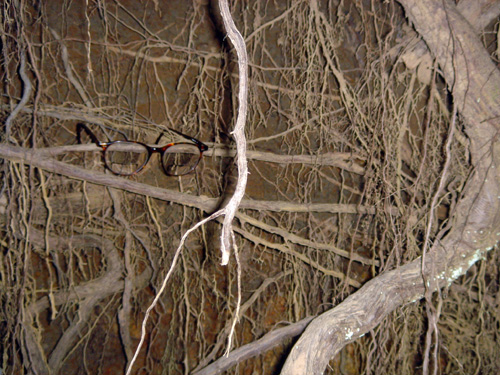 My old escaped glasses are in subdimension land with the subbies.