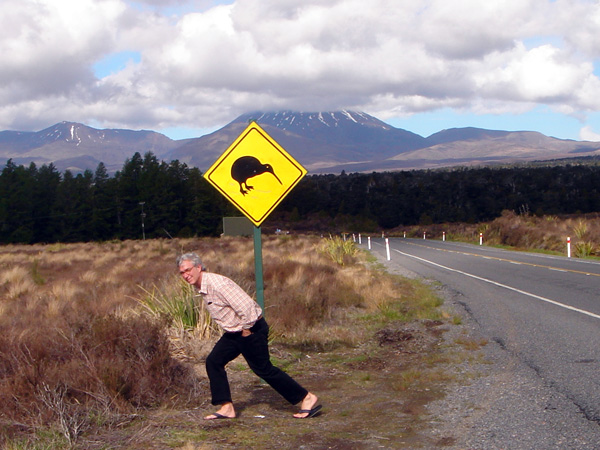 [SR. Near Tongariro National Park, a.k.a. Mordor's Tower.]
All right, I'm back from New Zealand! (SR means this photo by Sylvia Rucker, as are all the photos which show me and a few others as well, even though I'm not gonna always remember to put "SR".)
I made some journal notes, but let's start with excerpts from the emails I sent back home to the kids. I'll be doing several more entries on NZ.
—Auckland, NZ, Nov 11, 2006.—
Came in at 5 AM Friday morn, killed the morning walking around town till hotel. Rode a ferry. Rode a bus. Cute parks. Giant plants. Strange accents. They say all the short e's as long e's . So better is beeter and best is beest and yes is yees.
It's kind of colder than we expected tho. a bit rainy.
Today the museum! With Maori carvings. (In the native local tongue, "Maori" acutally means "Normal.") And a rose festival.
great food in Auckland.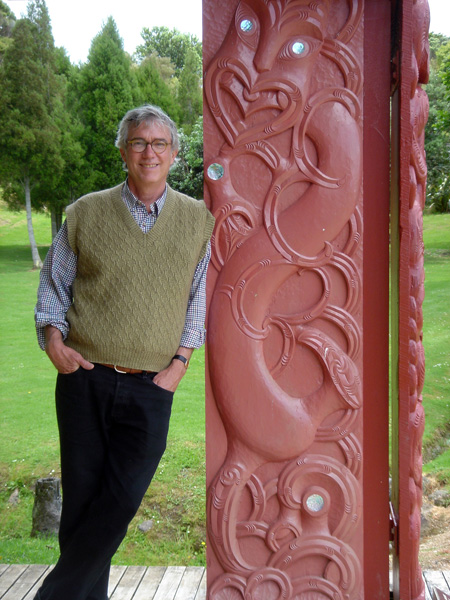 [SR. A carving in a waka hut near Waitangi and Paihia in the Bay of Islands.]
The drain water seems to go counterclockwise I think. Writing this in a Chinese gamer cybercafe with Chinese keyboards. Sylvia can't find the backslash!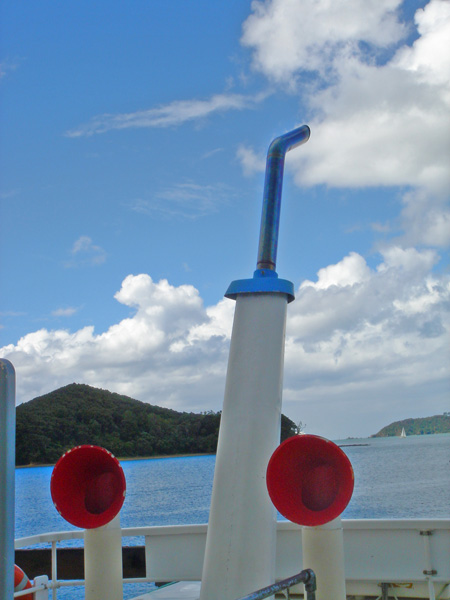 [Ship stacks on a ferry from Russell to Pahaia.]
The moon is like a C shape here instead of a D shape as it is back home because we are upside down. Down under.
—Raglan, NZ, Nov 14, 2006—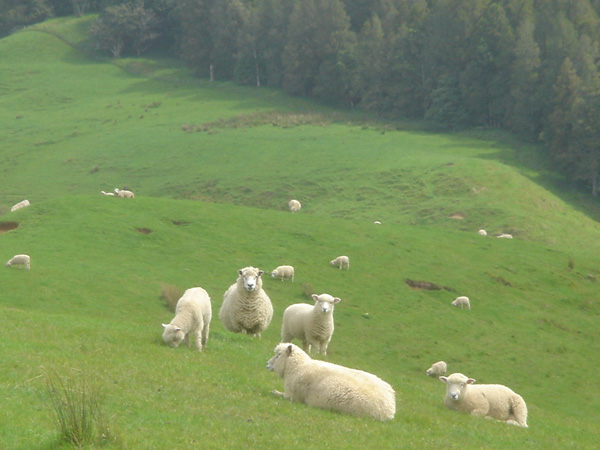 We are in Raglan, NZ. west coast. we went for a walk on some hills that were like Big Sur — turned up to 11. So pristine and empty. Giant slopes down to the sea. wild plants, we were in a forest of tree ferns. Then a Kiwi road race popped up, stock cars going past (on our gravel road back). Tough driving on the left. Everything here is backwards and upside down.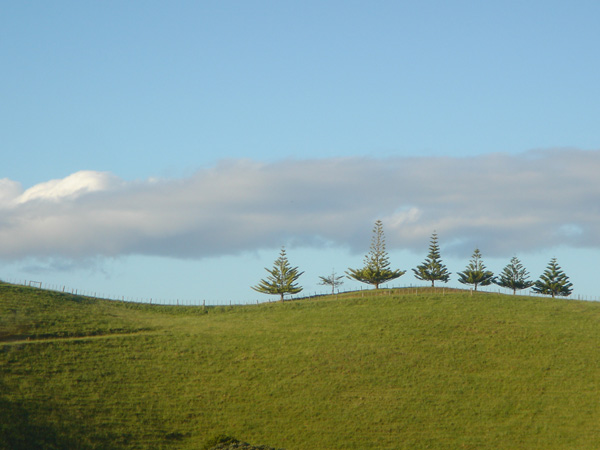 [Norfolk island pines near Tutukaka north of Whangerei.]
—Wellington, NZ, Nov 20, 2006—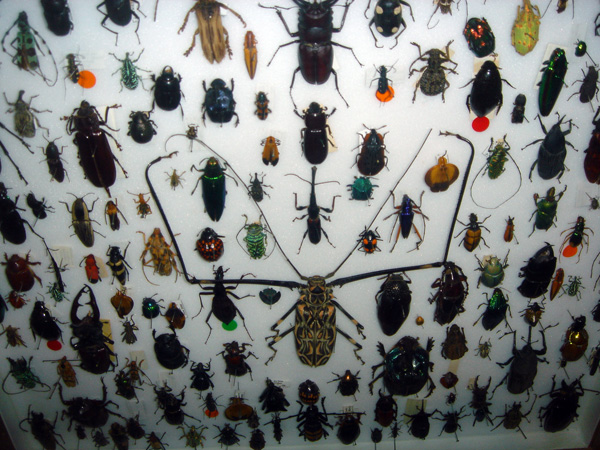 We're leaving Wellington for Picton tomorrow, from North Island to South Island. We met a local guy who calls the South Island the Mainland — and refers to Australia as the Small Island. Lots of Kiwi/Kanga kidding here.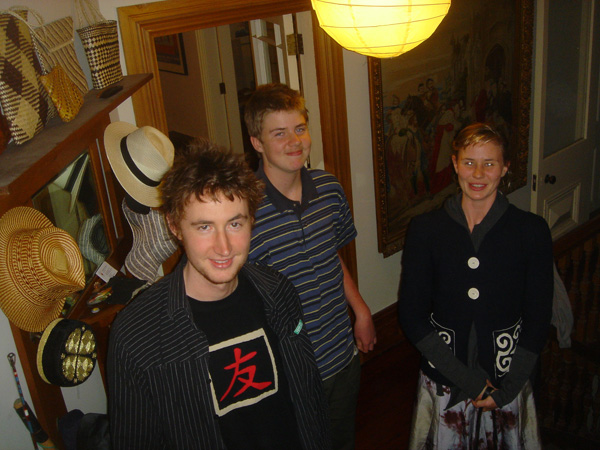 Had dinner with a programmer internet friend Nick Chapman last night and turns out he's 25 and lives with his parents. His dad Ray is a professor, a bit younger than us, they gave us a great dinner in their art filled house, he had a sister Amy just out of college and a brother Harry in high school. Like antipodal Rucker family, kind of, three kids all nice and bright, good paintings and sculptures all around, really fun. Civilized.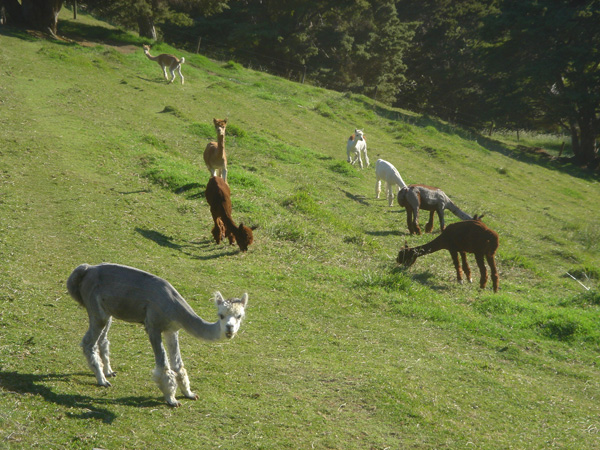 [Dr. Seuss alpaca up north of Whangarei.]
Near Picton (Pigton?) we'll stay in a lodge accessible only by boat I think, and may not have email for a few days. Then on to Christchurch down south and next up to the Northland where it's warm. I plan to get a couple of dive days in.
The food is mostly great, especially at the Chapmans' house, though now and then in restaurants we get English style food like fried mashed potatoes. Driving is a real hassle, hard to stay in the middle of the mirror reversed left hand lane, and the passenger (s or me) always feels the driver is OVER TOO FAR TO THE LEFT LOOK OUT! We plan to take boat, train, plane for the coming week…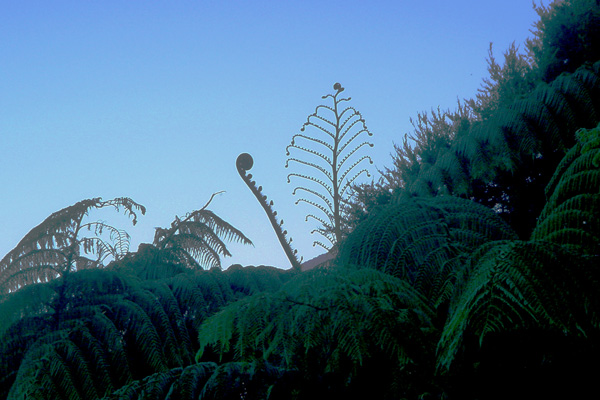 [Ferns near Queen Charlotte Sound.]
The most impressive plants are the giant tree ferns, kind of like those little ones in Golden Gate Park, but 12 or 20 or 30 feet tall even.
This is the furthest south we've ever been. Pushing towards the Southern Hole to the Hollow Earth!!!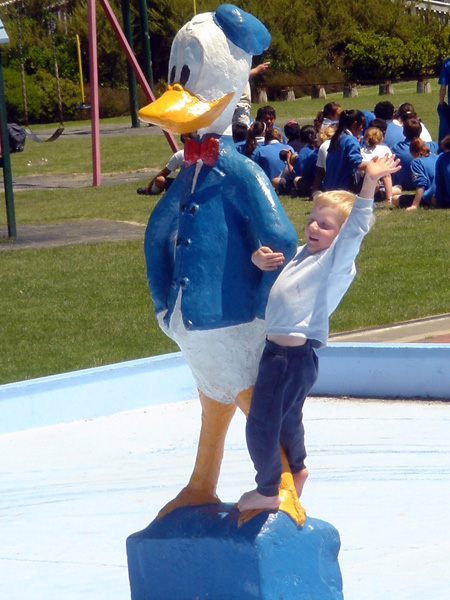 [Statue of The Duck in Picton.]
—Picton, NZ, Nov 24, 2006—
For thanksgiving dinner, Sylvia and I had veggieburgers hand made at this eco resort Lochmara Lodge we stayed at. A lovely place in a fern jungle. I'm talking 30 foot tall ferns, with a dark trunk of roots and a fern frizz on top, the fronds 8 feet long. Like Eden. They had about 30 or 50 hammocks all over the jungle, and S and I lay around most of the day. Lovely.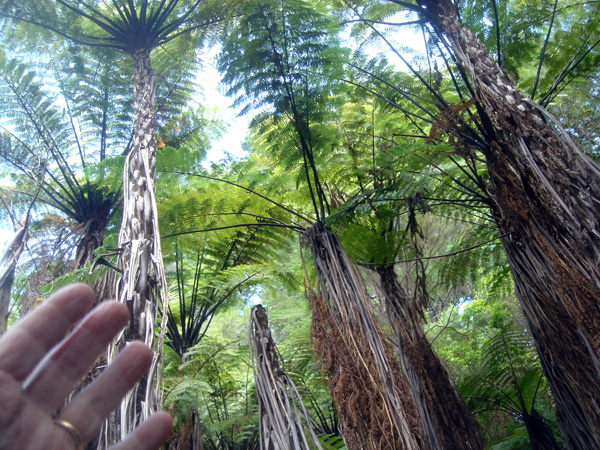 Today it's the train to Christchurch, base for expeditions to Antarctica. They're excited here as some icebergs a kilometer long are drifting up the coast as global warming melts the Ross ice shelf. the world is always changing, never settling down. They used to have flightless birds here the size of turkeys with long legs called moa. The Maoris ate them all in 50 years when the arrived from the southern Polynesian islands not all that long ago, maybe seven hundred years ago. The world an endlessly turning kaleidoscope, it's all right, I guess. It is what is.
Maybe we could have had roast moa for dinner…
It's cozy to see all this with S. Soon we'll head up north where it's warm, not that it's very cold down here. It's cute how they talk here. They say "reed leegs" instead of "red legs." There's a bird called the bellbird that sounds like a bell.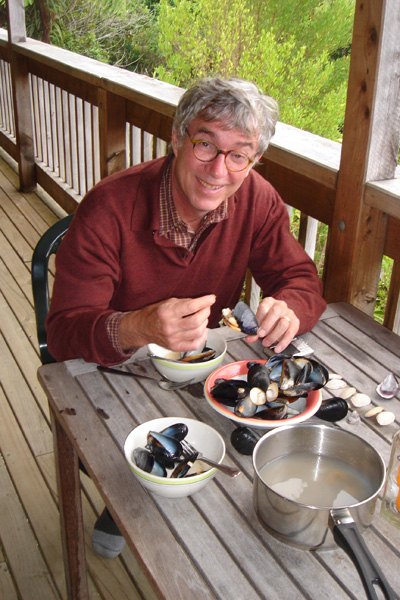 Oh, on Thanksgiving we also walked down on the rocky Maine-like each and pulled about 20 mussels off the rocks and steamed those up for our appetizer. In Bruegel's time that's what the poor people ate. you can always get mussels. Here the water is so clean there's no second thoughts. No roads in this region (Marlborough sounds) to speak of. The resort owner boats his two red-haired daughters into school every day, we caught a ride in to wait for our train.
Jimi Hendrix "All Along The Watchtower" is playing from a store where they're painting the walls.
Hard to imagine ever being back, the trip unfolds and exfoliates like an endless fractal, more adventures every day.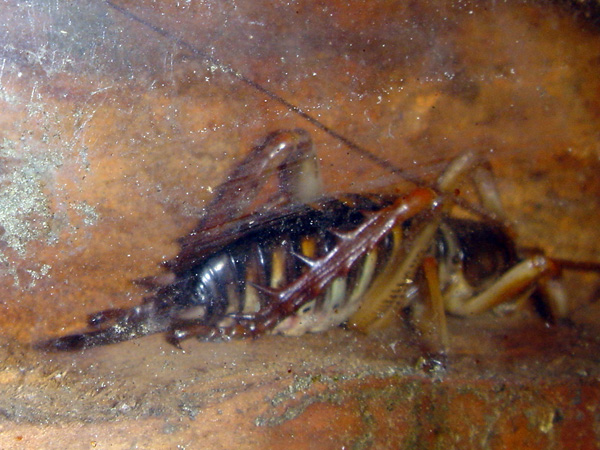 [Giant weta beetle at Lochmara Lodge, more on these guys later.]
—Christchurch, NZ, Nov 25, 2006—
Another day in Christchurch. Some really homesick British people laid out this town! We fly North to the sunny (hopefully) top tip tomorrow and if all goes well, we'll dive/snorkel near Tutukaka on Tuesday.
They have two kinds of rugby here, union and league, with different rules. Also cricket and "football".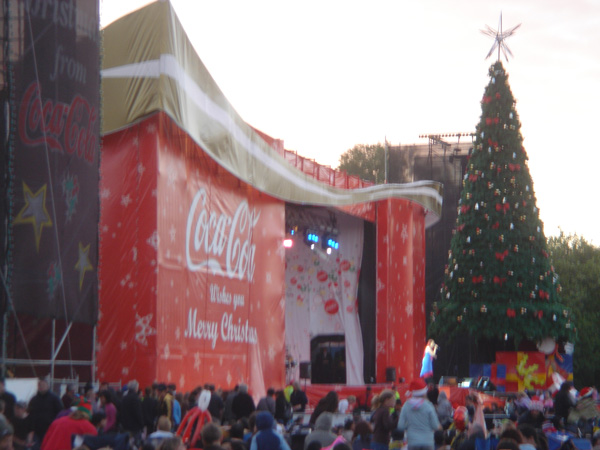 Last night we went to a giant outdoor Christmas concert in Christchurch. Sponsored by Coca Cola, who does one for Auckland, too. About 10,000 people in a field with crooners and slick 1950s announcer, giant coca cola sign on stage, an xmas tree 50 meters tall, the spring sunset stretching out, so odd to be here. Like a parallel world, or a colony planet in the Galactic Empire.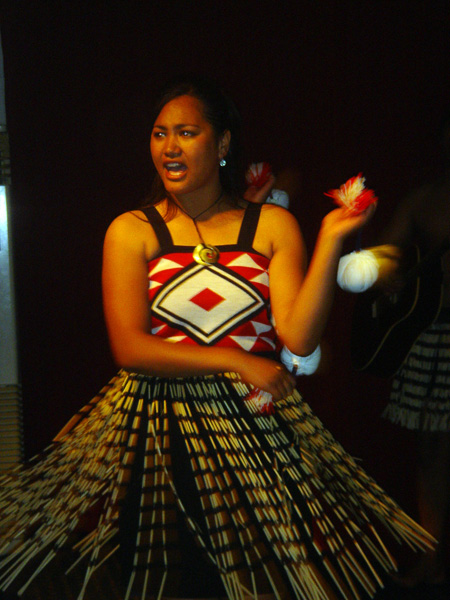 [Local dance show at the Wangirai Treaty center near Pahaia. Classic Polynesian woman here.]
The local (Maori) name of the country is Aotearoa, which means Long White Cloud, and when you're off shore you do see a long white cloud over the country.
Went to the Anglican cathedral at the center of Christchurch this morn, part of the service in Maori. I think "God" is "Atura".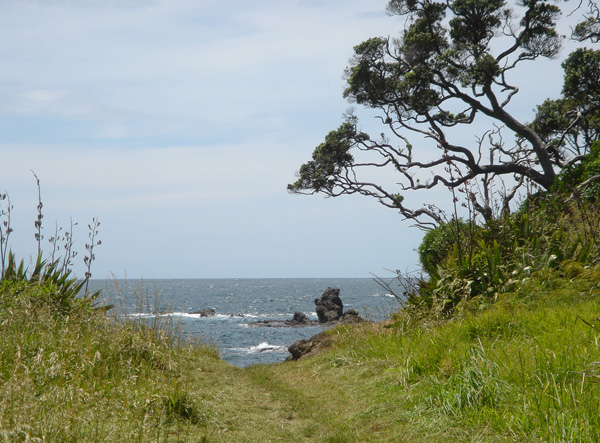 [Beach near Tutukaka north of Whangarei.]
Before humans got there were NO mammals on NZ. Just birds. Therefore large flightless ones were okay like Moa and Kiwi. But humans brought the Polynesian Rat at some point. Possibly the rats came aboard the explorer James Cook's ship. Getting a big view.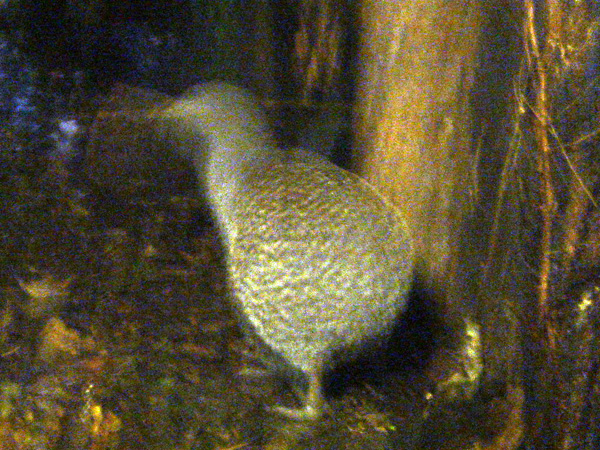 Saw a kiwi in a "Kiwi House" roadside attraction. I'll write more about these marvelous birds later on.
—Tutukaka, NZ, Nov 29, 2006—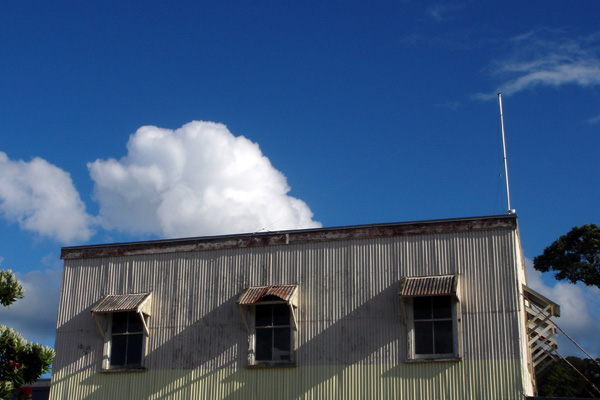 [Sky in Russell over a Four Square food store.]
We're near the end now. Staying 3 nights in a cheap cottage on a farm near Tutukaka, amid cows, who've been loudly mooing as yesterday their year-old calves were sold and trucked away for fattening. I'd moo too!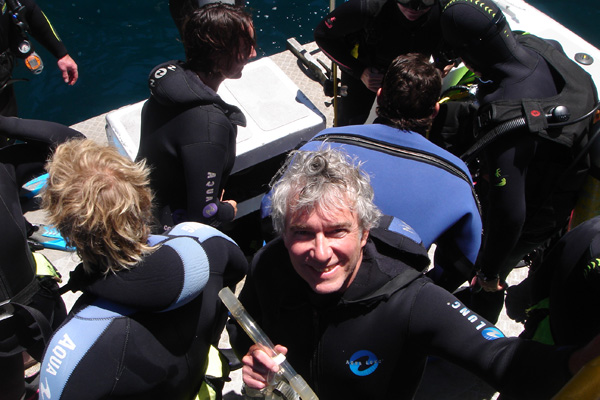 We dove, even Sylvia snorkeling in a double wet suit in the 40 degree water. I saw sting rays, scorpion fish. The guide claimed the water is "gin clear" in the summer but right now we could only see about ten feet. Was fun anyway, with a fifteen mile boat ride to the Poor Knights Islands. Though I about died from the stress of the cold water dive and nearly puked on the way back.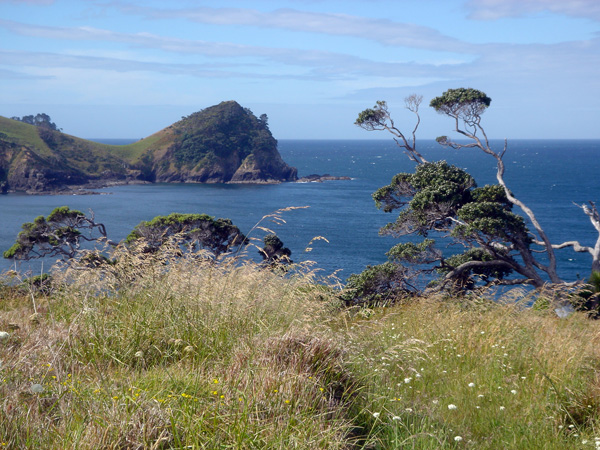 [From the headland to the lighthouse near Tutukaka.]
Saw a giant kauri tree today, also a lovely beach. The big deal in New Zealand was kauri trees, which are fat like redwoods, but smoother barked, and they only go up about sixty or a hundred feet and then stop in a bunch of fat branches. Like giant broccoli stalks. Most of them were felled in the old days, first by the Maori for "waka" (canoes), then by the pakeha (Europeans) for houses and such.