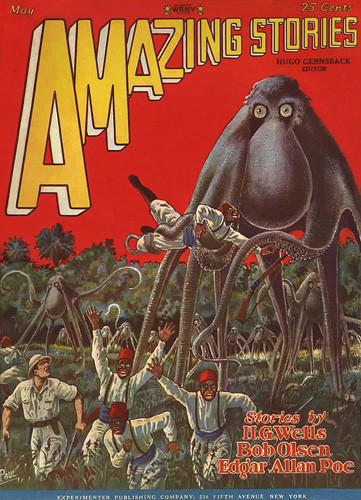 At the con, I got some links. Here's a "Poulpe Pulps" site devoted to pulp magazine covers featuring cephalapods.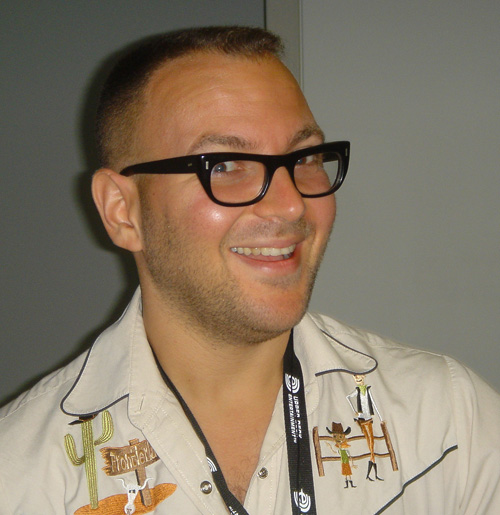 Cory Doctorow mentioned some of his stories that are online, including his two collaborations with Charles Stross, "Jury Service," and "Appeals Court". The boys plan a third so they can put them together into a fix-up novel called maybe Rapture of the Nerds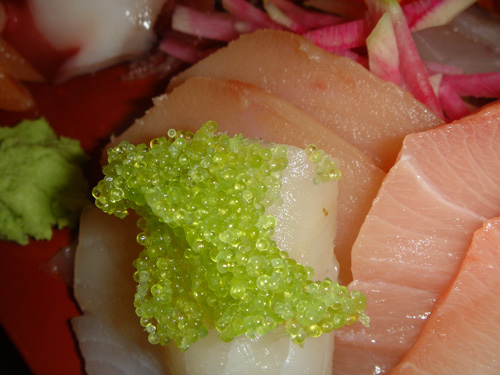 Cory was on a panel about blogging. Good remarks: blogging isn't necessarily a waste of time for a writer as it often happens that the things in your blog serve as research for your book. In my case, I sometimes even get useful feedback from my blog readers about which ideas seem to work, in this respect blogging becomes like beta testing. And of course there's the self-promotional aspect of it. A final thought is that a writer never really knows which of his or her work is going to be valued in the future. Maybe your scrappy, throw-away blog writings are what the Futurians will like the best. The blog has a certain breezy and telegraphic style stemming from the fact that it's done as rapidly as possible and with very few revisions.
Shout out: I met some younger writers, Daryl Gregory, Andy Tisbert, Jack Mangan, Cody Goodfellow, and Chris Roberson.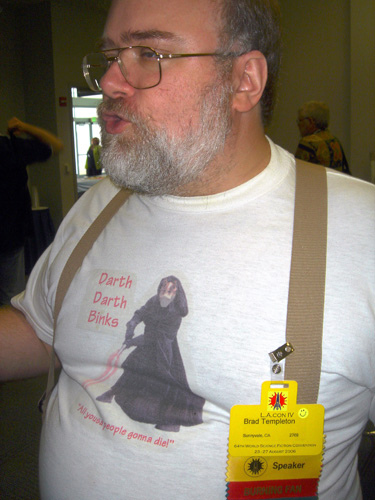 [A fan with a funny T-shirt he designed.]
I was on a language panel with Harry Harrison, and he made an interesting suggestion, that is, if you're writing about a planet and need lots of consistenly alien-sounding names, get, like, a Turkish dictionary and use words from there. And for the next planet use a Romanian dictionary, like that.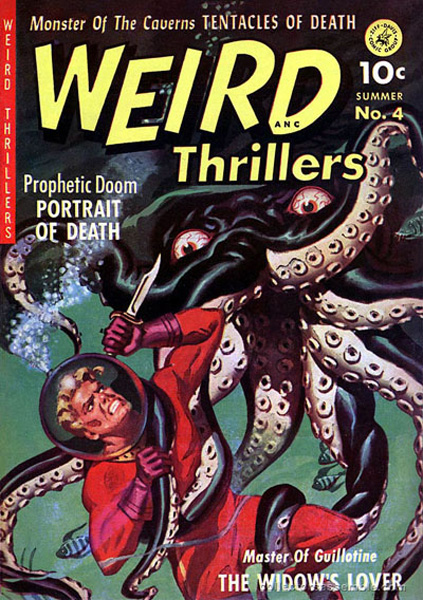 There's a good-paying new SF market, Jim Baen's Universe, although to read it you need to pay and subscribe. Jim Baen just died last month. He was my very first SF editor, for White Light at Ace, and then Susan Allison took over from him. He'll be missed.
Books I want to read next. David Marusek, Counting Heads, and Geoff Ryman, Air. Ryman also has a strange novel online, 253, so named because There are seven carriages on a Bakerloo Line train, each with 36 seats. A train in which every passenger has a seat will carry 252 people. With the driver, that makes 253. The novel has 253 pages, with 253 words on each page. And on the web you read it by clicking on the indivdual passengers in an onscreen map. The passenger descriptions have links to each other. Wild.
Hey, my Tor Books editor, David Hartwell, won the Hugo for best editor! Way to go, Dave! You deserve it. See pix on Kathryn Cramer's blog.