Art in DC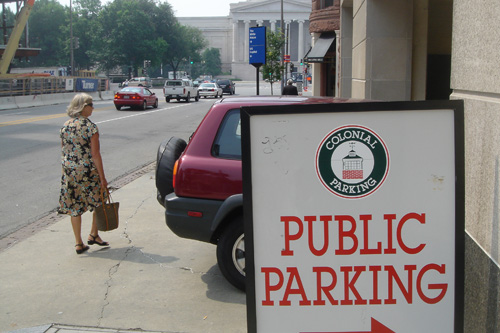 My wife Sylvia and I like going to art museums, so we hit three of them in DC. We went to the Hirshhorn Museum on the Mall. It's somewhat shabby and run down now, and had a boring ugly show of supersized kakaist canvases and assemblages by the bombastic artist Anselm Kiefer.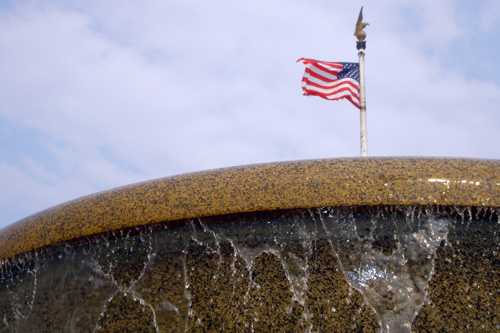 The best work I saw in the Hirshhorn was "Video Flag" by the pioneering video artist Nam June Paik. I tried unsuccessfully to photograph it; it's a wall-sized grid of TVs showing some synchronized tapes Paik made, the garish patterns arranged to resemble the stripes and star-block of the US flag. In the star-block he had a series of 3D models of recent US presidents, the faces shiny and unblemished like plastic or, more to the point, like Silly Putty, for the faces were algorithmically morphing one into the other, LBJ into Bush into Reagan into Clinton and so on. "Here comes the new boss, same as the old boss." The effect was unspeakably sinister. And Paik doesn't have to tell you it's serious, in fact he presents it as if its light-weight pop mental junk-food; the display room even has a big comfortable leather couch you can veg out on to watch the tube for a few minutes. See it if you can, as eventually Paik's works tend to stop working and they don't always get repaired, what with the parts being obsolete, and, sadly, he's dead now.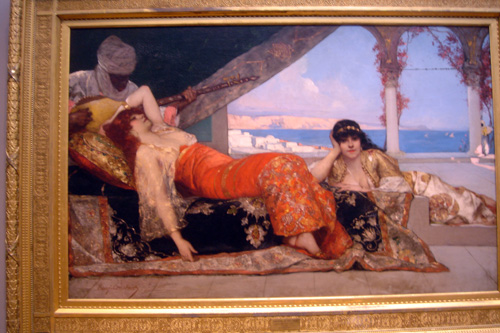 We went to the National Gallery too, which was great. This photo is of Jean Joseph Benjamin Constant's Favorite of the Emir in the National Gallery. There was another deliciously corny series of canvases, The Voyage of Life by Thomas Cole.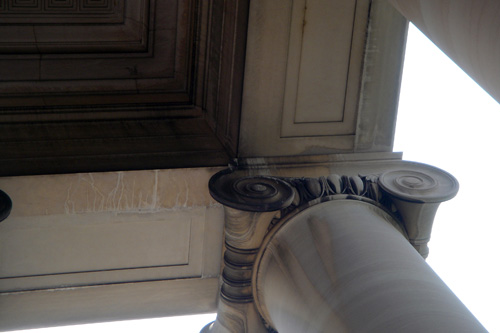 The National Gallery building is a people's art temple, really the best place of all to visit in DC. Good new cafeteria downstairs in the tunnel to the new East Building too.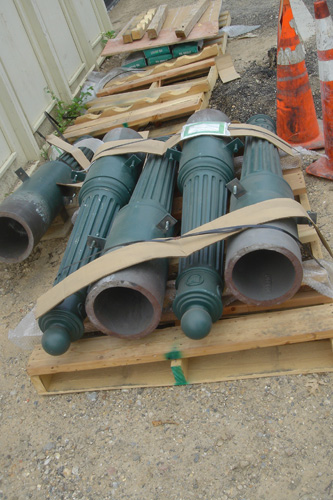 As an anti-terrorism measure, Pennsylvania Avenue in front of the White House is closed off to traffic now, and has a run-down deserted feel. Like in the sixties and seventies when cities would try to enhance their shopping districts by turning them into pedestrian-only zones — and the effect was always to utterly kill the blocks. US cities seem to need vehicle traffic to live.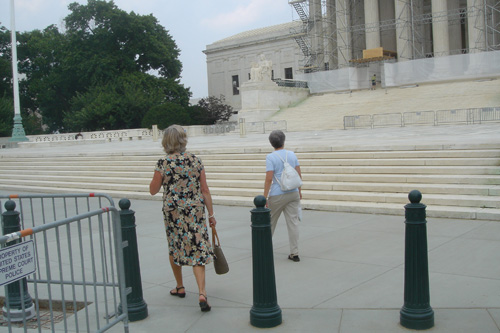 All the government buildings in DC are being ringed with heavy-duty steel bollards anchored to cement, so as to keep out suicidal truck-bombers. It's depressing to see us under siege like this. And of course it's the "fault" of the terrorists. But couldn't we have asked even once after 9/11 what it is that the terrorists actually want? Couldn't there be some way of finding peace with them instead of jumping into an eternally escalating tit-for-tat?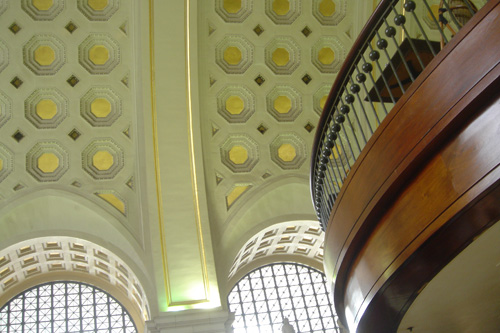 Union Station is pretty nice now, that's one of the few things that actually seems better than it used to be. What's healed it? A Metro stop and a retail mall of chain stores.
Driving through Northern Virginia it was kind of disturbing how every single store is a chain store. It's like living in a cheaply made virtual reality. There's a big chain of bars called Ruby Tuesday, it's so dystopic to see a classic Stones song brought this low.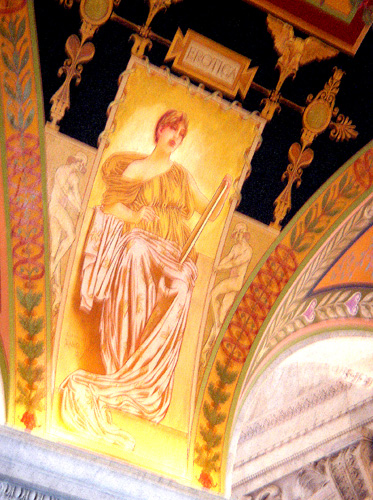 We ducked into the Library of Congress. They have this beautiful ceiling with vaults and domes and spandrels, all painted with representations of: authors, branches of literature, and golden quotes. A real hodgepodge; it's so hopeless to categorize human knowledge. What really cracked me up was that, among the muses depicted is that of the genre "Erotica," a lush pouting woman with her toga pulled off her shoulder. Are our moral watchdogs in Congress aware of this outrage?
The heat and humidity in DC is astonishing. Even late at night, to walk a few blocks is to find yourself swimming in sweat. Lots of people are rushing off to work in suits in the mornings.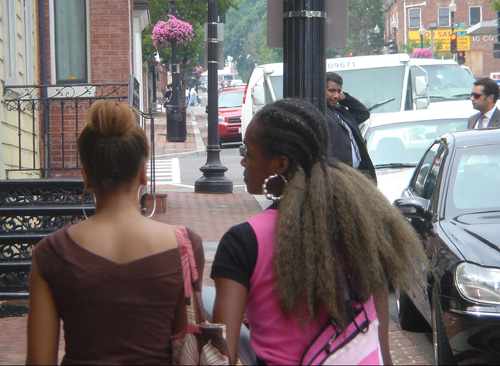 It's nice to have all the Black people around, and to hear their voices. I noticed some of the women have a new (to me) way of doing their hair; they braid most of it tight onto their scalps, and then do something fun with the hanging part in back — actually that hair in the back might be hair extensions.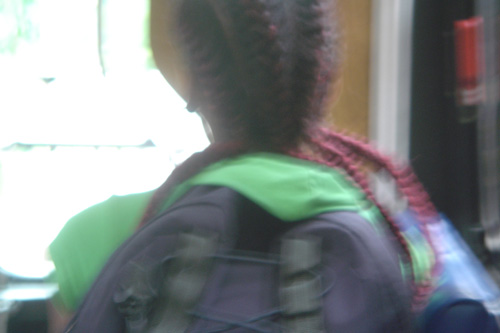 One woman had hers poufed out into a broom; another woman had hers braided into four tight reddish plaits, giving the over-all effect of there being an octopus sitting on her head.
At another point I watched a pickup brass band of Black youths playing on a traffic island beside Dupont Circle. Trombones mostly, and a tuba or two, inexpensive band instruments, shiny on the inside, dull on the outside. Nice to see the street lights sweeping across the reflective inner horn bells. Black hole dynamics.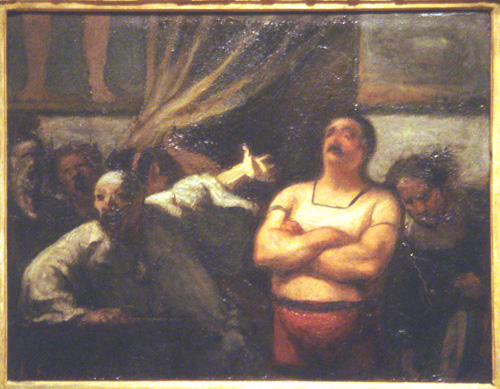 We hit the Phillips Gallery at Q and 21st Streets, an old favorite; we used to go there when we were courting in the mid 1960s. One work that caught my attention was Daumier's painting of a barker touting a strong man. I love the frantic way the barker points at his star, and the way the strong man looks so cool and confident. I think of someone writing an introduction for a book.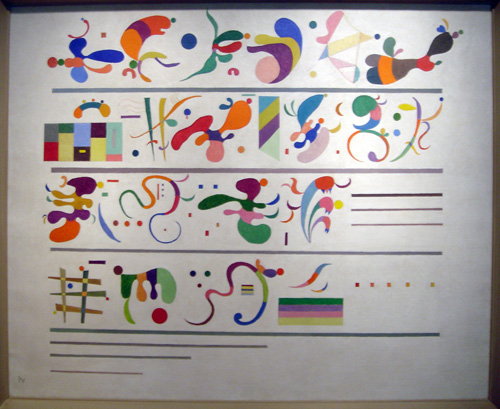 And a cool Kandinsky that was originally exhibited alongside some examples of Chinese calligraphy. A great series of glyphs. I like the idea of there being a language of this kind; I often imagine that's how telepathy would be, that is, compound images or sensation-blocks, the units representing thoughts rather than being phonetic representations of spoken words.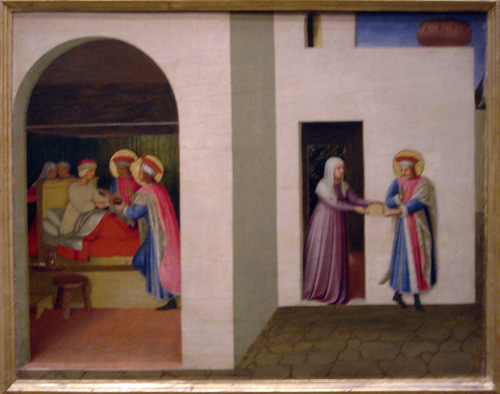 One National Gallery picture that lingers in my mind is Fra Angelico, The Healing of Palladia by Saint Cosmas and Saint Damian. I'd like to use this composition in a painting. I didn't get that good a photo of it, but the National Gallery has just about all their pictures online.