[Photogrpher Rob Lewine, film critic Kenneth Turan, and artist Barry Feldman. I believe Rob Lewine took these two pix on my camera by using autotimer.]
I get occasional email from a group of my old classmates at Swarthmore College, where I spent the golden years of 1962-1967. Recently one of our number brought up the "We'll Work It In Jug Band" which some of the gang formed, and asked, "Who were the band members and what instruments, I use the word loosely, did they play? I only remember Roger and his guitar."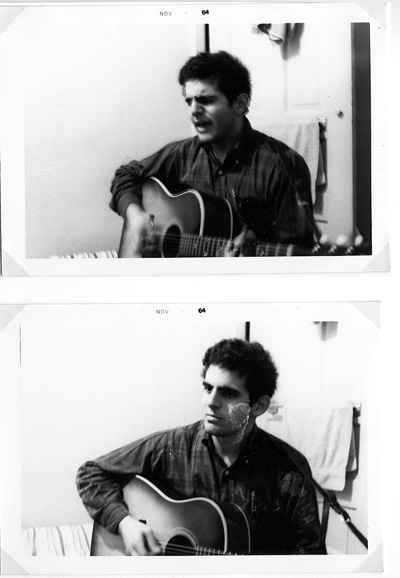 [Roger Shatzkin and his guitar.]
Rob Lewine answered the question better than I could (by the way Rob is a professional photographer; you can see hundreds of his images on the commercial stock photo site Corbis; (you may have to Search for "Rob Lewine"). His Smiling Man is used in a lot of ads for Microsoft Office 2007!):
"Loosely is indeed how we played.
"It was Roger Shatzkin on guitar, banjo, harmonica and Bennett Lorber on guitar (they were our ringers). Then Greg Gibson playing jug; Barry Feldman on washboard (and responding to audience requests with "We'll work it in!"; when in fact we never did because we didn't know any tunes other than what we played); myself on kazoo, amplified by an enormous paper cone; Andy Cook on washtub bass (which I think I took over at some point); and Terry Livingston doing something [playing a fake trumpet through his hands]. There may have been others. Tom [Wolfe] was too accomplished to participate; we had our standards.


[Rob playing the washboard.]
"I have pictures somewhere, I think, of us rehearsing in a Wharton dorm breezeway.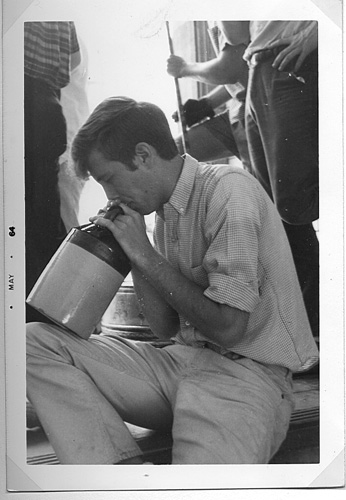 [I dug out my own pictures of those times. This one shows bookdealer and author Greg Gibson playing the jug.]
"There was a concert, at Bond Hall, I think, which was taped (reel-to-reel), and which some of us listened to over and over, with overdone appreciation. There was a contest at a local high school; we lost to some girl wearing a black wig and lip-synching to Joan Baez. (That was bitter.) There was a performance at a high-school graduation dance, where we mystified the crowd by our very existence."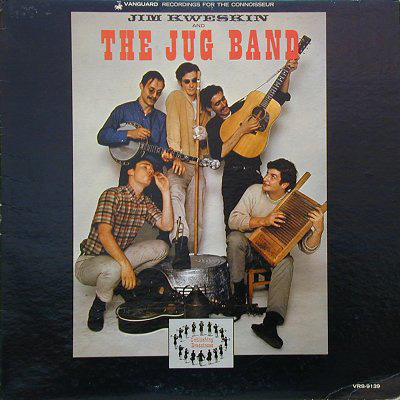 Many of the songs came from The Jim Kweskin Jug Band. I gotta get some of those records again, the ones I have from college are whipped. Over forty years ago. But inside I'm still in my 20s, and always will be.