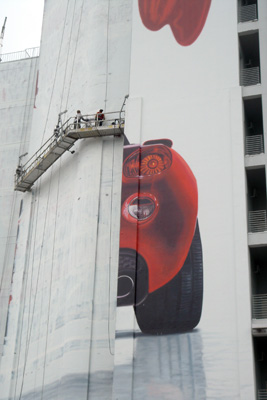 Sylvia and I were in LA this weekend. Big billboards. Big city. Coming back home, San Jose felt like a tiny country town.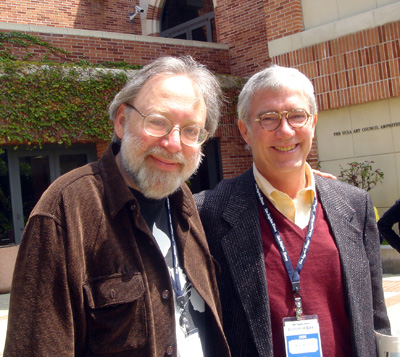 We stayed with our friends Kenneth Turan and his wife Patty Williams. Ken and I were roommates back at Swarthmore, 44 years ago, and now he's a film critic at the L. A. Times. Internally you don't change all that much after your twenties.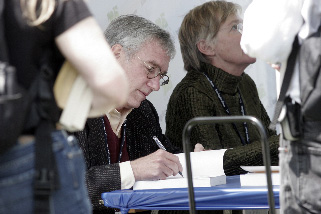 Kenny came to hear my panel at the LA Times Book Festival — only one other panelist showed up, (Sandra Blakeslee, who also got her son Matt to be on the panel), so I got to talk a lot.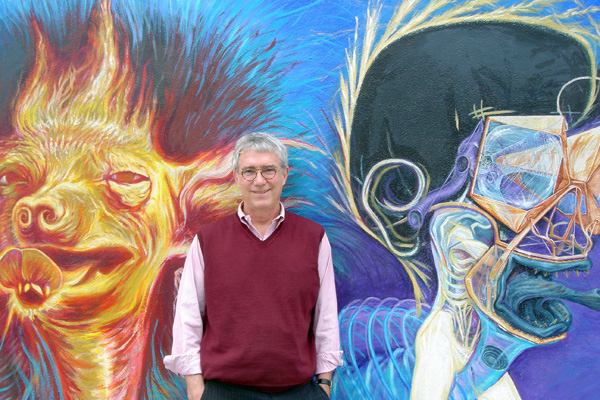 I said the missing panelists had snorted nanomachines at a party in Venice Beach and were present in the form of one nanomachine every square millimeter on the room's walls.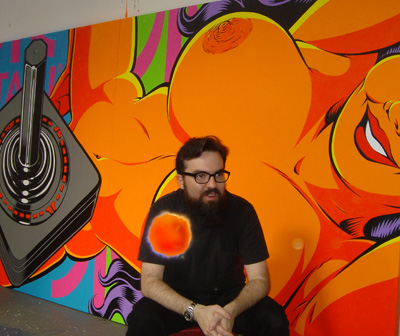 We visited Coop a hotrod/Juxtapoz artist friend whom I met via this blog. He made me happy by saying that my Bruegel novel As Above, So Below resonates with him as a practicing artist. Note the alien orange orb that appeared in this picture of Coop in front of his latest big painting.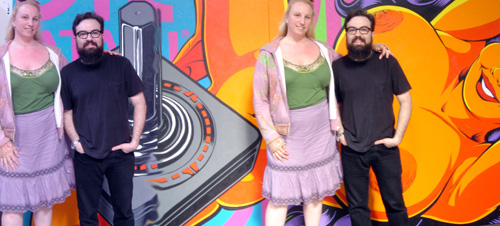 Coop is twins, and he's married (I think) to twins, Ruth Waytz and Ruth* Waytz. Ruth has a knitting blog and Ruth* blogs photos of her daily life, kind of an interesting accumulation.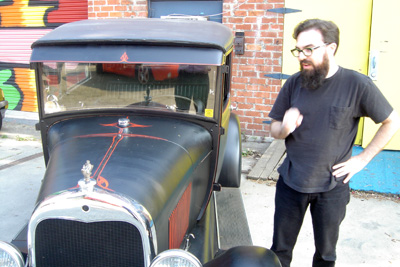 Coop* made his own hotrod, which I find really impressive. This used to be a Model A Ford.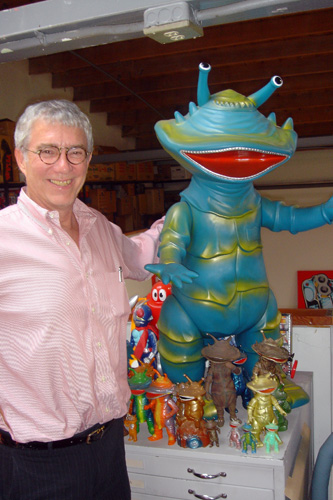 He also has a large collection of Japanese science fiction action figures, including a number from the Ultraman (?) series. Readers of my book Frek and the Elixir may recognize these as figures of Unipuskers. My son Rudy gave me one of these figures before I started Frek, and when I was casting about for how some particular aliens might look, I used the figure. Coop says that the shape of this figure is in fact designed to represent a boy who was very greedy about hoarding his money that his head turned into a coin purse! I'd always thought of it as a clam-shell.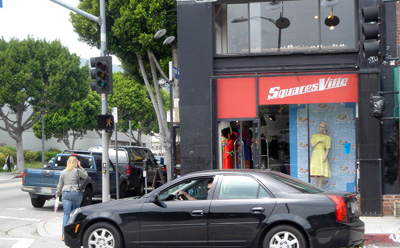 Sylvia and I drove around LA a bit, we came across an interesting block or two on Vermont Street just south of Hollywood Boulevard. I loved that this store was called SquaresVille.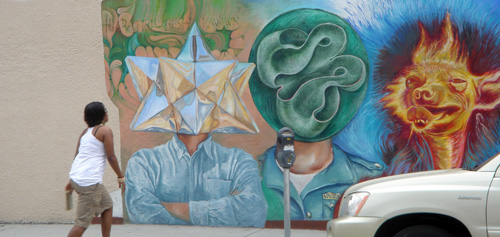 A mural worthy of the Haight, or, hey, even better, it's LA, it's the big time. I love that chrome stellated dodecahedron head. Coop was talking about painting chrome too, which reminded me of a ray tracer program by Nick Chapman that I used the last semester I taught at
I walked on the beach in Santa Monica near the pier, ants in the grid, proud to be Californian.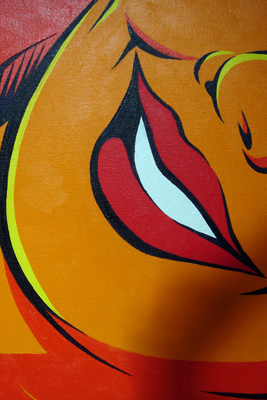 Bye, LA.