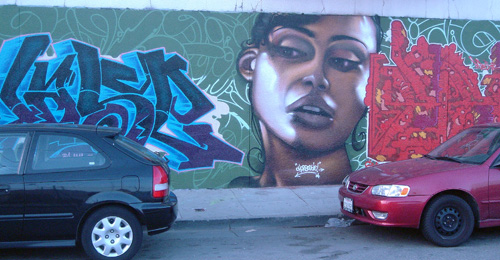 Yesterday I went to San Francisco to go to a party; first I met up with my son Rudy at the Monkeybrains World Headquarters on Folsom Street. I saw a cool graffitti painting. Looking at that writing, I feel like I'm in a science fiction novel, which is a place I like to be.
The party was at Last Gasp, a San Francisco comix and graphic novel publisher that's been around since the days when the Zap-o-saur thunder lizards roamed the Earth.
I introduced myself to the host, Ron Turner. People were lining up to say hi to him, influential underground publisher that he is. Like a cross between Santa and the Godfather.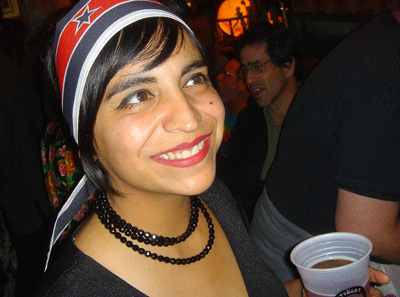 Our friend cyclecide Linda works at Last Gasp: I asked her if she braids Ron's beard, she said, no, his daughter-in-law does that.
Somehow I'd imagined I'd know a lot of people here, but I hardly knew anyone. But Rudy and his friends are always nice to me. One was dressed like a clown with a gold tooth, which went great with a scary circus clown poster from the Last Gasp collection.
I ran into my cartoonist Zaposaur theropod pal Paul Mavrides. Last Gasp has a large collection of original cloth side-show banners suspended on rollers.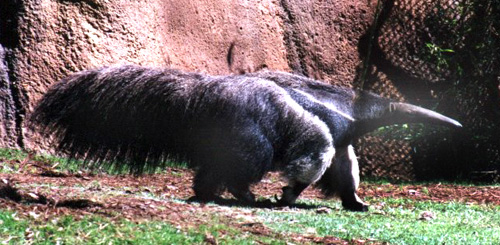 Rudy and I rooted around among them the banners, and saw a giant anteater.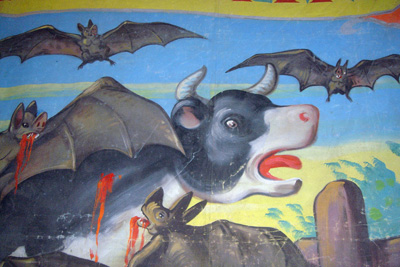 Also vampire bats attacking a cow.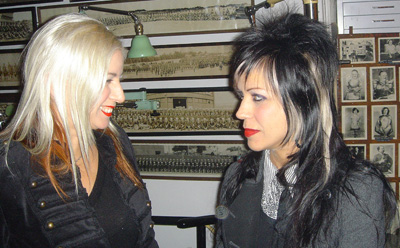 I got a picture of two archetypal underground San Franciso women. If you tell strangers you're photographing them for your blog, it makes you almost legit. Speaking of bloggers, Scott Beale, a.k.a. Laughing Squid covered the party as well; he has some terrific pictures.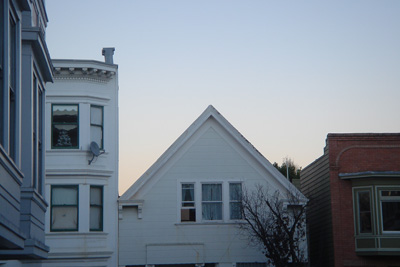 I've been up in San Francisco a couple of times recently. Last week I went to the "Writers With Drinks" reading at a Mission venue called The Make-Out Room.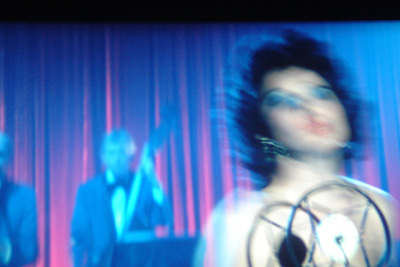 I didn't get any clear pictures. They had a nice disco ball. My writer-friends Terry Bisson and Karen Joy Fowler gave terrific readings. Standing in for them is this a picture of Isabella Rossllini in Blue Velvet, which I saw in the afternoon at the Castro theater. What a star she is.

Last week in the afternoon I walked through Dolores Park. Sometimes I think we should move to San Francisco.