I'm catching up on some links.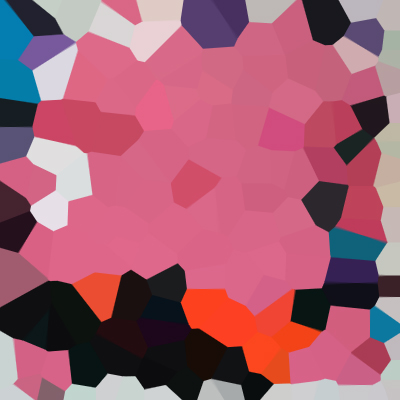 LA artist and hotrodder COOP sent me a link to a cool series of entries on his Positive Ape blog, relating to twenty-five stages in constructing the painting whose final version I show above. Well, actually the painting is so intensely erotic that I felt uneasy about posting it as-is on my "family blog" type site, harrumph, so I used the PhotoShop Pixelate:Crystallize filter on it.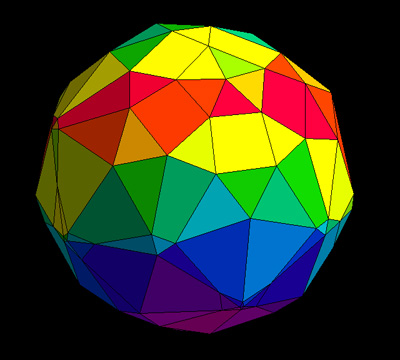 Bill Meikle wrote about a mystical experience produced by looking at a hypercube drawing! The picture above is actually of a so-called 600-cell, which is a more complicated kind of 4D object, as shown in my favorite 4D visualization program, "Hyperspace Polytope Slicer", by Mark Newbold.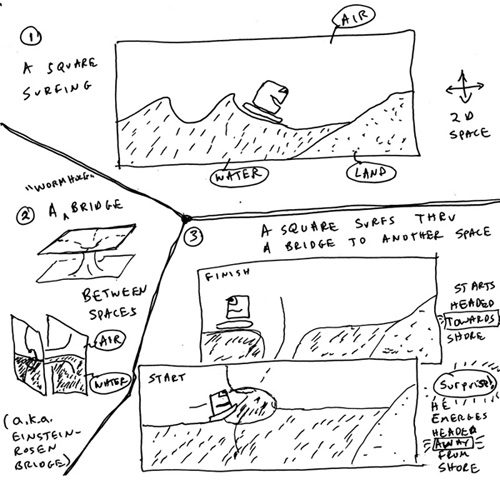 It seems like I get a lot of email about the fourth dimension. Hugh Reid posted a speculation about the fourth dimension and visual reorientation illusions. French physician Jean-Perre Jourdan posted a paper about the fourth dimension and near-death experiences. The picture above is from my notes on "Surfing An Einstein-Rosen Bridge" for my novel Mathematicians In Love which I am about to start revising, having gotten some good suggestions from my Tor editor David Hartwell.