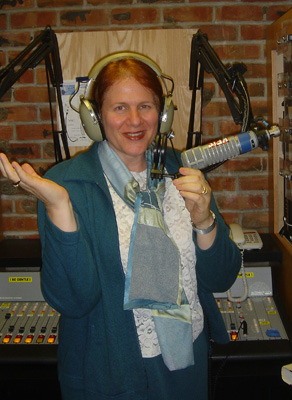 I'm proud to say that I'll be on the air as guest reader on Ann Arbor's Unbedtime Stories for the next six Tuesdays,from 7:20 – 7:40 in the mornings (California time) on KFJC radio 89.7 FM. If you're not in the San Francicso Bay Area, you can hear the show on KFJC online. Unbedtime Stories is a weekly feature on Ann's show, "Dancin' in the Fast Lane".
Each of the six Tuesdays, I'll be doing a bit of interview, and reading one of short-short SF stories which I used as "Thought Experiments" to introduce the six chapters of The Lifebox, The Seashell, and the Soul.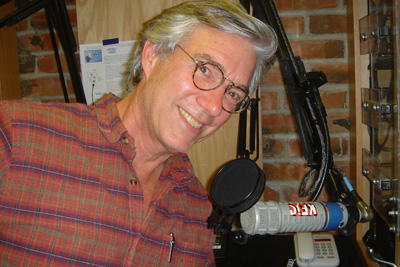 I went in to tape the shows last week; it was interesting to be there. Like Kurt visiting the Wolfman's lair in American Graffiti. I've been listening to KFC for going on twenty years; I even wrote about it in The Hacker and the Ants. Here's a quote interspersed with three pictures of the KFJC studios.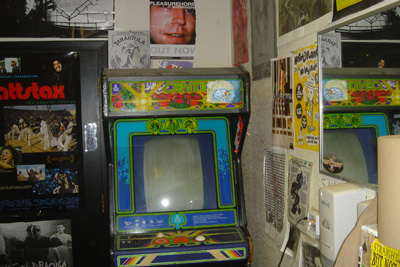 "Two blocks from the Vos' house, the map showed me something I didn't want to see: a detailed, stippled picture of an ant. A cunning dusting of dither pixels added informative shadings to the image. The scapes of this ant's antennae were tilted towards me, and her mandibles were wide open. Her body rocked back and forth in the sawing motions of stridulation. The map's tiny speaker began stringing fragments of Ann Arbot's voice into deep, demented chirps.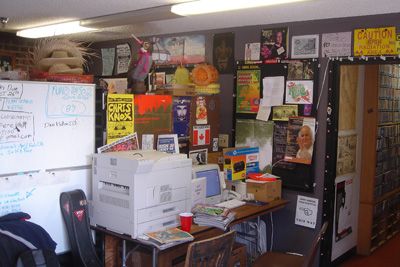 "The sound was scary, but also fun to listen to, in a sick kind of way. It was as good as the thrash I might hear on like 'Ted Bed's Skunk Bunk on the Rhythm Wave of the West, Radio KFJC, 89.7 on your FM dial, broadcasting from Foothill College in Los Altos Hills, California,' a personal favorite. Ted Bed always sounded like he'd been up all night flying on candyflip in a cyberclub.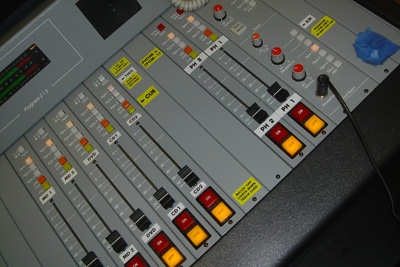 "Most kids couldn't afford their own cyberdecks, but there were plenty of clubs with wall-sized Abbott-wafer screens on three out of the four walls. Users in the club wore stereo-shutter flicker glasses. Cheap and dirty video technology would capture their dancing images and put them up into the big cube of shared cyberspace above the dance floor, and the deck would mix the dancers with daemons and simmies, and active tool icons: virtual buttons, dials and sliders the dancers could use to change the synthetic musical sounds, everyone inside the same rave deck, everyone inside the controls. It would be interesting if the ants showed up in those clubs. The Attack of the Giant Ants! It's Them!"
Anne Arbor kindly gave me CDs of what we'll be airing, and I'll post the six episodes as podcasts on my Gigadial station after they air.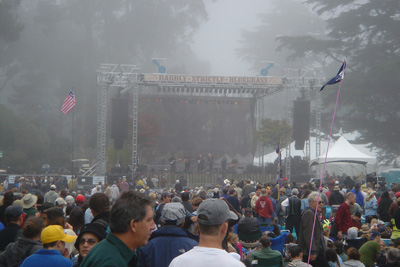 This weekend we went up to SF to check out the free Hardly Strictly Bluegrass festival. The high point for me was seeing 81-year-old Earl Scruggs and his band.
I was a big fan of Flatt and Scruggs when I was in high-school in Louisville. I didn't know anyone else who liked bluegrass back then, other than my big brother Embry. But we felt that, as Kentuckians, we should appreciate our native sound, even be we citified Louisvillians.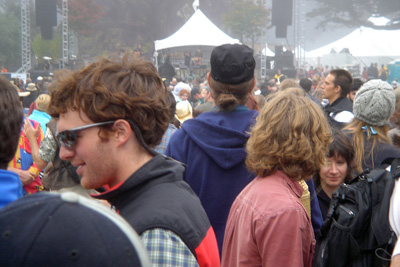 It was a real San Francisco crowd there. Just like the Sixties. Heavy fog made it seem more surreal.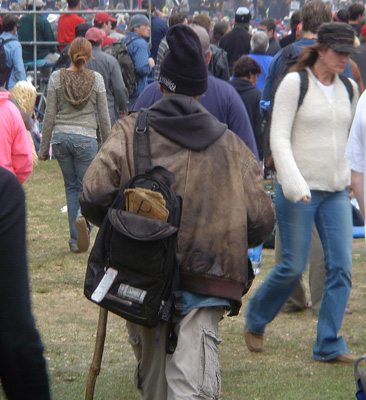 This energetic little drifter reminded me of The Wanderer by Hieronymus Bosch. Meanwhile Scruggs, Jr., was singing, "In the pines, in the pines, where the sun never shines."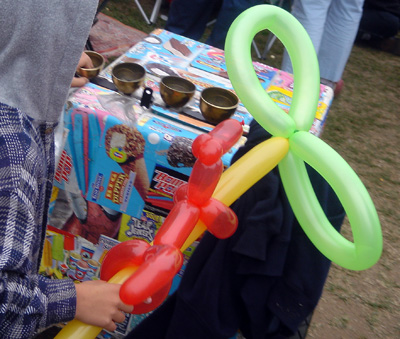 Might aliens resemble hand-tied balloon toys? To consider this notion is to immediately assent.