I'm writing the last chapter of Mathematicians In Love now; I just wrote a scene were the government starts to fall. Today's illos are Golden Oldies.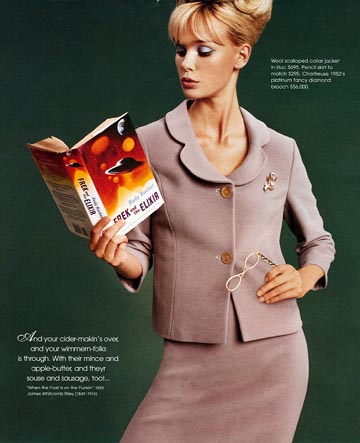 [Picture from the Fall, 2004, Barney's catalog.]
The TV news was wonderful. All the networks were airing special reports on a nation in crisis. At long last the news media had turned on their puppet-masters. Evidently they'd been peering into some Gobubbles to see the real future that the Heritagists had in store.
Over and over the TV showed the video of our President's helicopter rescuing the terrorist Osama from our troops. Violent street demonstrations against the Heritagists were in progress all across the nation. The White House was under siege, surrounded by a crowd of demonstrators estimated at a hundred thousand, and growing by the minute. Police cars were being overturned and set on fire. The President had scheduled a special address — and here he came.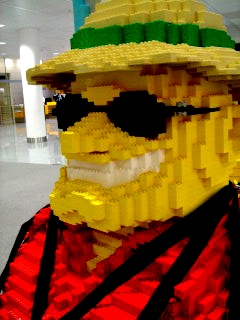 [Lego sculpture in the Frankfurt airport.]
It was a classic performance. Doakes was like a wounded shark snapping at his own dangling guts. The Gobubbles were Satanist; the Common Grounders were traitors; Van Veeter was a criminal; the demonstrators were terrorists; war was peace; freedom was slavery; ignorance was strength, and more than ever we needed a hundred-percent Heritagist victory in November. Incredibly, the news station we were watching had the nerve to post a hip, mocking caption across the bottom of the screen while Doakes was still ranting.
100% A-Hole?
Paul and I stood up and cheered, with Mabel smiling at us, not quite sure what was going on. And that's when we heard the knock on the door.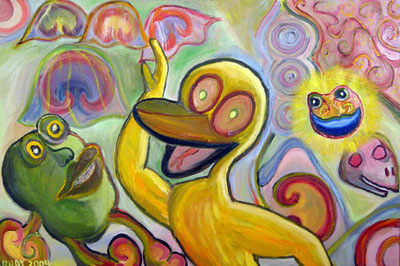 [My oil painting of La Hampa, as imagined before I went there.]