A few years ago, John Walker moved out of a nice house in Muir Beach because all around him there were construction machines with beepers. You know those beepers, they kick in whenever the machine is in reverse. They're very piercing. I've been beeped all week by a chihuahua of a machine, a little Bobcat that's loading dirt from a neighbor's swimming-pool excavation into dump-trucks.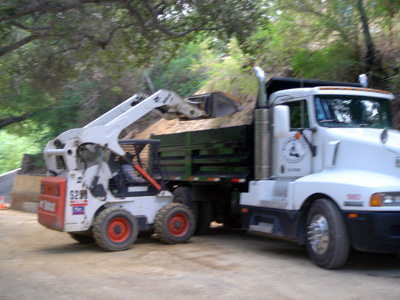 This neighbor has a Hummer, and he washes it on the weekend, taking about an hour, and it would be too quiet and perhaps wimpy to use a hose, so instead he uses a loud, gasoline-powered pump to shoot out a high-pressure stream worthy of his mighty Hornswoggle.
Noise pollution is a modern tragedy. Just as a random for instance, you may notice that these days how airplane flights from the Bay Area to NY are often routed so that the pilot can always say, "You can see Yosemite Park down there," and everyone is "Oooh." This means, however, that if you go hiking in Yosemite these days, there is a more-or-less steady stream of planes going by overhead.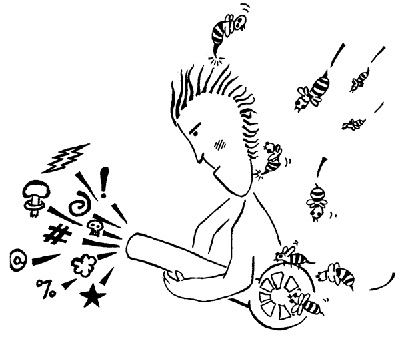 And don't let me get started on leaf-blowers. Oh, well, why not. In Saucer Wisdom I had this idea for noise-attacking bees: Shush Bees. I find the noise begins to drive the rhythms of my thoughts, I begin in effect humming the sound to myself. I find myself waiting, waiting for it to stop. And then another noise polluter helps himself to a piece of the peace-pie. Sometimes I spend a whole Saturday waiting for a moment of calm.
***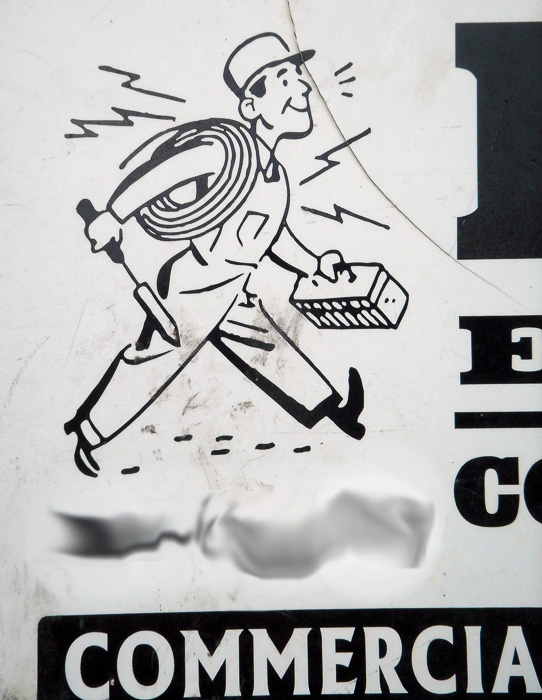 Up the street is more construction; but a pleasant kind, there's just the irregular and human-scale beat of hammers. The electrican has a nice piece of old-timey clip-art on his sign; these kinds of images always remind me of the hallowed Pamphlet #1 of the Church of the SubGenius which is *wow* viewable in its entirety online, just keep pressing the little forward arrow at the bottom of the page that link takes you to. Or order the dang thing in paper . I'll never forget the impact this pamphlet had on me when I read it in, like, 1983. The world wasn't as noisy back then.